In The News
TLC partners with PACER's National Bullying Prevention Center to 'Give a Little TLC'
Posted: 12/14/2015
TLC has partnered with PACER's National Bullying Prevention Center on its "Give a Little TLC" cause marketing campaign, which supports organizations that encourage an attitude of inclusion and open-mindedness. TLC celebrities such as Monte, Stacy London, Buddy Valastro, and others have created videos sharing their personal stories and encouraging people to give a little, whether it's through volunteering, donations, love or support. Learn more>>>
Twitter to deploy 'I am a Witness' campaign in partnership with PACER's National Bullying Prevention Center
Posted: 12/11/2015
An eye-catching emoji designed to help expose and stop cyberbullying could soon be popping up in your Twitter feed. The emoji — a purple and black eye inside a text bubble — is part of "I Am a Witness," a bullying prevention campaign from Ad Council, a nonprofit that produces public service messages. It was first rolled out this fall to Apple users who downloaded the iOS 9.1 update. And starting today, the emoji's reach expands even further, as the council launches a new custom version of it through Twitter. Whenever a user's tweet includes the hashtag #IAmAWitness, the emoji will automatically appear. To help spread its reach as far as possible, the campaign is partnering with a wide range of celebrities and groups, including PACER's National Bullying Prevention Center, to help get the message out. Read more>>>
Carrot Top brings awareness to bullying prevention
Posted: 12/8/2015
For more than 20 years, comic Scott Carrot Top Thompson has been entertaining audiences in Las Vegas. A native of Florida, Thompson began performing while he was a freshman at Florida Atlantic University. He made his first appearance on "The Tonight Show" in 1992 and he was on Jay Leno's final night as the host of the "Tonight Show" in 2014.
Although he has become well-known for his comedic antics on television and in movies, Thompson also is an advocate against bullying, and he works closely with PACER's National Bullying Prevention Center through the Together Against Bullying (TAG) campaign. Thompson has already tagged several celebrity friends, including Ray Romano and O.A.R, and plans to tag more on his upcoming road tour that kicks off on Dec. 11. Learn more>>>
Minnesota conference will look at creating a positive school climate
Posted: 11/5/2015
Do you live in Minnesota and want to attend a conference to learn more about bullying prevention?
Registration is now open for the "Minnesota Safe & Supportive Schools Conference: Addressing Bullying in Schools" scheduled for Friday, January 22, 2016. This one-day conference, presented by the Minnesota Department of Education in partnership with PACER's National Bullying Prevention Center, will convene Minnesota educators, school support staff, parents, student leaders and education stakeholders to increase knowledge about bullying prevention and how to create a positive school climate. Learn more >>>
UP TV's "Who Will Stop The Bullying?" video goes viral
Posted: 10/27/2015
When a teenage girl experiences the bullying behavior of two peers, will bystanders take action or remain silent? That's the question explored in UP TV's bullying prevention video, "Who Will Stop the Bullying?" The video has received more than 5 million views and thousands of positive comments since it was published on Oct. 22. Resources from PACER's National Bullying Prevention Center are offered alongside the video on the UP TV website. Watch the video now>>>
Disney Interactive Celebrates Unity Day
Posted: 10/27/2015
The Disney Interactive Grand Central Campus in Glendale was suddenly looking very orange on Wednesday, Oct. 21, as hundreds of employees donned electric orange t-shirts and congregated in the courtyard. Their colors were in honor of Unity Day, PACER's nationwide initiative to raise awareness about bullying prevention efforts. Disney Interactive Citizenship partnered with the Disney Guest Experience team, PACER's National Bullying Prevention Center and Me To We to share resources and spark conversations about bullying prevention. Learn more>>>
Join In! Unity Day Challenge
Posted: 10/27/2015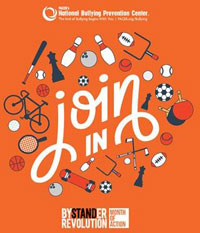 PACER's National Bullying Prevention Center teamed up with Bystander Revolution's #MonthOfAction for a special Unity Day 2015 challenge: Join In! Individuals are challenged to invite someone who seems left out to join in on an activity – a game at recess, a study session, a meal with friends, a walk in the park, anything! All of these things can be really memorable to someone's who been feeling isolated. Asking someone new to join in is a great way to unite for kindness, acceptance and inclusion, a key message of Unity Day! Learn more about the challenge and Bystander Revolution's #MonthofAction here.
Community to color the coast orange in support of Unity Day
Posted: 10/12/2015
Communities across Walton and Okaloosa Counties in Florida are joining together to celebrate Unity Day, Oct. 21. Kellyanne Bartleson, founder and creator of online family resource guide EmeraldCoastKids.org started an event to encourage students and community members to "Color the Coast Orange" on Unity Day. Kellyanne also requested and received a proclamation from Florida Governor Scott declaring October as National Bullying Prevention Month when students, schools and communities come together to raise awareness against bullying. Read this Walton Sun article to learn more about this event and for unique ideas to celebrate Unity Day.
October is National Bullying Prevention Month
Posted: 10/7/2015
StopBullying.gov featured a story about the history of PACER's National Bullying Prevention Month and Unity Day on its Stopbullying Blog. "National Bullying Prevention Month has grown more than we could have ever expected," said Paula Goldberg, PACER's executive director. "In less than 10 years, PACER has helped to create a bullying prevention movement with millions of individuals across the globe." Read more>>>
You are Braver, Stronger and Smarter Than You Think
Posted: 10/6/2015
Have you ever felt like the whispers, giggles, note passing, and looks were directed at you or someone you care about? Imagine if all that attention was channeled into positive action. Disney is supporting PACER's National Bullying Prevention Center in hopes of inspiring social change among young people everywhere.