In The News
Interview with Drayter vocalist/guitarist Liv Miner: 'It's good to be able to have a positive impact'
Posted: 3/14/2016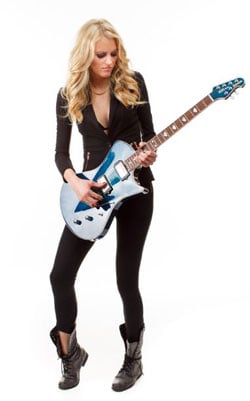 Just days before Drayter's full-length studio debut album release, for NINE, the band announced their partnership with the PACER National Bullying Prevention Center. Drayter pledged 100 percent of sales proceeds from pre-orders of NINE to NBPC. The track "Not Alone," which addresses isolation and loneliness, is being used to promote PACER's NBPC You're Not Alone, We're Here For You campaign.
Liv Miner spoke to Guitar Girl Magazine about recording NINE, her passion for guitars – in particular her Music Man Armada – and why the PACER campaign is so important to Drayter. Liv shared, "bullying is a much more relevant and intense topic than it used to be, so it was really cool to come out with 'Not Alone,' and join up with this anti-bullying organization and get the awareness out. Everyone needs hope. No one wants to feel isolated, lonely, picked on, degraded, and all these things that are happening because of the Internet. It's good to be able to have a positive impact. We've gotten a lot of positive feedback for it, and for the album as a whole, and it's been wonderful." Read full article at Guitar Girl Magazine>>>
NBPC supporter Sir Ivan to produce bullying prevention movie
Posted: 3/2/2016
Recording artist Ivan Wilzig, who is also known as Sir Ivan, has signed a deal to become the producer for a bullying prevention movie called "Freak Show." The movie will be directed by Trudie Styler, who has been married to pop singer Sting since 1992. Sir Ivan has been a long-time supporter and advocate of bullying prevention. His Peaceman Foundation has donated more than $100,000 to nonprofit bullying prevention organizations, including $10,000 to PACER's National Bullying Prevention Center. Learn more>>>
Spread the Word to End the Word™
Posted: 2/25/2016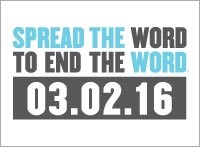 Did you know that up to three percent of the world's population have intellectual disabilities - that's almost 200 million people around the world. It's one of the largest disability populations in the world. Perhaps you know someone? It is time we Spread the Word to End the Word™ and build awareness for society to stop and think about its use of the R-word. Use of that R-word, "retard" or "retarded," is hurtful and painful and whether intended or not, is a form of bullying and hurtful to the millions of people with intellectual and developmental disabilities, their families and friends. Eliminating the use of this word is a step toward the new R-word, which is Respect. Visit www.r-word.org to make your pledge today.
Minnesota Safe & Supportive Schools Conference: Addressing Bullying in Schools
Posted: 1/26/2016
On January 22, 2016, The Minnesota Department of Education, School Safety Technical Assistance Center, hosted the Minnesota Safe and Supportive Schools Conference: Addressing Bullying In Schools in partnership with PACER's National Bullying Prevention Center and Hamline University's School of Education.
This one-day conference convened Minnesota educators, school support staff, parents, student leaders and education stakeholders to increase knowledge about bullying prevention and how to create a positive school climate. Learn more>>>
Life is Strange, PACER collaborate in campaign
Posted: 1/15/2016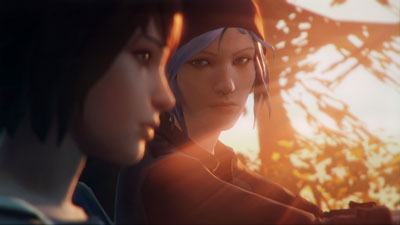 PACER's National Bullying Prevention Center is thrilled to collaborate with Life Is Strange for the #EverydayHeroes campaign. Share a story, using #EverydayHeroes, about how you overcame adversity, stood up for what's right, or helped a friend in need. Every post using the hashtag #EverydayHeroes will increase Life is Strange' donation to PACER's National Bullying Prevention Center. Share your story, support bullying prevention, and show those experiencing bullying that they are not alone! To learn more about this campaign and read the collection of amazing stories, visit http://everydayheroes.lifeisstrange.com.
Headed to Hollywood
Posted: 1/14/2016
In 2011, as an 11-year-old, Tristan McIntosh recorded the song "You Can't Take That Away From Me," for PACER's National Bullying Prevention Center "Unity Dance" song, which celebrates the importance of looking out for each other and celebrating each other's differences. On January 7, 2016, Tristan appeared on American Idol and was unanimously voted by the judges for the "golden ticket" to the next round in Hollywood. Congratulations Tristan, you are amazing and thank you for making a difference! Read more>>>
CustomInk's 5th Annual 'Be Good to Each Other' Campaign a Success!
Posted: 12/28/2015
Special thanks to all of those who supported CustomInk's 5th annual Be Good to Each Other campaign. With your help, CustomInk proudly raised more than $60,000 in support of PACER's National Bullying Prevention Center. For more information, please visit www.customink.com/stopbullying.
TLC partners with PACER's National Bullying Prevention Center to 'Give a Little TLC'
Posted: 12/14/2015
TLC has partnered with PACER's National Bullying Prevention Center on its "Give a Little TLC" cause marketing campaign, which supports organizations that encourage an attitude of inclusion and open-mindedness. TLC celebrities such as Monte, Stacy London, Buddy Valastro, and others have created videos sharing their personal stories and encouraging people to give a little, whether it's through volunteering, donations, love or support. Learn more>>>
Twitter to deploy 'I am a Witness' campaign in partnership with PACER's National Bullying Prevention Center
Posted: 12/11/2015
An eye-catching emoji designed to help expose and stop cyberbullying could soon be popping up in your Twitter feed. The emoji — a purple and black eye inside a text bubble — is part of "I Am a Witness," a bullying prevention campaign from Ad Council, a nonprofit that produces public service messages. It was first rolled out this fall to Apple users who downloaded the iOS 9.1 update. And starting today, the emoji's reach expands even further, as the council launches a new custom version of it through Twitter. Whenever a user's tweet includes the hashtag #IAmAWitness, the emoji will automatically appear. To help spread its reach as far as possible, the campaign is partnering with a wide range of celebrities and groups, including PACER's National Bullying Prevention Center, to help get the message out. Read more>>>
Carrot Top brings awareness to bullying prevention
Posted: 12/8/2015
For more than 20 years, comic Scott Carrot Top Thompson has been entertaining audiences in Las Vegas. A native of Florida, Thompson began performing while he was a freshman at Florida Atlantic University. He made his first appearance on "The Tonight Show" in 1992 and he was on Jay Leno's final night as the host of the "Tonight Show" in 2014.
Although he has become well-known for his comedic antics on television and in movies, Thompson also is an advocate against bullying, and he works closely with PACER's National Bullying Prevention Center through the Together Against Bullying (TAG) campaign. Thompson has already tagged several celebrity friends, including Ray Romano and O.A.R, and plans to tag more on his upcoming road tour that kicks off on Dec. 11. Learn more>>>