In The News
Posted: 10/3/2017
We were excited to be part of the #GiveALittleTLC awards on Sept. 27th, hosted by TLC in partnership with Redbook and PACER. This inspiring night honored individuals who are making the world a kinder, more accepting and inclusive place. Congratulations to everyone honored! Learn more about TLC's Give a Little campaign.
TLC's 'The Little Couple' discuss bullying
Posted: 9/14/2017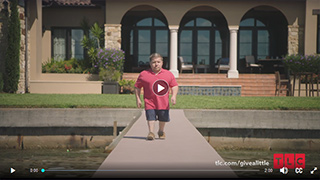 PACER's National Bullying Prevention Center is excited to partner with TLC for its #GiveALittleTLC campaign! To raise awareness of bullying prevention, Jen Arnold and Bill Klein, stars of TLC's "The Little Couple," have joined with PACER to make sure no child feels alone.
Both Arnold and Klein have rare forms of dwarfism and they are each under four feet tall. In the video, Klein talks candidly about his experience with bullying at school, which included being punched and knocked down.
"The emotional feeling of being an outcast weighs on you," Klein says in the video. "You feel alone."
Arnold and Klein have adopted two children who have forms of dwarfism, Will and Zoey. As parents, Arnold and Klein are aware of the similar challenges their children may face.
"All kids are at risk of experiencing bullying, and for Will and Zoey, they are even more high risk because they have a pretty obvious physical difference," Arnold says. "I think it's important for all parents to be aware of bullying and the fact that it's not a minor thing."
"Life is short, no pun intended," Arnold adds. "You really deserve to enjoy it and make the most of it."
You can help create a world without bullying
Posted: 9/13/2017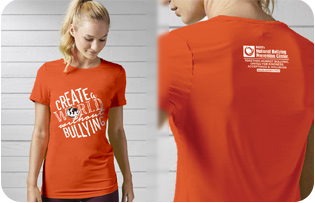 PACER's National Bullying Prevention Center has partnered with Represent to offer a one-of-a-kind signature orange T-shirt to show that you are contributing to a kinder, more inclusive and accepting world. Orders are open during September and October 2017 so that you can wear the shirt during National Bullying Prevention Month, on Unity Day, and all year long! All of the net proceeds will benefit PACER's National Bullying Prevention Center so that we can continue to work together to prevent bullying and promote kindness, acceptance, and inclusion. Share on social media using #OrangeTogether.
Parents and Educators Working Together
Posted: 8/3/2017
In the article, "How to Talk to Parents of a Bullied Student" Bailey Lindgren of PACER's National Bullying Prevention Center suggests you first listen with empathy so parents know they've been heard, then explain your classroom safety strategies. "As an educator," Lindgren said, "if a parent comes to you sharing their child has been bullied, you can work with them to keep the child safe at school." Read the full article at Study.com.
NOMINATE SOMEONE FOR TLC's "GIVE A LITTLE" CONTEST
Posted: 7/17/2017

Stand up against bullying and win! TLC is committed to bringing awareness for bullying prevention. Celebrate someone (or maybe even you) in your community who has made a difference. One person will receive $5000 to help their cause. Share their story by July 18, 2017, at TLC.com/GiveALittleContest.
The Yale Center for Dyslexia and Creativity
Posted: 7/10/2017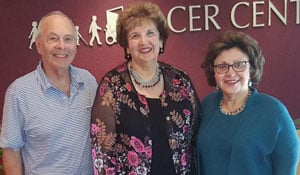 PACER Center Executive Director Paula Goldberg (center) with Yale Center for Dyslexia & Creativity founders Drs. Bennet and Sally Shaywitz.
PACER's National Bullying Prevention Center is featured in the July 2017 newsletter article "Director's Corner: Dyslexia and Bullying — Intersection Points." Quoted from the article, "Far too often dyslexia is not identified, the word not used and the associated symptoms not addressed, leading to situations where dyslexic children who are asked to read aloud in class are shamed and embarrassed. This frequently leads to bullying. In fact, we have met far too many dyslexic boys and girls who are victims of bullying. We are buoyed by the potential positive impact on both dyslexia and bullying prevention emerging from joint initiatives by YCDC and the PACER Center."
Loukoumi Honored
Posted: 5/11/2017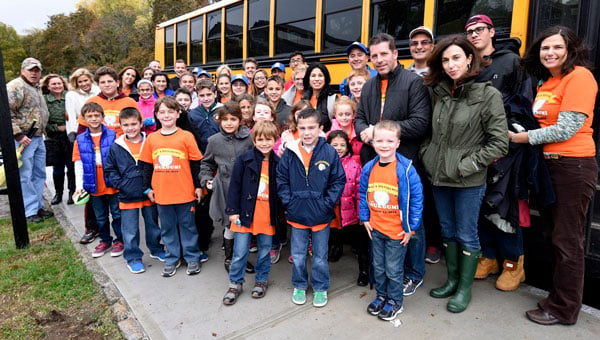 Tegna and Points of Light, the organizations who run National Make A Difference Day, recently presented the All-Star Award to the Loukoumi Make A Difference Foundation. The foundation is a partner of PACER's National Bullying Prevention Center.
Based on the Loukoumi book series by Nick Katsoris, about a fluffy little lamb who wants to make the world a better place, the Loukoumi Foundation teaches children to make a difference in their lives and the lives of others. Last October, more than 50,000 children nationwide did good deeds, including many projects involving bullying prevention. Children were encouraged to wear orange to recognize the day and the color of bullying prevention.
The Loukoumi Foundation also teamed up with PACER's National Bullying Prevention Center on its Make A Difference with Loukoumi TV special that aired on FOX stations nationwide. The special, which was hosted by celebrity chef Cat Cora, included a public service announcement for the National Bullying Prevention Center and PACER's Kids Against Bullying Pledge.
This year's National Make a Difference Day is October 28, 2017.
NBPC addresses cyberbullying in National PTA Magazine
Posted: 4/26/2017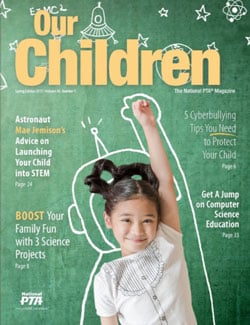 PACER's National Bullying Prevention Center contributed an important article about cyberbullying to the Spring 2017 edition of Our Children, the National PTA Magazine. The article, written by NBPC Associate Bailey Lindgren, is titled "Helping Your Child Understand Cyberbullying" and explores what cyberbullying is and how to protect your child.
"The internet has become the new bathroom wall, a place where children post mean and inappropriate comments about their peers," Lindgren writes. "Not just a few people within a school see them, but literally an audience of thousands now has access."
Almost one in six students are reporting incidents happening online, and the Centers for Disease Control says 15.5 percent of high school students and 24 percent of middle school students were bullied in 2015.
Parents are encouraged to help their child define what cyberbullying is and communicate about online safety as soon as a child starts to interact online. NPBC shares some tips parents can use to start the conversation:
Discuss what is and isn't appropriate information to share online. Explain that if something hurtful is shared online, it counts as cyberbullying.
Establish cyber rules. Create a code of conduct on which both parent and child can agree.
Strategize a plan to respond to cyberbullying. Emphasize saving all cyberbullying content and check with your child's school to see if cyberbullying is included in its policy.
Encourage students to be a good bystander if they see cyberbullying. There are a variety of steps students can take, such as telling a trusted adult, not liking or sharing posts, or responding with positive support.
PACER's National Bullying Prevention Center offers resources to help children and families address and prevent cyberbullying.
Young students learn about friendship
Posted: 3/22/2017
Young students at Kilgore Primary School (KPS) in Kilgore, Texas, are being introduced to the foundations of being a good friend as a first step to understand bullying behavior.
The focus on friendship began on Unity Day 2016, an initiative led by PACER's National Bullying Prevention Center that organizes schools across the nation to address and prevent bullying. KPS counselor Gwen Black said, however, that pre-kindergarten, kindergarten, and first-grade students are too young to really understand what bullying is. What began on Unity Day has now evolved into a full year of recognizing kindness and what it means to be a good friend.
"We take [bullying] very seriously, but it could be just a little guy or girl and they don't know yet how to be a friend and they're learning their social skills," Black told the Kilgore News Herald. "We continue bully awareness, but focus on friendship skills. We reiterate that we are choosing to be kind and caring and respectful to our friends at KPS."
The students also wear orange - the color of Unity Day - to school the second Friday of each month.
Save the date for Unity Day 2017, which is Wednesday, Oct. 25.
Actor Jonathan Lipnicki opens up about his experience with bullying
Posted: 3/21/2017
Jonathan Lipnicki, who made his film debut in 1996 as Renee Zellweger's six-year-old son in Jerry Maguire, has opened up about his personal experience with bullying. Lipnicki says he was bullied in middle school and high school in response to his early success.
But Lipnicki, now 26 years old, recently recognized that he has made more movies as an adult than he did as a child. Writing about his experience on Instagram on March 13, Lipnicki said, "I hope that sharing this can shed a little light in a positive way."
In a follow-up interview with TooFab, Lipnicki revealed that he battled anxiety and depression as a result of the bullying. "All I've ever wanted to do my entire life is make movies," Lipnicki said. "To be made fun of for the thing that you love and be told you're not going to be a success is hard."
Lipnicki continues to address his anxiety with treatment and also plays basketball every day. He offered advice to others going through a similar experience: "You have to turn it into something. Whether it's arts, sports, or helping others. I think a lot of kids out there don't have a direction to go with that pain and they go inside of themselves and they suffer. It's horrible."
Lipnicki starred in the 2016 film Loserville, the cast of which partnered with PACER's National Bullying Prevention Center and spoke out in support of National Bullying Prevention Month. Lipnicki is also served as a celebrity judge for NBPC's Students with Solutions contest.