In The News
BulliED: Bullying and Eating Disorders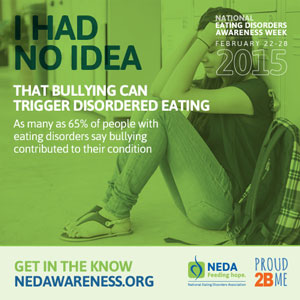 Posted: 3/4/2015
65% of people say that bullying contributed to the development of their eating disorder
PACER's National Bullying Prevention Center partnered with National Eating Disorders Association (NEDA) during NEDAwareness Week on a livestreaming event. The discussion focused on the impact bullying has on eating disorders and poor body image. Panelists spoke about the relationship between bullying and negative body image, the intricacies of bullying that are often left out by the media, and how we can work to stop bullying. View the YouTube video "BulliED: Bullying and Eating Disorders."
Posted: 2/26/2015
The word "bullying" often conjures up an image of a schoolyard scene, with a big, intimidating student towering over a small, cowering child. That's just one face of bullying — and of children who bully. Another face of a bully might be … that of your child. Surprised? Many parents are. Often they have no idea that their child is harassing other children. Yet knowing the facts — and acting to change the situation — is vitally important in making the future safer for your child and all children.
The Bystander Effect: Why You Don't Stand Up When You Should
Posted: 2/2/2015
When you see bullying, do you say something or do you assume that someone else will intervene? In this article, PACER's National Bullying Prevention Center Director Julie Hertzog shares tips to help you take a stand when you see someone being bullied. From reaching out to the victim to talking with school officials about the issue, Hertzog teaches you how to step in without getting caught in the crossfire. Read more>>>
What You Can Do: An amazing new resource to help parents address bullying situations
Posted: 1/16/2015
If your child is being bullied, has witnessed bullying, or is showing bullying behavior, you may be wondering what you can do to make it stop. PACER's National Bullying Prevention Center has created a new web page called "Helping Your Child" to help you address all types of bullying situations, including those involving students with disabilities. This interactive page offers detailed information, tips, action steps, and online resources to help you develop a strategy for your child's unique situation. Be sure to note that each section on the page expands for more resources. Learn more>>>
Your Story is Powerful
Posted: 12/16/2014
This past October, Michael and Marisa, two inspirational spokespersons for PACER's National Bullying Prevention Center, hosted the "Your Story is Powerful" event to give teens across the country an opportunity to share their personal experiences with bullying. We received many entries and thank everyone who participated! Josh, who is 14 years old, was randomly selected to receive the MacBook Air. Here is Josh' story about bullying:
It all happened one day at recess in 3rd grade. I was on the swings pumping my legs back and forth in a rhythmic pattern, when suddenly the rhythmic pattern came to a halt and my life was never the same. Two girls, who appeared to be in 2nd grade, came up to the swings and started calling me 'handicapped.' Then they proceeded to tease me and sing in a tuneful, but tasteless song; 'handicap, handicap, handicap.' I knew that I shouldn't let this incident go unnoticed, because, after all, they were bullying me. My friend, who was sitting next to me at the time, told me to a) ignore them and b) tell a supervisor. So we went to seek the assistance of a supervisor and told her what happened. She then came with us to the scene of the incident and punished the two girls by sending them inside.
For those of you who think that I was being a tattletale, I wasn't. From that point on, I knew that I would be a strong advocate for people with disabilities. Now I am involved in my community by spreading the word around to end the "R-word" even if it is just fellow classmates I am spreading the word to. My hope is that my friends will tell their friends and eventually start a chain reaction, showing that one person can make a difference in their community. This is also an example of actions speak louder than words, because even though words can hurt, we as humans can overcome them and take a stand. This incident has helped to shape the person that I am today, and my message toward my other friends and peers to be more inclusive and advocate for what they believe and value.
Again, thank you to Michael and Marisa for hosting this event and for their continued support of PACER's National Bullying Prevention Center. With events like "Your Story is Powerful," students can continue to raise awareness about the importance of bullying prevention.
On a Mission to End Bullying! The Great American No Bull Challenge is Now Accepting Video Entries Created by Youth!
Posted: 12/11/2014
A social action organization, NO BULL Challenge inspires teens and young men and women (ages 13 to 23) from around the world to take a stand against bullying and to promote digital responsibility, leadership, and social action through filmmaking and social media. NO BULL Challenge provides state-of-the-art digital platform as well as the motivation to develop powerful short films, public service announcements and vines that spark dialogue about bullying. For more information on how to enter the challenge and be a change maker reaching millions, visit: www.nobullchallenge.org. Challenge deadline: February 15, 2015
Learning with the Club Crew: A new bullying prevention activity for elementary students
Posted: 12/8/2014
PACER's National Bullying Prevention Center has created a new resource to help teachers and parents engage children in the conversation about bullying: Learning with the Club Crew. On this new interactive web page on KidsAgainstBullying.com, kids will meet each of the Club Crew members and answer several thought-provoking questions that will change how they view and respond to bullying. Learn more
ShineBright
Posted: 12/3/2014
Before Rudolph and his luminous red nose saved the holidays, he was teased for being different from his peers — an issue that still exists today. In celebration of the 50th anniversary of Rudolph the Red-Nosed Reindeer on TV, parents can use this classic story as an opportunity to start a conversation with their children about our differences. As you gather with your family on Tuesday, December 9, to watch how Rudolph's unique red nose makes him ShineBright, let's celebrate our differences this holiday season by embracing what makes each of us ShineBright. Learn more>>>
New Federal Guidance on Bullying of Students with Disabilities
Posted: 11/26/2014
On October 21, the U.S. Education Department's Office for Civil Rights issued new bullying guidance to schools. The Dear Colleague letter builds on previous guidance to further clarify schools' responsibilities to respond to bullying of students with disabilities when it constitutes disability-based harassments or results in the denial of a free appropriate public education (FAPE). Read more>>>
Posted: 11/12/2014
When you shop online at Groupon Coupon on Wednesday, Nov. 12, you are supporting PACER's National Bullying Prevention Center. Groupon Coupons offers codes to reduce the price of your purchases. Shop, save, and support!