In The News
Your Story is Powerful! Share it for a chance to receive a 13-inch 256GB MacBook Air!*
Posted: 10/6/2014
Michael and Marisa, spokespersons for PACER's National Bullying Prevention Center, care deeply about the bullying prevention cause. Through their outreach, they know that a lot of kids feel like they are all alone, and that nothing will change.
They are here to let other teens know that things can change, and they want to encourage all teens to be a part of that change by sharing your story. It can be a story about how you were bullied, or maybe a story about how you helped someone going through a bullying situation. Sharing your story is a powerful way to let others know that this is an issue that has heartbreaking impact. It also shows kids that they are not alone, that people do care, and things do change.
Selected stories will be posted to this website and one story will be chosen at random to receive a 13-inch 256GB MacBook Air! Find out more>>>
31 for 31 — School Bullying Prevention
Posted: 10/2/2014
Julie Hertzog, Director of PACER's National Bullying Prevention Center, is featured as the first of 31 "Difference Makers" profiled on Crisis Prevention Institute (CPI) in articles and podcasts during October's National Bullying Prevention Month. Each day throughout October, CPI will reveal one of the 31 most vigorous voices in school bullying prevention — from leaders of advocacy groups to a motivational rapper to victims of bullying who have survived abuse and gained ground to thrive. Follow @CPI_Training and #31bullying to stay in touch. By sharing the expertise and resources of these 31 for 31, CPI hopes to help you make bullying a thing of the past. Learn more >>>
As video of attack spreads online, kids stand up
Posted: 10/1/2014
Posted on Delaware Online, written by Matthew Albright and Esteban Parra
Delaware was shocked earlier this month by the video that showed a group of teens assaulting a man with a mental disability.
The video quickly spread through Facebook, Twitter and other social media, drawing gasps and shaking heads from young people around the country.
When students at Calhoun Middle School in Denton, Texas, saw the video, they were determined to do something. One student began posting fliers around the school and organizing days when students would wear colored socks to show solidarity with 26-year-old victim, Karon of Ogletown, and others who face bullying.
"This is very powerful to see kids engaging like this," said Julie Hertzog, director of PACER's National Bullying Prevention Center in Bloomington, Minn. "The issue of bullying has been surrounded by silence. But now we are seeing students who are taking a very active stand against it."
Hertzog said school leaders, advocates and others have spent years trying to teach students to stand up against bullying. The response to these attacks, she hopes, are a sign that it is happening.
"It's a statement by kids saying that we understand this is an issue that hurts people," she said. "We're looking at this generation and they've been getting education about this, and now they are taking the responsibility themselves."
National bullying prevention project takes off
Posted: 10/1/2014
Article by: JEAN HOPFENSPERGER , Star Tribune
When the National Bullying Prevention Center launched its first nationwide campaign in October 2006, the goal was to put a spotlight on bullying and offer ways for schools, businesses and community groups to help stop it.
Since then, the campaign has mushroomed into National Bullying Prevention Month each October, drawing high-profile supporters ranging from journalist Anderson Cooper to comedian Ellen DeGeneres.
Thousands of communities across the nation now participate in petition drives, school anti-bully campaigns and other educational events organized through the Bloomington-based center and its website offering a tool kit of ideas. Read more>>>
New mobile-friendly websites
Posted: 9/24/2014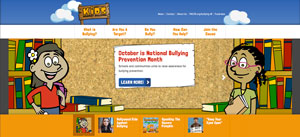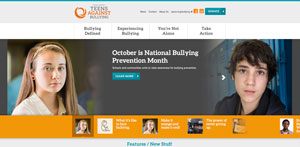 Millions of students use smart phones and tablet computers to access the Internet. Now they can visit mobile-friendly versions of PACER's two popular audience-friendly websites for kids: PACERKidsAgainstBullying.org and PACERTeensAgainstBullying.org.The two sites were recently redesigned and upgraded in time for PACER's National Bullying Prevention Month to be more intuitive, easier to use, and more streamlined. The websites featured updated information and improved resources increased opportunity for student interaction and engagement.
Motivational Speaker and Author Nick Vujicic Partners with PACER's National Bullying Prevention Center to Help Children be Safe
Posted: 9/22/2014
MINNEAPOLIS: Motivational speaker and author Nick Vujicic (VOO-yee-chich) is teaming up with PACER's National Bullying Prevention Center during National Bullying Prevention Month in October to speak out about bullying prevention at schools and on social media, where he has millions of followers. Founder of the nonprofit organization Life Without Limbs and motivational speaking company Attitude is Altitude, Vujicic was born without arms and legs, and has faced countless challenges and obstacles throughout his life, including being the target of bullies. Paula Goldberg, executive director and co-founder of PACER Center in Minneapolis, Minn., said the organization is thrilled to have Vujicic as a spokesperson. "Nick is an amazing example of someone who has overcome the challenges of bullying and become even stronger," said Goldberg. "He is confident, engaging, and inspiring, and is making a difference in the lives of millions of people." Read more >>>
DISABILITY.GOV Features Bullying Prevention Resources
Posted: 8/27/2014
Disability.gov, a resource for people with disabilities, their families, friends and organizations that serve them, highlighted resources from PACER's National Bullying Prevention Center in the August edition of the Disability Connection newsletter, "10 Things That Rule about Back-to-School."
The start of a new school year is an exciting time for kids, but the prospect of bullying can be a burden on both first-time and returning students. In particular, children with disabilities may be at a higher risk for bullying. The PACER Center provides many resources to help parents and teachers talk to children about bullying, such as fact sheets on how to help your child recognize the signs of bullying or how to notify a school about a bullying situation. Read entire article>>>
What Happens When Bystanders Stand Up to Bullying?
Posted: 8/26/2014
Besmartbewell.com and PACER's National Bullying Prevention Center explore the important role bystanders play in preventing bullying.
Bullying and cyberbullying are a part of growing up today. Surveys show that nearly 30 percent of middle and high school students have been bullied at school and 43 percent have experienced cyberbullying in the past year.
Those witnesses, the bystanders, are the key to ending bullying, say experts interviewed by besmartbewell.com. "Bystanders have a powerful influence in preventing bullying," says Julie Hertzog, director of PACER's National Bullying Prevention Center. "It has such power when peers are saying, 'nobody deserves to be harmed; everybody deserves to be treated with respect.'"
In two new videos at besmartbewell.com, bullying prevention experts and high school students offer tips for how bystanders can stand up to bullying. Watch Bullies and Bystanders: What Teens Say and Bullies and Bystanders: What Experts Say.
Be Good to Each Other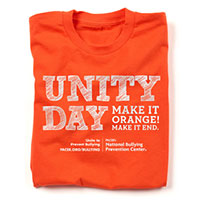 Posted: 8/26/2014
To help teens unite against bullying, CustomInk is launching its 4th annual Be Good to Each Other bullying prevention campaign. Coinciding with the back-to-school season and October's National Bullying Prevention month, the campaign encourages students, groups and others to take a stand for kindness and tolerance by designing and wearing custom bullying prevention t-shirts. All profits from the sale of bullying prevention t-shirts will benefit CustomInk's non-profit partner — PACER's National Bullying Prevention Center, which unites, engages and educates communities nationwide to address bullying through its resources. Learn more>>>
PACER PARTNERS WITH THE MAKERS OF EPIDUO GEL AND HIT RECORDING ARTISTS TO HELP BANISH BULLYING
Posted: 7/9/2014
Music is a powerful force, and this summer teens and young adults across the country have a unique opportunity to turn their personal experience into a musical rallying cry against bullying. PACER is partnering with Galderma Laboratories, L.P., the makers of Epiduo® Gel, for the "Band Together to Banish Bullying" campaign, which encourages individuals who have been affected by bullying, or who want to speak out against it, to share artwork, photos, videos, or brief stories about their bullying experiences. This inspirational content will be used for an original song that will serve as the bullying prevention anthem, to be written, produced and performed by renowned producer Clinton Sparks and hit recording artists The Mowgli's and Kylie Morgan. Learn more about how to participate.