In The News
Play 'Rudolph's Rooftop Gift-away' and support PACER's NBPC!
Posted: 11/15/2016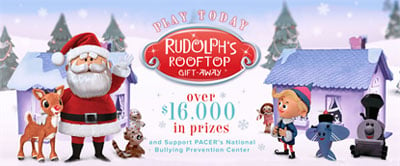 Embrace the holiday spirit by playing the new online game "Rudolph's Rooftop Gift-away!" The game features more than $16,000 in prizes, including a $500 shopping spree, and supports PACER's National Bullying Prevention Center.
For each gift delivered in the game, $1 will be donated to PACER's National Bullying Prevention Center (up to $15,000).
The game is online at https://forestcity.promo.eprize.com/rudolph/.
Anthony Hopkins supports PACER's NBPC on World Kindness Day
Posted: 11/14/2016
Sunday, Nov. 13 marked World Kindness Day. Actor Anthony Hopkins added his voice to the conversation on social media by posting a powerful video about bullying and encouraging everyone to visit PACER's National Bullying Prevention Center.
Hopkins is known for many iconic roles, including Dr. Robert Ford in Westworld, Odin in Thor, and Dr. Hannibal Lecter in The Silence of the Lambs. But he also experienced bullying as a child.
"I'm here to tell you that bullying is a horrible phenomenon in our world," Hopkins says in the video. "I think one of the worst things one can suffer is the shame of bullying. Boys or girls, if you are bullied, there is nothing to be ashamed of. Always report it. Report it to your parents. Report it to the teachers immediately. Don't put up with it."
Hopkins goes on to describe how his experience affected him, and pleads with parents and teachers to reach out and learn how to help children who are bullied.
"If you feel as passionately about bullying as I do," Hopkins says, "contact PACER Center."
Watch the video at https://twitter.com/AnthonyHopkins.
PACER partners with I Am A Witness
Posted: 11/2/2016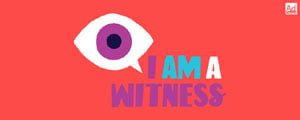 PACER's National Bullying Prevention Center has partnered with the I Am A Witness campaign, which aims to stop bullying by activating the "silent majority" of kids who witness it each day. The goal of the campaign is to transform students who witness bullying from passive bystanders into an active collective that speak up against bullying.
I Am A Witness has created the Witness Emoji, which is shaped like a speech bubble with an eye in the center. Students can use the emoji to show support for someone who is being bullied by posting it online or through a text message.
Teens can post the Witness Emoji when they see hurtful comments, or send GIFs and stickers to show support for someone in need.
More than one in four children experience bullying each year, and research has shown that the bystander can play a pivotal role in stopping it. For information, visit http://iwitnessbullying.org/.
UNITY DAY Blog post featured on StopBullying.gov
Posted: 10/19/2016
Featuring information on preventing bullying of students with disabilities.
By: Julie Hertzog, Director PACER's National Bullying Prevention Center, and Maureen Perkins, Health Resources and Services Administration
Unity Day is Wednesday, October 19. PACER's National Bullying Prevention Center started Unity Day in 2011. The purpose of Unity Day is to demonstrate that we are together against bullying. We are united for kindness, acceptance and inclusion of all students.
Get involved! Wear and share the color ORANGE on Unity Day! Join in sending one large ORANGE message of support, hope, and unity so that all students feel safe and supported.
Did you know that a student with a disability is two to three times more likely to be bullied? Bullying can affect a student's physical and emotional health, and it can interfere with a student's right to receive an education. PACER's National Bullying Prevention Center offers resources for all students, with specific resources for students with disabilities. Read the full blog post.
Babble Blog: Bullying Affects All of Our Kids, Even If They Aren't the Target
Posted: 10/19/2016
The second in a series of blogs about bullying was posted to Babble, A Company of Disney, in honor of the 10th anniversary of National Bullying Prevention Month this October. Be part of the movement to unite against bullying and promote kindness, acceptance, and inclusion among children.
Bullying affects everyone involved. Whether the child is the target, a witness, or the person who bullies, the end result is that everyone feels less safe. Children aren't responsible for resolving a bullying situation, but their opinions about how to proceed should be encouraged and respected. Engaging a child in finding the solution helps them learn problem solving and self-advocacy skills.

Miami Dolphins Host Hometown Huddle in Partnership with PACER
Posted: 10/18/2016
Miami Dolphins alumni Troy Drayton, Lousaka Polite and Twan Russell and cheerleaders Etta, Kristan and Rachael, in partnership with United Way and PACER, hosted a Hometown Huddle at Bob Graham Education Center on Oct. 18. The group hosted a Gatorade Junior Training Camp as the students participated in several fitness-orientated stations and learn the benefits of hydration and staying physically active.
"Today we're partnering with United Way and PACER for this tremendous event. Tomorrow is Unity Day, so we're out here showing the kids a good time and we're also delivering an anti-bullying message," Miami Dolphins alum and Youth Programs Manager Troy Drayton said. "So today's a special day for us. It's just a part of what we do and a part of the Miami Dolphins being in the community."
Additionally, a UNITY station was added in honor of UNITY day. The kids pledged against bullying and created crafts using positive words. The Dolphins are working closely with PACER's National Bullying Prevention Center to spread awareness of bullying prevention and to celebrate Unity Day to be united for kindness, acceptance and inclusion. PACER's National Bullying Prevention Center, which initiated National Bullying Prevention Month and Unity Day, encourages students, parents, teachers, community members, schools and organizations to wear and share orange to support those who experience bullying.
LOSERVILLE cast and producers celebrate Unity Day!
Posted: 10/18/2016
PACER's National Bullying Prevention Center (NBPC) is proud to partner with MarVista Entertainment on the newly released Loserville. This captivating teen film follows a high school outcast named Chuck as he navigates the wild and confusing days of his senior year.
Chuck's plan to capture the heart of his dream girl Melissa, by befriending her younger sister Mary, is complicated by the fact that a video of Mary is the talk of the school. Loserville gives an insightful, unique look at teen life and the issues faced by youth. It's full of poignant, authentic moments, while sensitively tackling and helping the viewer understand the important issue of bullying.
"We want to thank the cast, crew, and producers for this sensitive look at the issue of bullying," said Julie Hertzog, director of PACER's NBPC. "It is our hope that the movie will be a conversation starter for a kinder and more inclusive and accepting world."
On #UnityDay2016, Oct. 19, members of the Loserville team will be promoting Unity Day by sending one loud orange message of support through social media with photos and videos! See all of #TeamLoserville's #UnityDay video messages.
For more information about Loserville, visit www.loservillefilm.com or follow Loserville on Twitter, Facebook and Instagram at @LoservilleFilm.
Zero tolerance might sound good, but combating bullying can be as simple as speaking up
Posted: 10/17/2016
I was in sixth grade, eating lunch with a friend I wanted to impress, when another girl from our class came over to compliment my shirt. Instead of responding with gratitude, I made an insulting, unkind comment about her body. The next day, I discovered from a teacher the damage I had done to that girl. I had acted like a bully.
Or had I? Some professionals may not have defined my action as bullying but rather as meanness, for it was a single comment – cruel nevertheless – delivered on only one occasion. But could it have turned into something more had a caring teacher not stepped into the picture?
Julie Hertzog, Director of PACER's National Bullying Prevention Center was interviewed for this article written by teen author, Sydney Pope. Read the article.
Wisconsin farm teaches bullying prevention with Spookley the Square Pumpkin
Posted: 10/17/2016
Schairer's Autumn Acres in Birnamwood, Wisc., is incorporating the Spookley Farm Program into its activities this season. Spookley, a square pumpkin in a round pumpkin world, is the official Spokespumpkin of PACER's National Bullying Prevention Month.
The story is incorporated into the farm's smaller corn maze for young children, as well as other family activities. Karen Shairer talked about the farm's bullying prevention efforts on WSAW, the CBS affiliate in Wausau, Wisc.
The Spookley Farm Program is part of an educational toolkit created by PACER's National Bullying Prevention Center to complement The Legend of Spookley the Square Pumpkin by Joe Troiano.
Raise Your Voice
Posted: 10/14/2016
Cyberbullying impacts millions of kids around the world. It's time to #RaiseOurVoices because our words have the power to help heal. Norton has created this powerful film to encourage starting the important conversation with your child about online bullying. Visit the website.