In The News
Ohio Buckeyes Fans Rally Around Bullied Fan
Posted: 10/24/2013
While attending a Ohio State football game versus Iowa, a young fan named Cameron was thrilled to see himself up on the giant scoreboard cheering enthusiastically for his favorite team. Little did Cameron know that his intense cheering would result in fame. After hearing how Cameron's family moved back to Ohio after Cameron was severely bullied at school, Buckeyes fans rallied around him to show their support. In honor of Cameron, Ohio State fans have started donating to bullying prevention causes, such as PACER's National Bullying Prevention Center. When his mom asked him what he would do if he was famous, Cameron said he would help kids. And now he is doing just that. Cameron's story, and his strength, have inspired many — especially those cheering for the Buckeyes. Read the full story here.
Major News Organization covers PACER's National Bullying Prevention Month
Posted: 10/17/2013
"Huffington Post" blogger Cathy Chester shared the sad but true stories in her Oct. 7 post about two young children who were the targets of bullying, and chronicled PACER's efforts during National Bullying Prevention Month to ensure that all children can be safe. The influential website is one of many national news organizations that have covered PACER's efforts to raise awareness for bullying prevention throughout October, including the "New York Times," "USA Today," ABC News, and dozens of local TV newscasts across the country. Read more
Pittsburgh Junior Times Shines the Spotlight on National Bullying Prevention Month
Posted: 10/16/2013
Pittsburgh Junior Times encourages readers to take part in PACER's National Bullying Prevention Month participate by wearing orange on Unity Day, participating in school-wide activities, or visiting PACER's websites. Pittsburgh Junior Times also urges its young readers to use their social influence for good, to help prevent bullying and encourage others to do the same. Read more.
The Green Giant and Blue Earth Go Orange
Posted: 10/16/2013
On October 9th, the 55-foot tall statue of the Green Giant in Blue Earth, MN wore a brand new orange toga in honor of Unity Day. The mayor of Blue Earth showed his support for bullying prevention by issuing an official proclamation that renamed the city "Orange Earth" for the day. PACER and Green Giant staff, community members, and student leaders from local schools all celebrated Unity Day by gathering together to unveil the Green Giant's new outfit and the official proclamation. Read more.
Maryland Sixth Graders Embrace Unity Day with Gusto
Posted: 10/11/2013
After reading about Unity Day in a Time For Kids Magazine article, Cindy Maldonado decided her sixth grade class at Rosa Park Elementary School in Hyattsville, MD, needed to get involved. Soon word about Unity Day had spread, and the whole school — students, teachers, and even custodians — went orange on October 9th. Schools across the country united in orange to let everyone affected by bulling know that they aren't alone. Read the full story here.
ABC Family Partners with PACER's NBPC
Posted: 10/9/2013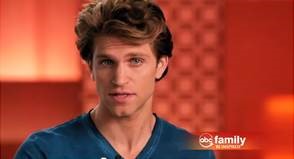 Keegan Allen from ABC Family's "Pretty Little Liars" filmed a PSA for PACER's National Bullying Prevention Center encouraging viewers to wear orange for Unity Day on October 9th.
Raise a Giant Campaign Launches to Empower Families to Take Action against Bullying for October's National Bullying Prevention Month
Posted: 10/4/2013
MINNEAPOLIS (October 1, 2013) — Today begins National Bullying Prevention Month and Green Giant's new partnership with PACER's National Bullying Prevention Center to help parents and kids find the courage to speak up and take action against bullying. The partnership's efforts will aid schools and families nationwide, just as a new survey1 reveals parents' strong need to help stop bullying. Learn more>>>
'Strain' Featured in Newsday
Posted: 9/24/2013
The silent short film "Strain," which is featured in one of PACER's "student created toolkits," was highlighted in an article is Newsday titled "Silent anti-bullying short film 'Strain' speaks volumes."
NBPC youth board member on national news
Posted: 9/18/2013
Christina Wagner, a high school junior and board member of PACER's National Bullying Prevention Youth Advisory Board, is interviewed by WCCO in segment titled "Bullying Can Affect Students' Physical Health."
Being bullied: One family's story
Posted: 9/5/2013
Lynn Miland, a PACER Parent Trainer and Advocate, and her daughter, Kelly, are featured in a recent blog post "Being Bullied: One Family's Story," by Children's Hospital and Clinic of Minnesota. The article starts, Kelly was bullied every day. First on the school bus. Then in her classroom. She was called "every name in the book." It went on for months, and her parents never knew.Then, one day the bullying turned physically violent. Read entire article