In The News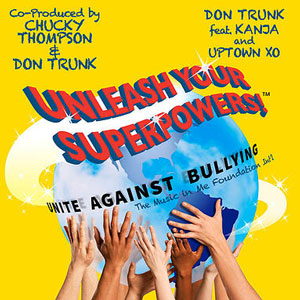 Posted: 4/24/2015
Pep Rally at the U.S. Capitol, Washington, DC, on Friday, October 23, 2015
It is amazing what can happen when one person stands up for another. BULLYING STOPS more than half of the time ( 57% ) when peers intervene on behalf of the bullied student! It is for this profound reason, we are making a difference and saving lives by teaching youth how to take action and not be bystanders.
Free quality books with positive messages, promoting self-esteem and character building will be provided. The books feature forwards from celebrities who are top in their fields: Ten-Time Grammy Award Winner Bobby McFerrin, Chart-Topping Hip-Hop Artist Big Sean and NFL's #1 Kicker Justin Tucker.
WPGC 95.5 FM (CBS Radio) will broadcast live from the event. The day will be packed with inspirational music, highly motivational and fun educational activities that participants can bring back to their schools and communities to implement. Students will have opportunities to shine by demonstrating and sharing their superpowers both as a community and individually.
Surprise celebrity guests in entertainment, sports and national leaders will be announced soon. Stay tuned. Learn more>>>
Infuse Body Positivity into the Online Community During the Proud2Bme 5 Day Challenge
Posted: 4/23/2015
On Monday, April 27, 2015, Proud2Bme is launching the 5 Day Photo Challenge, a new and exciting social media campaign. The goal of the 5 Day Photo Challenge is to infuse body positivity into the online community and help make a difference in the way we see ourselves and others. You can participate by taking a photo every day of the challenge and using the hashtag #Proud2Bme5Day:
4/27: No-filter selfie: Let your unfiltered beauty shine through in a selfie.
4/28: Pass it forward: Write "It's a beautiful day because of you" on a piece of paper, take a photo with the compliment, tag a few friends, and challenge them to pass it along.
4/29: Outfit you feel most confident in: Take a photo wearing the outfit that brings out the very best in you.
4/30: Post your passion: Share a photo of you hiking, dancing, reading, bicycling, in your favorite yoga position, or doing any hobby you're passionate about!
5/1: Role model: Post a picture with or of someone who inspires you — someone who makes you Proud2Bme!
The Proud2BMe 5 Day Challenge starts next week! Learn more>>>
Registration Now Open for "Violence in the Lives of People with Disabilities: Emerging Issues and Solutions for 2015 and Beyond"
Posted: 3/23/2015
Attend the free webinar, April 30, 1:30 — 3:30 EST, sponsored by The Arc's National Center on Criminal Justice and Disability (NCCJD) which will include PACER's National Bullying Prevention Center presenting on the topic of "responding to bullying of students with disabilities."
This webinar will address other emerging issues in the field with a panel of experts and advocates covering topics like:
Using trauma-informed care principles when working with victims with intellectual/developmental disabilities (I/DD)
Assisting crime victims with complex communication needs
Supporting victims with specific types of disabilities such as Autism Spectrum Disorders (ASDs) and Fetal Alcohol Spectrum Disorders (FASDs)
Supporting people with disabilities in speaking out against violence
Webinar participants will be the first to obtain NCCJ's white paper on the topic of violence, abuse, and bullying which delves even deeper into the issues addressed on the webinar. Join us for this thought-provoking and empowering webinar, and find out how you can reduce violence in the lives of people with disabilities. Learn more and register >>>
Posted: 3/6/2015
Pop recording artist and philanthropist Sir Ivan has released a new single titled "Kiss All the Bullies Goodbye" in support of his anti-bullying campaign with The Peaceman Foundation. The track was produced by Paul Oakenfold, and features vocals by chart-topping singer Taylor Dayne and lyrics that condemn bullying and encourage people to be different and tolerant. Sir Ivan has also released an accompanying music video directed by Erik White (Ryan Murphy's The Glee Project).
In conjunction with the release of this track, Sir Ivan, through The Peaceman Foundation, has pledged to donate a total of $100,000 to ten key non-profit organizations that combat bullying and intolerance, including: The It Gets Better Project; the Gay, Lesbian & Straight Educational Network (GLSEN); the Born This Way Foundation; Pacer's National Bullying Prevention Center; Parents & Friends of Lesbians & Gays (PFLAG); Stomp Out Bullying; Campus Pride; Love is Louder/The Jed Foundation; The Trevor Project; and the Anti-Defamation League. The donation will include all net proceeds from video views, song streams and downloads.
BulliED: Bullying and Eating Disorders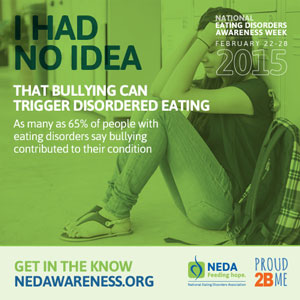 Posted: 3/4/2015
65% of people say that bullying contributed to the development of their eating disorder
PACER's National Bullying Prevention Center partnered with National Eating Disorders Association (NEDA) during NEDAwareness Week on a livestreaming event. The discussion focused on the impact bullying has on eating disorders and poor body image. Panelists spoke about the relationship between bullying and negative body image, the intricacies of bullying that are often left out by the media, and how we can work to stop bullying. View the YouTube video "BulliED: Bullying and Eating Disorders."
Posted: 2/26/2015
The word "bullying" often conjures up an image of a schoolyard scene, with a big, intimidating student towering over a small, cowering child. That's just one face of bullying — and of children who bully. Another face of a bully might be … that of your child. Surprised? Many parents are. Often they have no idea that their child is harassing other children. Yet knowing the facts — and acting to change the situation — is vitally important in making the future safer for your child and all children.
The Bystander Effect: Why You Don't Stand Up When You Should
Posted: 2/2/2015
When you see bullying, do you say something or do you assume that someone else will intervene? In this article, PACER's National Bullying Prevention Center Director Julie Hertzog shares tips to help you take a stand when you see someone being bullied. From reaching out to the victim to talking with school officials about the issue, Hertzog teaches you how to step in without getting caught in the crossfire. Read more>>>
What You Can Do: An amazing new resource to help parents address bullying situations
Posted: 1/16/2015
If your child is being bullied, has witnessed bullying, or is showing bullying behavior, you may be wondering what you can do to make it stop. PACER's National Bullying Prevention Center has created a new web page called "Helping Your Child" to help you address all types of bullying situations, including those involving students with disabilities. This interactive page offers detailed information, tips, action steps, and online resources to help you develop a strategy for your child's unique situation. Be sure to note that each section on the page expands for more resources. Learn more>>>
Your Story is Powerful
Posted: 12/16/2014
This past October, Michael and Marisa, two inspirational spokespersons for PACER's National Bullying Prevention Center, hosted the "Your Story is Powerful" event to give teens across the country an opportunity to share their personal experiences with bullying. We received many entries and thank everyone who participated! Josh, who is 14 years old, was randomly selected to receive the MacBook Air. Here is Josh' story about bullying:
It all happened one day at recess in 3rd grade. I was on the swings pumping my legs back and forth in a rhythmic pattern, when suddenly the rhythmic pattern came to a halt and my life was never the same. Two girls, who appeared to be in 2nd grade, came up to the swings and started calling me 'handicapped.' Then they proceeded to tease me and sing in a tuneful, but tasteless song; 'handicap, handicap, handicap.' I knew that I shouldn't let this incident go unnoticed, because, after all, they were bullying me. My friend, who was sitting next to me at the time, told me to a) ignore them and b) tell a supervisor. So we went to seek the assistance of a supervisor and told her what happened. She then came with us to the scene of the incident and punished the two girls by sending them inside.
For those of you who think that I was being a tattletale, I wasn't. From that point on, I knew that I would be a strong advocate for people with disabilities. Now I am involved in my community by spreading the word around to end the "R-word" even if it is just fellow classmates I am spreading the word to. My hope is that my friends will tell their friends and eventually start a chain reaction, showing that one person can make a difference in their community. This is also an example of actions speak louder than words, because even though words can hurt, we as humans can overcome them and take a stand. This incident has helped to shape the person that I am today, and my message toward my other friends and peers to be more inclusive and advocate for what they believe and value.
Again, thank you to Michael and Marisa for hosting this event and for their continued support of PACER's National Bullying Prevention Center. With events like "Your Story is Powerful," students can continue to raise awareness about the importance of bullying prevention.
On a Mission to End Bullying! The Great American No Bull Challenge is Now Accepting Video Entries Created by Youth!
Posted: 12/11/2014
A social action organization, NO BULL Challenge inspires teens and young men and women (ages 13 to 23) from around the world to take a stand against bullying and to promote digital responsibility, leadership, and social action through filmmaking and social media. NO BULL Challenge provides state-of-the-art digital platform as well as the motivation to develop powerful short films, public service announcements and vines that spark dialogue about bullying. For more information on how to enter the challenge and be a change maker reaching millions, visit: www.nobullchallenge.org. Challenge deadline: February 15, 2015