Preventing Cyberbullying
Posted: 10/14/2016
My name is Michael Nuccitelli, Psy.D. and I am a NYS licensed psychologist and forensic consultant. My dream is to one day encourage all American schools to make internet safety and cyberbullying prevention compulsory in their educational curriculums. Although we live in the Information Age, cyberbullying continues to grow at an alarming pace. Many parents, educators and pediatric professionals fail to realize the devastation that cyberbullying can cause a child experiencing cyberbullying. Prior to the Information Age, the child could leave the school or playground to seek sanctuary. Not so with cyberbullying. The child is cyberbullied 24 hours a day, 7 days a week and 365 days a year. To share my passion, I will be presenting at the Colorado Psychological Association (CPA) conference this November. As part of my keynote presentation and full-day training, cyberbullying prevention will be a central theme. Part of my resources include free images, slide shows and information for educational purposes. I hope my work can educate parents and teachers about cyberbullying. For more information, visit my internet safety website,
iPredator
.
By: Michael Nuccitelli
Permalink for Preventing Cyberbullying
Stop Bullying Walkathon
Posted: 9/27/2016
Port Monmouth School in Middletown, NJ decided to kick off the school year and National Bullying Prevention Month in October with a walkathon. They often hold walkathons for things like school spirit and various causes they think are important and want to draw kid's attention to. "In the community of Port Monmouth, which is pretty small, it got a lot of attention for the positive message and how happy the kids are participating. It seems to have evoked quite a bit of school and community pride."
By: Anonymous
Permalink for Stop Bullying Walkathon
National Make a Difference with Loukoumi Day on October 22
Posted: 9/23/2016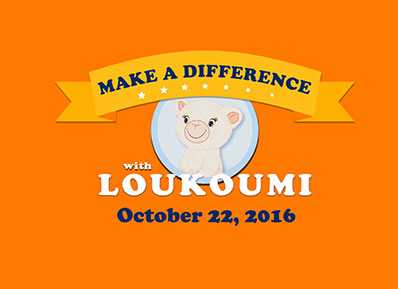 The Loukoumi Make A Difference Foundation and PACER's National Bullying Prevention Center are joining forces once again on National Make A Difference with Loukoumi Day October 22. The Loukoumi Foundation teaches children to make a difference in their lives and the lives of others and on October 22, over 50,000 children nationwide will participate by doing good deeds including many projects involving bullying prevention. Children are encouraged to orange to recognize the day and the color of bullying prevention
The Loukoumi Foundation also teamed up with PACER's National Bullying Prevention Center on its Make A Difference with Loukoumi TV special that aired on FOX stations nationwide. The special included a Public Service announcement for the National Bullying Prevention Center. Celebrity Chef and TV star Cat Cora also gives kids tips from the National Bullying Prevention Center. At the end of the segment she leads kids in PACER's Kids Against Bullying Pledge.
The end of bullying begins with you. Let's all make a difference with Loukoumi on October 22.
Download the flyer for ideas on how you can make a difference with Loukoumi.
Visit the website at Loukoumi Foundation.
By: Anonymous
Permalink for National Make a Difference with Loukoumi Day on October 22
#TwoInAMillion
Posted: 8/25/2016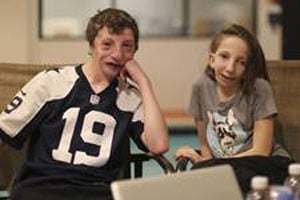 Meet Austin and Elena, who are two in a million, both diagnosed with Goldenhar Syndrome. They appear in TLC's new series, Two In A Million, which premiered in early April. They also shared their personal story posting a video with PACER's National Bullying Prevention Center. Learn more about Goldenhar Syndrome >>>
By: Anonymous
Different Worlds, Best of Friends
Posted: 8/15/2016
Fred Grandinetti and David Hudon were bullied throughout their school years suffering verbal and physical abuse. Grandinetti was the target due to his interest in the arts while Hudon was bullied because of his height. Cuyle Carvin was, in his own words, a "jock" in high school and played on the football team. Upon graduation from college he chose an acting career.
In 2009 Fred Grandinetti met Cuyle Carvin while working on his award winning cable access series Drawing With Fred. As they became friends, they discussed encountering bullying and decided their shared experiences would make an interesting comic book. The publication titled Different Worlds, Best of Friends, depicts Grandinetti as a target of bullying while Carvin offered his friendship to a student being bullied. The story extends to the pair's eventual meeting and working relationship. David Hudon, who previously worked with Grandinetti on his cable access series, was asked to illustrate the story.
Fred Grandinetti said, "The story in the book is based upon true events. I hope people will follow Cuyle's example- just because you've chosen sports as your passion you don't have to bully people with other interests. As difficult as it may become to endure bullying and stick with your interests, do it. There are benefits and gaining a good friend is certainly one of them." Throughout the story the reader sees the authors' passion for treating people with kindness and for bullying prevention!
For more information on Different Worlds, Best of Friends, visit https://www.facebook.com/fred.grandinetti.
By: Anonymous
Different Worlds, Best of Friends">Permalink for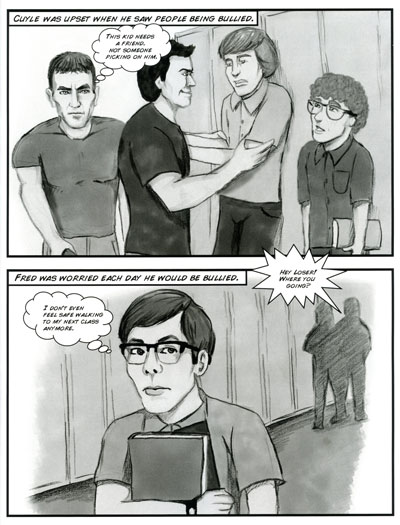 Different Worlds, Best of Friends
My Bullying Story - You're Not Alone
Posted: 6/6/2016
This story is both a cry for help and a petition for change. I am being bullied. I wish I was able to pinpoint a specific child or even a specific small group of people, but unfortunately I am not able to do so. This is because I am a target for many different students. Many of them enjoy starting rumors about me, spreading lies, and even making up absurd stories. None of these rumors have any truth to them, but have become widely popular among the student body. Aside from the rumor spreading is the isolation. There have been several occasions where I have been forced to work alone on group projects because none of the students in the class are willing to let me into their group. During many periods throughout the school day, I am forced to sit alone in silence in the corner of the classroom, because no student is willing to give me the time of day to converse with them. I am currently at a loss of actions that may be taken next, because it seems as though I have no options. I want to write to you to express my problems, and hopefully comfort others that may be feeling the same way. It is not fair for any student to be bullied, and it is even more unfair for that student to have to feel like it is their fault that they are being bullied. I wish I could go to a school where being a good person is the popular thing to do.
By: Jake
Permalink for My Bullying Story - You're Not Alone
Sammy's Prom
Posted: 6/1/2016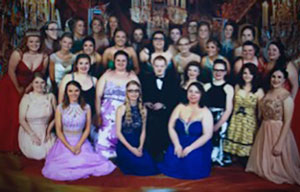 My son Samuel was born with Lobar Holoprosencephaly, Diabetes Insipidus, Seizure Disorder, Cerebral Palsy, Panhypopituitarianism, and Adrenal Insufficiency. He is graduating on June 4th from Penn Cambria High School in Cresson, Pennsylvania. In Pennsylvania special needs students can attend school until they are 21 years old. He has been in this school district for 16 years.
One of my biggest fears when he started school was the possibility that he could be made fun of or bullied. I didn't want him to be picked on or bullied by other students because he was different. After all, it was not his fault he was born with so many medical problems.
Sammy's School Experience
In the past 16 years at this school district we have never had issues with him being bullied or picked on. He has been treated like a ROCKSTAR by administration, teachers and students. He has been treated with respect, love, and kindness. He has been at the high school in the learning support class for the past six years. He has an aide that has gone to school with him every day for the past five years. Her name is Carol and she takes care of him like he was her son. He has been in the same homeroom for the past 6 years at the request of his teacher. He has had the same wonderful speech therapist, for the past 12 years. These teachers are exceptional. They have always been encouraging, caring and supportive toward my son. He loves them too!! He lights up when they are around.
Sammy's Classmates
The students in my son's class are the best!!! They have been with Sammy for many years. I have seen together and they are true friends. I have seen many "fist bumps" and "high-fives" when I am at the school and walk down the hall with Sammy. The students in his class have been able to look beyond his disabilities and get to know who he is as a person. After talking with some of them I think they have found that even though he is unable to talk, he is quite funny and charming. When I see them interact I know they see him as a true friend and it warms my heart. In my eyes Sammy's teachers and friends couldn't get any more supportive and kind.
The "Promposal"
In March a wonderful group of young ladies in his senior class took kindness to a new level when Sammy brought a letter home from with an invite to the prom.
Excerpts from the letter include:
Every senior deserves to be at prom for this very special occasion.
The class of 2016 is a "family" of which Sammy is a big part.
He [Sammy] can brighten up your worst of days with his big smile
No one could decide who would be lucky enough to go with you [Sammy] to prom, so will you go with all of us? We would be so honored.
His older brother and I were crying as we read the letter. Sammy didn't have just one girl ask him to the prom, he had 37 GIRLS invite him to the prom!!! A few weeks later all the girls gathered in the gym to ask Sammy to the prom. When Sammy walked into the gym they were all lined up holding signs that said, "Will you go to prom with us?" Sammy smiled and gave them a thumbs up.
The PROM
Sammy's father and I had to attend the prom with him due to all of his medical problems. We met with the senior class before the prom for pictures. He had many beautiful girls asking if they could have a picture with him. One memory of the day that really sticks in my head happened when they were taking a group picture. Sammy has been having issues with extreme weakness in his legs. During the group picture he just sat down on the step because he couldn't stand any longer. One of the guys came down and gave Sammy his hand and helped him get up. He led Sammy to the middle of the group and had him sit on the step right up front. Then he and another guy crouched down with him. I believe they did that so that he wouldn't feel out of place. There were many adults there but nobody told him to help Sammy. He knew why Sammy sat down and just came forward to help him.
We arrived at the prom just in time for the promenade. They announced each couple as they walked up on stage. After all the couples were announced, they announced Sammy and his dates. They all escorted Sammy to the stage as the entire room cheered. Sammy usually does NOT like to be the center of attention. Tonight was different. He stood proudly beside is dates with a big smile on his face. After pictures Karingtin came and got Sammy and took him to their table. Karingtin is the wonderful person who organized the whole thing. Sammy never leaves our side and my husband was a bit shocked. I knew he was in good hands and proudly let him go to have a great time. As my husband and I stood on the sidelines with the other chaperones I was in awe to see how all the students interacted with Sammy. It was heartwarming to see how the girls interacted with and watched out for him. They made sure he was having fun. He loves music and he loves to dance. He had a steady stream of students coming to find him to dance. He did not once sit on the sidelines and watch except when I made him because he looked a little tired. One of Sammy's medical problems requires that he drink a great deal of fluids every day and his friends knew that. I watched as they took the time to get him drinks and sit down with him to make sure he was drinking enough. Sammy is non-verbal but understands everything said. He knows many signs but prefers to use his own made up signs. His friends knew what his signs meant and knew exactly how to communicate with him. There was no doubt in my mind that these students were Sammy's true friends.
Crowned Prom King!
Sammy had made the prom court and at 9:30 they were going to announce the prom king and queen. I wasn't sure if he was going to make it till 9:30 because he seemed to be getting weak. The teacher in charge of the ceremony noticed that he wasn't looking well so she decided to move it up to 9:00. When they called Sammy's name two of his dates escorted him to the middle of the dance floor. Everyone cheered loudly as Sammy walked onto the floor. They announced the prom queen first and then announced that the prom king was Sammy Lamar. The entire room began to chant, "Sammy, Sammy" as he went up to get his crown. The entire senior class had voted for Sammy to be their prom king. As they chanted his name he proudly walked onto the floor to receive his crown with a big smile on his face. At that moment I was humbled by the kindness shown by every person in that room and the proudest mom in the world. I am very proud of my son. He has been through a great deal of unpleasant things in his short life, but through it all continues to smile. I have always noticed that people seem to be attracted to Sammy. I call him my "people magnet". I think it is because of his uncanning ability to make people smile. Sammy danced with his queen like a pro, and had what seemed like several hundred more pictures taken. What amazed me was that he was still wearing his crown. The fact that he still had that crown on his head was nothing short of a miracle to me. In his lifetime I have never seen him wear a hat for more than maybe one minute. He wore that crown in the car the entire way home. He never took it off until we got into the house. He was certainly proud of that crown he had received.
A Mother's Wish
I wish that before any student bullies another student they would stop and just think about what being kind would mean to that person. One act of kindness toward a person can be life changing.
Future Success For All
Graduation will be very bittersweet. I am happy and proud to see my son graduate from high school, but at the same time sad to see him leave a place with such wonderful people. Sammy and I will never forget these girls and their wonderful act of kindness. I am sure that these lovely young ladies will go far and succeed in everything they wish to do in life.
By: Diana, Proud mom of Sammy
BUILDINGS IN UNITY
Posted: 5/31/2016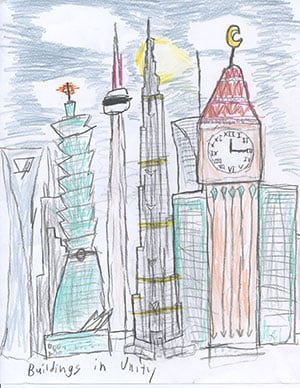 Stephen Elsinger is in fourth grade and likes math, architecture and composing music; he also likes to draw.
When he was asked to create a picture on the theme of unity, he created an amazing drawing of buildings from around the world standing together. He appropriately titled it "Buildings in Unity." He drew the Shanghai World Financial Center, the Willis (Sears) Tower in Chicago, Taipei 101, the CN Tower in Toronto, 1 World Trade Center in New York City, and the Makkah Royal Clock Tower in Saudi Arabia all side by side.
Stephen says that "everything together creates unity."
By: Danna
Permalink for BUILDINGS IN UNITY
SILENT
Posted: 5/3/2016
Lindsey Hunter is a 15-year-old freshman at Folsom High School in Folsom, CA. "Silent" is her first short film. She created it for a Northern CA Media Educator's Film Contest for which she received first place in the live action short film division. Lindsey wanted to create a film titled "Silent" that was a silent film about a girl living in a silent world and wanted to convey the message, "If you are going to say something mean, remain silent." Lindsey has grown up around disabled people since her father is blind. In fact, when she first showed "Silent" to her father, Lindsey had to describe each scene to him. The story brought her dad to tears. Lindsey has a genuine heart for those with disabilities. Lindsey is passionate about her interest in creating projects on film. She got her start by creating videos of her sister on her iTouch. Lindsey also loves to perform with El Dorado Musical Theater where she met the girls who starred in "Silent" The redeemed mean girl is played by Julianne Yonano and the deaf girl is played by Jocelyn Haney. Lindsey hopes to get a scholarship to the USC Film School so she can pursue a career in filmmaking.
By: Richard, Lindsey's father
Hope from her peers
Posted: 4/29/2016
When a high school student experiences bullying at her new school, she finds hope from her peers. Kindness, support and hope are things that everyone can give – and your actions matter. Special thanks to kouraproductions for creating and producing this powerful video!
By: Anonymous