You're Worth It!
Posted: 10/27/2015
I am currently 26 years old, when I was in school since the 2nd grade I was bullied. It was all kinds of different things; my clothes, my weight, my quietness (which was because of the bullying), being "alone", how good I got along with my teachers. I have learned that some of that bullying has been because of a lack of understanding. Some of it was the difference of priorities between them and myself and the other was because I was "different" I never went to a school dance, football game or anything. I was going to go to prom until my grandmother died the night before. A lot of those bullies made me even more self conscious of myself. Some of it has stuck with me and some has not. Somethings have changed and some haven't. Some of those bullies are now friends on facebook and some of them are still like they were in school. A few of them have written me and told me that my faith inspires them, which made me feel good. Bullying hurts, I almost failed a class because of it, but while we have people who bully us we also have those who care about us. The ones who care are the ones who get us through the rough spots.
My advice to you is this- There are always going to be more people who care about you than you know. Even if you find just one strong friend you have outweighed all of those bullies. My faith was my serenity. You're not the anything they tease you to be. You're identiy is in who you were created to be and the purpose you were given, don't let anyone else who is just as equal is you tell you how awful you are. Remember this, we are all different no matter how many are in a group, or how "big" or "powerful" the bully is they all have a different finger print, they are themselves and you are you, both with flaws and both with gifts. You're worth it!
By: Ashley
Permalink for You're Worth It!
#My Soul
Posted: 10/27/2015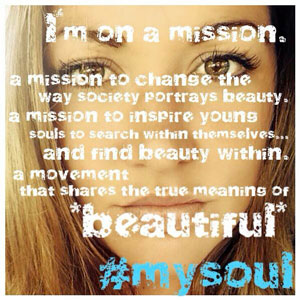 #MySoul is a movement I created that inspires America's youth today to focus on inner beauty inside their soul. Instead of focusing on someone's physical beauty, #MySoul encourages our youth to focus on what's driving us within. For it is what drives our soul inside, that makes us truly beautiful on the outside.
#MySoul is a movement for society. Its intent is to capture the life inside of us, to spread love and share passion, provide strength and unity to all, and measure beauty from the inside out.
My soul is made of determination.
Determination that inspires your soul.
Determination that inspires our future.
Determination that shares a story with our youth…
That being beautiful means:
Being empowered to change the world.
Being beautiful means fighting for success, for love, for peace.
Being beautiful means growing within, learning, and showing strength in times of hardship.
Being beautiful means singing inside the grocery store, or dancing in the rain.
Being beautiful means finding truth within your soul, to captivate others around you... to inspire them to be their very best.
Being beautiful means not judging others for who they chose to be or who they were born to be.
Being beautiful means knowing who you are.
Being beautiful means standing up for what you believe in.
Being beautiful means finding your soul and looking at those who surround you every day for who they are beneath their skin… who they are, inside their soul.
We need to change the way we think about beauty.
We need to change the way society portrays beauty.
We need to change our minds on what being beautiful really means.
Because being beautiful is who you are within.
And that, is what #MySoul is all about; being beautiful from the inside, out.
I was inspired to create this movement after spending the last six years working in the mental health field. I noticed a common theme among all the youth I have worked with. They all struggled with self image, self confidence, and self esteem. They didn't feel good enough, pretty enough, thin enough. And they were ALL being BULLIED. It truly hurt my heart. I needed to do something to empower these young souls, to help them understand that the true meaning of beauty comes from within. It doesn't matter what people say about you, if you are happy with yourself within, you will know you are beautiful. With that inspiration, I developed #MySoul. I currently present this movement at Bradley Hospital in East Providence, Rhode Island. I work on the Adolescent Inpatient Unit with young boys and girls from age 12-18. Seeing them connect with my words, and feel inspired to spread the love makes me feel amazing. If I can change the lives of children for the rest of my life, I will be the happiest woman alive. Check out #MySoul at www.hashtagmysoul.com.
By: Kelly Finn
Start of a New Tradition
Posted: 10/27/2015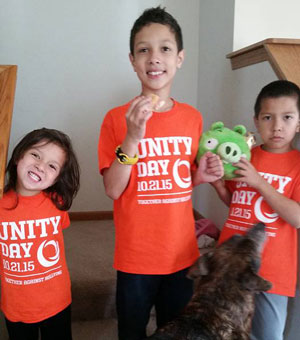 I purchased the Unity Day t-shirts for my nephews (Aaron and Aiden) and niece (Amara) and asked my sister-in-law to have them wear it on the 21st. She shared with me the conversation they had about the shirts:
"I asked the kids if they knew what the shirts were for and Aaron right away said "yeah it's to stop people from bullying". Aiden piped in and said that we should be nice to everyone.
One of the things we try to teach the kids is to be accepting and respectful of peoples differences. We've had lots of talks about how a person's differences makes them unique. If everyone was the same, life would be pretty boring. We have a list of rules we go over in the car before school and one of the rules is to be nice to everyone."
This will definitely become another fabulous, "feel good" tradition I have with my nephews and niece!
By: Albertha
Permalink for Start of a New Tradition
United in Kindergarten
Posted: 10/27/2015
Mrs. Barrett's Kindergarten Class in Charles County, MD, celebrated Unity Day this year by creating a short video, showing they are united for kindness, acceptance and inclusion! See the video>>>
By: Anonymous
Permalink for United in Kindergarten
The Right Way
Posted: 10/20/2015
Singer-Songwriter Cat London and her production team went to Middlesex High School (NJ) and asked students to volunteer their opinion on what it means to treat others #TheRightWay. Thanks to Vince Inciong, music teacher at MSH and videographer of #TheRightWay, their kindness initiative unfolded through the voice of his students.
#TheRightWay is a bullying awareness and kindness campaign that grew out of London's song, "The Right Way." The duet features two young people struggling with acceptance, empathy, and bullying. The song makes us recognize that we are the same, we feel the same pain, but we might not realize it. We're increasing awareness that we, as humans and peers, can achieve more through compassion, understanding, and willingness to dissolve barriers that perpetuate anger, hatred, and bullying.
A free download of The Right Way is available on NoiseTrade.com.
By: Anonymous
You'll Never Take Me
Posted: 10/20/2015
You weren't there when it happened
You didn't see what he did
You believed him instead of me
You don't care
You said I was nothing
You drew on me like a picture
You said I didn't belong
You stole my trainers, my socks and my shoes
You took my homework to the bin
You spread lies about me
You didn't tell the truth
You didn't stop
You said you never would
You would never stop
You said that I didn't matter
You said I was a freak
You said I was a geek
You made me cry from the inside
You made me feel small
You said you made me feel small
You said you did it to the other kids
You said to go and die
You said I was small
I'm not small
Bullies think they make us feel like we are nothing
But in reality you did just the opposite
I've never felt bigger in my life
So take my homework
And take my shoes
But you'll never take me
You'll never take my life
Cos that's one thing I will fight for
You'll never take me
By: Heather
Permalink for You'll Never Take Me
The Unity Day Project
Posted: 10/19/2015
Middle school students in Medina, Ohio, worked together to create an inspiring video about bullying prevention and the impact that kindness, acceptance, and inclusion can have on everyone. Based on the real-life experiences of students, the "Unity Day Project" was created by six different 7th grade classes coming together as one.
By: Anonymous
Permalink for The Unity Day Project
Good Enough
Posted: 10/16/2015
Everyday, ever since I was in second grade I think, I have been bullied by someone. I am very skinny, and I never thought it was a bad trait to have, until a group of 3 or 4 boys started calling me toothpick. During class, they would make a snapping motion, as if breaking a twig, and point to me. They told me I was not good enough. I started eating more to gain weight, but it seemed it never worked. Eventually, I gained weight, and the boys started calling me marshmallow, fat, and chubby. I was still the skinniest, but I did not know because I listened to them. I started losing a lot of weight, and I only weighed 75 pounds. Then, I met a girl who the boys called chubby. I stood up for her, and we became best friends. The teacher would tell the boys to stop in her kindest voice, and they just laughed. I grew up going to class with the same people, and the same boys that bullied me. In the end, it was my best friend who taught me that I could stand up for myself as I did with her. I stood up with myself, and one of the bullies started being really nice and made a complete turnaround. We were almost BFFs because I stood up for myself, and I stood up for myself because I stood up for someone else. As bystanders, we should not just stand by-we need to stand up. Together, we can all be "good enough" because everyone has a flaw that we just have to accept, instead of bringing others down. That is what makes us different from the bullies.
By: Alivia
Strong Enough
Posted: 10/12/2015
The students of South Jr. High and Cloud City Boyz want to tell targets of bullying that they are STRONG ENOUGH. This campaign encourages targets of bullying to share their stories anonymously on a Facebook group. This music video features 6th grade students singing to reach out to other victims of bullying – and let them know that they are STRONG ENOUGH to overcome bullying!
Credits to: Cloud City Boyz, (Tyler Lydeen, Leroy Hirlder) Janey Neal, City House Records LLC and Videographer David Rossow of WhirlyBird Media LLC.
By: Anonymous
Speak Out Against Bullying NBPM Kickoff!
Posted: 10/6/2015
On Oct. 1, 2015 Speak Out Against Bullying kicked off National Bullying Prevention Month by gathering students and community leaders together to take a pledge against bullying. These efforts sent a clear message to students that their community cares about them and that they can be champions for bullying prevention in their schools. Thank you for your support of National Bullying Prevention Month!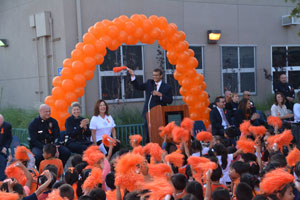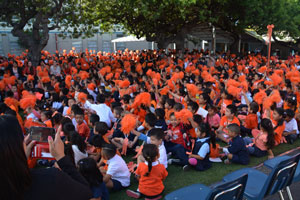 By: Anonymous