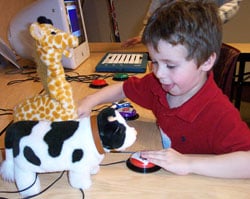 Simon Technology Center Overview
Assistive technology can be a device or service that helps children with disabilities participate more independently within their environment at home or school.
The Simon Technology Center (STC) is dedicated to making the benefits of technology more accessible to children and adults with disabilities. Through a collaborated effort involving parents, professionals, and consumers, the STC can provide numerous services for your family, as well as resources and informative answers to your questions. Since 1987, the Simon Technology Center has helped many children and adults, with a variety of disabilities, use assistive technology to enhance learning, work and independence.
---
The Simon Technology Center provides a variety of core services to help children, families, and professionals including:
The Simon Technology Center also operates several projects with specific focuses such as:
EX.I.T.E. Camp
(EXploring Interests in Technology and Engineering)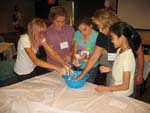 A 5-Day Camp in August for middle school girls (6th-9th grades) with disabilities.
Application deadline: May 1st
It's FREE, Learn More and Register Now about EXITE Camp
Upcoming STC Workshops & Events
New Technologies, New Opportunities: The Changing World of Assistive Technology

Date: Wednesday, April 08, 2015

Time: 6:30pm-8:00pm

Parents and professionals will learn about current technology trends – digital citizenship, wearable technology, 3D printing, mobile devices, and more – and their potential to help children with disabilities and learning differences.

Show What You Know Your Way: New Ways to Complete Assignments with Technology

Date: Thursday, April 30, 2015

Time: 6:30pm-8:00pm

Computers, tablets, and smartphones can make organizing and expressing ideas easier and more enjoyable than traditional note-taking and writing. Participants will learn about apps and programs to help students show what they know in exciting new ways, and how to talk with instructors about alternative assignment formats. This workshop is designed for students in middle school and up, their parents, and professionals.

New Technology for Individuals with Complex Communication Needs

Date: Tuesday, May 05, 2015

Time: 6:30pm-8:00pm

There are countless new technology tools to support individuals with complex communication needs. Participants will learn how to find the right augmentative and alternative communication (AAC) systems.

Technology for Girls: Engineering Structures

Date: Saturday, May 16, 2015

Time: 10:00am-11:30am

When constructing a building, the possibilities are endless! Middle school girls with disabilities who participate in this fun, hands-on workshop will learn how to turn simple household items into amazing structures. They'll learn how engineering principles are applied in the real world and how these can be used in everyday situations through hands-on exploration. The workshop will be presented by Natalie Hedberg, a high school student with experience in FIRST robotics and Project Lead the Way.

The Device is on – Now What? Practical Implementation Strategies to Support Individuals with Complex Communication Needs on AAC Systems

Date: Thursday, June 11, 2015

Time: 6:30pm-8:00pm

The augmentative and alternative communication (AAC) device may be turned on, but is the user truly maximizing its capabilities? Participants will learn how to take an AAC user's experience to the next level through practical implementation strategies, including modeling and simple techniques that can improve language outcomes for individuals with complex communication needs.

Location: PACER Center
---
The Simon Technology and its projects are generously sponsored by private donations and the following foundations: 3M, Boston Scientific, Donaldson Foundation, Ecolab, Fred C. & Katherine B. Andersen Foundation, Grotto Foundation, IBM, Medtronic, Minneapolis Rotary Community Service Foundation, The Minneapolis Foundation, Schulze Family Foundation, Verizon, and Xcel Energy. In kind support provided by Accenture and Target.