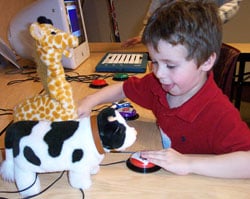 Simon Technology Center Overview
Assistive technology can be a device or service that helps children with disabilities participate more independently within their environment at home or school.
The Simon Technology Center (STC) is dedicated to making the benefits of technology more accessible to children and adults with disabilities. Through a collaborated effort involving parents, professionals, and consumers, the STC can provide numerous services for your family, as well as resources and informative answers to your questions. Since 1987, the Simon Technology Center has helped many children and adults, with a variety of disabilities, use assistive technology to enhance learning, work and independence.
---
The Simon Technology Center provides a variety of core services to help children, families, and professionals including:
The Simon Technology Center also operates several projects with specific focuses such as:
New in the STC Library
PACER's Simon Technology Center is thrilled to add some new, cutting edge technology.
VGo Robot
UbiDuo Wireless Face to Face Communicato
Tobii Eye Mobile.
Upcoming Webinars / Online Events
Getting Started with Alternative and Augmentative Communication (AAC) for Your Child

Date: Tuesday, November 10, 2015

Time: 6:30-7:30 pm CT

Presenter: Dana Nieder, author of the award winning special needs blog Uncommon Sense.

AAC is any device or strategy that helps children communicate when they have difficulty speaking verbally. Webinar participants will learn the skills needed to locate the right AAC technology for their child, including how to look for the best system, advocate for AAC, select vocabulary, learn to use an AAC device, and learn how to interact with a child using AAC. Participants can learn more and ask the presenter questions during the "Video Café Q&A: A caffeinated conversation about assistive technology" a follow up discussion on November 12th from 7:30-8:30 ET . Send your questions for the presenter to stc@pacer.org by 2:00 ET on November 11th.
Upcoming STC Workshops & Events
Technology for Girls: Puppy Palace

Date: Tuesday, October 20, 2015

Time: 6:00pm-8:00pm

Middle school girls with disabilities who participate in this workshop will use their creativity and engineering skills to construct a dog house out of paper, while learning important skills needed to complete a quality project on time. Participants will work in small groups to design and build the structure using a specific shape, theme, and color that a 'customer' has ordered.

Do the Math: Mastering the Basics Adds up to Success

Date: Tuesday, November 17, 2015

Time: 1:00pm-2:00pm

Participants will learn about the math skills employers are now expecting employees to have. Math is part of making decisions and reasoning, and basic math skills are used in the workplace when purchasing and ordering supplies, following a budget, even managing your vacation time. Discover which technologies can help you brush up on your skills and make sense of this important skill.

Learn About Assistive Technology Online: Helpful resources for parents and educators

Date: Thursday, November 19, 2015

Time: 6:30pm-7:30pm

Whether you are new to assistive technology (AT) or a seasoned parent or professional, this workshop will provide valuable AT information and resources. Topics include resources for webinars, articles, and social media to make learning about AT fun and impactful. Content provided by the Center on Technology and Disability (CTD), a leader in educating the community about AT and IT through informative online content.
---
The Simon Technology and its projects are generously sponsored by private donations and the following foundations: 3M, Boston Scientific, Donaldson Foundation, Ecolab, Fred C. & Katherine B. Andersen Foundation, Grotto Foundation, IBM, Medtronic, Minneapolis Rotary Community Service Foundation, The Minneapolis Foundation, Schulze Family Foundation, Verizon, and Xcel Energy. In kind support provided by Accenture and Target.