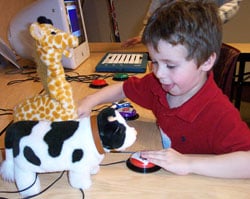 Simon Technology Center Overview
Assistive technology can be a device or service that helps children with disabilities participate more independently within their environment at home or school.
The Simon Technology Center (STC) is dedicated to making the benefits of technology more accessible to children and adults with disabilities. Through a collaborated effort involving parents, professionals, and consumers, the STC can provide numerous services for your family, as well as resources and informative answers to your questions. Since 1987, the Simon Technology Center has helped many children and adults, with a variety of disabilities, use assistive technology to enhance learning, work and independence.
---
The Simon Technology Center provides a variety of core services to help children, families, and professionals including:
The Simon Technology Center also operates several projects with specific focuses such as:
New in the STC Library
PACER's Simon Technology Center is thrilled to add some new, cutting edge technology.
VGo Robot
UbiDuo Wireless Face to Face Communicato
Tobii Eye Mobile.
Upcoming STC Workshops & Events
Do the Math: Mastering the Basics Adds up to Success

Date: Tuesday, December 01, 2015

Time: 1:00pm-2:00pm

Participants will learn about the math skills employers are now expecting employees to have. Math is part of making decisions and reasoning, and basic math skills are used in the workplace when purchasing and ordering supplies, following a budget, even managing your vacation time. Discover which technologies can help you brush up on your skills and make sense of this important skill.

Tablet Accessibility

Date: Wednesday, February 17, 2016

Time: 6:00pm-7:30pm

Tablets are very popular devices but their built-in accessibility features are often unexplored. In this workshop, participants will learn about the many accessibility features on Apple and Android tablets that can open up new possibilities for you, your child, or your students.

Location: PACER Center

Keyboards for All Learners

Date: Wednesday, May 18, 2016

Time: 6:30pm-8:00pm

Keyboarding is an essential skill in today's world. For some students with disabilities, typing on a traditional keyboard can be challenging. In this workshop, we'll explore Bluetooth keyboards for tablets, keyboard apps for the iPad, and alternative keyboards for the computer to help support students.

Apps for Little Tikes

Date: Thursday, July 21, 2016

Time: 6:00pm-8:00pm

Apps for learning have become a large part of our lives. In this presentation we'll explore apps and their appropriate use for children with disabilities ages birth to 5.

Managing Life the Smart Way with Technology for Teens

Date: Thursday, August 18, 2016

Time: 6:30pm-8:30pm

Does managing your homework, time, and health sometimes feel overwhelming? There are ways technology can help! Participants will learn how today's technology, such as smartphones, tablets, and computers, can help you more independently manage your school work, time, and wellness. Family strategies for using technology to foster independence will also be discussed. This workshop is designed for students in middle school and up, their parents, and the professionals that work with them.
---
The Simon Technology and its projects are generously sponsored by private donations and the following foundations: 3M, Boston Scientific, Donaldson Foundation, Ecolab, Fred C. & Katherine B. Andersen Foundation, Grotto Foundation, IBM, Medtronic, Minneapolis Rotary Community Service Foundation, The Minneapolis Foundation, Schulze Family Foundation, Verizon, and Xcel Energy. In kind support provided by Accenture and Target.