STC - Navigation Menu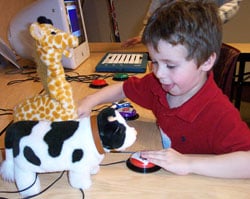 Simon Technology Center Overview
Assistive technology can be a device or service that helps children with disabilities participate more independently within their environment at home or school.
The Simon Technology Center (STC) is dedicated to making the benefits of technology more accessible to children and adults with disabilities. Through a collaborated effort involving parents, professionals, and consumers, the STC can provide numerous services for your family, as well as resources and informative answers to your questions. Since 1987, the Simon Technology Center has helped many children and adults, with a variety of disabilities, use assistive technology to enhance learning, work and independence.
---
The Simon Technology Center provides a variety of core services to help children, families, and professionals including:
The Simon Technology Center also operates several projects with specific focuses such as:
New in the STC Library
PACER's Simon Technology Center is thrilled to add some new, cutting edge technology.
VGo Robot
UbiDuo Wireless Face to Face Communicato
Tobii Eye Mobile.
Featured Services and Projects
The STC Lending Library has launched a new modern online catalog of items!

With more than 1,900 items, the Lending Library lets you try out and borrow some of the newest educational and disability-specific software and devices on the market including:

Text-to-speech software for reading accessibility
Speech-to-text software for improved written communication
Universally designed toys for playtime accessibility and inclusion
Communication devices for communication freedom
Computer access adaptations for independence
Talking calculators for improved independence with math

The Simon Technology Center Lending Library allows you to try assistive technology before making a purchase decision and is open to Minnesota residents.  Families, educators, and consumers who become library members benefit from personalized assistance, convenient hours and services.  As a member, you can:

Receive personal assistance in selecting and checking out materials.
Try out devices and software.
Reserve, check-out, or renew items online, by phone, email or in person.
Schedule quick pick-up during regular business hours or library open hours.
Have items mailed to you for free if you live in Greater Minnesota.
Upcoming STC Workshops & Events
Learn How to Integrate Technology in the Classroom with Extraordinary Learners

Date: Tuesday, October 17, 2017 — 2:00 PM - 4:00 PM

It is important that we, as parents and educators, are fluent in the use of digital devices. It is our job to teach our children and students how to be independent and to help them develop functional skills with technology. Half of this workshop will focus on general use of the Apple iPad in the classroom setting, with tips on how to leverage its many settings to help students with disabilities. The remaining half of the workshop will be spent learning how to best use the SuperSpeak AAC and PLAY app with nonverbal learners.

This workshop has been canceled.

Improving Study Skills with Assistive Technology

Date: Thursday, October 26, 2017 — 11:30 AM - 1:00 PM

Study skills are fundamental for students' academic achievement. Learn about a variety of assistive technology tools and creative strategies for student study success.

Tech for Teens :

Take Apart a Computer

Date: Saturday, November 04, 2017 — 10:00 AM - 12:00 PM

In this fun STEM activity, teens will take apart a computer and learn about its inner workings as they recycle old technology.

Technology for Girls :

Earth Science

Date: Saturday, November 18, 2017 — 9:00 AM - 10:30 AM

Join us to learn about ecosystems! In this workshop, middle school girls with disabilities will build their own mini ecosystem and bird feeder, and learn how animals interact with their environment.

Assistive Technology to Support Children's Sensory and Behavior Development

Date: Thursday, December 07, 2017 — 11:00 AM - 12:30 PM

This workshop discusses the wide range of assistive technology available to help support children's sensory and behavior needs. Tools, apps, and resources will be discussed and demonstrated.

Technology for Girls :

Exploring Space

Date: Saturday, December 16, 2017 — 9:00 AM - 10:30 AM

Discover the science behind many space phenomena through hands-on activities! In this workshop, middle school girls with disabilities will learn about solar eclipses and planets in our solar system. They will also create their own constellations to take home.
---
The Simon Technology and its projects are generously sponsored by private donations and the following foundations: 3M, Best Buy, Boston Scientific, Donaldson Foundation, Ecolab, Fred C. & Katherine B. Andersen Foundation, Grotto Foundation, IBM, Medtronic, Minneapolis Rotary Community Service Foundation, The Minneapolis Foundation, Schulze Family Foundation, Verizon, and Xcel Energy. In kind support provided by Accenture and Target.