PACER Center
952-838-9000
Champions for Children with Disabilities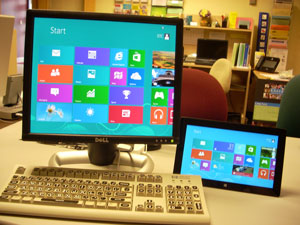 The PACER Simon Technology Center is part of a network of Microsoft Accessibility Resource Centers located throughout the United States, available to help local residents learn how to make their computers easier to see, hear, and use with Microsoft Accessibility features.

The Simon Technology Center Staff can show you what's possible with accessible technology in the Microsoft Windows operating system.
View demonstrations of accessibility settings in Windows Vista and Windows XP.
Learn how to adjust your computer to make it easier to see, hear, and use.
Receive a free Microsoft Accessibility CD set that includes demonstrations, tutorials, and information you can use at home.
Request a consultation that can help you find accessibility settings and assistive technology products to enhance your computer use.
Contact the Simon Technology Center to learn more or look for a Microsoft Accessibility Resource Center in your area.
Summer 2013 Update
Making the Computer Easier to Access: Microsoft Accessibility
PACER Center's Simon Technology Center presented three free workshops on assistive technology and computer accessibility to more than 100 people during the summer. Participants in the workshops — An Introduction to Assistive Technology, Exploring Microsoft Accessibility, and Assistive Technology for People for the Blind and for People with Low-Vision — learned about integrated tools in the Windows 8 operating system on the Surface tablet that can be used to make the computer easier to access.
The workshops allowed hands-on training with such built-in tools as magnifier, narrator, voice recognition, and more. The audience gained knowledge on how to:
use the computer without a display
make the computer easier to see
use the computer without a mouse/keyboard
make the keyboard and mouse easier to use,
use text or visual alternatives for sounds
make it easier to focus on a task using the built-in tools
make touch and tablets easier to use
Ninety percent of participants said that after the trainings they are more likely to utilize accessibility features in their computer's operating system; the other 10% said if needed they would utilize the features. Most participants found speech recognition and magnification most helpful among the tools.
Workshop participants appreciated the opportunity to learn about their preferences and the flexibility the Microsoft operating system has in allowing customization to make the computer easier to see, hear, and interact with.
For more information about Microsoft Accessibility, the Windows 8 Surface, or assistive technology contact the Simon Technology Center.