PACER Center
952-838-9000
Champions for Children with Disabilities
In the event of inclement weather, PACER Center may cancel workshops. If you are registered for a workshop, we will contact you about cancellations. Also, please check this site the day of the workshop for a possible cancellation due to weather problems.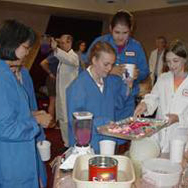 Technology for Girls Workshop Series
An EX.I.T.E. project - EXploring Interests in Technology and Engineering
Calling all girls! The Tech for Girls Club invites middle school girls with disabilities to roll up their sleeves and get messy while having fun with science, technology, engineering, and math. Girls will explore the wonderful world of science in a fun environment; all skill levels are welcome.
PACER Center
see the flyer

for Koding with Kodu

Tech for Girls Club :

Koding with Kodu

Date: Saturday, February 10, 2018 — 10:00 AM - 11:30 AM

Ever wonder what it's like to program a video game? Join us to find out! In this workshop, middle school girls with disabilities will learn how to code their own video game using Kodu, a visual programming language created by Microsoft. Kodu is designed to be accessible for children and enjoyable for anyone.