Highlights

Produce Short Videos
Submissions open now through April 10;
top entries announced early May
Inviting all K-12 students, with support from adults, to produce short (one-to-three minute) videos using template scripts for the opportunity to be featured on NBPC websites and viewed by classrooms around the country — plus, win some amazing prizes!
---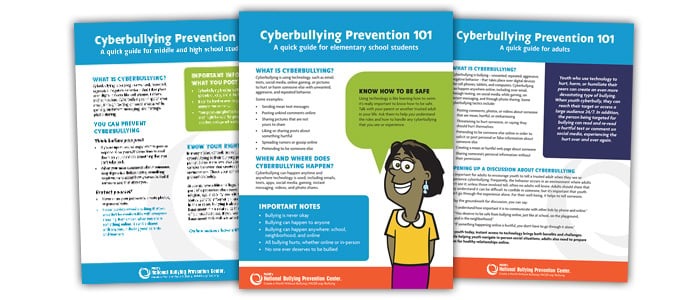 Cyberbullying Prevention 101 Quick Guides
The three-version series with audience relevant content for elementary school students, middle and high school students and adults outlines how cyberbullying is defined, along with information on how to prevent and address the behavior.

Recognize Extraordinary Individuals and Groups
Nominations now open; honorees to be announced in May
The Unity Awards is a celebration to recognize individuals and groups who are instrumental in making change.
---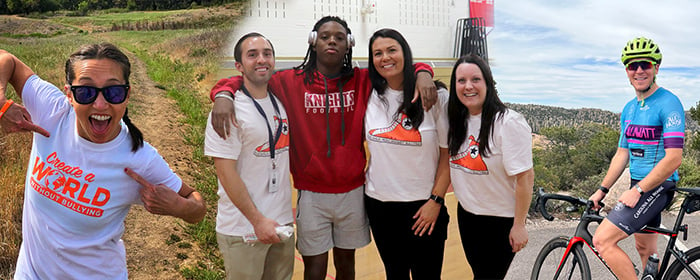 Friends of PACER's Run Walk Roll
You are invited to help with the goal of circling the world (24,901 miles) to symbolize "moving toward a world without bullying."
Features
Take the Pledge
Take the Pledge
Pledge to treat others with kindness and be more accepting and inclusive.
Kids Against Bullying website

Kids Against Bullying

website
Innovative, educational website for elementary school students to learn, engage in activities, and be inspired to advocate for self and others.
Teens Against Bullying website

Teens Against Bullying

website
A website created by and for middle and high school students, with ideas to address bullying, be heard, and lead change in an important social cause.
Questions Answered

Questions Answered
You asked, we answered! Response options include images, 60-second snapshot, longer articles, video and poll.
Students With Disabilities

Students With Disabilities
A comprehensive overview of addressing and preventing bullying and harassment of students with disabilities.
All-In

ALL IN
Free online, year round toolkit with a new classroom lesson each week! Create environments in which each student is INcluded, INvested and INvolved.
I Care Because
never let yourself be a victim dont be a bystander and definaetly dont be a bully 
isabella, 12, burbank/CA
Being bullied hurts. You feel alone and helpless, but remeber you are not alone and you are not helpless. I can't count the times and reasons I've been bullied. Sometimes it's gone to far, especially when someone is killed. RIP Pheobe and to all those who have died because they were bullied. You will always be loved and remebered.
Tegan, 14, Ab
i still get bullied allot because everyone thinks im dumb well im not! i may be left behind but the chances are of me being dumb is that no one is perfect and i have ralised that so if anyone calls me dumb all i kno is that its gonna make me a better person .......but my opinion to bullying is never get down always stand up for yourself be strong confident and the world shines on your future today! dont care what the bullys say!  just ignore them and walk away...ThankYou
abbe, 12, AU
i am being bullied, and have been since i was around 8, i have told so many people yet nobody seems to care, now i have given up telling anyone and nobody knows what is going on in my head anymore, i don't trust anyone anymore,i cry myself to sleep thinking of the next day ahead and what will happen i don't want other people to feel the way i do everyday, i want bullying to stop, not only for me but for everyone in the world, bullying is a huge things and it needs to be stopped, my life has been ruined by it and nobody elses life should be torn apart for something that doesn't need to happen!<3
sophie, 14, england
people shouldnt always get picked on how they looked like
jzzania, 13, houston,texas
bullying is not cool so you should not do it
harold , 14, poplarville,ms
i myself am a victim of bullying to this day. But thanks to my friends, parents and teachers i feel much safer and happyer.
MELANIE , 13, fresno CA
I care because NO ONE deserves to be bullied. Imagine you in their spot & how they feel. I have been bullied before people called me fat, it actually hurts a lot. They will never know how it feels because they didn't feel like how i felt. 
Rainna, 14, Canada
I was bullied all through Jr. High and so far, most of high school. It hurts. Being bullied can ruin your life. I began self-harming myself for it because I was so alone. I only had two friends and we always fought because I was so depressed and I was never happy. Bullying is a terrible thing and it shouldn't be done. It gives you a horrible feeling. It knocks down your self worth and confidence. You end up believing every word they say about you and spiraling downward. It's never an easy thing to deal with. I still deal with it. I'm still trying to overcome my addiction to self-harm as well...
Amanda, 16, Texas
Videos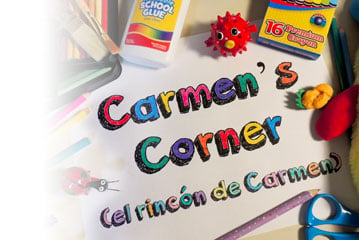 Carmen's Corner
A series of six educational videos designed for young audiences. It features characters from PACER's Kids Against Bullying puppet program, highlights key concepts of bullying prevention, and promotes social-emotional learning. Educator guide and student worksheets accompany each video.
Documents
"What You Can Do"

This 4-part handout series provides comprehensive information for students and adults about how to help someone who is experiencing bullying, as well as how to address bullying in the community.

Spanish Translations
Downloads
Bullying Prevention 101, A Quick Guide:
Bullying Prevention Slide Show and Quiz
Support Kindness, Acceptance and Inclusion for All Students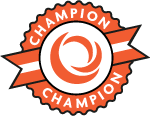 Become a Champion Against Bullying
Join the hundreds of nonprofits, schools, and community groups that collaborate directly with PACER's National Bullying Prevention Center by using and sharing our bullying prevention resources in their communities.
Survey Monkey Contributes to NBPC
Sign up and you will receive surveys by e-mail from SurveyMonkey customers who need your opinion. For every survey you take, SurveyMonkey will donate 50 cents to PACER's National Bullying Prevention Center, plus you'll get a chance to win $100 in an instant win game.