Archived News - 2016
Posted: 12/27/2016
Pop singer and songwriter Laura Michelle has released a tender and serene medley of "Silent Night" and "Hallelujah" for fans just before the holiday season. Proceeds from the sale of all downloads will go to PACER's National Bullying Prevention Center.
The accompanying video for "Silent Night/Hallelujah" features personal photos of the singer taken throughout her childhood and closes with an image of her father, who died when she was 15 years old yet continues to influence her work. In less than a week, the video has amassed nearly 900,000 views.
Laura is glad to partner with PACER's National Bullying Prevention Center.
"I spent time with an amazing group of high school students and the Los Angeles associate for PACER's Bullying Prevention Center at a recent concert of mine, and it really reinforced the importance of what PACER does," she said. "I fell in love with the service that PACER provides and want to support them in every way possible."
"Silent Night/Hallelujah" delivers a message of inner strength, but with an intensity and somber earnest that is unlike her earlier work. The song is available on iTunes for $0.99.
For information about Laura Michelle, visit www.lauramichelle.com.
NBPC applauds Wisconsin school for bullying prevention initiatives
Posted: 12/15/2016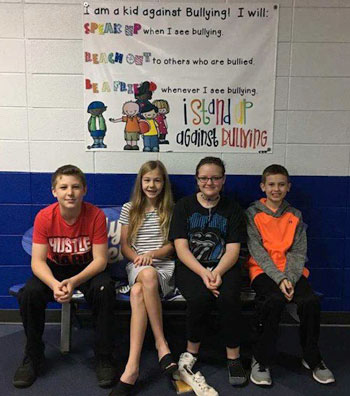 Riverview School in Silver Lake, Wisc., received a $1,000 mini-grant from the Wisconsin Department of Public Instruction to install an outdoor buddy bench. The Buddy Bench was first introduced to the school in October 2015 as part of PACER's National Bullying Prevention Month, according to an article on MyKenoshaCounty.com.
Students and faculty planned for the purchase of the Buddy Bench last November, developed an assembly for K-4 students, and planned anti-bullying activities throughout the school year.
Activities included spirit wear Friendship Fridays, a poster contest, all-school assembly on bullying prevention, a parent presentation on bullying prevention and a school-wide "Stand Up Against Bullying Pledge," provided by PACER's Kids Against Bullying website.
NBPC partners with Dell, GEN to address cyberbullying
Posted: 12/6/2016
A recent article was posted on Direct2Dell, the official Dell corporate blog, detailing a cyberbullying workshop that Dell volunteers hosted at the ninth annual We Are Girls Conference in Austin, Texas. The article was written by Ami Kane, development director for Girls Empowerment Network of Austin (GENaustin), which hosted the conference. GEN has been a long-time partner in Dell's Youth Learning program.
The workshop, titled "You're Not Alone©: Unite Together Against Cyberbullying," was run through a special partnership with PACER's National Bullying Prevention Center.
According to Kane, "When the workshop began, the facilitator, Wade Magnum, U.S. Small Business Finance Controller for Dell, asked the group of middle school girls, 'How many of you have seen or experienced cyberbullying happen?' Every hand in the room went up."
Throughout the workshop, the girls discussed what to do when they see cyberbullying; practiced empathy for the bully, a skill which would help them identify and prevent potential bullying behaviors in themselves; and proposed three top solutions to deal with bullying together:
Don't give the bully an audience
Start anti-bullying group at school
Tell a trusted adult
At the end of the session, the girls pledged a few things that they would do to help with bullying prevention. Everyone in the group wrote it on a paper leaf and took turns placing it on a Unity Tree, one of NPBC's most popular activities.
NBPC congratulates FIRST BOOK as winner of Cat in the Hat campaign
Posted: 12/6/2016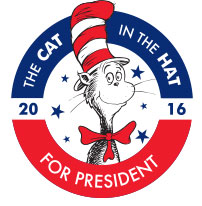 The polls have closed and all of the votes have been tallied for the presidential campaign of Dr. Seuss's beloved character, The Cat in the Hat. PACER's National Bullying Prevention Center congratulates FIRST BOOK on winning the $10,000 donation from Random House Children's Books.
The NBPC, representing kindness for all, was one of five national charities that allowed kids to vote for the cause they most wanted to support. FIRST BOOK, which represented education for all, provides new books and educational resources to children in need.
'T.E.A.M. Rudolph and the Reindeer Games,' a new toolkit for teachers
Posted: 12/1/2016
PACER is pleased to offer a new resource for teachers: "T.E.A.M. Rudolph and the Reindeer Games" (T.E.A.M. stands for Treat Everyone As Members). This free digital teacher toolkit celebrates acceptance and inclusion through teamwork.
The toolkit was created in conjunction with the release of a new picture book of the same name by Joe Troiano, who is also the author of Spookley the Square Pumpkin. The book reveals the untold story of how the Reindeer Games became a celebration of acceptance and diversity.
Educators can register online to receive the toolkit's resources, which includes streaming video of the picture book, classroom activities and a discussion guide, and streaming Rudolph music.
Purchase a print copy of T.E.A.M. RUDOPLH and a portion of the proceeds will be donated to PACER's National Bullying Prevention Center.
For information and to register for the classroom toolkit, visit the Team Rudolph site.
Play 'Rudolph's Rooftop Gift-away' and support PACER's NBPC!
Posted: 11/15/2016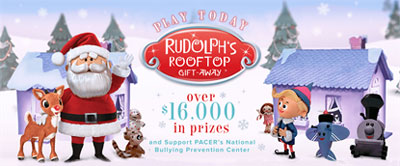 Embrace the holiday spirit by playing the new online game "Rudolph's Rooftop Gift-away!" The game features more than $16,000 in prizes, including a $500 shopping spree, and supports PACER's National Bullying Prevention Center.
For each gift delivered in the game, $1 will be donated to PACER's National Bullying Prevention Center (up to $15,000).
The game is online at https://forestcity.promo.eprize.com/rudolph/.
Anthony Hopkins supports PACER's NBPC on World Kindness Day
Posted: 11/14/2016
Sunday, Nov. 13 marked World Kindness Day. Actor Anthony Hopkins added his voice to the conversation on social media by posting a powerful video about bullying and encouraging everyone to visit PACER's National Bullying Prevention Center.
Hopkins is known for many iconic roles, including Dr. Robert Ford in Westworld, Odin in Thor, and Dr. Hannibal Lecter in The Silence of the Lambs. But he also experienced bullying as a child.
"I'm here to tell you that bullying is a horrible phenomenon in our world," Hopkins says in the video. "I think one of the worst things one can suffer is the shame of bullying. Boys or girls, if you are bullied, there is nothing to be ashamed of. Always report it. Report it to your parents. Report it to the teachers immediately. Don't put up with it."
Hopkins goes on to describe how his experience affected him, and pleads with parents and teachers to reach out and learn how to help children who are bullied.
"If you feel as passionately about bullying as I do," Hopkins says, "contact PACER Center."
Watch the video at https://twitter.com/AnthonyHopkins.
PACER partners with I Am A Witness
Posted: 11/2/2016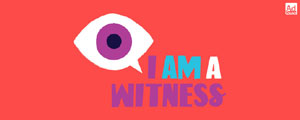 PACER's National Bullying Prevention Center has partnered with the I Am A Witness campaign, which aims to stop bullying by activating the "silent majority" of kids who witness it each day. The goal of the campaign is to transform students who witness bullying from passive bystanders into an active collective that speak up against bullying.
I Am A Witness has created the Witness Emoji, which is shaped like a speech bubble with an eye in the center. Students can use the emoji to show support for someone who is being bullied by posting it online or through a text message.
Teens can post the Witness Emoji when they see hurtful comments, or send GIFs and stickers to show support for someone in need.
More than one in four children experience bullying each year, and research has shown that the bystander can play a pivotal role in stopping it. For information, visit http://iwitnessbullying.org/.
UNITY DAY Blog post featured on StopBullying.gov
Posted: 10/19/2016
Featuring information on preventing bullying of students with disabilities.
By: Julie Hertzog, Director PACER's National Bullying Prevention Center, and Maureen Perkins, Health Resources and Services Administration
Unity Day is Wednesday, October 19. PACER's National Bullying Prevention Center started Unity Day in 2011. The purpose of Unity Day is to demonstrate that we are together against bullying. We are united for kindness, acceptance and inclusion of all students.
Get involved! Wear and share the color ORANGE on Unity Day! Join in sending one large ORANGE message of support, hope, and unity so that all students feel safe and supported.
Did you know that a student with a disability is two to three times more likely to be bullied? Bullying can affect a student's physical and emotional health, and it can interfere with a student's right to receive an education. PACER's National Bullying Prevention Center offers resources for all students, with specific resources for students with disabilities. Read the full blog post.
Babble Blog: Bullying Affects All of Our Kids, Even If They Aren't the Target
Posted: 10/19/2016
The second in a series of blogs about bullying was posted to Babble, A Company of Disney, in honor of the 10th anniversary of National Bullying Prevention Month this October. Be part of the movement to unite against bullying and promote kindness, acceptance, and inclusion among children.
Bullying affects everyone involved. Whether the child is the target, a witness, or the person who bullies, the end result is that everyone feels less safe. Children aren't responsible for resolving a bullying situation, but their opinions about how to proceed should be encouraged and respected. Engaging a child in finding the solution helps them learn problem solving and self-advocacy skills.