Archived News - 2016
Wear Orange and Be United
Posted: 8/2/2016
CustomInk, the leader in custom apparel and accessories for groups and events, has partnered with PACER's National Bullying Prevention Center to create an exclusive t-shirt marking the 10th anniversary of National Bullying Prevention Month. As part of the sixth annual Be Good to Each Other campaign, between August 1 and October 31, CustomInk will donate profits (up to $100,000) from the sales of bullying prevention t-shirts to PACER.
For more information and to order your official shirt go here!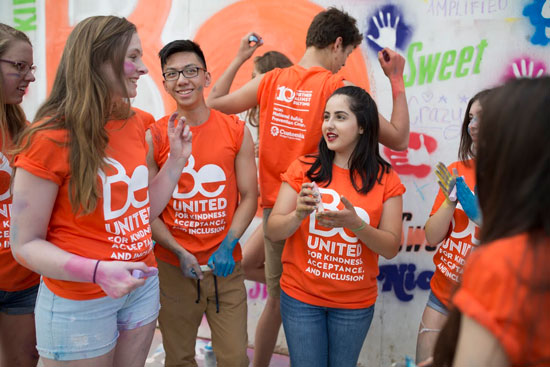 Posted: 7/26/2016
Dr. Seuss's beloved character, The Cat in the Hat, has declared his candidacy for President of the United States in the 2016 election, with Thing 1 and Thing 2 as his running mates. As part of his campaign, Dr. Seuss Enterprises and Random House Children's Books have partnered to support national charities, including PACER's National Bullying Prevention Center!
The campaign represents all that Dr. Seuss believed about children — that they have the intellect, imagination, and power to impact our world positively, while also having fun doing so. As the Kids Candidate, the Cat in the Hat will show kids that every vote counts and every voice matters!
Votes can be cast for the Cat in the Hat to work with one of his supporters and their selected cause, and Random House Children's Books and Dr. Seuss Enterprises will make a $10,000 donation to the winning charity. Vote for Kindness for All to support PACER's National Bullying Prevention Center, with Horton from Horton Hears A Who! Voting will run through Election Day, Nov. 8.
For information and to download a ballot, visit www.CatInHat4Prez.com.
T-shirt campaign intends to redefine normal
Posted: 5/24/2016
Colleen Stine and her business partner Colleen Berkowitz have launched a campaign called "Let's Redefine Normal" through their business, Mama Said Tees. They are selling T-shirts with the word "normal" printed on them.
Stine and Berkowitz imagine a world without stereotypes or discrimination — a world where it is normal to be different.
"We're not saying you have to support other people's decisions, we just want you to be nice and not judge," Stine told a weekly Indiana newspaper.
The video for "Let's Redefine Normal" can be found on mama-said-tees.myshopify.com. The video features families of all types — adopted, biracial, same-sex, as well as parents and children with disabilities — all being asked to define what normal means to them.
"Through this campaign, we want people not just to talk about the golden rule, treat others the way you want to be treated, we want them to really do that," Stine says in the video.
Berkowitz adds, "We don't want you to be basic, we don't want you to be like everybody else. We want you to embrace your uniqueness."
A percentage of sales of the Normal T-shirts will go to PACER Center's National Bullying Prevention Center.
Book the Ninja Turtles' lair and support PACER's NBPC
Posted: 5/23/2016
Complete with professional graffiti art, New York City subway signs, and piles of pizza boxes, the home of Michelangelo, Raphael, Leonardo, and Donatello is officially open to guests, according to a listing on Airbnb.
The space in lower Manhattan has been transformed to resemble the world of the franchise down to the last detail, including a light-up basketball court with glow-in-the-dark basketballs, a state-of-the-art home entertainment system, and the original Teenage Mutant Ninja Turtles arcade game from 1989.
The rental is part of the promotion for Teenage Mutant Ninja Turtles: Out of the Shadows, which opens in theaters on June 3. For the moment, there are no more available dates, but Twitter users who follow @TMNTMovie can receive hints on when the lair will be available again.
For every guest that is lucky enough to stay, a donation in their name will be made to PACER's National Bullying Prevention Center. Say the turtles, "Together we can shell shock bullying, 'cause that's what bros do."
Hope from her peers
Posted: 4/29/2016
When a high school student experiences bullying at her new school, she finds hope from her peers. Kindness, support and hope are things that everyone can give – and your actions matter. When peers and adults show that compassion and respect are important, they create a culture that raises the standards of behavior for everyone. Special thanks to kouraproductions for creating and producing this powerful video!
#TwoInAMillion
Posted: 4/26/2016
Meet Austin and Elena, who are two in a million, both diagnosed with Goldenhar Syndrome. They appear in TLC's new series, Two In A Million, which premiered in early April. They also shared their personal story posting a video with PACER's National Bullying Prevention Center.
View their video on Facebook >>>
Learn more about Goldenhar Syndrome >>>
October is National Bullying Prevention Month
Posted: 3/31/2016
10 Year Anniversary Planned (2006-2016)
A decade together against bullying – and united for kindness, acceptance and inclusion! Much can occur in a decade, and PACER's National Bullying Prevention Center proves it. Over the past 10 years, the Center's National Bullying Prevention Month campaign grew from a small week-long event in October 2006 to a worldwide effort with multiple activities and products throughout October. Learn more >>>
Interview with Drayter vocalist/guitarist Liv Miner: 'It's good to be able to have a positive impact'
Posted: 3/14/2016
Just days before Drayter's full-length studio debut album release, for NINE, the band announced their partnership with the PACER National Bullying Prevention Center. Drayter pledged 100 percent of sales proceeds from pre-orders of NINE to NBPC. The track "Not Alone," which addresses isolation and loneliness, is being used to promote PACER's NBPC You're Not Alone, We're Here For You campaign.
Liv Miner spoke to Guitar Girl Magazine about recording NINE, her passion for guitars – in particular her Music Man Armada – and why the PACER campaign is so important to Drayter. Liv shared, "bullying is a much more relevant and intense topic than it used to be, so it was really cool to come out with 'Not Alone,' and join up with this anti-bullying organization and get the awareness out. Everyone needs hope. No one wants to feel isolated, lonely, picked on, degraded, and all these things that are happening because of the Internet. It's good to be able to have a positive impact. We've gotten a lot of positive feedback for it, and for the album as a whole, and it's been wonderful." Read full article at Guitar Girl Magazine>>>
NBPC supporter Sir Ivan to produce bullying prevention movie
Posted: 3/2/2016
Recording artist Ivan Wilzig, who is also known as Sir Ivan, has signed a deal to become the producer for a bullying prevention movie called "Freak Show." The movie will be directed by Trudie Styler, who has been married to pop singer Sting since 1992. Sir Ivan has been a long-time supporter and advocate of bullying prevention. His Peaceman Foundation has donated more than $100,000 to nonprofit bullying prevention organizations, including $10,000 to PACER's National Bullying Prevention Center. Learn more>>>
Spread the Word to End the Word™
Posted: 2/25/2016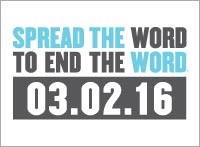 Did you know that up to three percent of the world's population have intellectual disabilities - that's almost 200 million people around the world. It's one of the largest disability populations in the world. Perhaps you know someone? It is time we Spread the Word to End the Word™ and build awareness for society to stop and think about its use of the R-word. Use of that R-word, "retard" or "retarded," is hurtful and painful and whether intended or not, is a form of bullying and hurtful to the millions of people with intellectual and developmental disabilities, their families and friends. Eliminating the use of this word is a step toward the new R-word, which is Respect. Visit www.r-word.org to make your pledge today.