Archived News - 2017
Posted: 12/15/2017
The viral video featuring Tennessee middle schooler Keaton Jones, as he tearfully recounts his experience with bullying, brings up a very important question: Why do they bully?
A recent article in Men's Health magazine by Jack Crosbie attempted to answer that question by reaching out to bullying prevention organizations, including PACER's National Bullying Prevention Center.
Leaders who work in the field of bullying prevention agree that it is mainly about power.
"The number one dynamic about why kids do it is because they want to get some power back in their lives, or they want to just feel in control of the situation, or just have that feeling of power over other individuals," Julie Hertzog, director of the National Bullying Prevention Center, told Men's Health. And without proper guidance, the behavior can escalate.
"If the behavior goes unchecked or if there are no consequences for it, once a child steps over a line," Hertzog said, "it's easier to keep continuing to step beyond that line, especially if they're getting some sort of additional confirmation or affirmation from their peers."
The experts also agree, however, that peer intervention is key to preventing bullying. More than half – 57 percent – of bullying situations stop when a peer speaks up.
NPR story about new bullying survey cites PACER
Posted: 11/2/2017
NPR recently reported on a new survey about bullying in a story titled "Learning How Bullying Happens In Order To Prevent It." The survey addresses how students are bullied and which groups of students are more likely to be bullied.
The data was collected by the nonprofit organization YouthTruth Student Survey and looked at more than 180,000 students, grades 5 through 12, in 37 states between 2012 and 2017.
The majority of students, 73 percent, said they are bullied verbally, followed by being socially bullied, physically abused, and being harassed online. Results also showed that most harassment occurs in person, and that students who don't identify with a specific gender are more likely to be bullied than their peers.
The organization said its goal is to help teachers understand bullying in order to help prevent it. Bailey Lindgren, associate at PACER's National Bullying Prevention Center, said the survey can help teachers respond to students who may think bullying is their fault because of their differences.
"It's important for educators to keep this in mind when responding to students who experience bullying," Lindgren says, "reinforcing the message that they aren't alone and the bullying is not their fault."
Loukoumi & The Schoolyard Bully
Posted: 10/26/2017
The Loukoumi Make A Difference Foundation and PACER's National Bullying Prevention Center are calling on YOU to unite against bullying on National Make A Difference Day October 28. All you have to do is watch Loukoumi & The Schoolyard Bully and then take PACER's Kid's Against Bullying Pledge and then make a difference with Loukoumi and PACER and do a random act of kindness! Learn more about Loukoumi and share what you did to make a difference.
Disney's #ChooseKindness campaign features PACER's NBPC
Posted: 10/18/2017
PACER's National Bullying Prevention Center has partnered with Disney's #ChooseKindness campaign to reinforce the importance of being kind during October, which is National Bullying Prevention Month.
Disney is producing original programming and customized public service announcements (PSAs) that are airing on multiple platforms across ABC, ABC-owned television stations, Freeform, Disney Channel, Disney XD, and Radio Disney. The "Choose Kindness" campaign is designed to inspire kids, families and change-makers around the country to put an end to bullying.
In addition to PACER's National Bullying Prevention Center and Unity Day, the campaign is collaborating with GLSEN's "Ally Week," GLAAD's "Spirit Day," and the Ad Council's "I Am A Witness" campaign.
For information, visit Disney Be Inspired and ABC Be Inspired.
PACER's NBPC invited to opening of Instagram #KindComments mural
Posted: 10/16/2017
Instagram unveiled a colorful custom-designed #KindComments mural by renowned artist Dallas Clayton (@DallasClayton) on Oct. 5 at the TOMS store in Chicago's Wicker Park. The mural opening celebrated Chicago community members of all ages who are making the world a kinder place.
Guests heard from inspiring Chicago community members, Instagrammers who are using the platform to build communities of support, as well as Bailey Lindgren, associate at PACER's National Bullying Prevention Center. (Lindgren is pictured at left, with Carolyn Merrell from Instagram.)
#KindComments is a global initiative to promote and foster positive engagement online. By transforming walls into colorful beacons of kindness, Instagram hopes to create positive spaces for people to gather in real life and encourage visitors to take a photo or video in front of the wall and share #KindComments on (and off) Instagram.
Murals inspiring #KindComments will also be launched in New York, Dallas, Washington D.C., Mexico City, Jakarta, Tokyo, and Mumbai, among other cities.
Download "Instagram Safety Tips" created by Instagram and PACER's National Bullying Prevention Center.
Spirit Day: Thursday, October 19
Posted: 10/13/2017
On Thursday, October 19, people around the nation and world will come together to speak out against bullying of lesbian, gay, bisexual, transgender, and queer (LGBTQ) youth, whom research shows face disproportionately higher rates of bullying and harassment than non-LGBTQ youth. Wear purple on Spirit Day to show support for LGBTQ youth. Learn more about Spirit Day on the GLAAD organization's website.
Michigan school pledges to 'go orange' on Unity Day
Posted: 10/13/2017
Teachers and staff at Thunder Bay Junior High in Alpena, Mich., are taking bullying seriously and pledging to be there for students who may be experiencing bullying.
In a visual show of support to those who are bullied, teachers and staff will wear orange on Unity Day, Wednesday, Oct. 25, the signature day of PACER's National Bullying Prevention Month! The T-shirts say "But first be kind, stand up against bullying."
"We just want the students to realize that we're all here for them; they can come and talk to anybody, any adult in this building, if they need help," Assistant Principal Jean Kowalski told WBKB-TV 11. "That's our way of showing unity." She added that staff will wear the shirts throughout the year.
Kowalski said the school is finding new ways to educate its students about bullying, using a step-by-step process to address bullying and following up with students to ensure they can receive the resources available to them. Kowalski noted that bullying "affects if a child wants to come to school, it affects their self-esteem, it affects their grades, and it affects so many things."
There are lots of ways to be involved on Unity Day! Thanks to the teachers at Thunder Bay Junior High for letting students know that they are not alone.
StopBullying.gov promotes National Bullying Prevention Month
Posted: 10/13/2017
StopBullying.gov is featuring October as National Bullying Prevention Month in its most recent email newsletter, sharing that the campaign was launched through PACER's National Bullying Prevention Center. Throughout the month, StopBullying.gov will be sharing important resources to deepen the understanding and effects of bullying, and what research has shown to be effective in prevention.
StopBullying.gov is encouraging its supporters to join the movement to unite against bullying and unite for kindness, acceptance, and inclusion. It offers ways people can spread the word about National Bullying Prevention Month and information to educate and raise awareness of this important issue.
StopBullying.gov is a federal government website managed by the U.S. Department of Health and Human Services.

Scary Mommy blog lauds PACER's bullying resources
Posted: 10/10/2017
In a recent post on the popular Scary Mommy blog titled "Everyone Needs To Hear This 3rd-Grader's Advice About Bullies," mom Kimberly recounts her daughter's experience with bullying—and credits PACER's bullying prevention resources with helping her manage the situation.
Kimberly's daughter Juliet was being bothered by a boy at school. At first Kimberly thought it was an isolated incident. As it continued to happen, she worked with her daughter on ways to deal with it.
"At first, it didn't dawn on me that this was bullying. As the incidents trickled in, I coached her through them," Kimberly wrote. "I don't think I wanted to believe that she was being bullied."
Kimberly then cites resources from PACER's National Bullying Prevention Center, including the "Parents Need to Know" page that includes a checklist to determine if your child is experiencing bullying.
Like so many parents, Kimberly wondered where parents draw the line between innocent annoyance from a fellow student and bullying behavior. Using PACER's resources, Kimberly determined that her daughter was being bullied and she contacted the teacher immediately.
Kimberly says that the boy apologized to her daughter and the situation was handled well. She and Juliet created a video that talks about the experience and what they want other kids and parents to know about bullying.
Kimberly encourages parents to recognize the signs of bullying and communicate them to the teacher or other school staff as soon as possible.
"I hope that by sharing our story, we can help other moms and kids who are going through this," Kimberly writes, "or, as my daughter said, may experience it in the future."
Clarisonic building confident advocates to prevent bullying
Posted: 10/4/2017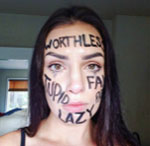 PACER's National Bullying Prevention Center and Clarisonic® announce a new partnership and campaign designed to drive awareness and raise donations for PACER's bullying prevention efforts. Clarisonic wants everyone to feel confident about the skin they're in. Uncovering personal confidence and building it within others can help everyone resist bullying and spread positivity. For every #CleanTheMean social post shared on Facebook or Instagram this year, Clarisonic will donate $1 to PACER's National Bullying Prevention Center, up to $100,000. Learn how sharing your post contributes to a kinder, more beautiful world.