Archived News - 2017
Posted: 3/21/2017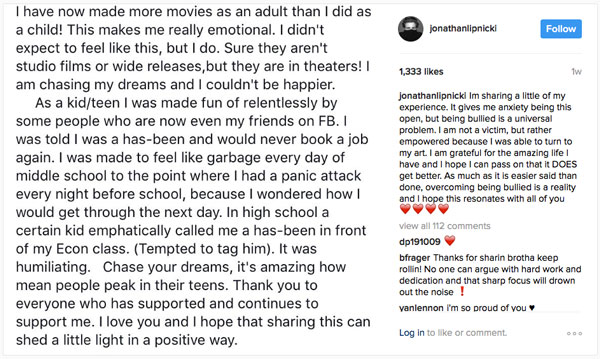 Jonathan Lipnicki, who made his film debut in 1996 as Renee Zellweger's six-year-old son in Jerry Maguire, has opened up about his personal experience with bullying. Lipnicki says he was bullied in middle school and high school in response to his early success.
But Lipnicki, now 26 years old, recently recognized that he has made more movies as an adult than he did as a child. Writing about his experience on Instagram on March 13, Lipnicki said, "I hope that sharing this can shed a little light in a positive way."
In a follow-up interview with TooFab, Lipnicki revealed that he battled anxiety and depression as a result of the bullying. "All I've ever wanted to do my entire life is make movies," Lipnicki said. "To be made fun of for the thing that you love and be told you're not going to be a success is hard."
Lipnicki continues to address his anxiety with treatment and also plays basketball every day. He offered advice to others going through a similar experience: "You have to turn it into something. Whether it's arts, sports, or helping others. I think a lot of kids out there don't have a direction to go with that pain and they go inside of themselves and they suffer. It's horrible."
Lipnicki starred in the 2016 film Loserville, the cast of which partnered with PACER's National Bullying Prevention Center and spoke out in support of National Bullying Prevention Month. Lipnicki is also served as a celebrity judge for NBPC's Students with Solutions contest.
PACER's Teens Against Bullying "ASK JAMIE" Columnist Wins Prestigious Award
Posted: 3/2/2017
Congratulations to Eloise, who was recognized as a distinguished finalist in the Prudential Spirit of Community Awards for her community service work. Eloise first connected with PACER's National Bullying Prevention Center following her own experience with bullying. She interned with PACER in the summer of 2016, where she created "Ask Jamie," an advice column that offers advice and support to teens about bullying. She continues to respond to the hundreds of students that write in with questions about bullying. Special thanks to Eloise for all of her continued work on this important issue!
NBPC marks Eating Disorders Awareness Week
Posted: 2/27/2017
PACER's National Bullying Prevention Center is supporting National Eating Disorders Awareness Week 2017, which takes place Sunday, February 26 through Saturday, March 4.
Spearheaded by the National Eating Disorders Association, the goal of National Eating Disorders Awareness (#NEDAwareness) Week is to shine the spotlight on eating disorders and put life-saving resources into the hands of those in need. This year's theme is "It's Time to Talk About It."
NEDA is encouraging everyone to get screened for an eating disorder. Eating disorders have the highest mortality rate of any mental disorder and these illnesses often hide in plain sight. But recovery is possible and early intervention greatly improves the chances of success.
A three-minute screening, as well as additional resources, are available at www.nedawareness.org.
Clarisonic joins the bullying prevention cause by supporting PACER's National Bullying Prevention Center
Posted: 2/9/2017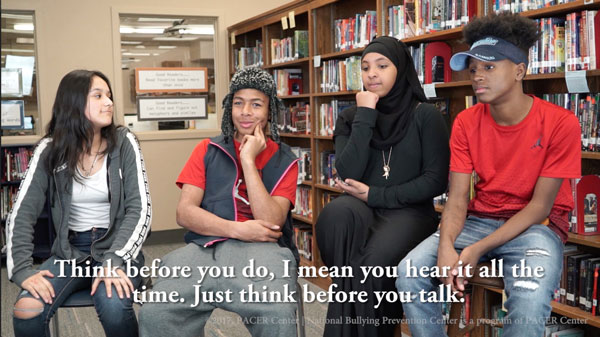 Clarisonic, the creator of the most recommended skin cleansing devices by U.S. dermatologists, was founded with the belief that healthy, beautiful-looking skin can help people be their most confident selves.
In an effort to help address bullying, Clarisonic has made a commitment to support PACER's National Bullying Prevention Center – encouraging young people to love the skin they're in, and to be confident advocates for themselves and others.
"PACER has made an incredible impact on countless kids across the country and all of us at Clarisonic are thrilled to help support its remarkable bullying prevention programs," said Dr. Robb Akridge, co-founder of Clarisonic.
Paula Goldberg, Executive Director of PACER Center shared, "The support of Clarisonic is appreciated as it allows the opportunity to reach out to a broader audience with the important message of what all of us can do to help prevent bullying."
The relationship between Clarisonic and PACER's National Bullying Prevention Center will kick off with the Students with Solutions campaign in early 2017, which engages students to use art and writing to creatively think through ways to prevent bullying and be supportive of peers being bullied. In addition, the relationship will focus on other initiatives designed to educate and provide students with information and resources to build a culture defined by kindness, acceptance, and inclusion.