INCLUDE SOMEONE KIT
The downloadable kit includes an idea guide which provides an overview, along with inclusion poster, flyers, stickers, and cards.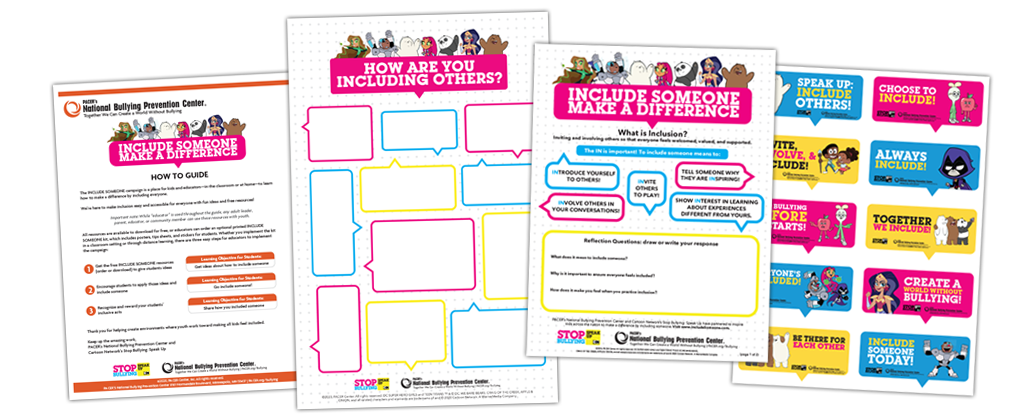 (June 2020) Orders for print kits now closed. Download option still available.

WHERE CAN THE INCLUDE SOMEONE KIT BE USED IN YOUR COMMUNITY?
Inclusion matters, no matter who you are or where you live! Youth groups of all kinds are encouraged to order the kit.
Elementary schools
Youth outreach programs
Youth sports
After school activities or clubs
Child care facilities
Faith based groups

HOW TO USE YOUR INCLUDE SOMEONE KIT
STEP ONE: PREPARE
Determine a time and location to present the materials
Display the materials, such as on a table or other surface. When possible, display the poster where everyone can easily view it.
STEP TWO: EDUCATE
Show the "Include Someone" slide show which talks about inclusion and why it matters
Ask everyone to think through how they can include someone
Invite everyone to record their idea on the "How You Will Include Others" flyer in five words or less, and then display the completed flyers for everyone to see.
After recording ideas, invite everyone to take an "Inclusion Sticker"
Offer one of the "Inclusion Cards," which suggest additional ways to be inclusive
STEP THREE: ACT
Then, encourage them to go ahead and include! At lunch, recess, online – wherever they think they can make a difference.

WHAT'S IN YOUR INCLUDE SOMEONE KIT?
---
---
---
---