#My Soul
Posted: 10/27/2015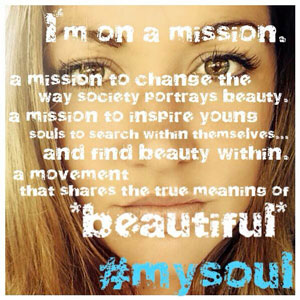 #MySoul is a movement I created that inspires America's youth today to focus on inner beauty inside their soul. Instead of focusing on someone's physical beauty, #MySoul encourages our youth to focus on what's driving us within. For it is what drives our soul inside, that makes us truly beautiful on the outside.
#MySoul is a movement for society. Its intent is to capture the life inside of us, to spread love and share passion, provide strength and unity to all, and measure beauty from the inside out.
My soul is made of determination.
Determination that inspires your soul.
Determination that inspires our future.
Determination that shares a story with our youth…
That being beautiful means:
Being empowered to change the world.
Being beautiful means fighting for success, for love, for peace.
Being beautiful means growing within, learning, and showing strength in times of hardship.
Being beautiful means singing inside the grocery store, or dancing in the rain.
Being beautiful means finding truth within your soul, to captivate others around you... to inspire them to be their very best.
Being beautiful means not judging others for who they chose to be or who they were born to be.
Being beautiful means knowing who you are.
Being beautiful means standing up for what you believe in.
Being beautiful means finding your soul and looking at those who surround you every day for who they are beneath their skin… who they are, inside their soul.
We need to change the way we think about beauty.
We need to change the way society portrays beauty.
We need to change our minds on what being beautiful really means.
Because being beautiful is who you are within.
And that, is what #MySoul is all about; being beautiful from the inside, out.
I was inspired to create this movement after spending the last six years working in the mental health field. I noticed a common theme among all the youth I have worked with. They all struggled with self image, self confidence, and self esteem. They didn't feel good enough, pretty enough, thin enough. And they were ALL being BULLIED. It truly hurt my heart. I needed to do something to empower these young souls, to help them understand that the true meaning of beauty comes from within. It doesn't matter what people say about you, if you are happy with yourself within, you will know you are beautiful. With that inspiration, I developed #MySoul. I currently present this movement at Bradley Hospital in East Providence, Rhode Island. I work on the Adolescent Inpatient Unit with young boys and girls from age 12-18. Seeing them connect with my words, and feel inspired to spread the love makes me feel amazing. If I can change the lives of children for the rest of my life, I will be the happiest woman alive. Check out #MySoul at www.hashtagmysoul.com.
By: Kelly Finn