Start of a New Tradition
Posted: 10/27/2015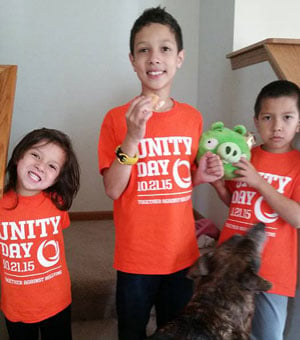 I purchased the Unity Day t-shirts for my nephews (Aaron and Aiden) and niece (Amara) and asked my sister-in-law to have them wear it on the 21st. She shared with me the conversation they had about the shirts:
"I asked the kids if they knew what the shirts were for and Aaron right away said "yeah it's to stop people from bullying". Aiden piped in and said that we should be nice to everyone.
One of the things we try to teach the kids is to be accepting and respectful of peoples differences. We've had lots of talks about how a person's differences makes them unique. If everyone was the same, life would be pretty boring. We have a list of rules we go over in the car before school and one of the rules is to be nice to everyone."
This will definitely become another fabulous, "feel good" tradition I have with my nephews and niece!
By: Albertha