Using her story as her power
Posted: 5/5/2017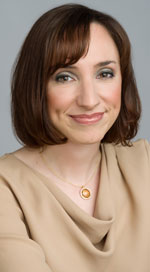 "Take a look at your quirks and your traumas and find your own greatness."
Sherry Saturno is a national award-winning social worker and filmmaker, who wrote and produced a short documentary film about what drives professionals to help others titled "Human Investment." The foundation for much of her work came from her personal experience of being bullied as a child, which she spoke about in a recent TEDx Talk.
"I was bullied for many years," Saturno said in an email to PACER's National Bullying Prevention Center. "I am not ashamed of an experience that happened to me and neither should others be. Our stories and our struggles make us uniquely who we are, but too often, out of shame or fear, we silence the very narrative that is the foundation of our strength.
"As an adult, I recognize how those years shaped my character," she continued. "I began to use adversity as motivation, and every time someone told me that I couldn't accomplish something, that would make me try that much harder. Adversity can be transformed into something beautiful and hardship can create ambition, not just to achieve professional goals, but to chase after your own happiness and build the life that you want for yourself."
Sherry was deeply affected by stories she heard about how kids who were experiencing bullying were struggling; she understood how isolating the experience can be. By creating a TEDx Talk and talking openly about bullying, isolation, and rejection, she shares her message about how her experiences shaped her character, her motivation, and how she could help others. "Use rejection as your fuel," she says. "Your story, the source of your struggle, is your power."
By: Anonymous