Young Student Leads a Movement!
Posted: 11/9/2017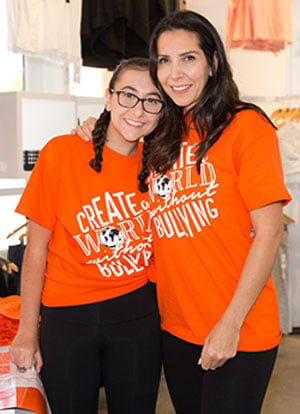 Thirteen-year-old Mai Mishan is committed to creating a world without bullying! In her third year of promoting National Bullying Prevention Month in October, Mai organized two significant events for 2017.
On Saturday, October 21, Mai held a Charity Ride at Soul Cycle in Calabasas, Calif., to raise funds for PACER's National Bullying Prevention Center. The studio was vibrant in orange, the signature color of bullying prevention, with orange balloons and graphics and all participants received the official orange "Create a World Without Bullying" shirt. Mai's mother, Michal also promoted the event with online Facebook fundraising; the donations received far exceeded the projected goal.
Mai followed up the fundraiser on Unity Day, October 25, by leading a school-wide coordination of Unity Day events involving every student and teacher at her school of 1200+ students. To promote participation, Mai wrote personal notes to key faculty, sharing why the day is so important. She handed out posters and flyers to display all over the campus. School administration supported Mai's efforts by sending out a mailer to parents, encouraging their involvement. On the day of the event, EVERYONE on the four campuses wore orange! The principal, Mai and other students spoke at an assembly as well. Students also showed their support by creating links of positive statements on orange paper about how they would unite for kindness, acceptance and inclusion, creating an orange chain around the campus.
As a result of Mai's influential leadership, Unity Day is now an annual official date on the school calendar. "We so appreciated Mai's initiative and positive energy in making this happen," wrote a school administrator.
By: PACER Center Staff