Disability Stories
My Disability
Posted: 5/23/2011
i get teased for my hearing aids
The Sad Flower Drawing
Posted: 5/23/2011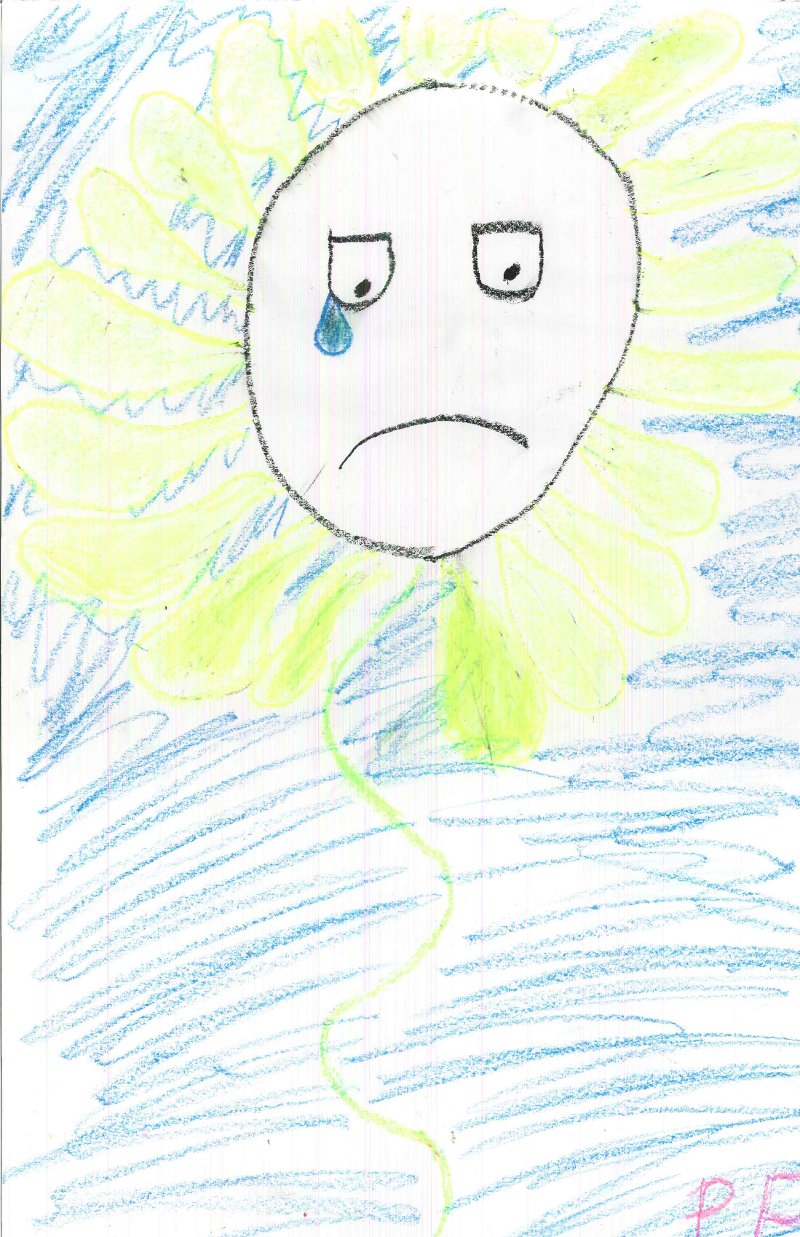 I have a 14 yr old son that was recently in a Psychiatric Hospital for 10 days --ultimately due to rejection by his peers at school. It's a long and involved story. He drew a picture that I think the picture is worth sharing. He's PDD-NOS, Aspergers, ODD features....a rainbow of Autism. Not an easy kid, but he did not deserve the treatment he got from the school or the students.
This is my message:
Good Morning Everyone,
I've been wanting to share a piece of art work that my son created on his second day of a recent hospital stay. Please see the attached drawing that he did--on the back he named his creation "the sad flower." On my second day of visiting him, he had this taped to the door of his room so that you could not miss it as you entered his room. He left this picture up on his door the entire time he was in the hospital.
I am sharing this with you to show you what an impact bullying can have on kids. Especially kids that lack social skills. Some of the bullying that my son was subjected to was very subtle, other times it was very obvious. He was also someone who did bullying. There are all kinds of bullying. The worst kind that drove him to his crisis was the REJECTION that he experienced on the Playground and the Exclusion he felt in Class, Lunch, Activities, etc. He had no friends at school. NONE.
Please take a moment to look at his drawing and ponder what it's like for a 14 yr. old boy to be repeatedly rejected by his peers, excluded from lunch, excluded from recess and removed from the classroom repeatedly.
There HAS TO BE A BETTER WAY. Please don't let this happen to more children.
Permalink for The Sad Flower Drawing
I Promise
Posted: 5/17/2011
"My little sister has Tourette's syndrome. I'm not even sure that she even really knows let alone tells people. And the kids that she goes to school with have been bullying her since the second grade. She's in the seventh grade now!
She's such a sweet girl, and only tries to help people, and yet all they can do is bully her whether it's in person, on Facebook, through her phone, and all I can try to do is do what's best and stand up for her and any other victims.
And yet she's still nice to them - because she knows how it feels. I'm hoping through websites like this, and organizations, that maybe someday we'll live in a world where kids & anybody can feel safe in their own community. To feel safe in life. So hang in there, whoever you are, wherever you are. You'll only come out stronger in the end. I promise."
I Used To Bully
Posted: 5/17/2011
THE TIME I BULLIED: My story is of the time I used to bully innocent kids in my class and school. Before being diagnosed with Bipolar and PTSD, I had uncontrolled ranges and it resulted in bullying. I used to hit, scream, spit, and intimidate kids. I feel a lot of bullying is due to undiagnosed mood disorders. I feel that the kids who are undiagnosed are causing some of the bullying. This is an issue that should be addressed from a medical point of view in many but not all cases. I feel this issue should be addressed by teachers, principals, counselors, school officers, and parents as well. I feel my class and school is now a happier and safer place after me being diagnosed. Even kids can change the community, I am 12 years old.
A Mother's Story
Posted: 5/13/2011
My daughter has Asperger Syndrome, which means she had a hard time making friends at school because she doesn't understand social nuance very well. Seven years ago, when she was in 10th grade, a teacher left the room and a bunch of popular girls in the back of the class started talking very loudly. When my daughter turned around to look at them the leader of the girls yelled, "What areyou looking at?"

The room got very quiet because everyone was expecting my daughter to act embarassed.
My daughter may not have the greatest social skills but she also doesn't worry too much about whether or not she's popular. In addition, she has a great sense of humor. So when the mean girl shouted out to her, she just smiled a big smile and loudly responded, "You! I'm looking at you! 'Cause you're so pretty!"

The leader turned beet red as the rest of the class burst out laughing at her. She even started hitting her friends and saying, "Stop laughing!" which made everyone laugh even more.

PS: My daughter never did become popular with most of the school but she never felt bad about it because she developed her own circle of close friends.
Permalink for A Mother's Story