Inspired Fundraising
SPERIAMO (ITALIAN for "LET'S HOPE")
Posted: 3/19/2013

Dear PACER's National Bullying Prevention Center,
My name is Alex. I am a 10th grader in a Connecticut school. I have been selling T-shirts that I designed for a cause that is very important to me. Enclosed, please find my initial donation and a sample of my T-shirt.
I felt that the best way to support the bullying prevention movement was to reach out to the strongest bullying prevention center in our country.
For the most part we are all really lucky. Most of us have not seen bullying at its peak. With that, we have all seen it to some extent and we are all guilty of letting it happen; too scared to say anything or just unsure of the real impact it can cause. I am hoping to take a stand against bullying by selling my T-shirts and raise money to help those three million kids that have been bullied this year.
Thank you and I hope to donate to your organization in the future.
Sincerely, Alex
To order Alex' T-shirt, visit the ZAZZLE website
Permalink for SPERIAMO (ITALIAN for "LET'S HOPE")
A Letter From Oskar
Posted: 3/19/2013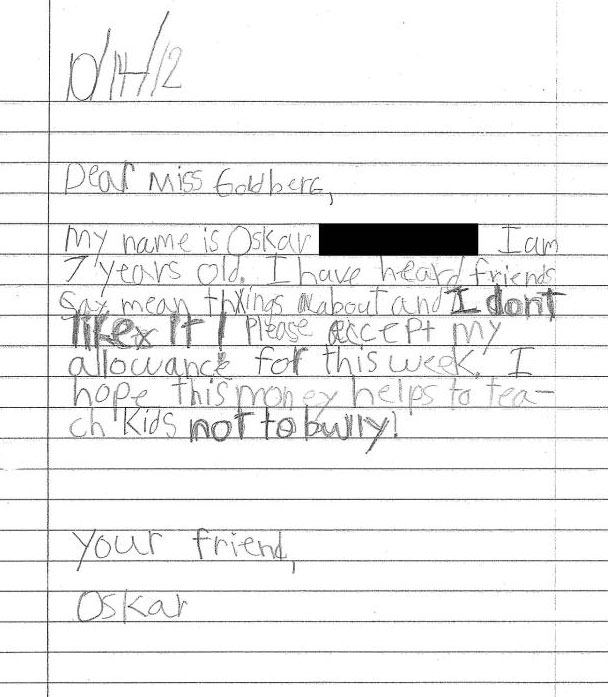 Dear Miss Goldberg,
My name is Oskar. I am 7 years old. I have heard friends say mean things about and I don't like it! Please accept my allowance for this week. I hope this money helps to teach kids not to bully!
Your Friend,
Oskar
Permalink for A Letter From Oskar
MAKING A DIFFERENCE THROUGH MUSIC
Posted: 3/15/2013
A musician from Rochester, N.Y. "I am pleased to send you this enclosed check that is a result of my bullying prevention benefit concert," she wrote. The artist put on a show earlier this year and generously donated all of the proceeds to PACER's National Bullying Prevention Center. "I just wanted to make sure that I did something," she said in an interview.
In the article, she opened up about being a victim of bullying in both middle school and high school. At the age of 16, she picked up a guitar for the first time and realized how writing music allowed her to escape the feeling of low self-esteem. At the same time, music also helped her find a way to be both proud and comfortable with who she is. "If you're different, I think that's a good thing," she said. "I think it's good to be your own person and be original." She says it's something you should truly embrace because it means you've found a maturity within yourself to be OK with standing out as your own person.
The artist has expressed her willingness to fight against bullying, not only through her music but by talking to young teens about bullying prevention and the impact bullying has on society.
Permalink for MAKING A DIFFERENCE THROUGH MUSIC
UNITING IN ORANGE
Posted: 3/15/2013
National Bullying Prevention Center,
On behalf of the nearly 800 students and faculty at our College Preparatory School in California, we are happy to send you this check from a very successful Unity Day at our school.
Upon learning about Unity Day from your website, the students and faculty raised money by donating at least $1 to wear jeans and orange shirts. Normally our students wear uniforms, but instead we literally turned the school into a sea of orange! Our sixth grade students also held a bake sale at lunch, including selling items like Unity Brownies.
Our school, just like all other middle schools, does face some issues of bullying. However, we believe that our students, faculty, and parents are working hard to ensure that all students are treated with respect and kindness. We appreciate the efforts of the PACER's National Bullying Prevention Center to provide resources and education in the movement to end bullying.
Please use this donation to continue keeping this issue at the forefront. We look forward to having opportunities to support your work in the future.
Sincerely,
College Preparatory School
Permalink for UNITING IN ORANGE
BENEFIT CONCERT AND DANCE
Posted: 3/15/2013
National Bullying Prevention Center,
On behalf of the our School of Dance and Performing Arts we would like to present this donation. Every year we hold a Benefit Concert to raise money for a charity or organization. Students and instructors have been donating their time and efforts since September in preparation for our annual event. Since bullying has recently affected our area significantly, students agreed that supporting bullying prevention would be the perfect cause this year. We are honored to present this donation to you.
Just to give you a little background about our School of Dance and Performing Arts, we are a small dance and drama school in western New York. We have less than 150 students, of which about 40 performed in different styles of dance. We held a "Donation Welcome" concert on Sunday afternoon and had a wonderful turnout. A beautiful space was donated for us to hold our concert which also helped with its success. Our annual Benefit Concert is one of the events about which our students get most excited. They feel so appreciative to be able to give back to the community by sharing something they love to do – dance!!
Sincerely,
School of Dance and Performing Arts
Permalink for BENEFIT CONCERT AND DANCE