Inspired Fundraising
Jade and Gabe – Raising funds to show those that are bullied to see that they are not alone and that they have so many people by their side for support
Posted: 10/9/2015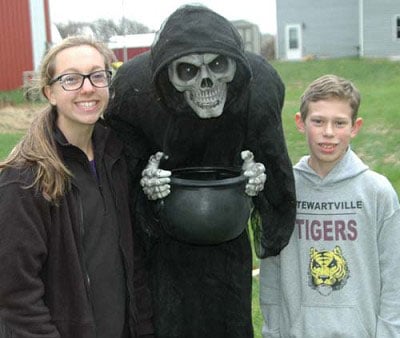 Jade Schmeling, left, and her cousin Gabe Nelson have hosted Spook City in the Woods, the annual fundraiser to fight bullying, for the past three years. Photo from Stewartville Star
Event: A haunted pathway through the woods
Dates: Friday and Saturday,
October 16 – 17, 2015
Location: Racine, MN
Cost: A free-will donation to support bullying prevention
Three years ago, Jade and Gabe founded Spook City in the Woods, a haunted pathway that leads guest through a forest filled with witches, zombies and more! Held in Racine, Minnesota, this event has been a huge success, raising over $1,500 in 2014. Spook City supports bullying prevention, as the cost to visit this frightening forest is a free-will donation to PACER's National Bullying Prevention Center.
"The exact details to how we thought of this type of creative fundraiser is a little blurry," say Jade. "But, Gabe and I both knew exactly where we wanted our fundraised money to end up. And that was in the hands of PACER's National Bullying Prevention Center. The topic of bullying hits home for us, as we've both been tremendously impacted with this current issue. Gabe has personally been attacked by the harsh effects of bullying and has firsthand experience with this awful issue. In my 7th grade year, 2012, one of my previous classmates decided to leave us because of the horrid effects of bullying. Gabe and I, we understand the pain. We understand the loss. We understand that bullying is not to be taken lightly. We want to make a difference in the world, and to stand up for what we believe in. We have come so far since our first year in 2012. We are so ever grateful for how much support we have received. Our journey with Spook City is only just beginning!"
For more information on Spook City in the Woods, visit their website or Facebook page!
Permalink for Jade and Gabe – Raising funds to show those that are bullied to see that they are not alone and that they have so many people by their side for support
Local Restaurants Unite Against Bullying
Posted: 10/6/2015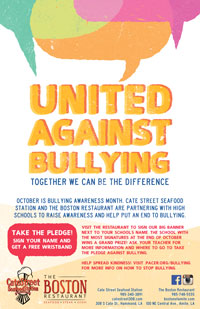 Cate Street Seafood Station and The Boston Restaurant in Louisiana are spreading kindness, acceptance, and inclusion in their communities by inviting local high schoolers to visit their restaurants to take a pledge against bullying. The restaurants are sharing profits with the local schools on these special days and sharing resources from PACER's National Bullying Prevention Center.
The restaurants care about bullying prevention because "helping put a stop to bullying is very important to us, as parents, students, and partners in our community. It's our goal to make a public show of support for those who suffer from bullying and to support our schools in their efforts to educate and empower students to stand together against bullying." This is a great example of how communities can come together to show targets of bullying that they are not alone.
Permalink for Local Restaurants Unite Against Bullying
Running the Distance for Bullying Prevention
Posted: 7/20/2015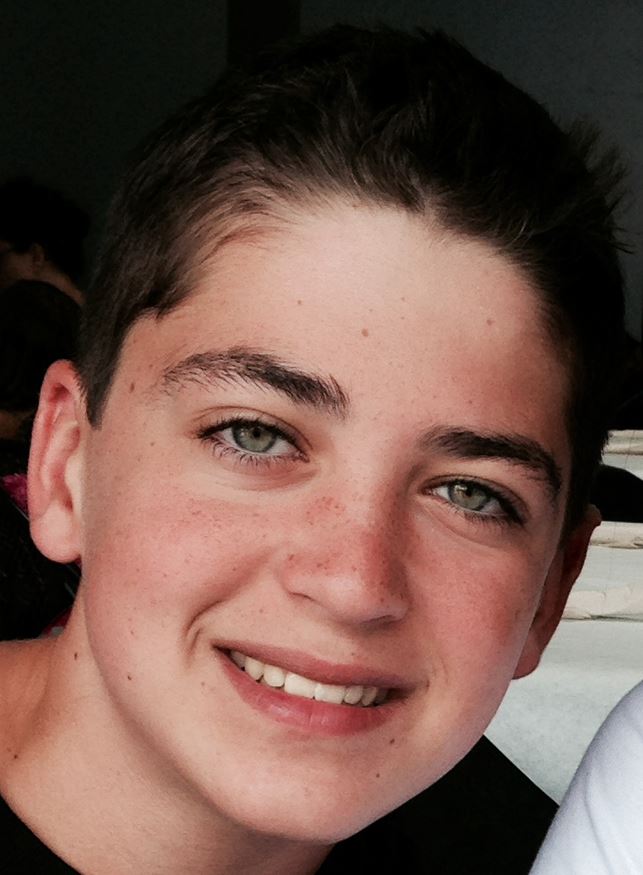 After experiencing bullying, 14-year-old Spencer decided he wanted to give back to his community by holding a Run Against Bullying. He is working to involve his entire community by reaching out to local schools as well as local businesses for sponsorship. Along with organizing the race, Spencer will be running 100 miles during his training for the big day. He has been taking pledges and has raised close to $1,000! "I believe it's important to stay true to who you are," says Spencer. "Don't let anyone make you feel bad about being different. Everyone is different!" For more information on how to hold a Run, Walk, Roll against Bullying in your community, click here.
Permalink for Running the Distance for Bullying Prevention
Zumbathon to Stomp Out Bullying!
Posted: 6/1/2015

"When my daughter was only 11-years-old, she tried to commit suicide after being bullied, physically and mentally, both at school on line. This event is her idea and she's excited to bring awareness and share her story," said Hazel, the girl's mother.
October is National Bullying Prevention Month and it's time to show you care about this important cause. Wear your best orange (the color of bullying prevention) outfit and grab a spot on the dance floor for two hours of non-stop fun and all for a great cause.
Event details:
Join us at Snellville United Methodist Church, in Snellville, Georgia on Saturday, October 3rd from 10 am to noon.
Donation request is a minimum of $10 with the exception of younger children.
Funds will go directly to benefit PACER's National Bullying Prevention Center.
There will be guest speakers, raffles for big prizes, door prizes and more!
Learn more at the Facebook page Zumbathon to Stomp Out Bullying!
Permalink for Zumbathon to Stomp Out Bullying!
'You Can Sit With Us'
Posted: 5/7/2015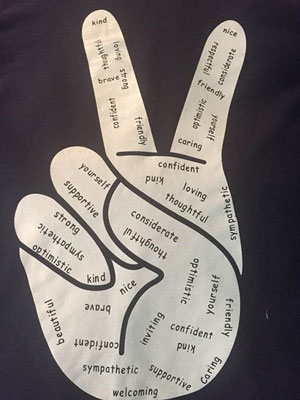 While talking about kindness during class, 13 eighth grade girls discussed bullying and ways they could make an impact. They decided they would always stand up against bullying and wanted to take further action. From this discussion, the idea of raising money for a bullying prevention organization with a T-shirt sale was born. Each week, the girls spent time during class to create the shirt. As a group, they decided on the slogan "You can sit with us," with a peace sign on the back. Each girl shared a word that described kindness, which was placed within the peace sign. Words included: strong, brave, confident, inviting, optimistic and supportive. Every week, the girls continued to discuss bullying and kindness, searching for new ways to improve their community. They will be selling the shirts during lunch hour and hope to see every student at their school wearing this message of kindness!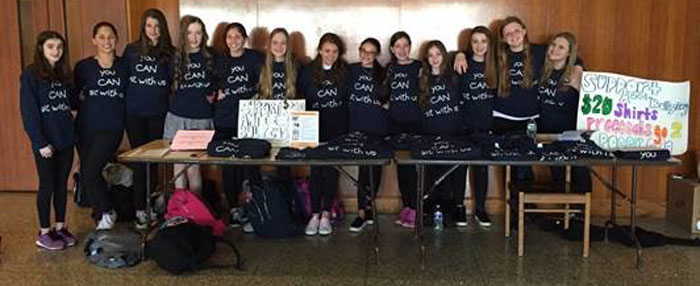 Permalink for 'You Can Sit With Us'