— 2023 Unity Award Recipient —
Akeelah Sanders
Marana, AZ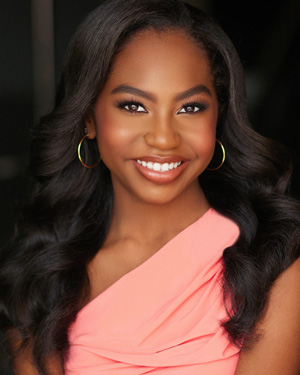 Akeelah Sanders is a 13-year-old student who is an avid volunteer in her Marana, Arizona community. Akeelah promotes her personal platform #KindLikeKeelah to inspire and celebrate goodwill by bringing attention to the impact of being kind. Some of Akeelah's volunteer activities include: serving the homeless, creating dress kits, packing Christmas gifts to send overseas, donating school supplies to Samoan and foster kids, creating 45 paracord bracelets, raising $350 for a local non-profit that provides food to children with food insecurities, raising over $600 in gift cards and donations for the children in hospitals, participating in runway fashion shows, volunteering with kids that have chronic Illnesses and more. In addition to volunteering in her community, she promotes BRAVE (Building Respect and Values for Everyone) by speaking in elementary classrooms about bullying prevention and the importance of kindness.
Akeelah recognizes that something as small as a smile or kind gesture can change a person's day, and she epitomizes that idea. She could choose to be angry about being abused, neglected, separated from her biological brothers, and placed in the foster care system. Instead of focusing on that, she chooses to inspire kindness. She recognizes that if it weren't for the kindness of her adoptive parents, she would not be who she is today. The kindness that was shown to her is something she wants to share with the world.
Akeelah might be only 13, but is already a force to be reckoned with. I can't wait to see the impact that she has on the world. Nominated by Shayla Watkins
Quotes from 2023 Unity Award Recipient
Why are you personally passionate about addressing bullying and promoting inclusion?
I'm all about standing up against bullying because I know the pain it causes. I was bullied as a small child for not acting or looking like my peers. No one deserves that treatment. I am passionate about addressing bullying because it can do a lot of damage. The reality is that we never really know what people are going through. With one kind word or gesture, we can change a person's day by choosing kindness instead of bullying. It's about building a community where we celebrate our diversity, embrace our uniqueness, and create a space where everyone can thrive. When everyone feels included, we can create an atmosphere where everyone's talents and perspectives shine. If I can make someone else's day better and encourage them to be kind, together, we can create a ripple effect of kindness in a big world.
Why is it important to create a world without bullying?
Creating a world without bullying is very important. No one deserves to be treated like they are less than others or feel scared and helpless. Bullying impacts people's mental health, especially those who have already been through a lot. It's a constant battle, dealing with hate and discrimination just because of who you are or how you look. We all deserve respect and acceptance, regardless of our style, weight, race, or background. Having a world without bullying means we can lift each other, support one another, and embrace our differences. It's about unity. There's a saying that hurt people, hurt people. We must start somewhere to break the cycle, stand up against injustice, and build a community where everyone feels safe and valued. Having a world without bullying means everyone can be happy and accepted for who they are. It's all about spreading love, positivity, and good vibes.