Project KITE -
Kids Included through Technology are Enriched
A free assistive technology training and coaching program for Minnesota parents and educators designed to increase the independence and inclusion of young learners with disabilities.
Three separate teams with three members per team are needed to make a complete KITE training group. All three teams must be from a similar geographic area in Minnesota.
Each single team is built around a focus child (aged 3-8) and consists of:
a parent of a child with special needs
a classroom teacher
a related service provider working with the child (for example: Special Education Teacher, Speech Therapist, Paraprofessional, Occupational Therapist, etc.)
Each team member must apply individually.
Applications for Fall 2023 teams are due by Friday, September 29th
Why Participate in Project KITE?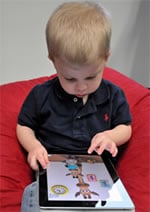 Participants are provided fantastic resources including:
Use of an iPad loaded with learning and communication apps. (Loan of an iPad for the duration of the program).
Free 1- year memberships to the Simon Technology Center's lending library of more than 3,000 assistive technology hardware and software titles.
Project KITE travels to its participants' town and occurs during convenient times set by its participants.
Project KITE creates a collaborative environment for parents and educators to learn about and use assistive technology by:
Delivering 5 workshops focusing on different categories and uses of assistive technology for young learners.
Training participants in assistive technology for literacy, communication, behavior, and other important skills vital to young learners' education and daily life.
Collaborating with PACER's Assistive Technology Specialists to find, trial and use assistive technology for their student/child.
For more information please contact the Simon Technology Center or call (952) 838-9000.