Transition Information for Minnesota Parents
Inspiring Possibilities: Living, Learning and Working After High School
Transition Mini-Conference for Minnesota Parents
The road to adulthood for youth with disabilities is filled with opportunity, and parents play a key role. Your teen can play an active role in the transition journey, and in determining their own life, if you provide encouragement and guidance along the way.
Watch the four sessions from the mini-conference at the links below.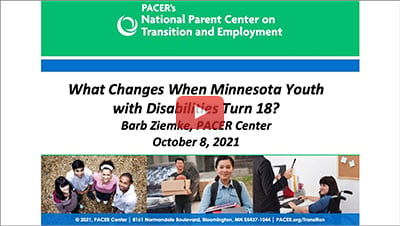 This fast-paced session covers the essentials of what families need to know and do before their teen turns 18 and/or receives their diploma or ages out of public education.
Presenter: Barb Ziemke, PACER parent advocate and co-director of PACER's National Parent Center on Transition and Employment
Related materials and links
---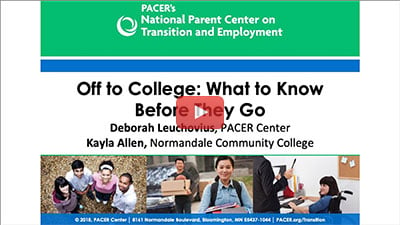 Families of youth with disabilities who will attend 2-or 4-year college programs provides essential information about changing rights, roles, and responsibilities, along with practical tips for student success.  
Key laws to know and understand 
The role of parents and students 
Disability disclosure 
The ins and outs of accessing accommodations in college 
Presenter: Kayla Allen, Accessibility Specialist from the Office for Students with Disabilities (OSD) at Normandale Community College
Related materials and links
---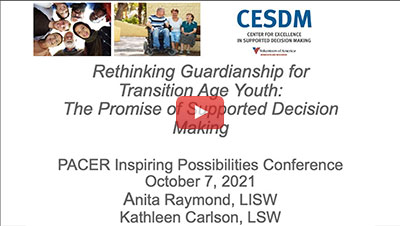 Commonly, parents of children with developmental disabilities are encouraged to seek guardianship when their child is approaching age 18.  But that may be an overly restrictive intervention.  Learn how Supported Decision Making, a nationally recognized option, can maximize self-determination while acknowledging concerns related to vulnerability for people with disabilities.
Presenters: Anita Raymond, Program Director and Kathleen Carlson, Lead Social Worker, Volunteers of America-Minnesota's Center for Excellence in Supported Decision Making 
Related materials and links
---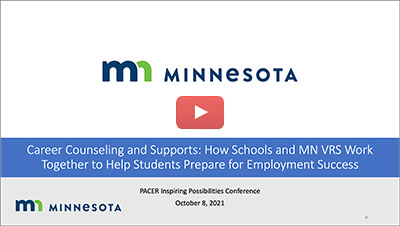 The Individuals with Disabilities Education Act (IDEA) and the Workforce Innovation and Opportunity Act (WIOA) now require high schools and VRS to plan and coordinate career supports and services for high school students with disabilities. Learn how VRS Student Career Services can help your student discover:  
Their strengths and interests 
Career and postsecondary education possibilities 
How to gain work skills and experiences 
What they'll need to make their plan happen! 
Presenters: Alyssa Klein, Transition and Pre-Employment Transition Services Coordinator,
Minnesota Department of Employment and Economic Development (DEED)- Vocational Rehabilitation Services (VRS) and Lindsey Horowitz, Post-Secondary Transition Specialist, Minnesota Department of Education (MDE)
Related materials and links
---
What's Your Next Step?
 This event was made possible with funding from the Richard M. Schulze foundation