Stories
Teen Finds His Voice Through Theater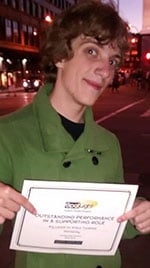 Ely outside the State Theater with his Award from Hennepin Theatre Trust's SpotLight Musical Theatre
My name is Ely Leuchovius Leslie, and I am an award-winning actor at my school. I'm a good person, my grades are fantastic, and I have a mountain of friends. And I, an Aspergian (a person with Asperger's syndrome), have been called upon to perform for television, along with a group of other young actors, in front of 2,000 people. It has always been my dream to perform in front of so many people. But it wasn't always this way.
When I was younger, I lived with my mother in Arkansas. I would lock myself in my room, never coming out to do anything but eat, before quickly retreating back. I spoke in a blank, monotone drone, which is rather typical for someone with Asperger's. During recess, I'd simply stand motionless. I was the one weird kid who would never do anything and had no friends to play with. I hated everyone. I felt as though everyone hated me back. As a result, I was bullied profusely. Unable to handle the bullying, my mother home-schooled me.
Having Asperger's wasn't a very easy thing for the doctors in Arkansas to understand. They misdiagnosed me with attention deficit disorder (ADD), schizophrenia, and chronic depression, but in reality, I only had Asperger's syndrome.
Since the doctors couldn't treat me and I was taking more medicine than my brain could handle, I requested that I move to Minnesota and live with my father and stepmother. I felt I had to get out of that place. I was being doused for disorders I didn't have and bullies I'd already left behind. Going to Minnesota was a chance to make a new start.
When I arrived in my new home, I was behaving like a child. All the ridicule from my schoolmates and unnecessary chemicals buzzing around in my head—combined with my Asperger's—took away my opportunity to mature like everyone else. My stepmother would ask me to fold towels for her, to contribute to the maintenance of the household. I'd simply cry out loud, at the age of 14, and tell her that I didn't know how. She taught me how, whether I wanted to learn or not.
They both taught me so many things, from how to hold a spoon correctly, how to do the dishes, how to put laundry in the machine, to where the detergent and fabric softeners went, and many other things. Those basic skills opened a pathway to learning more and more skills, which included the ability to converse with others. As an Aspergian, I had always been incredibly awkward around people. But in no time at all, my conversations with other people became more engaging and interactive. Was this the same kid who would stand and do absolutely nothing during recess?
In my sophomore year I decided to join an improv skills workshop offered by the Autism Society of Minnesota. A group of Autistics gathered weekly to learn to become more outgoing, have fun, and to participate in a group of neurotypicals as though we were neurotypicals.* My interest in acting suddenly metamorphosed into a passion. I could shout as loud as I wanted, I could be improvisational and come up with new ideas, new plays, new characters to act out, new emotions to roll with, and it all felt so natural.
This year, I tried out for a part in my high school's spring musical, "Hairspray." I was cast as Wilbur Turnblad, the father of the main character. He was the craziest, most energetic, and most perplexing out of all of them – an absolute perfect match for someone as idiosyncratic as me.
I made many new friends at theatre, which was a huge accomplishment for me. I was even invited to a party for the first time in my life!
When "Hairspray" closed, I learned I had been gifted with an Outstanding Actor in a Supporting Role Award. My first year in the Acting Guild, and I'd gotten an Outstanding Actor Award! I would be publicly televised along with other young actors recognized by the Hennepin Theatre Trust's SpotLight Musical Theatre Program. I also earned a little trophy for being the "best newcomer" in the theatre! It was absolutely mind-blowing!
I started from dirt. Then, I became a star. The entirety of this world has that same potential. Even if people are at a point where they can't fold a towel, that doesn't mean that they can't grow. Anyone can shine.
By: Ely Leuchovius Leslie
Notes:
* PACER usually recommends "person first" language but we made an exception because it was Ely's preferred terminology.
Page 1 of 1

First

Previous

Next

Last