Features

October is National Bullying Prevention Month
Get involved in this month long campaign uniting a nation to take action at the local level to prevent bullying in schools, communities and online.
---

Date: Tuesday, October 23, 2018
Time: 6:30 PM - 8:30 PM
Location: PACER or Livestream
Join national speaker Miranda Kennedy from the ABLE National Resource Center here at PACER Center to learn how new Achieving a Better Life Experience (ABLE) Accounts allow families to save up to $15,000 per year for their child with a disability without affecting their eligibility for Supplemental Security Insurance (SSI) or Medicaid. Kennedy and Colin Stemper from Minnesota's ABLE Plan will discuss how ABLE accounts can make a difference in your child's future. Eligibility requirements, qualified expenses, annual and lifetime savings limits, and the relationship of ABLE Accounts to special needs trusts will be covered. Join us to get the answers you need. Suitable for parents of children of all ages, birth through adulthood.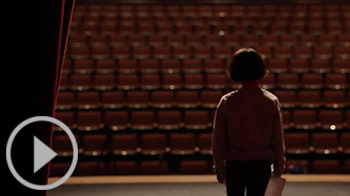 Video: This I Believe
Five high school students read an adaptation of an essay written by a 14-year-old, who shares what it is like to experience bullying and to be misunderstood as he tries to figure life out. We are grateful to this young author, who asked to remain anonymous, for courageously providing a glimpse into his world and for reminding each of us to be more kind to each other.
---

Find equipment and assistive technology after its initial use. Items such as, communication devices, walkers, adaptive switches and toys, motorized cars (that can be adapted), adapted keyboards, etc. Join Today!
---
The Center on Technology and Disability helps parents explore assistive technology online
PACER Center has partnered with the Center on Technology and Disability (CTD) to offer parents a variety of high-quality resources on assistive technology, including webinars, an online library, and Elearning courses.
Learn more at ctdinstitute.org
Categories / Programs
Workshops / Live Stream Events

Oct
22
Monday, October 22, 2018 from 6:30 PM - 8:00 PM CST
Location: Otsego

Oct
22
Monday, October 22, 2018 from 6:00 PM - 7:30 PM CST
Location: PACER Center
Live Streaming Available

Oct
22
Monday, October 22, 2018 from 6:30 PM - 8:30 PM CST
Location: Chanhassen

Oct
23
Tuesday, October 23, 2018 from 6:30 PM - 8:30 PM CST
Location: PACER Center
Live Streaming Available

Oct
25
Thursday, October 25, 2018 from 6:30 PM - 8:00 PM CST
Location: Worthington

Oct
29
Monday, October 29, 2018 from 6:30 PM - 8:30 PM CST
Location: PACER Center
Help Support PACER
Join Survey Monkey Contribute today!
PACER is excited to announce our partnership with SurveyMonkey Contribute and a new way for anyone to support PACER programs! Sign up and you will receive surveys by e-mail from SurveyMonkey customers who need your opinion. For every survey you take, SurveyMonkey will donate $0.50 to PACER, and you'll get a chance to win $100 in an instant-win game.
In The News
New Hours for Simon Technology Center's Loan Library for Assistive Technology
Posted: 10/19/2018
PACER's Simon Technology Center (STC) Loan Library is here to meet your assistive technology needs with over 1,500 items in inventory! Based on use and demand, the Loan Library has new open hours: Tuesdays 12 pm to 7 pm, Thursdays 9 am to 1 pm, and the following Saturdays for 2018: September 22, October 20, November 17 and December 15. Appointments may also be scheduled to visit the library during business hours by calling 952-838-9000 or email [email protected] at least a day in advance. STC's Library entrance is located on the north side of the PACER building.
PACER's National Symposium on Children's Mental Health and Learning Disabilities is August 8
Posted: 7/6/2018
Parents, teachers and other education professionals can now register for the 13th Annual PACER National Symposium about Children & Young Adults with Mental Health and Learning Disabilities. It is on Wednesday, August 8 from 8 a.m. to 4 p.m. at the Minneapolis Convention Center. Continuing Education Units (CEUs) are available for teachers and administrators. Keynote speakers are:
Steven Schlozman, M.D. Child and adult psychiatrist and associate director of the Clay Center for Young Healthy Minds at Massachusetts General Hospital, and assistant professor of psychiatry at Harvard Medical School. He will speak on depression and suicide.
Rosemarie Allen, Ed.D. President and CEO for the Institute for Racial Equity and Excellence, the lead agency for ensuring equity in educational practices throughout the nation, and assistant professor in the School of Education at Metropolitan State University in Denver. She will address social emotional competence and bringing out the best in every child.
David Stember, Ph.D., a recognized expert in cognitive behavioral therapy for anxiety, learning, and behavioral disorders. He is a clinical psychologist and maintains faculty appointments at Harvard Medical School and McLean Hospital. His topic is childhood and adolescent anxiety.
PACER's Mental Health and Emotional Behavioral Disorders Youth Advisory Board will give a panel presentation on "The Power of Youth Participation" and will also host a resource table for parents and professionals throughout the symposium.
Now Accepting Applications for Project KITE
Posted: 7/6/2018
Project KITE (Kids Included through Technology are Enriched) is an assistive technology training program for teams of Minnesota parents and educators. Project KITE works to increase the independence and inclusion of 3 to 8-year-old children with disabilities through valuable trainings and resources including the loan of an iPad with useful apps, and a free one-year membership to the Simon Technology Center's lending library.
PACER is now accepting applications for Project KITE from teams of Minnesota parents, educators, and support professionals for our fall 2018 session. Submit an application or learn more about this unique opportunity. For more information, email Terri Rosen or call (952) 838-9000. Deadline for applications is September 30, 2018.
Choose Kind: WONDER Movie Official T-shirt and Sweatshirt Benefits PACER
Posted: 7/6/2018
Join more than 40,000 people and Choose Kind! WONDER, first a New York Times bestseller, now a major motion picture, shares the inspiring take-away message to always CHOOSE KIND. Every shirt sold benefits PACER's National Bullying Prevention Center. How can you help? Easy! Order your shirt today. Wear kind, do kind, and most of all, choose kind.