Highlights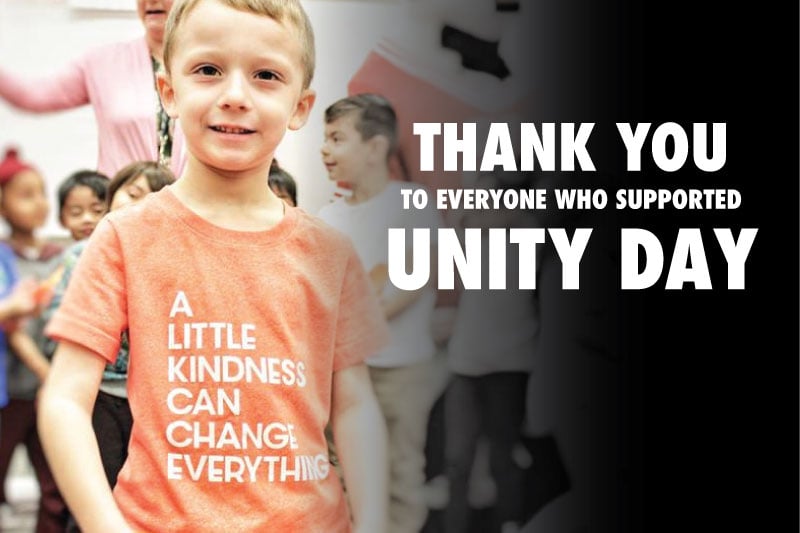 We are grateful to everyone who celebrated Unity Day to promote kindness, acceptance and inclusion to prevent bullying! Check out some of the amazing photos from celebrations around the world.
Unity Day Photos
---

National Bullying Prevention Month
During October get involved and take action to prevent bullying and promote kindness, acceptance, and inclusion in schools, communities, and online.

Animated NBPM Video Created by a Student
In this animated video created by Medha, a student from Virginia, learn more about the month, how it got started, and ways to get involved.
---

Kids Take On Bullying
Cartoon Network is partnering to challenge K-12 students to TAKE ON BULLYING! Reach out to a teacher, parent or other trusted adult and develop your idea to TAKE ON BULLYING in your school, community, online or wherever you see it for a chance to turn your idea into action!
---

Spookley the Square Pumpkin
The "Official Spokes-Pumpkin" for National Bullying Prevention Month, Spookley is a square pumpkin who lives in a round pumpkin patch world. Spookley helps early learners discover that the things that make us different are the things that make us special.
Features
Event Kit

Resource Kit
Order the "Create a World Without Bullying" resource kit which contains print materials for at least 50 participants.
Kids Against Bullying website

Kids Against Bullying

website
Innovative, educational website for elementary school students to learn, engage in activities, and be inspired to advocate for self and others.
Teens Against Bullying website

Teens Against Bullying

website
A website created by and for middle and high school students, with ideas to address bullying, be heard, and lead change in an important social cause.
Questions Answered

Questions Answered
You asked, we answered! Response options include images, 60-second snapshot, longer articles, video and poll.
Students With Disabilities

Students With Disabilities
A comprehensive overview of addressing and preventing bullying and harassment of students with disabilities.
All-In

ALL IN
Free online, year round toolkit with a new classroom lesson each week! Create environments in which each student is INcluded, INvested and INvolved.
I Care Because
I REALLY DONT LIKE BULLYING BECAUSE IT NOT RIGHT TO BDO

DARI, 10, WILDER ELAMENTRY
nobody should get bullied. If one of your friends is a bully tell them to please stop bullying for the sake of our youth.
Hunter, 11, Illinois
bullying is something thaat will effect a person for the rest of their lives and has serious consequences. I knew a girl in high school who was consantly bullied. She would tell teachers, but nothing changed. She became depressed as a direct result of bullying and ended up taking her own life. Please don't ever let this happen to someone you know. Bullying is a serious problem and needs to stop!
Jordan, 21, Washington
I care because just imagine yourself in that situation wouldn't you want someone to help. So i care 
Selwyn, 15, Brooklyn,NY
Tell your parents. Tell a teacher. If that doesn't work, then tell a different teacher, tell the principal or tell the counselor. And keep on telling until something gets done to stop the bullying. Don't keep quiet about it. 
Mrs. Smith, 40, Texas
I know that im only 10 years old but i think that bulting is really bad and  no matter what age we all can stop bulying!!! so lets do this....
Gabriela Valentin, 10, fl
i want bullying t stop because i was bullyied and people called me worthless and that i was nothing and that nobody likes me... it hurt...really bad i never want anyone ever to go through what i did
Lydia, 10, seattle,WA
I was Bullied and my whole life change.Bullying is disgusting and it is wrong and should stop here and now.
Olivia, 14, Hawthorne,Ca
I was bullied so bad in 5th that I dropped out and was home school'd. It was fun I could wake up whenever and just get up to go to the bathroom and NOT WORRY ABOUT PEOPLE CALLING ME A lESBIEN!! Im not going to lie I became a "vocal" bully in 7th grade to fit in. It worked. But it wasnt worth it. So I stopped and am way more liked this year than last year. DONT BULLY. You dont need an amazing story to know that. Just dont do it. Im with you Demi:) and Thank you....
abbey, 13, md
I was bullied throughout my life AND STILL AM. I hate the feelings of depression I get throughout the day. Sometimes I don't want to go to school because I'm afraid. I care because I know the horrible feeling one gets from getting bullied- and I HATE IT. Why can't people understnag we have feelings :( . Instead of bullying people, STICK UP FOR THEM.
Kathy, 14, Chicago, IL
Videos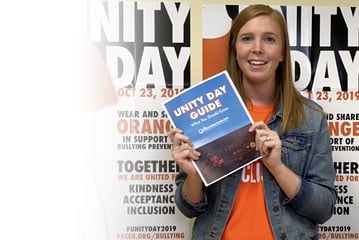 PACERTalks about Bullying - Season 3
We are thrilled to return for another season with more videos featuring interviews, stories, and informational content. New this season will be the feature "Ask Us" in which we will respond to questions from students around the world.
Documents
Notifying the School About Bullying — Using a Template Letter

PACER Center has created template letters that parents may use as a guide for writing a letter to their child's school. These letters contain standard language and "fill in the blank" spaces so the letter can be customized for your child's situation.

(Word Doc)

Version for a Student with a 504 Plan (Word Doc)
Version for a Student with an IEP Plan (Word Doc)

"What You Can Do"

This 4-part handout series provides comprehensive information for students and adults about how to help someone who is experiencing bullying, as well as how to address bullying in the community.
Downloads
Bullying Prevention 101, A Quick Guide:
Support Kindness, Acceptance and Inclusion for All Students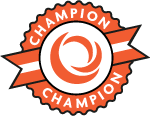 Become a Champion Against Bullying
Join the hundreds of nonprofits, schools, and community groups that collaborate directly with PACER's National Bullying Prevention Center by using and sharing our bullying prevention resources in their communities.
Survey Monkey Contributes to NBPC
Sign up and you will receive surveys by e-mail from SurveyMonkey customers who need your opinion. For every survey you take, SurveyMonkey will donate 50 cents to PACER's National Bullying Prevention Center, plus you'll get a chance to win $100 in an instant win game.