Highlights

Produce Short Videos
Submissions open now through April 10;
top entries announced early May
Inviting all K-12 students, with support from adults, to produce short (one-to-three minute) videos using template scripts for the opportunity to be featured on NBPC websites and viewed by classrooms around the country — plus, win some amazing prizes!
---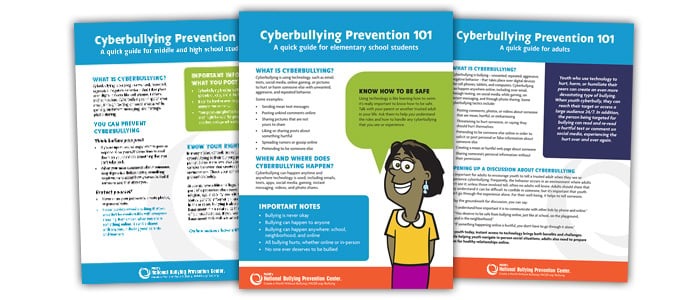 Cyberbullying Prevention 101 Quick Guides
The three-version series with audience relevant content for elementary school students, middle and high school students and adults outlines how cyberbullying is defined, along with information on how to prevent and address the behavior.

Recognize Extraordinary Individuals and Groups
Nominations now open; honorees to be announced in May
The Unity Awards is a celebration to recognize individuals and groups who are instrumental in making change.
---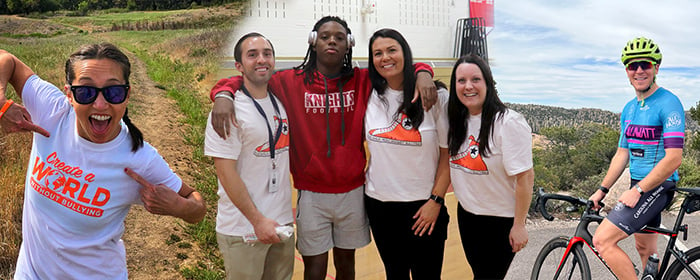 Friends of PACER's Run Walk Roll
You are invited to help with the goal of circling the world (24,901 miles) to symbolize "moving toward a world without bullying."
Features
Take the Pledge
Take the Pledge
Pledge to treat others with kindness and be more accepting and inclusive.
Kids Against Bullying website

Kids Against Bullying

website
Innovative, educational website for elementary school students to learn, engage in activities, and be inspired to advocate for self and others.
Teens Against Bullying website

Teens Against Bullying

website
A website created by and for middle and high school students, with ideas to address bullying, be heard, and lead change in an important social cause.
Questions Answered

Questions Answered
You asked, we answered! Response options include images, 60-second snapshot, longer articles, video and poll.
Students With Disabilities

Students With Disabilities
A comprehensive overview of addressing and preventing bullying and harassment of students with disabilities.
All-In

ALL IN
Free online, year round toolkit with a new classroom lesson each week! Create environments in which each student is INcluded, INvested and INvolved.
I Care Because
i care because i was cyber bullied it was fun.
i sometimes cried my self to sleep because it hurt me to much i wanna do somthing to perfent cyber bullying and other kind of bulling because there kids in my school who get bullied and i never know what to do about it but know i do. ill take action and fight for what i belive in .
Ashley, 13, on
I was never bullied, but I did witness it a couple times. And, I was the one to step up and say, HEY! That's NOT cool. There are alot of kids out there being taken advantage of, and its NOT cool. We all need to work together and STEP UP to stop this. And thumbs up to Demi for doing that.
Chase, 13, KY
My so-called friend posted fake pictures of me and some nasty guy on her Facebook page, and my boyfriend saw it and dumped me. That's messed up.
Kerry, 15, NJ
I used to be the bully. but I told myself I wasn't. I would watch out for everyone else, then come home and push around my little brother because I could. I'm a fighter, I was always taught to use what I learned to protect other people, and to never hurt them. One day, I came home after a long stressful day of finals. my bro said something about my mom that was rude and I just went off. He did martial arts too, but I was bigger. he ran to his room, and as I burst through the door, I saw the look on his face. he was terrified. since that moment, I have always protected him. I never lose my temper. True strength lies in the ability to remain calm, and protect those who cannot protect themselves. for my other brothers, Hoorah
John, 18, Colorado
I  care because I care.....Its important....
Armando, 13, Texas
I care because every human being has the right to be comfortable with who they are!
Tomika, 25, Lumberton, NC
There is never an excuse for bullying.  There is no excuse for anybody at any age to gossip-it makes people feel bad about themselves and I am a victim of gossip and let me tell everyone-it hurts badly.  
Gossip is bullying and needs to stop.
Anonymous, 31, USA
When I was in middle school, I was an immature kid who did stupid stuff and enjoyed it.  But then as I entered high school I came down with a horrendous disease that took much of my enjoyment of life away.  My family sent me to a treatment center and I made a full recovery.  The people at the center told me that I would be able to fit back into life just like everyone else when I got better, but I never have been able to.  I think everyone my age isn't worth being friends with and I haven't exactly enjoyed my life since I got out of the center.  My sadness this summer has quickly led me to believe that my purpose in life may not be to enjoy, but to help others so they don't struggle through life.  I hope to form an anti-bullying organization this coming school year.
Jake, 16, Pa
Videos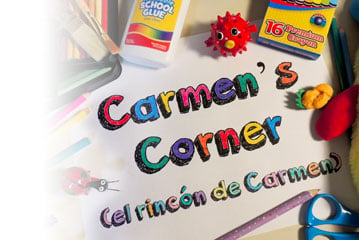 Carmen's Corner
A series of six educational videos designed for young audiences. It features characters from PACER's Kids Against Bullying puppet program, highlights key concepts of bullying prevention, and promotes social-emotional learning. Educator guide and student worksheets accompany each video.
Documents
"What You Can Do"

This 4-part handout series provides comprehensive information for students and adults about how to help someone who is experiencing bullying, as well as how to address bullying in the community.

Spanish Translations
Downloads
Bullying Prevention 101, A Quick Guide:
Bullying Prevention Slide Show and Quiz
Support Kindness, Acceptance and Inclusion for All Students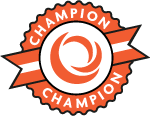 Become a Champion Against Bullying
Join the hundreds of nonprofits, schools, and community groups that collaborate directly with PACER's National Bullying Prevention Center by using and sharing our bullying prevention resources in their communities.
Survey Monkey Contributes to NBPC
Sign up and you will receive surveys by e-mail from SurveyMonkey customers who need your opinion. For every survey you take, SurveyMonkey will donate 50 cents to PACER's National Bullying Prevention Center, plus you'll get a chance to win $100 in an instant win game.