Highlights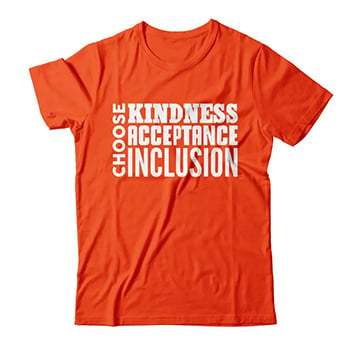 Order the official t-shirt and sticker set
These custom-designed products display the inspiring message to "Choose Kindness, Acceptance, and Inclusion." Available for $12 per shirt and $8 per sticker set (10 stickers per set), with 100% of net proceeds going to PACER's National Bullying Prevention Center. Order by October 7th to receive in time for Unity Day.
---

Get involved in this month long campaign uniting a nation to take action at the local level to prevent bullying -and promote kindness, acceptance and inclusion- in schools, communities and online.
---

Bullying Prevention 101
We have teamed up with Planet Fitness' Judgement Free Generation® initiative to develop "Bullying Prevention 101," a free educational resource designed to equip teachers, counselors and other educators with tools to empower students to prevent bullying and stand up for kindness. The material is available for elementary, middle, and high school students.
Unity Day


Wednesday October 23rd 2019
Wear and Share Orange

Participate in Unity Day, the signature event of National Bullying Prevention Month, a day to wear and share orange uniting for kindness, acceptance and inclusion.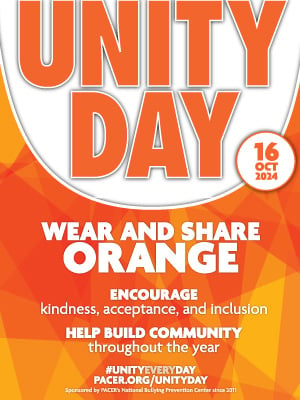 Promote by ordering and displaying the Unity Day poster, available in English and Spanish, and sharing social media posts
---

Include Someone, Make a Difference
A new campaign, created in partnership with Cartoon Network's Stop Bullying: Speak Up initiative, to inspire kids across the country to include someone at lunch, recess, or wherever it's needed most to stop bullying before it starts. Features resources with ideas to include along with an "Include Someone" kit for educators
Make Inclusion Happen Everywhere
Features
Event Kit

Resource Kit
Order the "Create a World Without Bullying" resource kit which contains print materials for at least 50 participants.
Kids Against Bullying website

Kids Against Bullying

website
Innovative, educational website for elementary school students to learn, engage in activities, and be inspired to advocate for self and others.
Teens Against Bullying website

Teens Against Bullying

website
A website created by and for middle and high school students, with ideas to address bullying, be heard, and lead change in an important social cause.
Questions Answered

Questions Answered
You asked, we answered! Response options include images, 60-second snapshot, longer articles, video and poll.
Students With Disabilities

Students With Disabilities
A comprehensive overview of addressing and preventing bullying and harassment of students with disabilities.
All-In

ALL IN
Free online, year round toolkit with a new classroom lesson each week! Create environments in which each student is INcluded, INvested and INvolved.
I Care Because
Every one deseves to be on this planet. They shouldn't be bullyed for who they are or what they are. There family wealth shouldn't matter it should be the way the treat peoyple, the way they are, the way they take part in this world. Bullying shouldn't spread. 
Sara, 12, MN
because i was bullyed and i want to help put stop to it!
miranda, 15, Evansville Indiana
I care because I have been bullied in elementary school. I have felt the pain of the mean words and actions of my peers. Each day I had to face them, each day was a nightmare at school. But I do believe for every insult I had endured, it only made me stronger. I concentrated on my school work and followed my dreams of one day becoming a teacher. A teacher that could make a difference in her own students lives. A teacher that made sure that bullying in her classroom is stomped out. 
Agata, 30, Jastrebie Zdroj, Poland
I care because no one deserves to be bullied. No one deserves to feel like they are worthless. No one deserves to be tormented everyday. No one deserves to be put down.

Everyone deserves to be treated equal. Everyone deserves to feel like they belong. Everyone deserves to know that ther are people out there who care and are trying to stop bullies int thier tracks.

Lets put an end to this.
Kurstan, 18, Texas
my little sister got bullied. She is six years old, I have been teased about my religon. My little sister was kicked, hit, threatened, restrained, forced to eat non-edible things (like rocks, dirt, bugs, dirty popsycles) and told us nothing. We finally relized why she kept telling us she didnt was to go over their when our mom said to walk her over. I am making sure she dosent even get to look at that girl again
Rachel, 14, Ga
No one should have to go through what I did. Bullying physical or emotional causes more and more problems every day. IT HAS TO STOP people don't realise how much damage it can put on a person. no one else needs to suffer 
Jordan , 18, New South Wales, Australia
I too have been bullied in the work place as have others by one single employee.  She continues to get promoted and the rest of us sit in limbo because the top management is afraid of her lies and fabrication of events.  
This made me stop and think of all those who are vulnerable and not able to do anything about Bullying.  
Thank you for highlighting this issue.  It goes to show that bullying comes in to all ages, and in every single walk of life.

Kathy, 65, Minneapolis, MN
Videos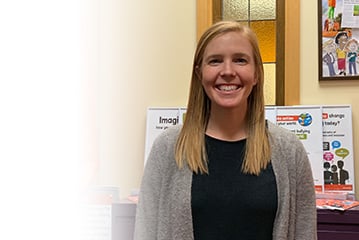 PACERTalks about Bullying - Season 2
We are thrilled to return for another season with more videos featuring interviews, stories, and informational content. New this season will be the feature "Ask Us" in which we will respond to questions from students around the world.
Documents
Notifying the School About Bullying — Using a Template Letter

PACER Center has created template letters that parents may use as a guide for writing a letter to their child's school. These letters contain standard language and "fill in the blank" spaces so the letter can be customized for your child's situation.

Version for a Student with a 504 Plan (Word Doc | Pdf)
Version for a Student with an IEP Plan (Word Doc | Pdf )

"What You Can Do"

This 4-part handout series provides comprehensive information for students and adults about how to help someone who is experiencing bullying, as well as how to address bullying in the community.
Support Kindness, Acceptance and Inclusion for All Students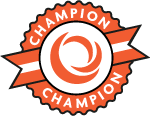 Become a Champion Against Bullying
Join the hundreds of nonprofits, schools, and community groups that collaborate directly with PACER's National Bullying Prevention Center by using and sharing our bullying prevention resources in their communities.
Survey Monkey Contributes to NBPC
Sign up and you will receive surveys by e-mail from SurveyMonkey customers who need your opinion. For every survey you take, SurveyMonkey will donate 50 cents to PACER's National Bullying Prevention Center, plus you'll get a chance to win $100 in an instant win game.