PACER's National Bullying Prevention Center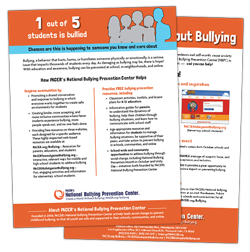 Download flyer
Founded in 2006, PACER's National Bullying Prevention Center actively leads social change to prevent childhood bullying, so that all youth are safe and supported in their schools, communities and online. PACER provides innovative resources for students, parents, educators, and others, and recognizes bullying as a serious community issue that impacts education, physical and emotional health, and the safety and well-being of students.
How does PACER's National Bullying Prevention Center help?
We provide free bullying prevention resources to unite K-12 students, their families, educators and the community in creating a world without bullying.
Specialized resources to support bullying prevention education and advocacy are available as well, including:
Want to take action right now? Take the pledge, sign up for the newsletter, or share why you care!
Our Goals
Promote a shared conversation and response to bullying in which everyone works together responsibly and collaboratively to create safe environments for students
Inspire entire communities to get involved with social change and promoting kindness, acceptance, and inclusion
Offer classroom activities, toolkits, and lesson plans for educators
Provide informative guides for parents to understand the dynamics of bullying, help their children through bullying situations, and learn how to communicate with school staff
Educate students with age-appropriate resources and information to manage bullying situations, be supportive of their peers, and take action to prevent bullying in their school, community, and online
Create school-wide opportunities to address bullying, including National Bullying Prevention Month in October and Unity Day, initiatives both founded by PACER's National Bullying Prevention Center
PACER is supportive of all persons who desire to be free and safe in their own communities. We are aware of the history of racism and social injustice in this country that needs to be changed. The tragic death of Mr. Floyd has highlighted the injustices in Minnesota and our country. We know that Black children and their families experience significant disparities in education, health, housing, and the justice system. We will work to ensure just systems for all families. We can do better.
Welcome to PACER | PACERTalks About Bullying, Episode 1
The first video of the new series, PACERTalks About Bullying, where each week we will be talking about all things bullying. In our first episode, we share more about PACER Center and what we do.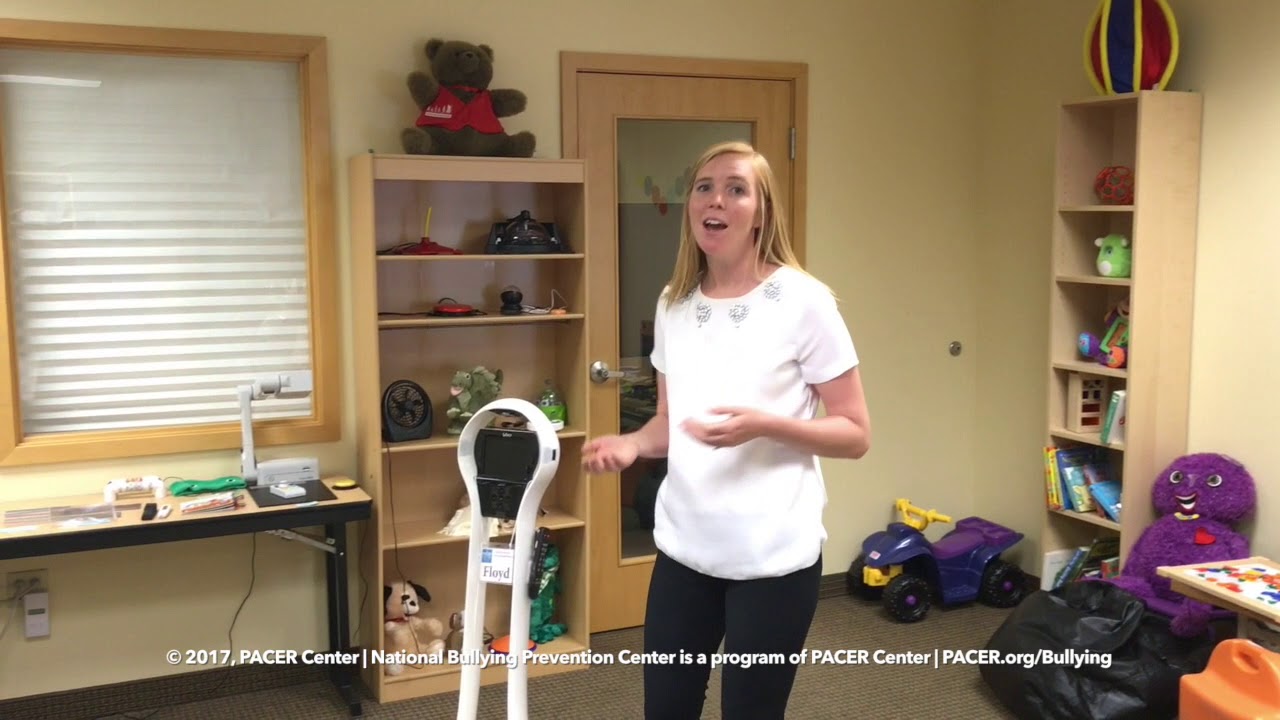 Watch more videos from the series
2019 Benefit Video: We Have Hope, The Story of PACER's National Bullying Prevention Center
Premiering at PACER's Annual Benefit in May 2019, this video features Paula Goldberg, PACER's Executive Director, sharing the behind-the-scenes story that inspired the creation of PACER's National Bullying Prevention Center in 2006, and the path to becoming to an internationally renowned resource.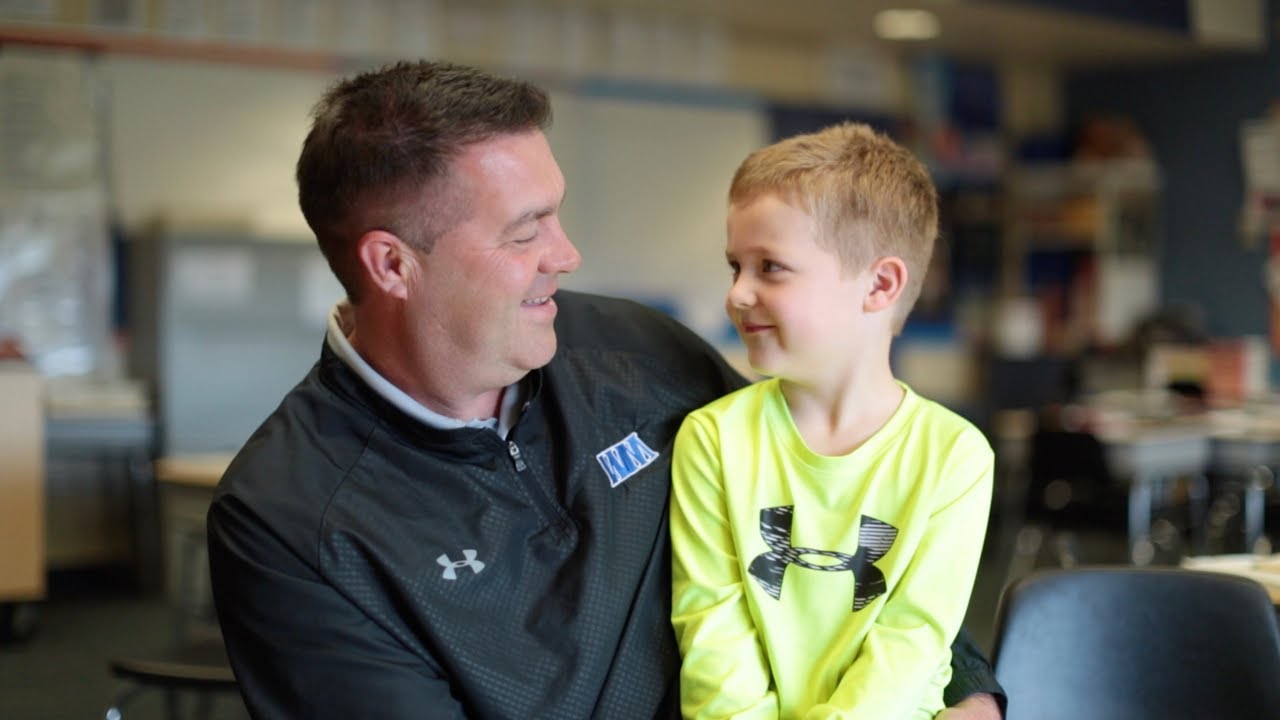 Websites
PACER offers digital-based resources for parents, schools, teens and youth, including:
| | |
| --- | --- |
| PACER.org/Bullying: Parents and educators can access bullying prevention resources, which include educational toolkits, awareness toolkits, contest ideas, promotional products and more. | |
| PACERTeensAgainstBullying: Created by and for teens, this is the place where middle and high school students can find ways to address bullying, take action, be heard, and own an important social cause. | |
| PACERKidsAgainstBullying: This creative, innovative and educational website designed for elementary school students to learn about bullying prevention, engage in activities and be inspired to take action. | |
PACER's National Bullying Prevention Month—October
In 2006, PACER founded National Bullying Prevention Month, which is held annually during October. This month long event is a time for communities nationwide to prevent bullying and promote kindness, acceptance and inclusion through events, activities and education.
During National Bullying Prevention Month—and throughout the year—the community is encouraged to use these creative resources to engage, educate and inspire others to join the movement. Unity Day, is the signature event of the month, a time to wear and share orange to show unity for kindness, acceptance and inclusion and to send a visible message that no child should ever experience bullying.
Highlights of 2021 National Bullying Prevention Month and Unity Day
PACER Center—Champions for Children with Disabilities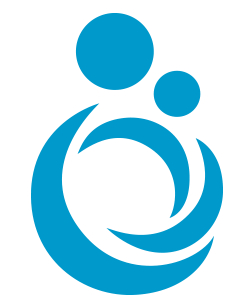 Founded in 1977, PACER Center was created by parents of children and youth with disabilities to help other parents and families facing similar challenges. Today, PACER Center expands opportunities and enhances the quality of life of children and young adults with disabilities and their families. PACER is staffed primarily by parents of children with disabilities.
With assistance to individual families, workshops, materials for parents and professionals, and leadership in securing a free and appropriate public education for all children, PACER's work affects and encourages families in Minnesota and across the nation.
2021 Program Highlights
| | |
| --- | --- |
| 1.6 million | Visits to NBPC websites (PACER.org/Bullying: 1.14M; Kids site: 257,975; Teens site: 234,776) |
| 26,000 | Subscribers to e-newsletter |
| 5 million | Bookmarks distributed to schools, organizations, and communities |
| 65,000 |  Followers on PACER's NBPC social media |
| 8,500 | Unity Day posters distributed |
| 1,000 | Requests for individual assistance, information, and support responded to by NBPC staff |
| 167,000 | Views of the 86 videos in the PACERTalks About Bullying video series (427K cumulative views) |
| 600+ | Create a World Without Bullying resource kits distributed |
| 12,000 | Pledge signatures added during October (300% increase) |
| 87,412 | Miles recorded for PACER's first virtual Run Walk Roll (surpassed 3.5x original goal of 24,901 miles) |
| 1750+ | Registered Run Walk Roll participants with 41 states and five additional countries represented including Thailand, French Guiana, Lithuania, Canada, and Mexico |
COMMENTS
From students:
"Thank you guys so much for this website! Knowing I'm not alone has helped me so much! Thank you for helping me through all of this!"
"Thank you so much for making this website. It has opened up a new door for me in my life."
"I am glad this site is alive and running. For some kids this site may be their only resort."
"I am one of those people getting bullied right now. It hurts so much. They won't stop and I told an adult and nothing happened. I really will come back to this website almost every day because I want it to stop!"
"This website is one of the best I have ever seen. I love how they made everything clear and understandable. I have gone through bullying and even left school because of it. Thank you so much for what you do to help kids. I will make sure my friends know about this and get my school involved."
From Parents and Educators:
"I have studied your website up and down and find you one of the most influential and inspirational resources out there."
"Thank you for your passionate commitment to this important issue!"
"I think all of PACER's resources are thorough and comprehensive, as well as extremely relevant to today's issues with bullying. Thank you!"
"It's the best information I've seen. I appreciate your hard work."
OUTCOMES
Survey responses after using PACER's bullying prevention resources
100% - of respondents indicated that the Create a World Without Bullying resource kit helped their students learn new ways to respond to bullying and inspired their students to want to take action to prevent bullying
99% - of respondents said that Unity Day helped raise awareness of bullying prevention in their school/community
98% - of participants rated the Run Walk Roll as excellent or good