Postsecondary Education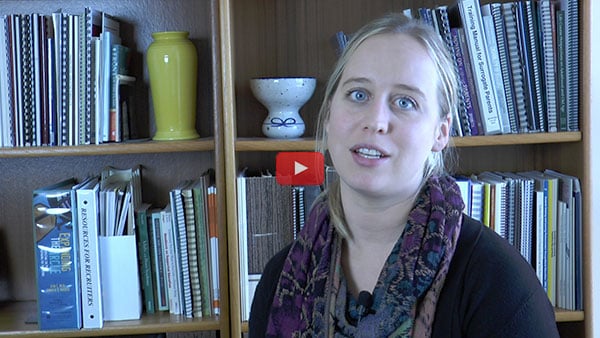 ---
Postsecondary education is an exciting opportunity for all youth, including those with disabilities. Going to college today can mean attending a 4-year college or university, a 2-year community college, or a technical institute or trade school. It can mean studying full-time or part-time, or living at school or commuting from home. Learning and earning go hand-in-hand. The more years of schooling your youth completes, the higher his or her income is likely to be. The wide variety of postsecondary educational programs currently available for youth makes exploring options with your son or daughter an exciting process.
Although postsecondary students with disabilities are entitled to certain protections, the process for accessing accommodations is much different than in high school. Youth must take a more active role in knowing their rights and advocating for needed supports. This means they must know about their disability and the accommodations they need to be successful. Families play an important role in helping their young adults learn self-advocacy skills, as well as their rights as a person with a disability.
Resources
Opportunities for Students with Intellectual Disabilities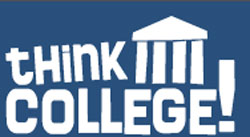 PACER is a proud partner in the Think College national coordinating center. Think College provides training and technical assistance to postsecondary education programs for students with intellectual disabilities, and widely promotes the expansion of such opportunities around the country.
Think College Information and Resources for Families
Think College Resources for Families shares resources, news, and frequently asked questions on college options and preparing for college.
Paying for College shares Think College resources to read, videos to watch and a set of frequently asked questions to help parents and students understand ways to pay for college.
Additional Guides and Resources
Making My Way Through College
A publication of the National Collaborative on Workforce and Disability for Youth (NCWD/Youth) serves as a guide for students pursuing a degree or other type of credential (e.g., certification, license) after high school. The primary focus of the guide is on helping students with disabilities or those who think they may have a disability navigate the college experience.
A Guide to Assessing College Readiness: For Parents of College-Bound Children with Learning Disabilities or AD/HD
Postsecondary Resource Guide: Successfully Preparing Students with Disabilities for the Postsecondary Environment
Parenting Post-secondary Students with Disabilities: Becoming the mentor, advocate, and guide your young adult needs
This Parent Brief was produced by the National Center on Secondary Education and Transition (NCSET) and PACER Center.
A Guide to Visual Disabilities: How Colleges Help Visually Impaired Students Succeed
From Affordable Colleges Online brings together information for students with vision impairments and their families on a range of wide issues including technology, how colleges are working to improve accessibility, and expert interviews and tips for success.
College and College Prep Resources for Students with Learning Disabilities and ADHD
From the LDOnline.
HEATH Resource Center
A national clearinghouse on postsecondary education for individuals with disabilities
We Connect Now
Web site intended to help college students with disabilities to succeed in higher education and employment by providing relevant information resources and student stories.
Transition Coalition
The Transition Coalition provides online information on topics focusing on the transition from school to adult life including a database containing descriptions of over 100 community-based transition programs for students ages 18-21 from across the United States and down-loadable publications for families and professionals.
Support for Students with Intellectual Disabilities College programs, funding, and other resources
This webpage from AC Online provides families of youth with intellectual disabilities with information on the variety of postsecondary options, funding opportunities to support this population of students, and expert perspectives.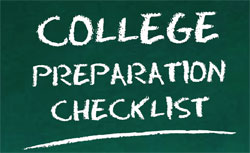 This Checklist from the U.S. Department of Education was developed to help students and parents get ready for college. It includes:
"to do" lists for all ages (elementary school to adult students)
basic information about federal student aid and money for college
tips for filling out financial aid forms
and more...
---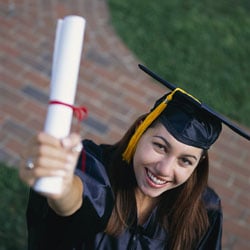 ADA, Section 504 & Postsecondary Education >>>
---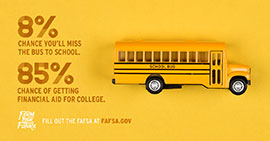 Fill out the FAFSA
(Free Application for Federal Student Aid)!
Most students don't understand federal financial aid or think they'll get any. The truth is that MOST students are eligible.
How to Fill Out the FAFSA
Students planning to attend college in the 2017/2018 academic year can submit their Free Application for Federal Student Aid (FAFSA®) early this year (October 1, 2016 instead of January 1, 2017). Schools and states often use FAFSA information to award nonfederal aid. Many of these awards are made on a first-come, first-served basis so don't delay. Find more information at fafsa.gov.