Finding Your Career Path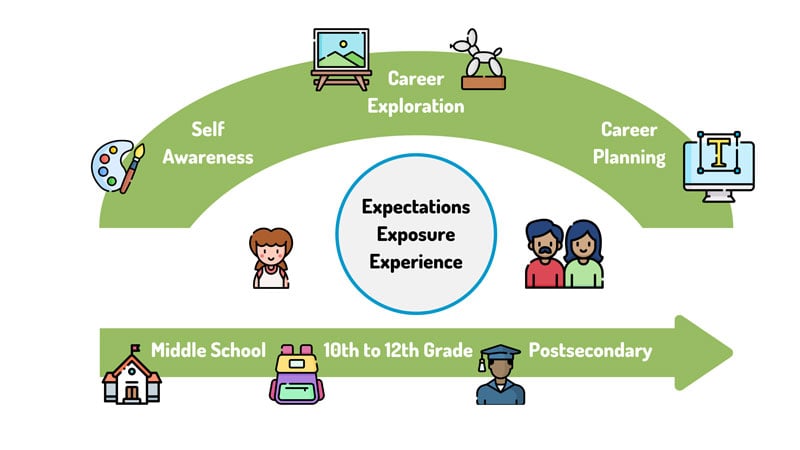 There are thousands of different types of jobs a person can do. The key to successful employment is preparation, and the first step is for youth to explore what careers best fit their strengths and interests.
Youth who start working in high school often have limited options. Common first jobs include working at a retail store, babysitting, or serving at a restaurant. These experiences provide opportunities to learn important skills. However, youth may also begin to have long-term career goals to work in fields like health care, construction trades (plumbing, electrician, etc.), or business.
This process of identifying a future career and planning steps to get there is sometimes called "career pathways."
CAREER PATHWAYS
Career pathway strategies support a young adult's progress from middle and high school education into and through the world of work. It includes a combination of education and training, work-based learning, and support services that lead to employment and advancement in a specific field or occupation. Mapping out a career pathway can help youth with disabilities understand the training, education, and skills needed to achieve their employment goals. 
There are 3 Steps to a Career Pathway:
Self-awareness: Learning more about yourself. This step generally begins in middle school and continues to some degree throughout life. This stage includes identifying strengths, interests, and areas for growth.
Career exploration: Learning about careers that may be a good fit. This step often begins in the later teenage years and early adulthood. Adults return to this stage when looking for a new job. Career exploration includes research and hands-on opportunities to try a variety of career options. 
Career planning: Creating a "career pathway." This step may start as youth enter high school with more focus near graduation and into young adulthood. This stage involves identifying a specific career interest and mapping out the initial steps needed to reach that goal.
Individuals may cycle through this process many times throughout their life. Most people change careers frequently due to shifting interests, new opportunities, or unexpected unemployment, while others choose a career and stay with it for decades. Understanding the career pathways process ad learning how to become employed is an important skill best learned during the transition years when the foundation is more easily established.
SELF-AWARENESS
Self-awareness allows students to begin identifying career fields of interest. Youth and their families should consider the youth's strengths, interests, and ideal work environment to find a career that is a good fit. Tools and strategies that are helpful include career interest inventories, personal interest inventories, understanding the youth's learning style, and family activities such as sports, community events, and travel.
What families can do. Help your young adult identify their strengths and challenges. Discuss what kind of help they may need to perform a potential job and how and when to ask for accommodations if needed. Work skills begin at home and may be referred to as "soft skills." This includes following instructions, finishing assigned tasks, returning promptly from breaks, and working on teams. It is important for youth to learn the importance of showing up on time, being flexible if their routine changes, and how to ask for help and to take correction.
CAREER EXPLORATION
Career exploration is an essential piece of the career development process. Youth often have ideas of what they want to be when they "grow up" but likely have little understanding of the skills or education required. Career exploration exposes students to career options and the required skills and education needed for those jobs. Helpful activities may include neighborhood jobs, job shadowing, paid employment, volunteering, interning (formal or informal), mentorships, and self-employment.
Students with disabilities who have an Individualized Education Program (IEP) or 504 Plan may be able to receive career exploration services as part of Pre-Employment Transition Services (Pre-ETS) funded through Vocational Rehabilitation Services.
Volunteering is a great way to investigate careers. Volunteering can provide a sense of the work environment, including the rhythm of working, culture, duties, and responsibilities. Other benefits and advantages to volunteering include building confidence, developing work skills, and expanding employment networks. Visits to technical colleges, universities, or training programs are helpful to discover career options and requirements. CareerForce Centers provide job training, education, and employment services. Vocational Rehabilitation Services are often housed in these centers and can help people with disabilities achieve their employment and independent living goals.
What families can do. Families can help connect their youth to career exploration opportunities through their networks of friends and other contacts. These relationships may lead to job shadowing, informational interviews, or even employment. Families can also advocate in IEP meetings that appropriate career exploration activities be included as part of transition planning.
CAREER PLANNING
Career planning helps youth map out their short- and long-term career goals as well as the education and supports needed to reach them. Such activities are core career pathway activities because they focus on activities related to job-seeking and learning opportunities that continue after high school graduation. Planning out a student's future education and training needs facilitates a smooth transition to employment and also enables youth to see how to advance to higher levels of employment within their chosen field.
For example, after volunteering in a hospital, a youth may determine that they want a job as a nursing assistant. A career plan would outline what credentials are needed for that position (i.e., high school diploma, training certificate, etc.). As part of that process, the youth may learn that with some additional education, they could receive their Licensed Practical Nurse license. The youth may set a goal that after 3 years of working as a nursing assistant, they will seek that additional credential if they have enjoyed their job and wish to continue in the healthcare field.
Career planning activities may include activities such as preparing a resume, applying for entry-level positions or internships, or applying for admissions to a postsecondary education or training program. This is also a good time to address disability related accommodations, health care, or transportation needs.
What families can do: Families can help youth consider what careers may be best for them based on the previous self-awareness and career exploration steps. Youth may need assistance researching what types of postsecondary training and education are required for different jobs. Families can help youth prepare a career plan document or checklist that will help the youth track their progress on their career pathway.