Stories
Family, friends celebrate a special high school graduate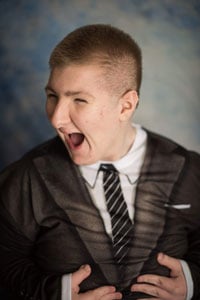 Beverly Ofstie will never forget the day her son Jesse walked across the stage at his high school graduation in Southern Minnesota. "I'm not a crier, but I shed plenty of tears that day," said Beverly.
They were tears of joy – and for good reason. Jesse, who has Rubinstein-Taybi syndrome and is nonverbal, overcame many challenges on the way to graduation. When Jesse's name was called, the auditorium erupted into applause and a standing ovation. "I could see the joy on Jesse's face," said Beverly. "He was so proud of himself and so excited to be up there with his friends."
Though Jesse's story has a happy ending, his experience with inclusion wasn't always positive. Beverly faced countless hurdles in making sure Jesse was included with his typical peers in the classroom and recreational opportunities. "The school didn't always understand the importance of inclusion," said Beverly. "I had to educate them and show them how it could work."
Beverly realized early on that her family needed extra support, so she reached out to PACER Center when Jesse was 3. She worked with PACER parent advocate Bonnie Jean Smith to create a plan to meet Jesse's needs. Beverly attended PACER workshops and conferences and researched special education laws and services in the community. When mediation was needed to resolve issues with the school, Bonnie Jean was able to help. "PACER has been there for us for 15 years," said Beverly. "They've given me the information and support I needed."
The Ofsties' tireless efforts paid off. Jesse blossomed in the inclusive school environment and made many friends. He was the first student with cognitive disabilities at his school to participate in the typical high school classroom and walk in the graduation ceremony. "The other kids motivated him to learn and provided him with important social development skills," said Beverly.
This fall, Jesse will attend a transition program in Rochester, Minn., where he will continue to practice life and job skills. Beverly is confident that her son will be an asset to an employer or volunteer organization because of the skills he gained through inclusion. "Life is not a special education classroom," said Beverly. "I knew that he would not be secluded in the real world, so it was important for him not to be secluded in the classroom, either."
Beverly encourages other families who are facing barriers to inclusion to learn their rights, advocate for their child, and contact PACER for help. "Inclusion can work for any child," she said. "Children with all types of disabilities will learn and grow when they spend time with their typical peers."
By: PACER
Page 1 of 1

First

Previous

Next

Last