Stories
High expectations and PACER help teen realize her college dreams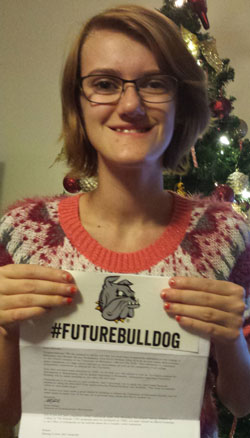 "Where there's a will, there's a way," is a good way to describe Marissa Leitzke's attitude. The 17-year-old from Apple Valley, Minn., attends high school full time, volunteers for several organizations, runs track, and plans to attend college next year. Marissa was born with Usher's Syndrome, is deaf, and has progressive vision loss. She uses American Sign Language, a video phone, and interpreters to help her communicate.
Despite facing obstacles, Marissa's positive attitude, determination, and strong support system have helped her succeed. "I love learning new things and challenging myself," said Marissa. "I want to prove to the people who say I can't do things that I can!"
In addition to having a family that encourages her to reach her full potential, Marissa also relies on PACER Center for resources and support. Her mother Jennifer first brought Marissa to PACER when she was being bullied at school. After speaking with a PACER advocate, Marissa learned how to deal with the bullying and use other important self-advocacy skills. "Marissa was feeling pretty low when we came to PACER," said Jennifer. "They taught her how to be a strong advocate for herself, which completely changed her life."
Marissa channeled her renewed self-confidence into teaching others how to stop bullying. For the past two years, she has organized events at her school to celebrate Unity Day, which was started by PACER's National Bullying Prevention Center and takes place in October during National Bullying Prevention Month. "After going through my own bullying experience, I wanted to show others that it's not OK and that they can stop it," said Marissa.
Active participation in her community is important to Marissa, and she has volunteered at her high school, church, and several non-profit organizations. In 2014, Marissa received the President's Volunteer Service Award for engaging in volunteer service and creating change in her community.
Marissa will graduate from high school this year, and she's been accepted at the University of Minnesota Duluth, where she plans to pursue a degree in environmental education. Jennifer admits that she is nervous about Marissa moving away from home, but after touring the campus and speaking with disability resources staff, she is confident that Marissa will be successful in college. Their family has also used PACER resources to help with the transition process. "Marissa has worked hard to get where she is," Jennifer said, "and I know she will go far in life."
Marissa encourages other youth with disabilities to challenge themselves and to never give up on their dreams, whether it's pursuing a job or going to college. "It's important to push yourself and see how far you can go," said Marissa. "Believe that you can do anything. You can!"
By: PACER
Page 1 of 1

First

Previous

Next

Last