Stories
Paris is on her way to the career of her dreams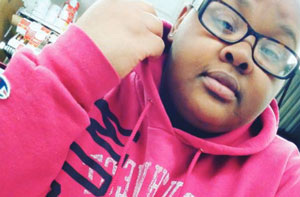 It was just seven months ago that Paris Clifton walked into the Minnesota WorkForce Center in Marshall, Minn., referred by the special education department of her high school. Paris, who is diagnosed with an emotional/behavioral disorder, entered a program for young people with disabilities through Southwest Minnesota Private Industry Council, a WorkForce Development Area that trains workers to fill needed positions. PACER is a partner in this DEED program.
Paris told Leah Hastad, the Council's Disability Resource Coordinator, that her dream was to one day own a restaurant. Together, the two mapped out a plan that combined training, education, and practical experience. Hastad and her colleagues work with individuals, tailoring programs to fit their needs and skills.
Hastad said, "When I first met Paris, she had just graduated from high school." Hastad placed Paris in a job at a long-term care facility in the dietary department. "This provided her with work experience on a job site," Hastad said. The Southwest Minnesota Private Industry Council paid Paris' wages through their work experience program, and the employer mentored and coached Paris, who worked with the cook and took food orders from the residents.
The job was a success. After the trial period, Paris was hired by the facility — first part-time, then full-time. "She is even helping to train some of the new employees," Hastad said. "She has come out of her shell and really flourished. She's picked up extra shifts. Paris has her own apartment and although she is working full-time, she also has a second job at a convenience store.
"Paris' employer reports that she has grown in her position, and that the residents and the staff are very glad to have her there," Hastad said.
Part of the work of the Southwest Minnesota Private Industry Council is building on career pathways. College is in Paris' future, Hastad said. "Paris wants to work on her basic skills to get into college. She will first work toward an associate degree online; if that goes well, Paris may be interested in transferring to the culinology program at Southwest State University," Hastad said. Culinology is a new discipline; it is a blend of the culinary arts and food science.
Though Paris' apartment has wi-fi, she doesn't have a laptop — something every college student needs. Hastad says that is something the Southwest Minnesota Private Industry Council can help with. Right now, Paris is so busy with work that finding time to complete her FAFSA (federal financial aid form) is a bit of a challenge. However, Hastad has no doubt it will happen. It's in Paris' plan.
This article first appeared in the Fall 2017 PACESETTER newsletter.
By: PACER
Page 1 of 1

First

Previous

Next

Last