Stories
Navigating College: My Personal Experience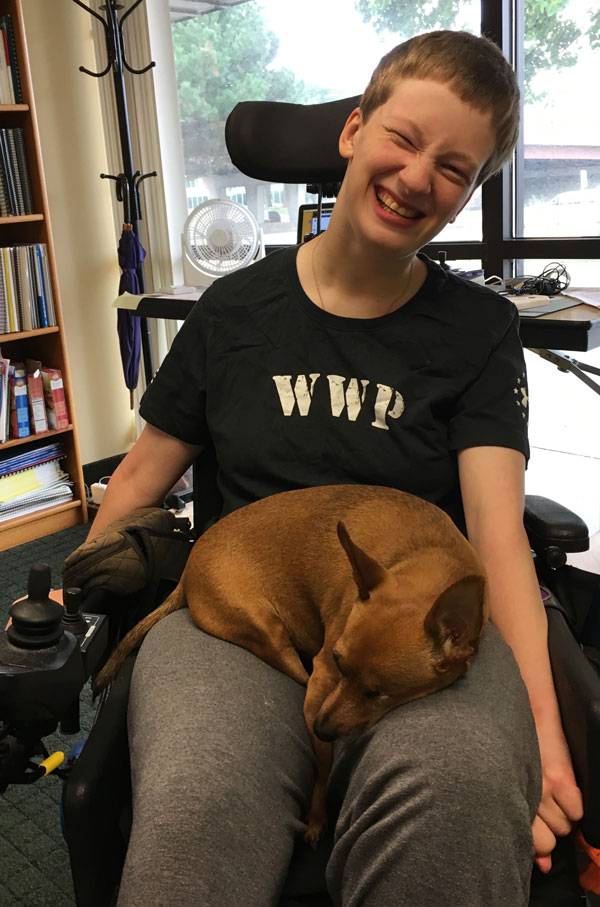 Deandra Bardell, a PACER Intern, is a University of Minnesota Twin Cities, College of Science and Engineering student. She has Cerebral Palsy and uses a power wheelchair. In May 2018, she completed her Bachelor of Science in Mathematics, and is pursuing her second B.S. in Computer Science. In this article she shares her experience working with the University of Minnesota's Disability Services Office and offers tips to help other students navigate academic accommodations and find success at college.
I chose the University of Minnesota (U) partly because of its size. I knew navigating the campus would be more of a challenge compared to a smaller school, but I also knew the larger Disability Resource Center (DRC) would have a greater ability and more resources to accommodate me. I'm a very academically driven student, so making sure I would get my needs met was very important to me.
Family Educational Rights and Privacy Act (FERPA)
I started at the U when I was 17 years old. Because I was a minor, my parents were automatically allowed to talk to the DRC and they could share my information with them. Once I turned 18, I had to meet with my specialist to sign privacy agreements, and I chose to sign paperwork that allowed my parents to communicate with the DRC if I needed their help.
Disability Services
At the beginning of every semester, at least a week before classes start, I send every instructor an email with my accommodations letter. I tell them a little about myself, my disability and how it affects me, the lecture section I'm in, an overview of accommodations, and I request a syllabus. I ask them if they have any initial questions as well as when they would be able to meet during the first week of school. Over the years, I have learned that starting an open conversation early makes the class logistics smoother for both the instructor and me. By getting the syllabus early, I can think about accommodations and potential issues. This way, when we meet in person, I am prepared with points that I would like to address. If my professor doesn't understand or disagrees with an accommodation, I try my best to resolve the concern. If I'm unsuccessful, I ask the DRC to get involved. Most of the time, the issue is a misunderstanding, and the DRC brings clarity to the situation. Rarely an instructor refuses to accommodate, and the DRC can't force them to do so. In this case, I try my best to get through the class, or I drop the class.
Accommodations for the Classroom Setting
Due to Cerebral Palsy, I am unable to write, have difficulty speaking, and I use adaptive equipment to use my computer. I have Access Assistants (AAs) in all my classes to take notes, and in labs to help me with hands-on activities and communicate if someone doesn't understand my speech. AAs are assigned all semester long, and if one is gone, the DRC tries to find someone to fill in. If the DRC doesn't get advanced notice, sometimes an AA doesn't come, and I have to get notes some other way after class. If I'm not going to be in a class, I have to tell the DRC as soon as possible so they don't send someone. If I'm not in class, the AA will not take notes. If I'm more than 15 minutes late to class, the AA can leave.
Both of my degrees require physics, math, and other technical labs. When I first started classes, many of my AAs didn't have the background knowledge needed to properly help me in labs. I needed AAs that knew basic math and graphing skills so when I told them to draw a vector or points on a graph, or write math symbols, they knew what I meant. Trying to explain how to write something down takes valuable time away from doing the actual work. With advance notice, the DRC found qualified people to help me in labs. For computer science labs, it would be very difficult to tell someone how to write code, even if they were in computer science. The best solution for me is to explain to my instructor that I cannot use a lab computer, and that I will complete the work outside of lab with my own computer setup.
For my lectures, it's nice to have AAs that have knowledge in the course topic. They use their judgment on what is important to include in my notes, and if they have an idea of the material, they better understand what I would find useful in my notes. However, most the time I'm fine having an AA with no experience in my field. I understand how difficult it can be to find a qualified student that doesn't have an overlapping schedule.
Accommodations for Testing
I receive testing accommodations. I'm allowed a private room with a proctor, extended time, breaks, a testing computer, and assistive technology. The DRC has a Testing Center, and the AAs help run it. The DRC purchased the assistive technology I need to operate a computer, downloaded software, and I have my own account on the computer so my settings are saved. The Testing Center is open normal business hours, and extended hours during finals. Instructors usually want students to take exams at the same time as the class, which is a problem if the class is at night. In this case, the student may be able to take the exam at a different time. Due to my extended time, I almost always need to schedule an alternate time. Exams have to be scheduled at least a week in advance. If it's less than a week in advance, the DRC can deny the request. They need time to schedule exams, get instructor approval, and have the exam ready.
Living on Campus
The first few years, I stayed in a newly built dorm. Most of the dorms are quite old, and not very accessible. Fortunately, the DRC helped me to get a private room in the new dorm. My door had keycard access with an automatic button. The rooms are small, so I had the bathroom and closet doors removed. They also got me an adjustable power table. The cafeteria was on the main floor. It surprisingly wasn't that accessible. The tables were close together, and it was impossible to find a seat during peak hours. There were multiple food stations with different options, which was nice. The portions were small, so students had to grab a plate, eat, and go stand in another line. Since it was so hard to get around, I would stay at a table while my PCA (privately funded, not provided by the University) repeatedly went to get food. One year I tried to get out of the food plan, but since I wanted to stay in the dorm, I was required to buy a plan.
I don't live too far from campus and didn't stay at the dorm every night. Part of the time I used my dorm as an office. Since I need assistive technology to work on my assignments, I cannot go to a library and do homework between classes. The dorm allowed me to leave my tools in my room, so If I had many hours between classes, I could go get something done.
The dorm was useful in bad weather or a snowstorm. If commuting was going to be especially challenging, I stayed in the dorm. Then, I would only have to get to a building from my room on campus.
Navigating the Campus
The U has a transportation service for people with disabilities on campus. I've never used it because I would have to schedule in advance and then wait for them to come. I would rather "walk". The U has a tunnel system. I wish the DRC would have given me a specialized tour as a person with a disability. It took me at least two years to figure out all the connections. It's quite useful as long as the doors into it are unlocked. Not all buildings on campus are accessible, but if I can get into a building connected to the building I need to be in, I can get there by tunnel, though it takes more time and effort. The U is pretty good about clearing snow from sidewalks, but not curb cuts, ramps, or handicapped parking spots. Every year I get stuck in the snow. Luckily people nearby see me and come to my rescue.
Priority Registration
After my first semester, the DRC approved me for priority registration. The first day of class registration, I can register instead of having to wait for weeks. This way, I can enroll in courses I know I can get to, and schedule courses close together that are on the same day. I also have a credit exemption. Because it takes me longer to physically do my work, I take 10-12 credits per semester. With the exemption, I receive full time student status even though I take under 13 credits, and I only pay for the credits I take, instead of having to pay for all 13 credits.
Textbooks
The DRC turns my books into pdf, as long as I buy them at the bookstore. They have an agreement with the bookstore to be sent a copy of the book at no cost. Then, the DRC can cut the binding and scan the book for me. It takes a few weeks to get the pdf. I like to use the hard copy as well, though I tend to rip pages. If I rent a textbook, sometimes they threaten to not accept it back, but after advocating for myself, they do.
Overall, my time at the U has been a positive experience. The Disability Resource Center and my specialist have been supportive and helpful. Disability Services in general help with reasonable accommodations. I've found that the definition of reasonable varies, and sometimes I've had to advocate why an accommodation is reasonable. It's very important to advocate for your needs, and stay in touch with Disability Services. If you feel you need support during your post-secondary experience, contact your school's Disability Services or Student Services as soon as possible. If you feel your school is failing to provide reasonable accommodations, find out how to file a complaint or appeal at your school. You can also contact PACER Center for information on your educational and legal rights.
By: Deandra Bardell
Page 1 of 1

First

Previous

Next

Last