Featured Resources
Videos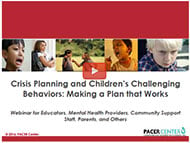 2016 (54 min)
Crisis Planning and Children's Challenging Behaviors: Making a Plan That Works
This archived webinar is for educators, mental health providers, community support staff and other professionals who would like more information on crisis planning. It covers some key features of proactive crisis plans, what we should know about challenging behaviors before developing a crisis plan, and questions to ask when considering a child's escalating challenging behaviors. This webinar covers principles of wellness, recovery, and self-advocacy when working with children and youth who have behavioral health needs and require proactive crisis planning.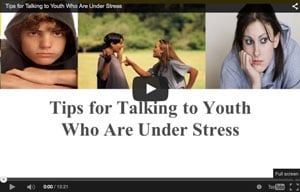 2015 (13 min)
Tips for Talking to Youth Who Are Under Stress
This presentation is for first responders, police, youth workers and others who work with youth with disabilities to help prevent the escalation of challenging behaviors.
2013 (7 min)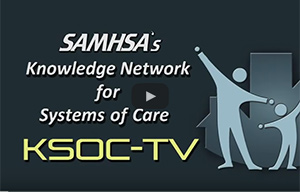 2015, (1 hr)
Knowledge Network for Systems of Care TV (KSOC-TV)
SAMHSA (Substance Abuse Mental Health Service Agency) has been taping a series of multi-media webisodes on children's mental health with KSOC-TV, a web-based technical assistance program that features behavioral health experts discussing cutting edge issues in children's mental health. Season 3 of KSOC-TV will kick off on January 9 from the 2016 NBC-4 Health & Fitness Expo in Washington, DC. This special webisode will explore how parents and caregivers can actively engage in their child's behavioral health care, as well as identify available resources that can help the entire family thrive. Members of the audience will be invited to ask questions of the panel. Others can also join the conversation via Twitter using #KSOCTV!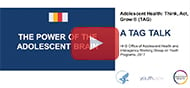 2017, (33 minutes)
The Power of the Adolescent Brain: 6 video segments (TAG Talks)
These videos, sponsored by the federal Office of Adolescent Health, Department of Health and Human Services (HHS), review adolescent brain development and how it affects learning, health, and behavior and include tips for parents.
More Videos:
Video Series: Preparing For Adulthood: Taking Charge of My Own Health Care
PACER's Youth Advisory Board on mental health discusses topics related to transitioning from pediatric health care to adult heath care. This 4-part series includes tips for teens and young adults on: coordinating your own health care, how medical providers and teachers can help you taking charge of your own health care, preparing for your own medical appointments, and understanding the benefits of guardianship.
This video series was made possible in part through a subcontract from the Minnesota Department of Health under Grant Number D70MC27547 from the Health Resources and Services Administration (HRSA), an operating division of the U.S. Department of Health and Human Services.
Materials & Resources