Features
Jennifer Hudson – Live at PACER's Benefit on May 12, 2018

The Academy and Grammy Award-winning entertainer and coach of NBC's "THE VOICE" will headline PACER's 36th Annual Benefit
Hudson, who currently stars as a coach on "The Voice," first rose to fame as a contestant on "American Idol" more than 13 years ago. Since then, the vibrant performer has gained worldwide acclaim. She went on to win the Academy Award for her role in "Dreamgirls," and has since won the Golden Globe, NAACP Image Award, BAFTA, and Screen Actors Guild Awards, among others. In "Dreamgirls," a star was born when Jennifer Hudson started to sing.
---
CHOOSE KIND: Official T-shirt from the film WONDER benefits PACER
Join the more than 40,000 others and choose kind!
WONDER, first a New York Times bestseller, now a major motion picture, shares the inspiring take-away message to always CHOOSE KIND. Every shirt sold benefits PACER's National Bullying Prevention Center. How can you help? Easy! Just wear kind, do kind, and most of all, choose kind.
EX.I.T.E. Camp (EXploring Interests in Technology and Engineering)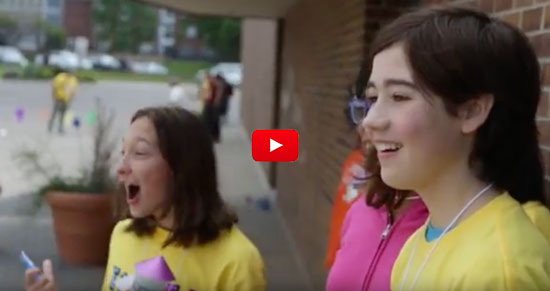 A 5-Day Camp in August for middle school girls (6th-9th grades in the fall) with disabilities.
It's FREE, you just need transportation and a box lunch each day.
Camp runs each day from 9 AM to 4 PM at PACER Center in Bloomington.
Do amazing experiments, make friends that will last a lifetime, discover how science, technology, engineering and math can be cool and exciting.
---

Find equipment and assistive technology after its initial use. Items such as, communication devices, walkers, adaptive switches and toys, motorized cars (that can be adapted), adapted keyboards, etc. Join Today!
---
The Center on Technology and Disability helps parents explore assistive technology online
PACER Center has partnered with the Center on Technology and Disability (CTD) to offer parents a variety of high-quality resources on assistive technology, including webinars, an online library, and Elearning courses.
Learn more at ctdinstitute.org
Categories / Programs
Workshops / Live Stream Events

Apr
26
Thursday, April 26, 2018 from 6:30 PM - 8:30 PM CST
Location: PACER Center

Apr
27
Friday, April 27, 2018 from 9:00 AM - 11:30 AM CST
Location: PACER Center
Live Streaming Available

Apr
30
Monday, April 30, 2018 from 6:30 PM - 8:30 PM CST
Location: PACER Center

May
5
Saturday, May 05, 2018 from 10:00 AM - 12:00 PM CST
Location: PACER Center

May
7
Monday, May 07, 2018 from 12:00 PM - 1:30 PM CST
Location: PACER Center
Live Streaming Available

May
8
Tuesday, May 08, 2018 from 6:30 PM - 8:30 PM CST
Location: PACER Center
Help Support PACER
Join Survey Monkey Contribute today!
PACER is excited to announce our partnership with SurveyMonkey Contribute and a new way for anyone to support PACER programs! Sign up and you will receive surveys by e-mail from SurveyMonkey customers who need your opinion. For every survey you take, SurveyMonkey will donate $0.50 to PACER, and you'll get a chance to win $100 in an instant-win game.
In The News
MPR News - For students with both gifts and disabilities, choices are few
Posted: 3/2/2018
Schools generally organize themselves according to categories: They divide students by age, grade, and often by academic progress or lack thereof. But what about students who don't fit into those categories?
That's the problem junior Brendan Olson and senior Joey Firestone faced.
On a recent morning, they sat with about a dozen other students in a classroom at Lionsgate Academy in Minnetonka. The class is specifically for students who are called "twice-exceptional," meaning they have a disability and qualify as intellectually gifted. Brendan and Joey are on the autism spectrum.
Students started discussing a book about leadership, and Brendan spoke up first.
Minnesota's ESSA Plan
Posted: 2/14/2018
On January 10, 2018, the U.S. Department of Education has approved Minnesota's Every Student Succeeds Act (ESSA) state plan. The plan provides a framework for the state's testing and accountability framework with a goal of ensuring all students, including those with disabilities, are successful. Read more
PACER partners with Emagine Willow Creek for monthly 'Secret Cinema'
Posted: 2/14/2018
Emagine Willow Creek in Plymouth, MN hosts "Secret Cinema" at 7:00 p.m. on the second Thursday of each month and a portion of the proceeds support PACER. The film is a secret - you won't know what you're watching until the lights go down and the movie starts rolling! Each movie is selected by local film professors, critics, and industry professionals, and a Q&A session follows each screening. Admission is just $6 and, best of all, $1 of each ticket purchase benefits PACER! The next Secret Cinema is March 8.
For information, visit Emagine Willow Creek.
PACER offers helpful resources for alternative dispute resolution
Posted: 2/14/2018
One of the most important jobs of parents is helping their child with disabilities receive an appropriate education. Sometimes, families and school districts disagree about special education. PACER provides extensive dispute resolution resources, including the Minnesota Due Process Options brochure that outlines the options available to parents along with key contacts. The brochure is available for free download.