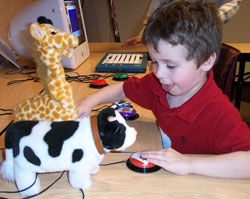 Simon Technology Center Overview
Assistive technology can be a device or service that helps children with disabilities participate more independently within their environment at home or school.
The Simon Technology Center (STC) is dedicated to making the benefits of technology more accessible to children and adults with disabilities. Through a collaborated effort involving parents, professionals, and consumers, the STC can provide numerous services for your family, as well as resources and informative answers to your questions. Since 1987, the Simon Technology Center has helped many children and adults, with a variety of disabilities, use assistive technology to enhance learning, work and independence.
---
The Simon Technology Center provides a variety of core services to help children, families, and professionals including:
The Simon Technology Center also operates several projects with specific focuses such as:
New in the STC Library
PACER's Simon Technology Center is thrilled to add some new, cutting edge technology.
VGo Robot
UbiDuo Wireless Face to Face Communicato
Tobii Eye Mobile.
Featured Services and Projects
The STC Lending Library has launched a new modern online catalog of items!

With more than 1,900 items, the Lending Library lets you try out and borrow some of the newest educational and disability-specific software and devices on the market including:

Text-to-speech software for reading accessibility
Speech-to-text software for improved written communication
Universally designed toys for playtime accessibility and inclusion
Communication devices for communication freedom
Computer access adaptations for independence
Talking calculators for improved independence with math

The Simon Technology Center Lending Library allows you to try assistive technology before making a purchase decision and is open to Minnesota residents.  Families, educators, and consumers who become library members benefit from personalized assistance, convenient hours and services.  As a member, you can:

Receive personal assistance in selecting and checking out materials.
Try out devices and software.
Reserve, check-out, or renew items online, by phone, email or in person.
Schedule quick pick-up during regular business hours or library open hours.
Have items mailed to you for free if you live in Greater Minnesota.
Upcoming STC Workshops & Events
Afternoon Session: 'Appy Hour': Apps to Support Social and Emotional Development of Young Children

Date: Tuesday, January 24, 2017

Time: 3:00pm-4:00pm

In this fast-paced informal sharing event, staff from the Simon Technology Center will explore the latest app offerings that support the social and emotional development of children. See apps that help children learn how to regulate, how to calm, and how to handle big emotions.

Going to School: Telepresence and Robotics

Date: Monday, January 30, 2017

Time: 6:30pm-8:00pm

Students with disabilities or health concerns that keep them out of school now have a way to fully participate in their classrooms. They can be virtually present using telepresence and robotic technology . In this workshop, we will explore telepresence and robotic technologies that can be used in the classroom, discuss challenges and share success stories.

'Appy Hour': Apps for Video Modeling

Date: Thursday, February 23, 2017

Time: 11:00am-12:00pm

Staff from the Simon Technology Center will explore the latest app offerings that support using and making video models. Do you have an app that you would like to share? Send the link to stc@pacer.org along with the reason that you like it and we'll demonstrate it during the event.

Social Media & Bullying: Using Technology to Keep Kids Safe

Date: Monday, March 06, 2017

Time: 6:00pm-7:30pm

PACER's Simon Technology Center (STC) and National Bullying Prevention Center (NBPC) will discuss the technology young people use, and the technology parents can use to keep them safe and raise responsible young digital citizens.

'Appy Hour': Apps for Pre-Academic Skills

Date: Monday, April 17, 2017

Time: 11:00am-12:00pm

Staff from the Simon Technology Center explore the latest apps that support the development of fine motor skills, literacy, math skills, and more for young children. Tell us about your favorite app at stc@pacer.org and we'll demonstrate it during the event.
---
The Simon Technology and its projects are generously sponsored by private donations and the following foundations: 3M, Boston Scientific, Donaldson Foundation, Ecolab, Fred C. & Katherine B. Andersen Foundation, Grotto Foundation, IBM, Medtronic, Minneapolis Rotary Community Service Foundation, The Minneapolis Foundation, Schulze Family Foundation, Verizon, and Xcel Energy. In kind support provided by Accenture and Target.