Communities nationwide are invited to hold an event to raise awareness of safe schools and bullying prevention.

New Website Updates

Activities for Youth
This newly updated section offers free activities and resources designed for younger students. The goal is to start conversation and creatively engage students to build their understanding of how to prevent bullying.

---

Book Club
Story telling is a powerful way to share messages, encourage discussion and inspire thoughtful action.

NEW! -

The WE WILL Generation


Students Leading The Bullying Prevention Movement

Today's generation of students is ready to take action and uniquely positioned to prevent and stop bullying. What they need is education, support, and inspiration – and a creative program that will give them the practical skills to be part of the solution. The WE WILL Generation is an exciting new initiative that uses a students-teaching-students model.

Spanish Translations

Spanish translations are now available for the following informational handouts:

Notificando a los Administradores Escolares de Inquietudes Sobre el Hostigamiento
(Notifying School Administrators of Harassment Concerns)

Notificando a la Escuela Acerca de un Incidente de Bullying Mediante el Uso de una Carta – Formulario
(Notifying the School About a Bullying Incident - Using a Template Letter)

Plan de Acción Para el Estudiante en Contra del Bullying and ¡Tu Plan de Acción en Contra del Bullying!
Your Action Plan Against Bullying!

New! An important book that offers real-world bullying prevention strategies for children at home, in school, and online. It contains the latest information and practical tools that can help parents and others take action against bullying. Written and designed by staff of PACER's National Bullying Prevention Center, the book was developed to help parents protect their child or someone they know from being bullied, and to help parents be proactive in their community in addressing bullying.

Resources for LGBTQ Students and Their Families

The Trevor Project provides crisis intervention and suicide prevention services to lesbian, gay, bisexual, transgender, and questioning youth.

GLSEN seeks to develop school climates where difference is valued for the positive contribution it makes in creating a more vibrant and diverse community.
Video: Invisible (Cover by Marina Morgan)
Video: Stand Up by Going Dark
Video: Hollywood Teens Unite Against Bullying

bulling has happen to me and I dont want anyone to be in the same shoes as i did, it hurts  alot 
jose, 13, california
bullying is a bad thing and people shouldn't be doing that it can cause you a lot of damage 
kimberly, 15, massachusetts
I have been bulled one time my good firend went against me and I had no one to play with so I made a new firend she was so nice!  I hope her and I will be firends for a  long time.
Ashley, 11, mn
I've realized through my bullying expereinces is that everyone, no matter how old, young, intelligent, strange, or beautiful, should be treated the same. Everyone deserves respect.
Ali, 16, Massachusetts
I've experienced it.  Because it's terrible.  I don't want anyone else to go through it.  I want people to be able to go to work or school and feel safe, welcome, and not alone.  I care because I believe that TOGETHER we truly can STOP BULLYING!!!!!!!!!!
Stefanie, 14, US
Color Key
| | | | | | |
| --- | --- | --- | --- | --- | --- |
| | Featured Articles | | Related Event | | Website feature |

PACER PARTNERS WITH THE MAKERS OF EPIDUO GEL AND HIT RECORDING ARTISTS TO HELP BANISH BULLYING
Posted: Wednesday, July 09, 2014
Music is a powerful force, and this summer teens and young adults across the country have a unique opportunity to turn their personal experience into a musical rallying cry against bullying. PACER is partnering with Galderma Laboratories, L.P., the makers of Epiduo® Gel, for the "Band Together to Banish Bullying" campaign, which encourages individuals who have been affected by bullying, or who want to speak out against it, to share artwork, photos, videos, or brief stories about their bullying experiences. This inspirational content will be used for an original song that will serve as the bullying prevention anthem, to be written, produced and performed by renowned producer Clinton Sparks and hit recording artists The Mowgli's and Kylie Morgan. Learn more about how to participate.
NEW! PACER's We Will Generation: Students Leading the Bullying Prevention Movement
Posted: Monday, June 30, 2014
Nearly 60% of bullying situations end when a peer intervenes. This powerful statistic shows the important influence peers can have. Imagine the power of student-to-student engagement in which students are educated, inspired, and supported to take positive action to help their peers.
PACER's We Will Generation is designed to educate, support, and empower students to create inclusive communities within their schools. Based on a model of peer-to-peer education, the We Will Generation activates older students to educate younger students about bullying and what they can do to prevent it. With everything from short activities to a multi-lesson curriculum, this program has something to help every student, teacher, group, and community get involved to prevent bullying.
This innovative, engaging program acknowledges the social power students already possess and encourages them to use it to help their peers. The most effective bullying prevention will come from students themselves – and PACER's We Will Generation will ensure that students are educated, inspired, and supported to take action.
Cyberbullying is real — here's help
Posted: Tuesday, June 24, 2014
Columnist Joe Nathan recently published the article, "Cyberbullying is real — here's help." Julie Hertzog, director of the PACER's National Bullying Prevention Center is quoted in the article with advice for parents.
She suggested that in thinking about cyberbullying, parents think about how they prepare youngsters to go to a mall or shopping center. First of all, have a conversation. Don't just "send them off, whether it's to the mall or to the cyber world found on a phone or computer." Secondly, agree on some rules. For example, if there's a problem, let the parent know. Don't just keep problems to yourself. And third, "Have an awareness of what your child is doing in the cyber-world." PACER has many helpful resources including a booklet, "Cyberbullying: What Parents Can Do," sponsored by Century Link. The booklet is here.
Support PACER's National Bullying Prevention Center
PACER's National Bullying Prevention Center is excited to announce our new partnership with SurveyMonkey Contribute and a new way for anyone to give thier support! Sign up and you will receive surveys by e-mail from SurveyMonkey customers who need your opinion. For every survey you take, SurveyMonkey will donate $0.50 to PACER's National Bullying Prevention Center, and you'll get a chance to win $100 in an instant-win game.
All About Bullies . . . Big And Small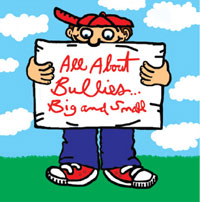 A CD for young children, and winner of a Grammy for Best Children's Album, All About Bullies … Big and Small is a collection of music, poetry and storytelling designed to put an interesting and heartfelt twist on bullying prevention, so that young learners can identify with the topic in an age appropriate manner. The artists all generously contributed their time and talents. 100% of the profit proceeds are donated to PACER's Kids Against Bullying initiatives.