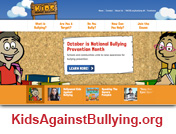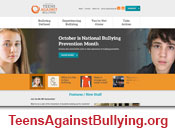 Websites for kids and teens to learn about bullying, engage in activities, and be inspired to own an important social cause.

PACER Partners with Verizon & Minnesota Vikings on Bullying Prevention

The Minnesota Vikings have teamed with Verizon and PACER's National Bullying Prevention Center to offer "Viktor's Quest to S.T.O.P. Bullying,' a bullying prevention program for Twin Cities elementary schools during the 2014-2015 school year that includes free school assemblies. Verizon is partnering with PACER on hosting accompanying educational workshops for parents and educators on bullying prevention. PACER received a HopeLine® from Verizon grant as part of the company's commitment to building healthy relationships in the Twin Cities area. Learn more>>>

View the "Vikings Launch Stop Bullying Campaign" video>>>

Facebook, Instagram and PACER's National Bullying Prevention Center Partner Create a New Guide for Parents

In recognition of National Bullying Prevention Month, Facebook and Instagram partnered with PACER's National Bullying Prevention Center to create the guide, "Safety in the Online Community: A conversation with your 13-year-old about Facebook and Instagram" to help parents talk with their teens about using Facebook and Instagram. The guide covers setting up a new account, safety tips, and commonly asked questions. The guide is also accompanied by discussion points for talking with your child and how to respond to harassing content.

Unity Day was a great orange success, as the world came together to unite against bullying!

Want to know what to do when your child is being bullied?

Read PACER's most recent blog post on Babble.com, the highly acclaimed online magazine and blog network published by the Walt Disney Company for parents.

It began with complaints of a stomachache, followed by headaches and sore throats and other excuses about not feeling well. Although Amy wasn't sure why, before long it became obvious that her 10-year-old daughter, Sarah, did not want to go to school.

PACER & TWIGTALE PARTNER ON CUSTOMIZABLE BOOK TO HELP YOUNG CHILDREN UNDERSTAND AND PREVENT BULLYING

Use Code:

PACER15%

for 15% off the book

In support of Unity Day, and in partnership with Babble.com, PACER is working with the experts at Twigtale to create a customizable book to prevent bullying. The book helps young children understand how to be a good friend and how to assert oneself when not being treated respectfully. A leading child development expert scripted the easy-to-use template, available on Twigtale.com. You simply add photos and details to create the book personalized to your child. A portion of proceeds will be donated to PACER!

New Website Updates

Activities for Youth
This newly updated section offers free activities and resources designed for younger students. The goal is to start conversation and creatively engage students to build their understanding of how to prevent bullying.

---

Book Club
Story telling is a powerful way to share messages, encourage discussion and inspire thoughtful action.

Spanish Translations

Spanish translations are now available for the following informational handouts:

Notificando a los Administradores Escolares de Inquietudes Sobre el Hostigamiento
(Notifying School Administrators of Harassment Concerns)

Notificando a la Escuela Acerca de un Incidente de Bullying Mediante el Uso de una Carta – Formulario
(Notifying the School About a Bullying Incident - Using a Template Letter)

Plan de Acción Para el Estudiante en Contra del Bullying and ¡Tu Plan de Acción en Contra del Bullying!
Your Action Plan Against Bullying!

Resources for LGBTQ Students and Their Families

The Trevor Project provides crisis intervention and suicide prevention services to lesbian, gay, bisexual, transgender, and questioning youth.

GLSEN seeks to develop school climates where difference is valued for the positive contribution it makes in creating a more vibrant and diverse community.
Video: Hold On by Charissa Hogeland
Video: Broken by Anna Richey
We Will Generation™
Student-led movement uniting students to create positive inspired change.
Today's generation of students is ready to take action and uniquely positioned to prevent and stop bullying. The WE WILL Generation is an exciting new initiative that uses a students-teaching-students model.
Ask Carmen
Carmen is a member of the Kids Against Bullying "Club Crew", and she knows a lot about how to prevent bullying. She gives great advice about bullying to kids around the country.
Read what Carmen said to other kids, and ask her your own question!

I care because bullying is a serious issue that NEEDS to be stopped.
Maria Nieves, 16, Connecticut
Nobody deserves to be treated like that.
Also if he/she is fat or too skinny.
Also if he/she dresses different.
Also if he/she doesn't act normal.
Also if he/she is too little or too tall.
Everybody is perfect in there own special way. 
Elianne, 12, The Netherlands
I don't want to be silent anymore, I want to stand up and make a change! I have a voice and I want to use it for something that will change the world. If you're ever felling fown or if you ever feel like you're worthles, take a look up in the sky and breathe. I care for you, even if we don't know eachother, I care! Always remeber that I love and care for you
Keronesha, 14, Huntsville, Alabama
I have been bullied for 2 years and all this year. My parents always hollard telling me to fight but that would make things worse.  I was always myself and now i cant be im not my self cause i get picked on. They call me fat and ugly, stup'id, whore and so on. I come home crying not wanting to go to school and my p'arents never listen to me. I wanted to take my life. I didn't eat at all i was always depressed. I dont want someone else having to feel that way its horriabl'e. i cry my self to sleep every night. Bull'ying needs to stop'. i care cause its risking kids life hurting kids. 
Allaya, 13, clover sc
My name is Cheyna, i have been bullied ever since 2nd grade. People always called me fat for over 5 years, then i stopped eating..... And i lost over 73 pounds.... Now im finally at a weight people can stand talking to me, and will actually be my friend. I feel like sometimes i can always go back to not eating because people still pick on my weight. But I just want to feel good about my self, and people still today, my freshman year; they still pick on me, and it hard to feel confertable with myself...
Cheyna, 15, Vermont
Color Key
| | | | | | |
| --- | --- | --- | --- | --- | --- |
| | Featured Articles | | Related Event | | Website feature |

What You Can Do: An amazing new resource to help parents address bullying situations
Posted: Friday, January 16, 2015
If your child is being bullied, has witnessed bullying, or is showing bullying behavior, you may be wondering what you can do to make it stop. PACER's National Bullying Prevention Center has created a new web page called "Helping Your Child" to help you address all types of bullying situations, including those involving students with disabilities. This interactive page offers detailed information, tips, action steps, and online resources to help you develop a strategy for your child's unique situation. Be sure to note that each section on the page expands for more resources. Learn more>>>
Your Story is Powerful
Posted: Tuesday, December 16, 2014
This past October, Michael and Marisa, two inspirational spokespersons for PACER's National Bullying Prevention Center, hosted the "Your Story is Powerful" event to give teens across the country an opportunity to share their personal experiences with bullying. We received many entries and thank everyone who participated! Josh, who is 14 years old, was randomly selected to receive the MacBook Air. Here is Josh' story about bullying:
It all happened one day at recess in 3rd grade. I was on the swings pumping my legs back and forth in a rhythmic pattern, when suddenly the rhythmic pattern came to a halt and my life was never the same. Two girls, who appeared to be in 2nd grade, came up to the swings and started calling me 'handicapped.' Then they proceeded to tease me and sing in a tuneful, but tasteless song; 'handicap, handicap, handicap.' I knew that I shouldn't let this incident go unnoticed, because, after all, they were bullying me. My friend, who was sitting next to me at the time, told me to a) ignore them and b) tell a supervisor. So we went to seek the assistance of a supervisor and told her what happened. She then came with us to the scene of the incident and punished the two girls by sending them inside.
For those of you who think that I was being a tattletale, I wasn't. From that point on, I knew that I would be a strong advocate for people with disabilities. Now I am involved in my community by spreading the word around to end the "R-word" even if it is just fellow classmates I am spreading the word to. My hope is that my friends will tell their friends and eventually start a chain reaction, showing that one person can make a difference in their community. This is also an example of actions speak louder than words, because even though words can hurt, we as humans can overcome them and take a stand. This incident has helped to shape the person that I am today, and my message toward my other friends and peers to be more inclusive and advocate for what they believe and value.
Again, thank you to Michael and Marisa for hosting this event and for their continued support of PACER's National Bullying Prevention Center. With events like "Your Story is Powerful," students can continue to raise awareness about the importance of bullying prevention.
Posted: Thursday, December 11, 2014
A social action organization, NO BULL Challenge inspires teens and young men and women (ages 13 to 23) from around the world to take a stand against bullying and to promote digital responsibility, leadership, and social action through filmmaking and social media. NO BULL Challenge provides state-of-the-art digital platform as well as the motivation to develop powerful short films, public service announcements and vines that spark dialogue about bullying. For more information on how to enter the challenge and be a change maker reaching millions, visit: www.nobullchallenge.org. Challenge deadline: February 15, 2015
Support PACER's National Bullying Prevention Center
PACER's National Bullying Prevention Center is excited to announce our new partnership with SurveyMonkey Contribute and a new way for anyone to give thier support! Sign up and you will receive surveys by e-mail from SurveyMonkey customers who need your opinion. For every survey you take, SurveyMonkey will donate $0.50 to PACER's National Bullying Prevention Center, and you'll get a chance to win $100 in an instant-win game.

All About Bullies . . . Big And Small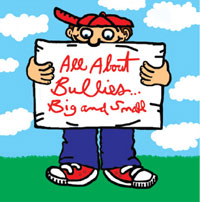 A CD for young children, and winner of a Grammy for Best Children's Album, All About Bullies … Big and Small is a collection of music, poetry and storytelling designed to put an interesting and heartfelt twist on bullying prevention, so that young learners can identify with the topic in an age appropriate manner. The artists all generously contributed their time and talents. 100% of the profit proceeds are donated to PACER's Kids Against Bullying initiatives.