Communities nationwide are invited to hold an event to raise awareness of safe schools and bullying prevention.

New Website Updates

Activities for Youth
This newly updated section offers free activities and resources designed for younger students. The goal is to start conversation and creatively engage students to build their understanding of how to prevent bullying.

---

Book Club
Story telling is a powerful way to share messages, encourage discussion and inspire thoughtful action.

NEW! -

The WE WILL Generation


Students Leading The Bullying Prevention Movement

Today's generation of students is ready to take action and uniquely positioned to prevent and stop bullying. What they need is education, support, and inspiration – and a creative program that will give them the practical skills to be part of the solution. The WE WILL Generation is an exciting new initiative that uses a students-teaching-students model.

Spanish Translations

Spanish translations are now available for the following informational handouts:

Notificando a los Administradores Escolares de Inquietudes Sobre el Hostigamiento
(Notifying School Administrators of Harassment Concerns)

Notificando a la Escuela Acerca de un Incidente de Bullying Mediante el Uso de una Carta – Formulario
(Notifying the School About a Bullying Incident - Using a Template Letter)

Plan de Acción Para el Estudiante en Contra del Bullying and ¡Tu Plan de Acción en Contra del Bullying!
Your Action Plan Against Bullying!

New! An important book that offers real-world bullying prevention strategies for children at home, in school, and online. It contains the latest information and practical tools that can help parents and others take action against bullying. Written and designed by staff of PACER's National Bullying Prevention Center, the book was developed to help parents protect their child or someone they know from being bullied, and to help parents be proactive in their community in addressing bullying.

Resources for LGBTQ Students and Their Families

The Trevor Project provides crisis intervention and suicide prevention services to lesbian, gay, bisexual, transgender, and questioning youth.

GLSEN seeks to develop school climates where difference is valued for the positive contribution it makes in creating a more vibrant and diverse community.
Video: Invisible (Cover by Marina Morgan)
Video: Stand Up by Going Dark
Video: Hollywood Teens Unite Against Bullying
Wear Orange on Unity Day:
CustomInk Launches Its Fourth Annual "Be Good To Each Other" T-shirt campaign in support of PACER
This year, PACER's UNITY DAY will take place on Wednesday, October 22, the day when everyone is encouraged to come together and wear orange to send a message of support, hope and unity. PACER's exclusive 2014 UNITY DAY shirts are available for $12.00. CustomInk will donate 100% of profits (at least $9.00 per shirt) to PACER's National Bullying Prevention Center.

when i was 5, 6 years old i used to  call other people bad names and make other things really bad! I wasnt niece! Than when I grown up I started thinking about it and I started  to  apologise everyone and at now I convinced some friends to create a project at school to stop the bully! And what I think it was niece was that the 2 girls I used to implicated with  decided to forget the past and to start from the begginig with me! But we are not friends cause we have different views of life but now i will never do something to hurt anyones feelings.Now I respect other people and learned how to live with different cheildren.Thats why Demi Lovato my idol! I want to help her stopping bully! Cause this is someyhing really bad, and because of these thinhgs i used to do now I  understand ! Thanks for your comprension!
changed, 12, RJ
If you see bullying know that someone is crying on the inside in front of you. And Demi... Thanks
Tyler, 13, NC
 I care because that is a big thing that kids are doing now and days but it leads to crime,devistation and a whole lot of things! we should all stop bullying people and be kind because if something happens to them like a suiside....that bully will be responsible for EVERYTHING!  so we should just stop it before something happens and i dont want to see anything bad happen! we are kids/teens and we should come together and make a change in this horrible crime thats happening!   MAKE A CHANGE IN AMERICA!!! STOP BULLYING PEOPLE OR ELSE!!!!!!!  
jessica, 13, fl
bullying is wrong on every level. i just read the story about Phoebe Prince, and it tore me to pieces. my heart and my pain goes out to her and her family and friends. the years of high school can be so rough and for her to have moved from Ireland to Massachusetts was a great accomplishment. she came to the land of pure hope and oppurtunity. and instead she went through pain and humilitation. it is one thing to humiliate a person for their race or skin color, but to critize them for being who they are, is a whole different level of rudeness. i believe in self love and inner confidence, and no one should have to feel unwanted or beautiful because of bullying. Phoebe will always be on my heart and mind. and i hope i am able to help stop the spreading of bullying! 
elizabeth, 19, IN
I hate when people bully because it makes me mad. WHen I am involved into it, I do not eat, talk, or have fun. I just sit there, sulking. Deep inside, I would be crying and saying "Why me? What do I need to do?" I am always fearful, and do not stand up for myself. I've learned that I need to tell someone and stand up for my self and others. 
Natalie, 11, Missouri
Color Key
| | | | | | |
| --- | --- | --- | --- | --- | --- |
| | Featured Articles | | Related Event | | Website feature |

DISABILITY.GOV Features Bullying Prevention Resources
Posted: Wednesday, August 27, 2014
Disability.gov, a resource for people with disabilities, their families, friends and organizations that serve them, highlighted resources from PACER's National Bullying Prevention Center in the August edition of the Disability Connection newsletter, "10 Things That Rule about Back-to-School."
The start of a new school year is an exciting time for kids, but the prospect of bullying can be a burden on both first-time and returning students. In particular, children with disabilities may be at a higher risk for bullying. The PACER Center provides many resources to help parents and teachers talk to children about bullying, such as fact sheets on how to help your child recognize the signs of bullying or how to notify a school about a bullying situation. Read entire article>>>
What Happens When Bystanders Stand Up to Bullying?
Posted: Tuesday, August 26, 2014
Besmartbewell.com and PACER's National Bullying Prevention Center explore the important role bystanders play in preventing bullying.
Bullying and cyberbullying are a part of growing up today. Surveys show that nearly 30 percent of middle and high school students have been bullied at school and 43 percent have experienced cyberbullying in the past year.
Those witnesses, the bystanders, are the key to ending bullying, say experts interviewed by besmartbewell.com. "Bystanders have a powerful influence in preventing bullying," says Julie Hertzog, director of PACER's National Bullying Prevention Center. "It has such power when peers are saying, 'nobody deserves to be harmed; everybody deserves to be treated with respect.'"
In two new videos at besmartbewell.com, bullying prevention experts and high school students offer tips for how bystanders can stand up to bullying. Watch Bullies and Bystanders: What Teens Say and Bullies and Bystanders: What Experts Say.
Be Good to Each Other
Posted: Tuesday, August 26, 2014
To help teens unite against bullying, CustomInk is launching its 4th annual Be Good to Each Other bullying prevention campaign. Coinciding with the back-to-school season and October's National Bullying Prevention month, the campaign encourages students, groups and others to take a stand for kindness and tolerance by designing and wearing custom bullying prevention t-shirts. All profits from the sale of bullying prevention t-shirts will benefit CustomInk's non-profit partner — PACER's National Bullying Prevention Center, which unites, engages and educates communities nationwide to address bullying through its resources. Learn more>>>
Support PACER's National Bullying Prevention Center
PACER's National Bullying Prevention Center is excited to announce our new partnership with SurveyMonkey Contribute and a new way for anyone to give thier support! Sign up and you will receive surveys by e-mail from SurveyMonkey customers who need your opinion. For every survey you take, SurveyMonkey will donate $0.50 to PACER's National Bullying Prevention Center, and you'll get a chance to win $100 in an instant-win game.
All About Bullies . . . Big And Small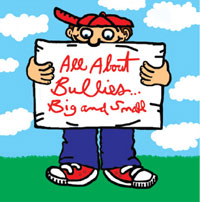 A CD for young children, and winner of a Grammy for Best Children's Album, All About Bullies … Big and Small is a collection of music, poetry and storytelling designed to put an interesting and heartfelt twist on bullying prevention, so that young learners can identify with the topic in an age appropriate manner. The artists all generously contributed their time and talents. 100% of the profit proceeds are donated to PACER's Kids Against Bullying initiatives.