Facebook, Instagram and PACER's National Bullying Prevention Center Partner Create a New Guide for Parents

In recognition of National Bullying Prevention Month, Facebook and Instagram partnered with PACER's National Bullying Prevention Center to create the guide, "Safety in the Online Community: A conversation with your 13-year-old about Facebook and Instagram" to help parents talk with their teens about using Facebook and Instagram. The guide covers setting up a new account, safety tips, and commonly asked questions. The guide is also accompanied by discussion points for talking with your child and how to respond to harassing content.

Unity Day was a great orange success, as the world came together to unite against bullying!

Want to know what to do when your child is being bullied?

Read PACER's most recent blog post on Babble.com, the highly acclaimed online magazine and blog network published by the Walt Disney Company for parents.

It began with complaints of a stomachache, followed by headaches and sore throats and other excuses about not feeling well. Although Amy wasn't sure why, before long it became obvious that her 10-year-old daughter, Sarah, did not want to go to school.

PACER & TWIGTALE PARTNER ON CUSTOMIZABLE BOOK TO HELP YOUNG CHILDREN UNDERSTAND AND PREVENT BULLYING

Use Code:

PACER15%

for 15% off the book

In support of Unity Day, and in partnership with Babble.com, PACER is working with the experts at Twigtale to create a customizable book to prevent bullying. The book helps young children understand how to be a good friend and how to assert oneself when not being treated respectfully. A leading child development expert scripted the easy-to-use template, available on Twigtale.com. You simply add photos and details to create the book personalized to your child. A portion of proceeds will be donated to PACER!

New Website Updates

Activities for Youth
This newly updated section offers free activities and resources designed for younger students. The goal is to start conversation and creatively engage students to build their understanding of how to prevent bullying.

---

Book Club
Story telling is a powerful way to share messages, encourage discussion and inspire thoughtful action.

Spanish Translations

Spanish translations are now available for the following informational handouts:

Notificando a los Administradores Escolares de Inquietudes Sobre el Hostigamiento
(Notifying School Administrators of Harassment Concerns)

Notificando a la Escuela Acerca de un Incidente de Bullying Mediante el Uso de una Carta – Formulario
(Notifying the School About a Bullying Incident - Using a Template Letter)

Plan de Acción Para el Estudiante en Contra del Bullying and ¡Tu Plan de Acción en Contra del Bullying!
Your Action Plan Against Bullying!

Resources for LGBTQ Students and Their Families

The Trevor Project provides crisis intervention and suicide prevention services to lesbian, gay, bisexual, transgender, and questioning youth.

GLSEN seeks to develop school climates where difference is valued for the positive contribution it makes in creating a more vibrant and diverse community.
Video: Stronger by Time for Three
We Will Generation™
Students leading the bullying prevention movement
Today's generation of students is ready to take action and uniquely positioned to prevent and stop bullying. The WE WILL Generation is an exciting new initiative that uses a students-teaching-students model.
Ask Carmen
Carmen is a member of the Kids Against Bullying "Club Crew", and she knows a lot about how to prevent bullying. She gives great advice about bullying to kids around the country.
Read what Carmen said to other kids, and ask her your own question!

when i was 5, 6 years old i used to  call other people bad names and make other things really bad! I wasnt niece! Than when I grown up I started thinking about it and I started  to  apologise everyone and at now I convinced some friends to create a project at school to stop the bully! And what I think it was niece was that the 2 girls I used to implicated with  decided to forget the past and to start from the begginig with me! But we are not friends cause we have different views of life but now i will never do something to hurt anyones feelings.Now I respect other people and learned how to live with different cheildren.Thats why Demi Lovato my idol! I want to help her stopping bully! Cause this is someyhing really bad, and because of these thinhgs i used to do now I  understand ! Thanks for your comprension!
changed, 12, RJ
I've been bullied. Well, I'm still being bullied. It hurts. To hear all the things that they think about you, just for they're amusement. There's nothing I could do. I used to sit there and cry, and hope that it would all stop. It hasn't. I support anyone who's been bullied, or who's being bullied. It's a tragic thing. People kill themselves for that. It hurts to see someone being hurt. It hurts to be hurt, for doing nothing. Innocent people are targets. 
No one likes being bullied. Bullies, do it for fun. They do it for their own amusement. People talk behind my back, pretend to be my friend, make fun of me. There's no one I can talk to, except the guidance couselor. She doesn't help.
Adriana, 11, Ca
People just don't even know how bad it hurts to be put down every day.
And I think nobody should ever feel this way. Because people can start to self harm. Its a terrible feeling. I think this should all stop.
NOW. 
Sarah, 12, USA
when i was 6 i was always picked on by boys and girls because of how i talked i wouldnt want anyone else to feel the way i did . still to this day im still scared of what people might think of me... and i'm 13 now! so i know what it feels like. this is why i care! 
taylor, 13, ga
I hate people bullying me because I'm always the quiet one and they think I will do what they want me to cause I'm weak and when I get mad I try to bully them back but I know I cant because I'm not that kind of person.
Intan, 11, KL
Color Key
| | | | | | |
| --- | --- | --- | --- | --- | --- |
| | Featured Articles | | Related Event | | Website feature |

Students pledge to join the WE WILL Generation
Posted: Tuesday, October 28, 2014
In celebration of Unity Day on October 22, students at Bailey Intermediate of North Lamar, Texas, pledged to join The WE WILL Generation to stand up against bullying. Leading up to Unity Day, each fourth and fifth grader drew a hand and arm with a positive response to bullying, such as "I WILL raise people up, NOT down." Students created posters about acceptance and kindness, which were hung around campus, and nurses sold orange bracelets. On Unity Day, students wore orange and participated in a "MIX IT UP" challenge by sitting with someone new at lunch. Learn more>>>
Schools warned on legalities of bullying
Posted: Tuesday, October 28, 2014
By Jane Meredith Adams of EdSource
PACER's Executive Director Paula F. Goldberg is quoted in an article on EdSource about the recent guidance issued to schools reminding them of their legal responsibility to stop such bullying of children with disabilities or risk violating federal anti-discrimination laws. "The vulnerability of kids with disabilities — a child with Asperger's, a child who's deaf, a child with a learning disability" — puts them at increased risk of harm, said Goldberg. "We have to teach kids to respect all kids," she said. "We have to have kindness." Read more>>>
Posted: Tuesday, October 28, 2014
On Unity Day, Oct. 22, Disney's Playlist blog encouraged followers to join their favorite Disney stars in standing up against bullying. Disney Channel and Radio Disney stars created videos sharing their experiences with bullies, including Ross Lynch, Maia Mitchell, Sabrina Carpenter, and songwriting brothers Kyle and Kade. Learn more>>>
Support PACER's National Bullying Prevention Center
PACER's National Bullying Prevention Center is excited to announce our new partnership with SurveyMonkey Contribute and a new way for anyone to give thier support! Sign up and you will receive surveys by e-mail from SurveyMonkey customers who need your opinion. For every survey you take, SurveyMonkey will donate $0.50 to PACER's National Bullying Prevention Center, and you'll get a chance to win $100 in an instant-win game.

All About Bullies . . . Big And Small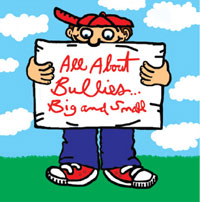 A CD for young children, and winner of a Grammy for Best Children's Album, All About Bullies … Big and Small is a collection of music, poetry and storytelling designed to put an interesting and heartfelt twist on bullying prevention, so that young learners can identify with the topic in an age appropriate manner. The artists all generously contributed their time and talents. 100% of the profit proceeds are donated to PACER's Kids Against Bullying initiatives.