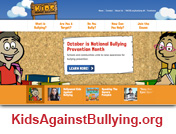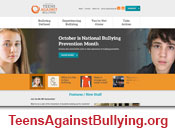 Websites for kids and teens to learn about bullying, engage in activities, and be inspired to own an important social cause.

Hold an event in your community or start a classroom discussion!
Send the message to students who are bullied that they are not alone!

Create communities that join together against bullying.This campaign provides education and resources on ways to provide support, hope and help for those who have experienced bullying. Features classroom and event toolkits designed to start conversation and initiate action on ways to "be there" united together against bullying.

Whether you are being bullied, witnessing bullying, afraid of peer pressure, concerned your actions are hurting others, or something else, just ask Jamie! With zero judgments and her best advice, she is here for you.

This interactive, easy to read and navigate guide offers a comprehensive overview for parents to learn what they can do to address and prevent bullying.

A visual, age appropriate 14-page guide with easy to understand information. The guide provides the basics for talking with students about what bullying is and isn't, the roles of students, and tips on what students can do to address bullying situations.

Notifying the School About Bullying – Using a Template Letter

Parents should contact school staff each time their child informs them that he or she has been bullied.  PACER Center has created template letters that parents may use as a guide for writing a letter to their child's school.  These letters contain standard language and "fill in the blank" spaces so the letter can be customized for your child's situation. Read More

Spanish Translations

See our spanish translations section to find out what informational handouts are available.

Resources for LGBTQ Students and Their Families

The Trevor Project provides crisis intervention and suicide prevention services to lesbian, gay, bisexual, transgender, and questioning youth.

GLSEN seeks to develop school climates where difference is valued for the positive contribution it makes in creating a more vibrant and diverse community.
Video: You are Braver, Stronger and Smarter Than You Think
Video: Turn a Life Around
Video: Make the Difference
Video: Broken by Anna Richey
Video: Bullying is Real at Leon High School-Bullying Awareness Week
Together AGainst Bullying™ is a campaign for PACER's National Bullying Prevention Center, inspired by Carrot Top. Donate, receive stickers to TAG your friends, and share on social media. Your support means one less student being bullied, one more person speaking out, or one more kid knowing that he or she isn't alone!
We Will Generation™
Resources designed to encourage student to student conversation.
Designed for schools and other organizations to leverage resources, at no cost and easily accessible on-line, to encourage students to educate, inspire and support each other to address bullying and create kinder and safer schools.
Ask Carmen
Carmen is a member of the Kids Against Bullying "Club Crew", and she knows a lot about how to prevent bullying. She gives great advice about bullying to kids around the country.
Read what Carmen said to other kids, and ask her your own question!

Bullying is a cruel punishment bestowed on weaker/younger individuals. Whenever I was in sixth grade all of the seventh, and eighth graders would make fun of us since we were younger. Back then I thought it was normal for them to bully us, but since I'm in eighth grade now I've found out this behavior is unacceptable! Kids never should feel that bullying is normal, and nobody deserves to be put down.
Lydia, 14, Tennessee
i dont want students to feel sad because their being bulied
yisel, 11, irvingtx
bullying  hurts
dave, 9, ca
Ive seen bulliyng going on in my school and now that im going to highschool as a freshmen i want to help those that are dealing with bullies or are being bullied ask for help,and make my school a bully free zone
Noemi, 14, U.S.A
I care because I get affected by bullying everyday. Just yesterday people were throwing food at me on the bus. People think I'm an easy target because I'm already hurting without them bullying me. People need to help each other not break each other down.
Hannah, 15, Illinois
Color Key
| | | | | | |
| --- | --- | --- | --- | --- | --- |
| | Featured Articles | | Related Event | | Website feature |

Posted: Tuesday, January 26, 2016
On January 22, 2016, The Minnesota Department of Education, School Safety Technical Assistance Center, hosted the Minnesota Safe and Supportive Schools Conference: Addressing Bullying In Schools in partnership with PACER's National Bullying Prevention Center and Hamline University's School of Education.
This one-day conference convened Minnesota educators, school support staff, parents, student leaders and education stakeholders to increase knowledge about bullying prevention and how to create a positive school climate. Learn more>>>
Life is Strange, PACER collaborate in campaign
Posted: Friday, January 15, 2016
PACER's National Bullying Prevention Center is thrilled to collaborate with Life Is Strange for the #EverydayHeroes campaign. Share a story, using #EverydayHeroes, about how you overcame adversity, stood up for what's right, or helped a friend in need. Every post using the hashtag #EverydayHeroes will increase Life is Strange' donation to PACER's National Bullying Prevention Center. Share your story, support bullying prevention, and show those experiencing bullying that they are not alone! To learn more about this campaign and read the collection of amazing stories, visit http://everydayheroes.lifeisstrange.com.
Headed to Hollywood
Posted: Thursday, January 14, 2016
In 2011, as an 11-year-old, Tristan McIntosh recorded the song "You Can't Take That Away From Me," for PACER's National Bullying Prevention Center "Unity Dance" song, which celebrates the importance of looking out for each other and celebrating each other's differences. On January 7, 2016, Tristan appeared on American Idol and was unanimously voted by the judges for the "golden ticket" to the next round in Hollywood. Congratulations Tristan, you are amazing and thank you for making a difference! Read more>>>
Support PACER's National Bullying Prevention Center
PACER's National Bullying Prevention Center is excited to announce our new partnership with SurveyMonkey Contribute and a new way for anyone to give their support! Sign up and you will receive surveys by e-mail from SurveyMonkey customers who need your opinion. For every survey you take, SurveyMonkey will donate $0.50 to PACER's National Bullying Prevention Center, and you'll get a chance to win $100 in an instant-win game.

All About Bullies . . . Big And Small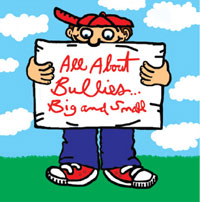 A CD for young children, and winner of a Grammy for Best Children's Album, All About Bullies … Big and Small is a collection of music, poetry and storytelling designed to put an interesting and heartfelt twist on bullying prevention, so that young learners can identify with the topic in an age appropriate manner. The artists all generously contributed their time and talents. 100% of the profit proceeds are donated to PACER's Kids Against Bullying initiatives.