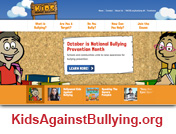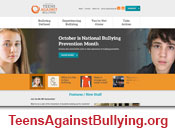 Websites for kids and teens to learn about bullying, engage in activities, and be inspired to own an important social cause.

The Unity Awards: Recognize someone who has gone above and beyond to prevent bullying

On Tuesday, June 9th, the youth advisory board "The Faces of Change" recognized individuals from across the nation who have made a difference in their communities.

The word "bullying" often conjures up an image of a schoolyard scene, with a big, intimidating student towering over a small, cowering child. That's just one face of bullying — and of children who bully. Another face of a bully might be … that of your child. Surprised? Many parents are. Often they have no idea that their child is harassing other children. Yet knowing the facts — and acting to change the situation — is vitally important in making the future safer for your child and all children.

A visual, age appropriate 14-page guide with easy to understand information. The guide provides the basics for talking with students about what bullying is and isn't, the roles of students, and tips on what students can do to address bullying situations.

Facebook, Instagram and PACER's National Bullying Prevention Center partner to create a new guide for parents

In recognition of National Bullying Prevention Month, Facebook and Instagram partnered with PACER's National Bullying Prevention Center to create the guide, "Safety in the Online Community: A conversation with your 13-year-old about Facebook and Instagram" to help parents talk with their teens about using Facebook and Instagram. The guide covers setting up a new account, safety tips, and commonly asked questions. The guide is also accompanied by discussion points for talking with your child and how to respond to harassing content.

Want to know what to do when your child is being bullied?

Read PACER's most recent blog post on Babble.com, the highly acclaimed online magazine and blog network published by the Walt Disney Company for parents.

It began with complaints of a stomachache, followed by headaches and sore throats and other excuses about not feeling well. Although Amy wasn't sure why, before long it became obvious that her 10-year-old daughter, Sarah, did not want to go to school.

New Website Updates

Activities for Youth
This newly updated section offers free activities and resources designed for younger students. The goal is to start conversation and creatively engage students to build their understanding of how to prevent bullying.

---

Book Club
Story telling is a powerful way to share messages, encourage discussion and inspire thoughtful action.

Spanish Translations

Spanish translations are now available for the following informational handouts:

Notificando a los Administradores Escolares de Inquietudes Sobre el Hostigamiento
(Notifying School Administrators of Harassment Concerns)

Notificando a la Escuela Acerca de un Incidente de Bullying Mediante el Uso de una Carta – Formulario
(Notifying the School About a Bullying Incident - Using a Template Letter)

Plan de Acción Para el Estudiante en Contra del Bullying and ¡Tu Plan de Acción en Contra del Bullying!
Your Action Plan Against Bullying!

Resources for LGBTQ Students and Their Families

The Trevor Project provides crisis intervention and suicide prevention services to lesbian, gay, bisexual, transgender, and questioning youth.

GLSEN seeks to develop school climates where difference is valued for the positive contribution it makes in creating a more vibrant and diverse community.
Video: Turn a Life Around
Video: Make the Difference
Video: Everybody Come On (It's On Us) by Keenan West + Secret Mean Stinks
Video: Hold On by Charissa Hogeland
Video: Broken by Anna Richey
We Will Generation™
Resources designed to encourage student to student conversation.
Designed for schools and other organizations to leverage resources, at no cost and easily accessible on-line, to encourage students to educate, inspire and support each other to address bullying and create kinder and safer schools.
Ask Carmen
Carmen is a member of the Kids Against Bullying "Club Crew", and she knows a lot about how to prevent bullying. She gives great advice about bullying to kids around the country.
Read what Carmen said to other kids, and ask her your own question!

i care because there are people who are pushed around everyday and no one notices. They need a chance to live and enjoy their life. What you do when some gets bullied can really change their life. So when you see someone getting bullied sont just stand there, DO SOMETHING!
Anonomous, 15, il
because we need to stop because there are many people who love to pick with peolpe and i be pick one becuse of my speech... and i will stand up to bullyings

markist francis, 14, la laffettet
I care because I've been hurt, and I know what it feels like to be hurt - not good. I absolutely abhor mistreating people and it frustrates me when people crush each other's morale without remorse. How could you? People forget that it's not about who's the prettiest or who's the funniest because being pretty and funny doesn't change the world for the better. Being considerate of others does. Understand that if you don't build the others around you up, how could you expect to climb any higher yourself? I care because I understand that no one should ask me to. I care because I want us ALL to grow as people, as a nation, and as neighbors on this Earth, for the better.
Kanisha, 16, AL
People dont know how the statement "you're fat" or stupid can really hurt.  
Stop bullying!
Shania, 15, new jersey
I have been bullied this led to me self harming and eating disorders i dont want anyone else to go through that.
Fergus , 13, Northern Ireland
Color Key
| | | | | | |
| --- | --- | --- | --- | --- | --- |
| | Featured Articles | | Related Event | | Website feature |

PACER releases powerful 'Turn a Life Around' video
Posted: Thursday, June 18, 2015
Bullying knocks down thousands of kids every day, but when one person stands with them, they are not alone. In this powerful new video by PACER's National Bullying Prevention Center, students can learn how to make a difference in the life of someone who is being bullied through simple actions such as acknowledging them, talking to them, and accepting them. Watch the video>>>
Paying it Forward
Posted: Wednesday, June 17, 2015
When Matthew Messer of Briarcliff Manor, N.Y., saw a young teen being pressured by his peers, he stepped in to help the boy make the right decision. What Matthew didn't know is that his kind actions were being filmed by the popular TV series, "What Would You Do," which uses actors and hidden cameras to find out what people will do when they are put face to face with some of life's most difficult dilemmas.
Since the show aired on ABC on June 12, Matthew has been praised for his compassion. Now, he is paying it forward by holding an online fundraiser for PACER's National Bullying Prevention Center. His company, Sunrise Solar Solutions LLC, is matching all donations up to $2,500!
The fundraising campaign ends Friday, June 26, 2015. Learn more and make a donation>>>
Helping Your Child if Your Child is Experiencing Bullying
Posted: Friday, May 29, 2015
The latest issue of Camp Navigator, an online magazine for campers, parents, and families, featured an article on PACER's National Bullying Prevention Center. "Helping Your Child If Your Child is Experiencing Bullying," outlines steps parents can take to create an action plan to help their child and includes a list of resources parents can use to notify the school, talk to their child, and protect their child from cyberbullying. The story begins on page 26. Read more>>>
Support PACER's National Bullying Prevention Center
PACER's National Bullying Prevention Center is excited to announce our new partnership with SurveyMonkey Contribute and a new way for anyone to give their support! Sign up and you will receive surveys by e-mail from SurveyMonkey customers who need your opinion. For every survey you take, SurveyMonkey will donate $0.50 to PACER's National Bullying Prevention Center, and you'll get a chance to win $100 in an instant-win game.

All About Bullies . . . Big And Small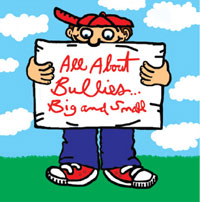 A CD for young children, and winner of a Grammy for Best Children's Album, All About Bullies … Big and Small is a collection of music, poetry and storytelling designed to put an interesting and heartfelt twist on bullying prevention, so that young learners can identify with the topic in an age appropriate manner. The artists all generously contributed their time and talents. 100% of the profit proceeds are donated to PACER's Kids Against Bullying initiatives.