National Bullying Prevention Month (2006-2016)

A decade together against bullying and united for kindness, acceptance and inclusion
National Bullying Prevention Month is a campaign in the United States founded in 2006 by PACER's National Bullying Prevention Center.

Unity Day Posters — Available Now!

Promote Unity Day by displaying this poster in your school, home, or community.

Cat in the Hat for President

The Cat in the Hat, in his Presidential campaign, will represent all that Dr. Seuss believed about children—that they have the intellect, imagination and power to impact our world positively, while also having fun doing so. The Cat in the Hat wants to show kids that every vote counts, and every voice matters. On the ballot are his supporters and their causes, including "kindness for all" sponsored by PACER's National Bullying Prevention Center. The organization with the most votes receives a $10,000 donation. Vote for KINDNESS TO ALL

Unite with others and show your support

Spookley the Square Pumpkin

Complete Digital Teacher "Stop Bullying Before it Starts" Toolkit(pre-school to 3rd grade)
Spookley is a square pumpkin who lives in a round pumpkin patch world. This online toolkit includes resources educators can use to effectively present The Legend of Spookley the Square Pumpkin as a multi-subject learning opportunity. The core elements of the online toolkit involve a reading of the book (or viewing the free online video) supplemented by downloadable lesson plans and other activities that teach bullying prevention and character values. Access the free, online toolkit

Beyond Sticks & Stones:
How to Help Your Child Address Bullying

Price reduced! Only $5! This important book offers real-world bullying prevention strategies for children at home, in school, and online. It contains the latest information and practical tools that can help parents and others take action against bullying. Order today

#TwoInAMillion

Meet Austin and Elena, who are two in a million, both diagnosed with Goldenhar Syndrome. They appear in TLC's new series, Two In A Million, which premiered in early April. They also shared their personal story posting a video with PACER's National Bullying Prevention Center.

View their video on Facebook
Learn more about Goldenhar Syndrome

Orange Shoelaces Now Available!

Want an inexpensive, creative way to wear orange? These one-size-fits-all, orange shoelaces are a cost effective way for students to show their support of bullying prevention on Unity Day or throughout the year!

This interactive, easy to read and navigate guide offers a comprehensive overview for parents to learn what they can do to address and prevent bullying.

This campaign provides education and resources on ways to provide support, hope and help for those who have experienced bullying. Features classroom and event toolkits designed to start conversation and initiate action on ways to "be there" united together against bullying.

A visual, age appropriate 14-page guide with easy to understand information. The guide provides the basics for talking with students about what bullying is and isn't, the roles of students, and tips on what students can do to address bullying situations.

Notifying the School About Bullying – Using a Template Letter

Parents should contact school staff each time their child informs them that he or she has been bullied.† PACER Center has created template letters that parents may use as a guide for writing a letter to their child's school. †These letters contain standard language and "fill in the blank" spaces so the letter can be customized for your child's situation. Read More

Spanish Translations

See our spanish translations section to find out what informational handouts are available.

Resources for LGBTQ Students and Their Families

The Trevor Project provides crisis intervention and suicide prevention services to lesbian, gay, bisexual, transgender, and questioning youth.

GLSEN seeks to develop school climates where difference is valued for the positive contribution it makes in creating a more vibrant and diverse community.

I think I am being bullied people who I once called friends are no longer my friends for months now they are always teasing me stealing my things calling me names glaring at me throwing things at me making jokes about me behind my back and purposley trying to get a reaction off me (they even said that they were to my face) I tried telling them I dont like it and they just laughed and said that they wouldnt care if it was them and that sticks and stones may break my bones but words will never hurt me. Well they hurt me I try to stay away from them but they follow me. However I am so greatful for my best friend because she is being bullied by them to so I know I will always have someone there for me who I know cares
Louise, 13, Wales
I have been bullied before, and it felt like it was never ending. I didn't want to live. But then I met my great friend Sydney. She helped me so much and I don't know what I would do without her. I just want to let everyone know, that someone is out there who cares. Just because you have a bad day doesn't mean you'll have a bad life.
Amellia, 15, South Dakota
I CARE BECAUSE BULLYING IS NOT THE SOULTION TO ANYTHING ! ;D
Marbeel (:, 12, Gilbert, AZ
bullying  can  make   poeple  feel  so sad  and  make feel  down
dunayla, 10, school
bullying makes me sad
will, 12, illinois
Some people are mean. I used to be Bullied and it really does Hurt!
Brandon, 15, McColl sc
I am happening for this, the terrible thing that is and since it can manage to damage your life. Since a comment of any person can be ruined. Many persons do not realize the mistake on that they comment on having done bullying. I try to be strong but already I cannot.
Fernanda, 14, Ecuador
Support PACER's National Bullying Prevention Center
PACER's National Bullying Prevention Center is excited to announce our new partnership with SurveyMonkey Contribute and a new way for anyone to give their support! Sign up and you will receive surveys by e-mail from SurveyMonkey customers who need your opinion. For every survey you take, SurveyMonkey will donate $0.50 to PACER's National Bullying Prevention Center, and you'll get a chance to win $100 in an instant-win game.
Together AGainst Bullying™ is a campaign for PACER's National Bullying Prevention Center, inspired by Carrot Top. Donate, receive stickers to TAG your friends, and share on social media. Your support means one less student being bullied, one more person speaking out, or one more kid knowing that he or she isn't alone!

Creative Kids Card Now Available!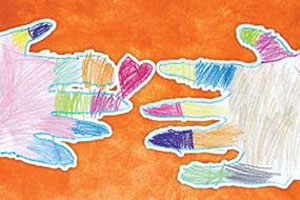 Since 2006, PACER has held CREATIVE KIDS, an event in which children with disabilities are invited to use their imaginations to express themselves through various mediums and vibrant colors. This year's artwork focused on themes of unity, inclusion, kindness and friendship. The 2016 design was created by Isabella and is now on sale for $10 per box. Learn more about Isabella, her new design and how to purchase >>>
All About Bullies . . . Big And Small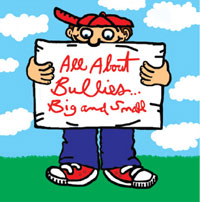 A CD for young children, and winner of a Grammy for Best Children's Album, All About Bullies … Big and Small is a collection of music, poetry and storytelling designed to put an interesting and heartfelt twist on bullying prevention, so that young learners can identify with the topic in an age appropriate manner. The artists all generously contributed their time and talents. 100% of the profit proceeds are donated to PACERís Kids Against Bullying initiatives.