PACER's National Bullying Prevention Center
Founded in 2006, PACER's National Bullying Prevention Center unites, engages and educates communities nationwide to address bullying through creative, relevant and interactive resources. PACER's bullying prevention resources are designed to benefit all students, including students with disabilities.
PACER offers digital-based resources for parents, schools, teens and youth, including:
PACER.org/Bullying: This is the portal page for parents and educators to access bullying resources, which include educational toolkits, awareness toolkits, contest ideas, promotional products and more.
PACERTeensAgainstBullying: Created by and for teens, this website is a place for middle and high school students to find ways to address bullying, to take action, to be heard, and to own an important social cause.
PACERKidsAgainstBullying: A creative, innovative and educational website designed for elementary school students to learn about bullying prevention, engage in activities and be inspired to take action.
Whether you are an educator, student, family or individual who cares about students, PACER offers the tools you need to address bullying in your school, recreational program or community organization.
PACER's National Bullying Prevention Month—October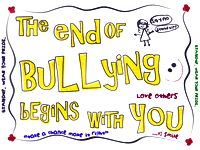 PACER is the founder of National Bullying Prevention Month, held annually in October. 2013 marks the eighth anniversary of PACER's National Bullying Prevention Month, which unites communities nationwide to raise awareness of bullying prevention through events, activities and education.
During National Bullying Prevention Month—and throughout the year—the community is encouraged to use these creative resources to engage, educate and inspire others to join the movement.
Leadership
Paula Goldberg, PACER's Executive Director
Julie Hertzog, PACER's National Bullying Prevention Center Director
Media Contact
Sarah Busch, (952-838-9000)
PACER Center—Champions for Children with Disabilities
Founded in 1977, PACER Center was created by parents of children and youth with disabilities to help other parents and families facing similar challenges. Today, PACER Center expands opportunities and enhances the quality of life of children and young adults with disabilities and their families. PACER is staffed primarily by parents of children with disabilities.
With assistance to individual families, workshops, materials for parents and professionals, and leadership in securing a free and appropriate public education for all children, PACER's work affects and encourages families in Minnesota and across the nation.