Spread The Word About National Bullying Prevention Month
Make bullying prevention a movement that touches every community. Share information about the event through website updates; posts on social media channels; articles in newspapers, magazines, and online publications; or just connecting with someone in person.
Key Messages and Talking Points
The time to take action is now! Everyone has a voice in raising awareness of bullying. Whether you are a student, educator, or parent, here are important points to know and emphasize when you speak in front of a group, lead a class discussion, or talk with peers. Learn more about key messages and talking points
Social Media
Share information through your social network channels. It's free, easy, and a great way to influence change! Copy and paste the text below or modify it to fit your style.
Request a Governor's Proclamation
2011 MN Governor's Proclamation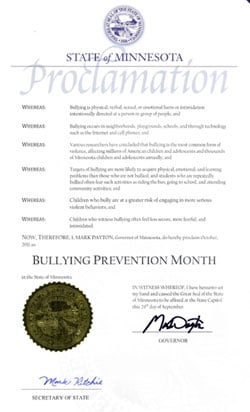 Promote bullying prevention in your state! Contact your governor's office and ask how to submit a request for a Governor's Proclamation for National Bullying Prevention Awareness Month. Schools, students, parents, organizations, and others can submit requests. Then, all you have to do is fill in the sample text with your state information and submit it. Easy as that! You can even send an image of your state's signed proclamation to bullying411@PACER.org for posting. See the sample letter to the Governor
Influence Decision Makers
As a student, you have a strong voice in influencing peers, educators, and administrators within your school. You also can persuade lawmakers to explore changes in laws to protect students. Bullying is an issue that directly affects students and school culture. When you lead the cause, you show you care about other students and your school—and you become a powerful voice for change. Learn more about how to influence decision makers