In The News
Posted: 9/7/2018
Taking steps toward creating a kinder world online, NBPC partner Instagram released their new Parent's Guide. The guide, which helps parents connect with their teens and children to navigate the complex world of social media, features videos, articles, and step-by-step explanations and instructions for taking control of your account into your own hands.
Several new features allow users to manage, block, and filter comments that are unwelcome or part of bullying behavior. Another tool shows how much time a user has spent on the platform and allows users to set time limits or reminders to log off after a certain amount of time. Parents can also learn from the conversation guides provided and talk with their teens about what Instagram means to them in order to better understand their 21st century student.
In a Sept. 6 statement, Instagram's Chief Operating Officer Marne Levine shared the company's commitment to healthy and positive online engagement. "We know the social media landscape will continue to change, and we're committed to being here every step of the way to make sure parents and their teens have the tools they need to make the choices that are right for them," she wrote.
Visit the new Parent's Guide here to learn more.
Order the official T-shirt and tote bag to help prevent bullying!
Posted: 9/6/2018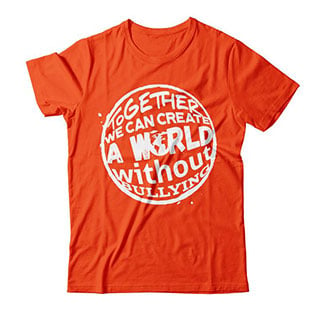 PACER's National Bullying Prevention Center has partnered with Represent to sell our official bullying prevention t-shirt, along with an optional tote bag. All of the net proceeds help PACER's National Bullying Prevention Center continue our work to promote kindness, inclusion, and acceptance! T-shirts are available for a limited time; ordering closes at the end of October. Learn more and purchase T-shirts at: represent.com/pacer.
10 Silent Signs Your Child is Being Bullied
Posted: 7/24/2018
How does a parent know when their child is being bullied? An article by Juliana LaBianca in MSN featured PACER's National Bullying Prevention Center coordinator Bailey Lindgren and explored ways for parents to connect with their students who are at risk of bullying.
Lindgren described several signs of bullying that may fly below a parent's radar. Reoccurring stomachaches or headaches can be a sign of stress, or a made-up symptom to avoid going to school. An open-ended question gives the child an opportunity to explore the issue with you. "We recommend saying something like, 'You seem to be feeling sick a lot lately; can you tell me more about that?'" Lindgren said.
Frequent exhaustion or avoidance of conversation with family can also provide clues to your child's difficulties at school, Lindgren said. Acting out against siblings or other family members may be a reaction to fear and unhappiness at school.
For a 21st century student, online communication carries as much potential for bullying as the playground. Lindgren recommended creating rules and guidelines for online behavior when kids begin exploring social media. Kids might be reluctant to tell adults about cyberbullying for fear their devices will be taken away. "You'll want to show you're not going to take these devices away," she said, "but instead that you want to help solve the problem."
The article also offered
reading recommendations
for parents to share with their children.
NBPC partner Instagram will filter bullying comments
Posted: 5/11/2018
Instagram is an amazing partner of PACER's National Bullying Prevention Center that works to cultivate kindness in both their online and offline community. One way Instagram is working to do this is by filtering bullying comments intended to harass or upset people in its community.
In a May 1 statement, Kevin Systrom, Instagram co-founder and CEO, said the social media platform does not tolerate bullying. It has added a new feature that will keep Instagram "an inclusive, supportive place for all voices."
Last year, the site announced its offensive comment filter, which automatically hides toxic and divisive comments, particularly those targeted to at-risk groups. This new bullying filter hides comments containing attacks on a person's appearance or character, as well as threats to a person's well-being or health.
The bullying filter is on for Instagram's global community and can be disabled in the Comment Controls center in the app. The new filter will also alert the company to repeated problems so action can be taken. To learn more, visit the Instagram Help Center.
NBPC research cited in new guide on bullying
Posted: 2/16/2018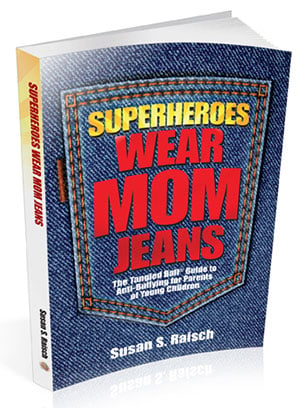 A new bullying prevention guide titled "Superheroes Wear Mom Jeans" cites research from PACER's National Bullying Prevention Center to empower parents of young children. The book's message is that parent leadership can help children navigate bullying situations.
The guide was produced by Tangled Ball, an organization that provides high-quality information and resources for parents, parent groups, and schools to help families during the pre-K through elementary school years. "Superheroes Wear Mom Jeans" uses expert research, personal stories, and a sense of humor to help parents understand the complicated issue of bullying.
In addition to PACER's National Bullying Prevention Center, the guide cited research from Harvard, Yale, Committee for Children, the Alberti Center for Bullying Abuse Prevention, and International Bullying Prevention Association.
"Superheroes Wear Mom Jeans" is available on Amazon and Kindle. It also includes discussion questions to be used in group conversations and workshops.
PACER included in Men's Health article about bullying
Posted: 12/15/2017
The viral video featuring Tennessee middle schooler Keaton Jones, as he tearfully recounts his experience with bullying, brings up a very important question: Why do they bully?
A recent article in Men's Health magazine by Jack Crosbie attempted to answer that question by reaching out to bullying prevention organizations, including PACER's National Bullying Prevention Center.
Leaders who work in the field of bullying prevention agree that it is mainly about power.
"The number one dynamic about why kids do it is because they want to get some power back in their lives, or they want to just feel in control of the situation, or just have that feeling of power over other individuals," Julie Hertzog, director of the National Bullying Prevention Center, told Men's Health. And without proper guidance, the behavior can escalate.
"If the behavior goes unchecked or if there are no consequences for it, once a child steps over a line," Hertzog said, "it's easier to keep continuing to step beyond that line, especially if they're getting some sort of additional confirmation or affirmation from their peers."
The experts also agree, however, that peer intervention is key to preventing bullying. More than half – 57 percent – of bullying situations stop when a peer speaks up.
NPR story about new bullying survey cites PACER
Posted: 11/2/2017
NPR recently reported on a new survey about bullying in a story titled "Learning How Bullying Happens In Order To Prevent It." The survey addresses how students are bullied and which groups of students are more likely to be bullied.
The data was collected by the nonprofit organization YouthTruth Student Survey and looked at more than 180,000 students, grades 5 through 12, in 37 states between 2012 and 2017.
The majority of students, 73 percent, said they are bullied verbally, followed by being socially bullied, physically abused, and being harassed online. Results also showed that most harassment occurs in person, and that students who don't identify with a specific gender are more likely to be bullied than their peers.
The organization said its goal is to help teachers understand bullying in order to help prevent it. Bailey Lindgren, associate at PACER's National Bullying Prevention Center, said the survey can help teachers respond to students who may think bullying is their fault because of their differences.
"It's important for educators to keep this in mind when responding to students who experience bullying," Lindgren says, "reinforcing the message that they aren't alone and the bullying is not their fault."
Loukoumi & The Schoolyard Bully
Posted: 10/26/2017
The Loukoumi Make A Difference Foundation and PACER's National Bullying Prevention Center are calling on YOU to unite against bullying on National Make A Difference Day October 28. All you have to do is watch Loukoumi & The Schoolyard Bully and then take PACER's Kid's Against Bullying Pledge and then make a difference with Loukoumi and PACER and do a random act of kindness! Learn more about Loukoumi and share what you did to make a difference.
Disney's #ChooseKindness campaign features PACER's NBPC
Posted: 10/18/2017
PACER's National Bullying Prevention Center has partnered with Disney's #ChooseKindness campaign to reinforce the importance of being kind during October, which is National Bullying Prevention Month.
Disney is producing original programming and customized public service announcements (PSAs) that are airing on multiple platforms across ABC, ABC-owned television stations, Freeform, Disney Channel, Disney XD, and Radio Disney. The "Choose Kindness" campaign is designed to inspire kids, families and change-makers around the country to put an end to bullying.
In addition to PACER's National Bullying Prevention Center and Unity Day, the campaign is collaborating with GLSEN's "Ally Week," GLAAD's "Spirit Day," and the Ad Council's "I Am A Witness" campaign.
For information, visit Disney Be Inspired and ABC Be Inspired.
PACER's NBPC invited to opening of Instagram #KindComments mural
Posted: 10/16/2017
Instagram unveiled a colorful custom-designed #KindComments mural by renowned artist Dallas Clayton (@DallasClayton) on Oct. 5 at the TOMS store in Chicago's Wicker Park. The mural opening celebrated Chicago community members of all ages who are making the world a kinder place.
Guests heard from inspiring Chicago community members, Instagrammers who are using the platform to build communities of support, as well as Bailey Lindgren, associate at PACER's National Bullying Prevention Center. (Lindgren is pictured at left, with Carolyn Merrell from Instagram.)
#KindComments is a global initiative to promote and foster positive engagement online. By transforming walls into colorful beacons of kindness, Instagram hopes to create positive spaces for people to gather in real life and encourage visitors to take a photo or video in front of the wall and share #KindComments on (and off) Instagram.
Murals inspiring #KindComments will also be launched in New York, Dallas, Washington D.C., Mexico City, Jakarta, Tokyo, and Mumbai, among other cities.
Download "Instagram Safety Tips" created by Instagram and PACER's National Bullying Prevention Center.