In The News
New Data Show a Decline in School-based Bullying
Posted: 5/19/2015
New data indicate the first significant decrease in school-based bullying since the federal government began collecting that data in 2005, suggesting that efforts at the federal, state and local levels to prevent bullying may be paying off. According to new data from the U.S. Department of Education's National Center for Education Statistics (NCES), the reported prevalence of bullying among students ages 12 to 18 dropped to 22 percent after remaining stubbornly around 28 percent for the past decade.
"As schools become safer, students are better able to thrive academically and socially," U.S. Secretary of Education Arne Duncan said. "The Department, along with our federal partners and others, has been deeply involved in the fight against bullying in our nation's schools. Even though we've come a long way over the past few years in educating the public about the health and educational impacts that bullying can have on students, we still have more work to do to ensure the safety of our nation's children." Learn more>>>
Ryan Serhant Cleans His Closet for PACER's National Bullying Prevention Center
Posted: 5/12/2015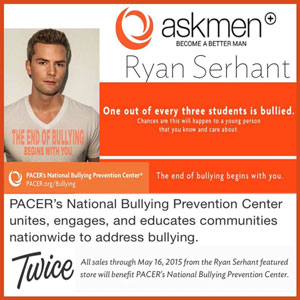 Ryan Serhant, successful real estate broker and star of Bravo's Million Dollar Listing New York, is hosting a fundraising campaign for PACER's National Bullying Prevention Center. Ryan has donated 14 designer menswear items directly from his closet to Twice, an online consignment service. All sales through May 16, 2015, from the Ryan Serhant featured store will benefit PACER's National Bullying Prevention Center.
"Growing up as a theatre kid, I met bullies first hand, and I know how damaging the act of bullying can be to kids growing up," said Ryan in a recent Facebook post. "I can't even imagine what it's like for kids now with social media. No one should be scared to go to school. So if you have time, go to Twice and buy the clothes from my closet! All proceeds go to PACER." Learn more>>>
Posted: 5/4/2015
The Arc's National Center on Criminal Justice and Disability (NCCJD) has released its new white paper, Violence, Abuse and Bullying Affecting People with Intellectual/Developmental Disabilities: A Call to Action for the Criminal Justice Community. The paper features a section from PACER's National Bullying Prevention Center on "Bullying and Students with Intellectual/Developmental Disabilities." Register to access the paper at the Arc website.
Did You Know? Check out these interesting facts about bullying!
Posted: 4/30/2015
Sticks and stones may break your bones, but words will never hurt you — right? Wrong! There are many misconceptions when it comes to bullying and PACER's National Bullying Prevention Center is seeking to shed light on them through its Did You Know? webpages on KidsAgainstBullying.com and TeensAgainstBullying.com. Each page features interesting facts about bullying that you may have never heard before, plus ideas about how to prevent bullying in your school or community.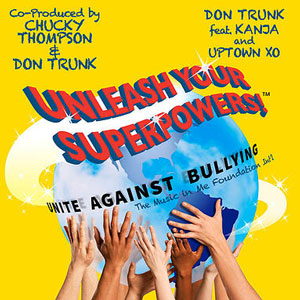 Posted: 4/24/2015
Pep Rally at the U.S. Capitol, Washington, DC, on Friday, October 23, 2015
It is amazing what can happen when one person stands up for another. BULLYING STOPS more than half of the time ( 57% ) when peers intervene on behalf of the bullied student! It is for this profound reason, we are making a difference and saving lives by teaching youth how to take action and not be bystanders.
Free quality books with positive messages, promoting self-esteem and character building will be provided. The books feature forwards from celebrities who are top in their fields: Ten-Time Grammy Award Winner Bobby McFerrin, Chart-Topping Hip-Hop Artist Big Sean and NFL's #1 Kicker Justin Tucker.
WPGC 95.5 FM (CBS Radio) will broadcast live from the event. The day will be packed with inspirational music, highly motivational and fun educational activities that participants can bring back to their schools and communities to implement. Students will have opportunities to shine by demonstrating and sharing their superpowers both as a community and individually.
Surprise celebrity guests in entertainment, sports and national leaders will be announced soon. Stay tuned. Learn more>>>
Infuse Body Positivity into the Online Community During the Proud2Bme 5 Day Challenge
Posted: 4/23/2015
On Monday, April 27, 2015, Proud2Bme is launching the 5 Day Photo Challenge, a new and exciting social media campaign. The goal of the 5 Day Photo Challenge is to infuse body positivity into the online community and help make a difference in the way we see ourselves and others. You can participate by taking a photo every day of the challenge and using the hashtag #Proud2Bme5Day:
4/27: No-filter selfie: Let your unfiltered beauty shine through in a selfie.
4/28: Pass it forward: Write "It's a beautiful day because of you" on a piece of paper, take a photo with the compliment, tag a few friends, and challenge them to pass it along.
4/29: Outfit you feel most confident in: Take a photo wearing the outfit that brings out the very best in you.
4/30: Post your passion: Share a photo of you hiking, dancing, reading, bicycling, in your favorite yoga position, or doing any hobby you're passionate about!
5/1: Role model: Post a picture with or of someone who inspires you — someone who makes you Proud2Bme!
The Proud2BMe 5 Day Challenge starts next week! Learn more>>>
Registration Now Open for "Violence in the Lives of People with Disabilities: Emerging Issues and Solutions for 2015 and Beyond"
Posted: 3/23/2015
Attend the free webinar, April 30, 1:30 — 3:30 EST, sponsored by The Arc's National Center on Criminal Justice and Disability (NCCJD) which will include PACER's National Bullying Prevention Center presenting on the topic of "responding to bullying of students with disabilities."
This webinar will address other emerging issues in the field with a panel of experts and advocates covering topics like:
Using trauma-informed care principles when working with victims with intellectual/developmental disabilities (I/DD)
Assisting crime victims with complex communication needs
Supporting victims with specific types of disabilities such as Autism Spectrum Disorders (ASDs) and Fetal Alcohol Spectrum Disorders (FASDs)
Supporting people with disabilities in speaking out against violence
Webinar participants will be the first to obtain NCCJ's white paper on the topic of violence, abuse, and bullying which delves even deeper into the issues addressed on the webinar. Join us for this thought-provoking and empowering webinar, and find out how you can reduce violence in the lives of people with disabilities. Learn more and register >>>
Posted: 3/6/2015
Pop recording artist and philanthropist Sir Ivan has released a new single titled "Kiss All the Bullies Goodbye" in support of his anti-bullying campaign with The Peaceman Foundation. The track was produced by Paul Oakenfold, and features vocals by chart-topping singer Taylor Dayne and lyrics that condemn bullying and encourage people to be different and tolerant. Sir Ivan has also released an accompanying music video directed by Erik White (Ryan Murphy's The Glee Project).
In conjunction with the release of this track, Sir Ivan, through The Peaceman Foundation, has pledged to donate a total of $100,000 to ten key non-profit organizations that combat bullying and intolerance, including: The It Gets Better Project; the Gay, Lesbian & Straight Educational Network (GLSEN); the Born This Way Foundation; Pacer's National Bullying Prevention Center; Parents & Friends of Lesbians & Gays (PFLAG); Stomp Out Bullying; Campus Pride; Love is Louder/The Jed Foundation; The Trevor Project; and the Anti-Defamation League. The donation will include all net proceeds from video views, song streams and downloads.
BulliED: Bullying and Eating Disorders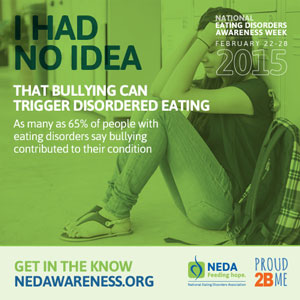 Posted: 3/4/2015
65% of people say that bullying contributed to the development of their eating disorder
PACER's National Bullying Prevention Center partnered with National Eating Disorders Association (NEDA) during NEDAwareness Week on a livestreaming event. The discussion focused on the impact bullying has on eating disorders and poor body image. Panelists spoke about the relationship between bullying and negative body image, the intricacies of bullying that are often left out by the media, and how we can work to stop bullying. View the YouTube video "BulliED: Bullying and Eating Disorders."
Posted: 2/26/2015
The word "bullying" often conjures up an image of a schoolyard scene, with a big, intimidating student towering over a small, cowering child. That's just one face of bullying — and of children who bully. Another face of a bully might be … that of your child. Surprised? Many parents are. Often they have no idea that their child is harassing other children. Yet knowing the facts — and acting to change the situation — is vitally important in making the future safer for your child and all children.