UNITY DAY 2013 — Wednesday, Oct. 9
#UnityDay2013
Choose Orange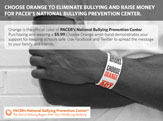 "Choose Orange" and make a choice to prevent bullying through kindness, compassion and positivity. The Choose Orange campaign features bullying prevention-themed snap wrist bands - which you can use to raise awareness and to raise money for PACER's National Bullying Prevention Center and your school.
Find out more
---
Middle and High School -
Unity Day Poster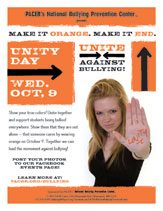 ---
Middle and High School -
Unity Day Poster, Spanish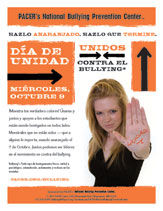 ---
Elementary School -
Unity Day Poster
---
Elementary School -
Unity Day Poster, Spanish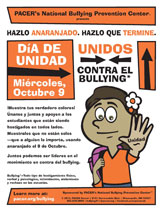 Make it orange and make it end! Unite against bullying!
Sponsored by PACER's National Bullying Prevention Center
What are your true colors when it comes to bullying? If you care about students who are bullied and want bullying to end, make your color ORANGE on Unity Day, Wednesday, Oct. 9. That's the day everyone can link together—in schools, communities and online—and send one large, ORANGE message of support to students who have experienced bullying.
Ways to Promote Unity Day
Promote the event online
"Attend" and "Share" the UNITY DAY Facebook Event with family and friends
Encourage your friends to participate in Unity Day by posting about it on Facebook, Twitter, and Instagram with #UnityDay2013
Promote the event at your school


Print the informational flyer
Bring this to your school and talk with your teacher, guidance counselor, or principal and ask if your school can participate.
Ways to Unite on Oct. 9
In your school, club, community, or business:
Wear the color ORANGE.
It can be an ORANGE T-shirt, an orange tie, an ORANGE hat, or even an ORANGE band. Wearing ORANGE is a sign that you support those who have been bullied and are uniting to make a difference.
Online:
"Attend" and "Share" the UNITY DAY Facebook Event with family and friends
Update your Facebook status to "UNITY DAY, October 9th — Join the movement to make it

ORANGE

and make it end! If you are being bullied, you are not alone. Unite and be a champion against bullying!"
Post pictures of anyone wearing

ORANGE

to the UNITY DAY Facebook Event page.
Let your friends know why you're "going orange" by posting about Unity Day on Facebook, and Twitter with #UnityDay2013.
Post photos of you wearing orange on October 9th on Instagram with #UnityDay2013.
What Are Other Ways To Show Your Support?
Write the word "UNITY"! Write it on your hand, on your notebook, or create a banner to sign.

"Unite Against Bullying" banners are a great way for students at your school to make a powerful visual statement of support on Unity Day. Hang the banner in a prominent place where kids can sign it and show that they care. To order this Unity Day banner for your school or organization, contact Tim Salwei of Big Print, Inc. at tim@bigprintinc.com. $44 plus shipping, 2 X 4-foot | $72 plus shipping, 3 X 6-foot

Hold a classroom discussion! Define the word "Unity" and reflect on how much stronger a cause is when the majority stands behind it.
Print a "poster" (English or Spanish) and post it in your locker or school hallway.

Set up a "unity" table. Hand out

ORANGE

"unity ribbons."


To create your own ribbons, use 8 ½ x 11" orange construction paper. Cut into strips 1 ½" wide by 11" long. Write UNITE on each strip.

Sign "The End of Bullying Begins With You" Petition.
Share your talents! Are you a writer? Tell a story that illustrates UNITY and send it to Bullying411@PACER.org. Do you like to draw? Create a picture showing UNITY. Are you into photography? Take a picture that is symbolic of UNITY. Post the images to the UNITY DAY Facebook Event Page.
Dance to unite! Make a statement against bullying by holding a Unity Dance. Learn the steps for "You Can't Take That Away From Me."
Create a visual UNITY statement! In Project Connect, students can write a message on an

ORANGE

strip of paper. The paper links are then connected to create one large chain which visually represents uniting for a common cause.
Stop bullying before it starts! Incorporate learning in the classroom, featuring a toolkit and activities from "The Legend of Spookley the Square Pumpkin" designed for early learners.
The important thing is to show your support and to do it in a way that fits you!
PACER Staff — MAKING IT ORANGE TO MAKE IT END!
Extend Unity Day beyond the classroom and bring it into the workplace, home and community. Wearing ORANGE, showing that you care, demonstrates that bullying prevention is an important part of our society.