Postsecondary Education
Postsecondary education is an exciting opportunity for all youth, including those with disabilities. Going to college today can mean attending a 4-year college or university, a 2-year community college, or a technical institute or trade school. It can mean studying full-time or part-time, or living at school or commuting from home. Learning and earning go hand-in-hand. The more years of schooling your youth completes, the higher his or her income is likely to be. The wide variety of postsecondary educational programs currently available for youth makes exploring options with your son or daughter an exciting process.
Although postsecondary students with disabilities are entitled to certain protections, the process for accessing accommodations is much different than in high school. Youth must take a more active role in knowing their rights and advocating for needed supports. This means they must know about their disability and the accommodations they need to be successful. Families play an important role in helping their young adults learn self-advocacy skills, as well as their rights as a person with a disability.
Resources
Expand All
Opportunities for Students with Intellectual Disabilities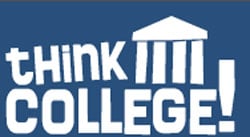 PACER is a proud partner in the Think College national coordinating center. Think College provides training and technical assistance to postsecondary education programs for students with intellectual disabilities, and widely promotes the expansion of such opportunities around the country.
Additional Guides and Resources