Featured Story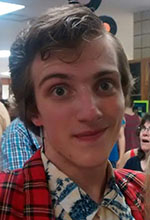 Teen Finds His Voice Through Theater
Posted: 8/3/2015
My name is Ely Leuchovius Leslie, and I am an award-winning actor at my school. I'm a good person, my grades are fantastic, and I have a mountain of friends. And I, an Aspergian (a person with Asperger's syndrome), have been called upon to perform for television, along with a group of other young actors, in front of 2,000 people. It has always been my dream to perform in front of so many people. But it wasn't always this way.
When I was younger, I lived with my mother in Arkansas. I would lock myself in my room, never coming out to do anything but eat, before quickly retreating back. I spoke in a blank, monotone drone, which is rather typical for someone with Asperger's. During recess, I'd simply stand motionless. I was the one weird kid who would never do anything and had no friends to play with. I hated everyone. I felt as though everyone hated me back. As a result, I was bullied profusely. Unable to handle the bullying, my mother home-schooled me.
Having Asperger's wasn't a very easy thing for the doctors in Arkansas to understand. They misdiagnosed me with attention deficit disorder (ADD), schizophrenia, and chronic depression, but in reality, I only had Asperger's syndrome.
Since the doctors couldn't treat me and I was taking more medicine than my brain could handle, I requested that I move to Minnesota and live with my father and stepmother. I felt I had to get out of that place. I was being doused for disorders I didn't have and bullies I'd already left behind. Going to Minnesota was a chance to make a new start.