"Choose Kindness" is part of Disney ABC Television Group's efforts to create a bullying prevention campaign to encourage kids and parents around the country to help put an end to bullying by choosing kindness. PACER's National Bullying Prevention Center is among the partners.

As part of this initiative, Disney Channel will air special, themed episodes of "Girl Meets World" on Saturday, October 25 at 7:30 p.m. ET and "Austin & Ally" Thursday, October 30 at 10 p.m. ET.

Unlock items in Disney Club Penguin: Players can unlock an orange T-shirt and a megaphone with code 2BEHEARD to rally in support of Unity Day. For every megaphone and orange T-shirt unlocked in-game, Club Penguin will donate $1 (up to $50,000) to support bullying prevention.

Additionally, Club Penguin has teamed with 14 year-old Alex Angelo, host of Radio Disney's "Saturday Night Party" with Alex Angelo (Saturdays, 8:00 p.m.-10:00 p.m. ET / 5:00 p.m.-7:00 p.m. PT), who is a big supporter of the -bullying prevention cause. Watch Alex's video as he shares the message to "Be Heard" and stand up against bullying.

Want to know what to do when your child is being bullied?

Read PACER's most recent blog post on Babble.com, the highly acclaimed online magazine and blog network published by the Walt Disney Company for parents.

It began with complaints of a stomachache, followed by headaches and sore throats and other excuses about not feeling well. Although Amy wasn't sure why, before long it became obvious that her 10-year-old daughter, Sarah, did not want to go to school.

PACER & TWIGTALE PARTNER ON CUSTOMIZABLE BOOK TO HELP YOUNG CHILDREN UNDERSTAND AND PREVENT BULLYING

Use Code:

PACER15%

for 15% off the book

In support of Unity Day, and in partnership with Babble.com, PACER is working with the experts at Twigtale to create a customizable book to prevent bullying. The book helps young children understand how to be a good friend and how to assert oneself when not being treated respectfully. A leading child development expert scripted the easy-to-use template, available on Twigtale.com. You simply add photos and details to create the book personalized to your child. A portion of proceeds will be donated to PACER!

Digital Classroom Toolkit For Early Learners

Spookley is a square pumpkin who lives in a round pumpkin patch world. The toolkit provides links to free resources that teachers can bring directly into their classrooms to use for important character values education and for multi-subject learning. Learn more>>>

---

New Website Updates

Activities for Youth
This newly updated section offers free activities and resources designed for younger students. The goal is to start conversation and creatively engage students to build their understanding of how to prevent bullying.

---

Book Club
Story telling is a powerful way to share messages, encourage discussion and inspire thoughtful action.

NEW! -

The WE WILL Generation


Students Leading The Bullying Prevention Movement

Today's generation of students is ready to take action and uniquely positioned to prevent and stop bullying. What they need is education, support, and inspiration – and a creative program that will give them the practical skills to be part of the solution. The WE WILL Generation is an exciting new initiative that uses a students-teaching-students model.

Spanish Translations

Spanish translations are now available for the following informational handouts:

Notificando a los Administradores Escolares de Inquietudes Sobre el Hostigamiento
(Notifying School Administrators of Harassment Concerns)

Notificando a la Escuela Acerca de un Incidente de Bullying Mediante el Uso de una Carta – Formulario
(Notifying the School About a Bullying Incident - Using a Template Letter)

Plan de Acción Para el Estudiante en Contra del Bullying and ¡Tu Plan de Acción en Contra del Bullying!
Your Action Plan Against Bullying!

Resources for LGBTQ Students and Their Families

The Trevor Project provides crisis intervention and suicide prevention services to lesbian, gay, bisexual, transgender, and questioning youth.

GLSEN seeks to develop school climates where difference is valued for the positive contribution it makes in creating a more vibrant and diverse community.
Video: Club Penguin Supports Bullying Prevention Month
Video: Stronger by Time for Three
Your Story is Powerful!
Hi! We are Michael and Marisa, teen spokespersons for PACER's National Bullying Prevention Center.
During the month of October, we are encouraging all teens to share their story. Selected stories will be posted to the website and one will be chosen at random to receive a MacBook Air!
Unity Day T-shirts:
CustomInk Launches Its Fourth Annual "Be Good To Each Other" T-shirt campaign in support of PACER
This year, PACER's UNITY DAY will take place on Wednesday, October 22, the day when everyone is encouraged to come together and wear orange to send a message of support, hope and unity. Though ordering in time for Unity day has closed, you can still support the cause! CustomInk will donate 100% of profits (at least $9.00 per shirt) to PACER's National Bullying Prevention Center.


icare because there is a girl at my school no one likes her because she is mean to every one.

katie, 11, wi
I was severely bullied in eighth grade. I missed countless days of school and would beg my mother not to make me go. I was alienated and ganged up on. One moment I had friends and the next the entire class was against me. Those who wanted to befriend me chose not to for fear of being next. I sat alone at lunch, cried in the bathroom, faked sick and even contemplated suicide. Kids are cruel. It is impossible for a classroom to be supervised every moment of the day. There will always be small moments of freedom and thats all a bully needs. They are smart, they will wait for the perfect moment to attack and not be seen. The more you complain or cry out for help, the harder they will try to destroy you. I know this because I faced it head on. BUT...I survived :) Im older now, and completely humbled by the event. I have had every single person who ever threw stones at me, apologize. I learned to accept the words Im sorry because I deserved them and it was a way to release the anger I had been carrying for too long. I won homecoming queen my senior year and will never forget my mom wispering in my ear, "I hope theyre watching." Guess what, THEY WERE. If you're reading this and you feel like giving up, please dont. Dont let them win. You deserve happiness and it will find you again. <3
Haley, 23, michigan
I go to Russellville High School and we have created the Peace Club. This is group of young students, including me, wanting to make a change in our high school. Our club is to show tolerance with other people. One topic we have in our club is bullying. I really care about this topic because so many people are bullied physically and verbally. NO ONE deserves this. We are all equal and should treat each other how we want to be treated. And I know everyone has felt bullied at one time or another.  The only thing is I don't exactly know how to get the word out about bullying past our club. I was just wondering how we could make a big impact outside of the group that already cares. I want everyone to care because IT IS a big deal.  We could save many kids lives.
Rachel Jackson, 18, AR
i care because i was cyber bullied it was fun.
i sometimes cried my self to sleep because it hurt me to much i wanna do somthing to perfent cyber bullying and other kind of bulling because there kids in my school who get bullied and i never know what to do about it but know i do. ill take action and fight for what i belive in .
Ashley, 13, on
I have been bullied myself when people called me fat a year ago. I started to have a eating disorder and I was anorexic. The doctor  told me I could get worse so I improved in eating and I was no longer anorexic. Still I wouldn't want to be bullied again so sometimes I skip my lunch even though I'm starving..
Daisy, 12, California
Color Key
| | | | | | |
| --- | --- | --- | --- | --- | --- |
| | Featured Articles | | Related Event | | Website feature |

Finally, signs that crusaders against bullying are getting the upper hand
Posted: Thursday, October 23, 2014
By Debra-Lynn B. Hook of McClatchy-Tribune News Service
National Bullying Prevention Center Director Julie Hertzog is quoted in a Ledger-Enquirer article about the increasing awareness around bullying prevention and resulting changes in bullying reporting at schools. "The awareness is out there in a way it wasn't before," said Hertzog. "We've reframed the way people are thinking about bullying. We no longer say, 'Oh, that's just kids being kids.' Now we understand the impact — everything from not wanting to go to school, to feeling unsafe, to anxiety and depression, to self-harm." Read more>>>
U.S. Education Department's Office for Civil Rights Issues Guidance on Bullying of Students with Disabilities
Posted: Thursday, October 23, 2014
As part of PACER's National Bullying Prevention Month, the U.S. Education Department's Office for Civil Rights (OCR) today issued guidance to schools reminding them that bullying is wrong and must not be tolerated — including against America's 6.5 million students with disabilities.
The Department issued guidance in the form of a letter to educators detailing public schools' responsibilities. If a student with a disability is being bullied, federal law requires schools to take immediate and appropriate action to investigate the issue and, as necessary, take steps to stop the bullying and prevent it from recurring. Learn more>>>
Students, community members take a stand against bullying as part of Unity Day
Posted: Thursday, October 23, 2014
By Kim McGuire, Star Tribune
If it seems like you're seeing orange everywhere you go today, there's a reason: Unity Day. Started just three years ago by PACER's National Bullying Prevention Center, Unity Day has become a national movement in which everyone is encouraged to wear orange and support local anti-bullying efforts. And it's not just students. Expect to see more orange if you're driving over the I-35W bridge tonight. The I-35W bridge will again be lit orange at sunset in observance of Unity Day. Read more>>>
Support PACER's National Bullying Prevention Center
PACER's National Bullying Prevention Center is excited to announce our new partnership with SurveyMonkey Contribute and a new way for anyone to give thier support! Sign up and you will receive surveys by e-mail from SurveyMonkey customers who need your opinion. For every survey you take, SurveyMonkey will donate $0.50 to PACER's National Bullying Prevention Center, and you'll get a chance to win $100 in an instant-win game.

All About Bullies . . . Big And Small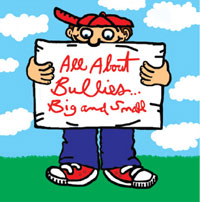 A CD for young children, and winner of a Grammy for Best Children's Album, All About Bullies … Big and Small is a collection of music, poetry and storytelling designed to put an interesting and heartfelt twist on bullying prevention, so that young learners can identify with the topic in an age appropriate manner. The artists all generously contributed their time and talents. 100% of the profit proceeds are donated to PACER's Kids Against Bullying initiatives.