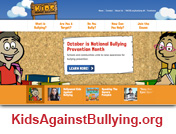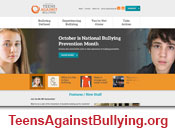 Websites for kids and teens to learn about bullying, engage in activities, and be inspired to own an important social cause.

National Bullying Prevention Month (2006-2016)

A decade together against bullying and united for kindness, acceptance and inclusion
National Bullying Prevention Month is a campaign in the United States founded in 2006 by PACER's National Bullying Prevention Center.

#TwoInAMillion

Meet Austin and Elena, who are two in a million, both diagnosed with Goldenhar Syndrome. They appear in TLC's new series, Two In A Million, which premiered in early April. They also shared their personal story posting a video with PACER's National Bullying Prevention Center.

View their video on Facebook >>>
Learn more about Goldenhar Syndrome >>>

Orange Shoelaces Now Available!

Want an inexpensive, creative way to wear orange? These one-size-fits-all, orange shoelaces are a cost effective way for students to show their support of bullying prevention on Unity Day or throughout the year!

This interactive, easy to read and navigate guide offers a comprehensive overview for parents to learn what they can do to address and prevent bullying.

This campaign provides education and resources on ways to provide support, hope and help for those who have experienced bullying. Features classroom and event toolkits designed to start conversation and initiate action on ways to "be there" united together against bullying.

A visual, age appropriate 14-page guide with easy to understand information. The guide provides the basics for talking with students about what bullying is and isn't, the roles of students, and tips on what students can do to address bullying situations.

Notifying the School About Bullying – Using a Template Letter

Parents should contact school staff each time their child informs them that he or she has been bullied.  PACER Center has created template letters that parents may use as a guide for writing a letter to their child's school.  These letters contain standard language and "fill in the blank" spaces so the letter can be customized for your child's situation. Read More

Spanish Translations

See our spanish translations section to find out what informational handouts are available.

Resources for LGBTQ Students and Their Families

The Trevor Project provides crisis intervention and suicide prevention services to lesbian, gay, bisexual, transgender, and questioning youth.

GLSEN seeks to develop school climates where difference is valued for the positive contribution it makes in creating a more vibrant and diverse community.
Video: You are Braver, Stronger and Smarter Than You Think
Video: Turn a Life Around
Video: Make the Difference
Video: Broken by Anna Richey
Video: Bullying is Real at Leon High School-Bullying Awareness Week
Video: A Wave of Kindness: Ride the Wave!
We Will Generation™
Resources designed to encourage student to student conversation.
Designed for schools and other organizations to leverage resources, at no cost and easily accessible on-line, to encourage students to educate, inspire and support each other to address bullying and create kinder and safer schools.
Ask Carmen
Carmen is a member of the Kids Against Bullying "Club Crew", and she knows a lot about how to prevent bullying. She gives great advice about bullying to kids around the country.
Read what Carmen said to other kids, and ask her your own question!


i care because i was cyber bullied it was fun.
i sometimes cried my self to sleep because it hurt me to much i wanna do somthing to perfent cyber bullying and other kind of bulling because there kids in my school who get bullied and i never know what to do about it but know i do. ill take action and fight for what i belive in .
Ashley, 13, on
i want bullying t stop because i was bullyied and people called me worthless and that i was nothing and that nobody likes me... it hurt...really bad i never want anyone ever to go through what i did
Lydia, 10, seattle,WA
I always been bullied all off my life.And It hurts my feelings....Sometime i want to tell theme bad things....But i dont want 2.Cause i know someday i will be the one who diserv to be Respected.They can say about me whatever they want but someday they gonna be sorry.I am me and im going to follow my dream.
Katherine, 14, RM
it happend to me every day and t hurts . it hurts deep inside when they push
you down and throws paper at you i just want to help make a difference
ashley, 13, virgina , suffolk
I was bullied in High School, I thought it would end once you become an adult. Not a lot of people realize that a lot of adults also do this to one another. No one should ever have to go through this, no one should ever be put down, because you are your own individual and special in your own way. We shouldn't accept this kind of behavior at all. 
, 21, MN
Color Key
| | | | | | |
| --- | --- | --- | --- | --- | --- |
| | Featured Articles | | Related Event | | Website feature |

T-shirt campaign intends to redefine normal
Posted: Tuesday, May 24, 2016
Colleen Stine and her business partner Colleen Berkowitz have launched a campaign called "Let's Redefine Normal" through their business, Mama Said Tees. They are selling T-shirts with the word "normal" printed on them.
Stine and Berkowitz imagine a world without stereotypes or discrimination — a world where it is normal to be different.
"We're not saying you have to support other people's decisions, we just want you to be nice and not judge," Stine told a weekly Indiana newspaper.
The video for "Let's Redefine Normal" can be found on mama-said-tees.myshopify.com. The video features families of all types — adopted, biracial, same-sex, as well as parents and children with disabilities — all being asked to define what normal means to them.
"Through this campaign, we want people not just to talk about the golden rule, treat others the way you want to be treated, we want them to really do that," Stine says in the video.
Berkowitz adds, "We don't want you to be basic, we don't want you to be like everybody else. We want you to embrace your uniqueness."
A percentage of sales of the Normal T-shirts will go to PACER Center's National Bullying Prevention Center.
Book the Ninja Turtles' lair and support PACER's NBPC
Posted: Monday, May 23, 2016
Complete with professional graffiti art, New York City subway signs, and piles of pizza boxes, the home of Michelangelo, Raphael, Leonardo, and Donatello is officially open to guests, according to a listing on Airbnb.
The space in lower Manhattan has been transformed to resemble the world of the franchise down to the last detail, including a light-up basketball court with glow-in-the-dark basketballs, a state-of-the-art home entertainment system, and the original Teenage Mutant Ninja Turtles arcade game from 1989.
The rental is part of the promotion for Teenage Mutant Ninja Turtles: Out of the Shadows, which opens in theaters on June 3. For the moment, there are no more available dates, but Twitter users who follow @TMNTMovie can receive hints on when the lair will be available again.
For every guest that is lucky enough to stay, a donation in their name will be made to PACER's National Bullying Prevention Center. Say the turtles, "Together we can shell shock bullying, 'cause that's what bros do."
Posted: Friday, April 29, 2016
When a high school student experiences bullying at her new school, she finds hope from her peers. Kindness, support and hope are things that everyone can give – and your actions matter. When peers and adults show that compassion and respect are important, they create a culture that raises the standards of behavior for everyone. Special thanks to kouraproductions for creating and producing this powerful video!
Support PACER's National Bullying Prevention Center
PACER's National Bullying Prevention Center is excited to announce our new partnership with SurveyMonkey Contribute and a new way for anyone to give their support! Sign up and you will receive surveys by e-mail from SurveyMonkey customers who need your opinion. For every survey you take, SurveyMonkey will donate $0.50 to PACER's National Bullying Prevention Center, and you'll get a chance to win $100 in an instant-win game.
Together AGainst Bullying™ is a campaign for PACER's National Bullying Prevention Center, inspired by Carrot Top. Donate, receive stickers to TAG your friends, and share on social media. Your support means one less student being bullied, one more person speaking out, or one more kid knowing that he or she isn't alone!

Creative Kids Card Now Available!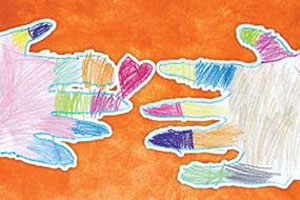 Since 2006, PACER has held CREATIVE KIDS, an event in which children with disabilities are invited to use their imaginations to express themselves through various mediums and vibrant colors. This year's artwork focused on themes of unity, inclusion, kindness and friendship. The 2016 design was created by Isabella and is now on sale for $10 per box. Learn more about Isabella, her new design and how to purchase >>>
All About Bullies . . . Big And Small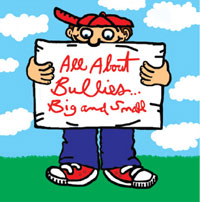 A CD for young children, and winner of a Grammy for Best Children's Album, All About Bullies … Big and Small is a collection of music, poetry and storytelling designed to put an interesting and heartfelt twist on bullying prevention, so that young learners can identify with the topic in an age appropriate manner. The artists all generously contributed their time and talents. 100% of the profit proceeds are donated to PACER's Kids Against Bullying initiatives.