National Bullying Prevention Month (2006-2016)

A decade together against bullying and united for kindness, acceptance and inclusion
National Bullying Prevention Month is a campaign in the United States founded in 2006 by PACER's National Bullying Prevention Center.

Unity Day Posters — Available Now!

Promote Unity Day by displaying this poster in your school, home, or community.

Cat in the Hat for President

The Cat in the Hat, in his Presidential campaign, will represent all that Dr. Seuss believed about children—that they have the intellect, imagination and power to impact our world positively, while also having fun doing so. The Cat in the Hat wants to show kids that every vote counts, and every voice matters. On the ballot are his supporters and their causes, including "kindness for all" sponsored by PACER's National Bullying Prevention Center. The organization with the most votes receives a $10,000 donation. Vote for KINDNESS TO ALL

Unite with others and show your support

Spookley the Square Pumpkin

Complete Digital Teacher "Stop Bullying Before it Starts" Toolkit(pre-school to 3rd grade)
Spookley is a square pumpkin who lives in a round pumpkin patch world. This online toolkit includes resources educators can use to effectively present The Legend of Spookley the Square Pumpkin as a multi-subject learning opportunity. The core elements of the online toolkit involve a reading of the book (or viewing the free online video) supplemented by downloadable lesson plans and other activities that teach bullying prevention and character values. Access the free, online toolkit

Beyond Sticks & Stones:
How to Help Your Child Address Bullying

Price reduced! Only $5! This important book offers real-world bullying prevention strategies for children at home, in school, and online. It contains the latest information and practical tools that can help parents and others take action against bullying. Order today

#TwoInAMillion

Meet Austin and Elena, who are two in a million, both diagnosed with Goldenhar Syndrome. They appear in TLC's new series, Two In A Million, which premiered in early April. They also shared their personal story posting a video with PACER's National Bullying Prevention Center.

View their video on Facebook
Learn more about Goldenhar Syndrome

Orange Shoelaces Now Available!

Want an inexpensive, creative way to wear orange? These one-size-fits-all, orange shoelaces are a cost effective way for students to show their support of bullying prevention on Unity Day or throughout the year!

This interactive, easy to read and navigate guide offers a comprehensive overview for parents to learn what they can do to address and prevent bullying.

This campaign provides education and resources on ways to provide support, hope and help for those who have experienced bullying. Features classroom and event toolkits designed to start conversation and initiate action on ways to "be there" united together against bullying.

A visual, age appropriate 14-page guide with easy to understand information. The guide provides the basics for talking with students about what bullying is and isn't, the roles of students, and tips on what students can do to address bullying situations.

Notifying the School About Bullying – Using a Template Letter

Parents should contact school staff each time their child informs them that he or she has been bullied.† PACER Center has created template letters that parents may use as a guide for writing a letter to their child's school. †These letters contain standard language and "fill in the blank" spaces so the letter can be customized for your child's situation. Read More

Spanish Translations

See our spanish translations section to find out what informational handouts are available.

Resources for LGBTQ Students and Their Families

The Trevor Project provides crisis intervention and suicide prevention services to lesbian, gay, bisexual, transgender, and questioning youth.

GLSEN seeks to develop school climates where difference is valued for the positive contribution it makes in creating a more vibrant and diverse community.


I've been bullied because i'm a so called "emo/scene" kid. It really does suck when people just attack you for your style. This has been going on for years. I was threatened once because of this.
bullying NEEDS TO STOP NOW!
upset, 15, NY
Bullying also exists in college.  I was often teased in college for not being one of the " Popular " "Jocks" and "Gossip."  I was made fun of for just being myself, and it really hurt me badly.  I graduated from college and I have not participated in alumni activities ever since leaving after graduating.  No one in any school level should have to go through the garbage that I went through.  
Anonymous, 29, USA
I actually finished watching a movie and I cried for so long I didn't even know. I couldn't stop and I realized I'm never ever going to let bulling happen while Im around. So many people are bullying and I can't help but cry everytime I see something so sad. 
Jill, 12, Texas
I was a victim of bullying for a long time in highschool. And now it's happening to my best friend's sister in middle school. I remember all of those years, I was called a name I didn't like, and they felt I was easy to pick on because I have aspergers syndrome. But there was this one bully who was my friend at first but then broke my trust, permanantly. She called me names, she lied to me, she flipped the bird at me, she even tried to steal the boyfriends of so many other girls, and even bullied my best friend. On top of that barely anybody did anything about it. So we need to put a stop to bullying so they won't have to suffer through what I went through, or what my best friend's little sister is going through.
Catherine, 19, New York
I care because i've experienced bullying, i was bullied during 3 years of my life, going to school was hell, just imagine hearing those voices whispering (sometimes even shouting) offensive comments, calling me names in the halls, was the worst thing that could ever happen to me, the school bus was a nightmare for me, people throwing me sandwiches, bottles, newspapers, books, notebooks, even shoes. When i got home, i didn't want my parents to worry about me, i didn't want to be another problem for them, so i kept it to myself, i'd cry everyday every night till i fell asleep. It left me problems, lack of confidence, anorexia, low self esteem, antisocial, depressive, suicidal. But i have to say, the moment i left that school, the moment i entered my new school everything got better instantly, i started making new friends, people didn't know my name, so they didn't bully me, it's been almost 3 years and my life has made a 360 degree turn, i'm happy with myself, my self esteem has gotten better, i have friend (not many but true friends for sure) my confidence is back, i can talk to people without feeling judged, i can walk through the halls without being afraid, and i see life in a totally different way, i can see myself with a future. I have hope, YOU JUST HAVE TO STAY STRONG. Those bullies, are NOTHING. It definitely gets better.
Alex, 17, Mexico
Someone has to.
Morgan, 16, OH
  I care about bullying because I was bullied myself in school from Kindergarten to the twelve grade. The bullying started when I first started elementary school and it didn't end until I graduated from high school. I was constantly teased and harassed everyday when I went to school. 
  I was bullied physically, verbally, mentally, and emotionally. I was teased and picked on for everything for the way I looked and how I acted. It wasn't easy to go through what I went through in school. I was called many low down names in school on a daily basics. I was picked on about from my face features to my body features. I was teased for being different from the other students because I was quiet and smart in school. Other students used to put their hands on me and they would hit, slap, and push me around on a constant basics. 
  The name calling, teasing, and physical abuse continued from grade to grade and it got the best of me at times. At first the bullying and teasing did bother me a lot but after a while I got used to it because it became a normal daily thing for me. I went through a lot in school with the bullying, teasing and harassment but I made it because I had people to support me and encourage me through this period of my life.
Daryl, 23, South Carolina
Support PACER's National Bullying Prevention Center
PACER's National Bullying Prevention Center is excited to announce our new partnership with SurveyMonkey Contribute and a new way for anyone to give their support! Sign up and you will receive surveys by e-mail from SurveyMonkey customers who need your opinion. For every survey you take, SurveyMonkey will donate $0.50 to PACER's National Bullying Prevention Center, and you'll get a chance to win $100 in an instant-win game.
Together AGainst Bullying™ is a campaign for PACER's National Bullying Prevention Center, inspired by Carrot Top. Donate, receive stickers to TAG your friends, and share on social media. Your support means one less student being bullied, one more person speaking out, or one more kid knowing that he or she isn't alone!

Creative Kids Card Now Available!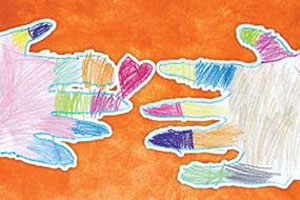 Since 2006, PACER has held CREATIVE KIDS, an event in which children with disabilities are invited to use their imaginations to express themselves through various mediums and vibrant colors. This year's artwork focused on themes of unity, inclusion, kindness and friendship. The 2016 design was created by Isabella and is now on sale for $10 per box. Learn more about Isabella, her new design and how to purchase >>>
All About Bullies . . . Big And Small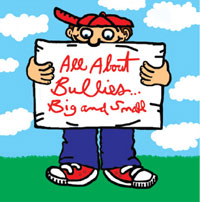 A CD for young children, and winner of a Grammy for Best Children's Album, All About Bullies … Big and Small is a collection of music, poetry and storytelling designed to put an interesting and heartfelt twist on bullying prevention, so that young learners can identify with the topic in an age appropriate manner. The artists all generously contributed their time and talents. 100% of the profit proceeds are donated to PACERís Kids Against Bullying initiatives.