NEW! -

The WE WILL Generation


Students Leading The Bullying Prevention Movement

Today's generation of students is ready to take action and uniquely positioned to prevent and stop bullying. What they need is education, support, and inspiration – and a creative program that will give them the practical skills to be part of the solution. The WE WILL Generation is an exciting new initiative that uses a students-teaching-students model.

New! An important book that offers real-world bullying prevention strategies for children at home, in school, and online. It contains the latest information and practical tools that can help parents and others take action against bullying. Written and designed by staff of PACER's National Bullying Prevention Center, the book was developed to help parents protect their child or someone they know from being bullied, and to help parents be proactive in their community in addressing bullying.

Need help planning a student-led bullying prevention event? PACER has partnered with Facebook to create a practical Student Event Toolkit that will make it easier to hold events in your school or community. This step-by-step guide will help you plan, promote, and execute a variety of events throughout the year using Facebook tools.

Elementary School Students - Bullying 101: The Club Crew's Guide to Bullying Prevention

A visually friendly, age appropriate 16-page colorful guide for early learners. The guide provides helpful information to use when talking with children about what bullying is and isn't, the roles of students, and tips on what students can do to address bullying situations.

Resources for LGBTQ Students and Their Families

The Trevor Project provides crisis intervention and suicide prevention services to lesbian, gay, bisexual, transgender, and questioning youth.

GLSEN seeks to develop school climates where difference is valued for the positive contribution it makes in creating a more vibrant and diverse community.
Video: PACER's National Bullying Prevention Center
Video: Hollywood Teens Unite Against Bullying
Video: Stand Up by Going Dark
Video: Stronger by Time for Three
Choose Orange
Make a choice to prevent bullying through kindness, compassion and positivity
The Choose Orange campaign features bullying prevention-themed snap wrist bands - which you can use to raise awareness and to raise money for PACER's National Bullying Prevention Center and your school.


People I know are always under attack and it hurts to just stand there and watch it happen.Plus i just am sick and tired of me getting bullied cause I help them.But I also get bullied cause what i wear and how i am diffrent and how i dont care what people think of me.I love my self but it still dose hurt and i go home and cry and scream in my pillows.So i have signed up and here i am fighting aginst it and i am here to help.

Brit, 12, sedalia,MO
I've been there. In the sixth grade, girls called me a b****, lied about me to teachers and other girls, pushed me into poles, and voted me out of lunch tables- for no reason. It got so bad that I had to switch schools, but things got a lot better. I, like many other teens, still face mean girls who try to destroy my confidence to raise theirs, but the victim of that emotional bullying has to realize that it's all because of jealousy. The reason Pheobe Prince, from Seventeen magazine, was targeted by those mean girls was because they were so jealous of her. When girls get jealous, they get mean. So all of you victims of verbal, emotional, or physical bullying- keep your head high, because you really matter in this world, and even if you think no one cares about you- I do. And mean girls- think before you speak. Consider if the attention you get from the mean joke you tell about that weird girl is worth her LIFE. That will  really make a difference.
Ally, 14, VA
Theres not a day that goes by that, i wish I wasnt breathing anymore.
Kayce, 15, New York City
I've been bullied because I have short hair and the things I like...Well I'm tired of it! I want to be who I am, not someone I'm not. Why can't they accept me for who I am? I just want it to end!
Toni, 13, IN
ive been bullied in year one and it hurts im sick of acting all strong and hide my feelings and fake a smile im really sick of it, if something happens i blame myself why? cuz im used to it. I got into a fight with one of my friends and then she said that im a stone without feelings, i hid every thing until one day in gym class i shouted at  her till i cried then i told a teacher that i really trust but first so nobody can hear i told her that i cant breathe but then when i went to her office and i told her everything and my friend wrote to me that i cried so everyone can hate her. but words really hurt and then another wise teacher told me that you musnt be afraid to show ur feelings so people can see that you are strong but you also have feelings becarful with their words.
Shaika, 12, qatar
Color Key
| | | | | | |
| --- | --- | --- | --- | --- | --- |
| | Featured Articles | | Related Event | | Website feature |

Posted: Thursday, November 07, 2013
PACER and Disney's Friends for Change partnered to create a "Bullying Prevention Action Kit", along with a poll for kids to pledge to address bullying in their local community. Learn more
PACER Teens Speak Out Against Bullying
Posted: Tuesday, November 05, 2013
Christina Wagner, co-chair of PACER's Faces of Change student group, and Hayley Reardon, featured artist on www.pacer.org/bullying, both participated in Iowa Governor Terry Branstad's second bullying prevention summit on November 4. In front of a crowd of over 1,000 students, parents and educators, Christina, Hayley, and other high school students from around the country spoke about their experiences with bullying. The theme of the conference was "Mission Possible: Stepping Up the Response" and Christina encouraged her fellow students to use their power and leadership schools to help prevent bullying in their schools. Read more.
Spookley the Square Pumpkin Featured in Modern Farmer
Posted: Friday, October 25, 2013
Spookley the Square Pumpkin, the official Spokes-Pumpkin of PACER's National Bullying Prevention Center, has been a hit in his book and movie, but did you know that he can also be found at farms all over the world? 120 farms in the US, Canada, England, and Ireland rely on Spookley to help them teach kids about agriculture and acceptance. Check out www.spookleyfarmprogram.com to find a participating farm in your area!
Read the article in Modern Farmer here.
Support PACER's National Bullying Prevention Center
PACER's National Bullying Prevention Center is excited to announce our new partnership with SurveyMonkey Contribute and a new way for anyone to give thier support! Sign up and you will receive surveys by e-mail from SurveyMonkey customers who need your opinion. For every survey you take, SurveyMonkey will donate $0.50 to PACER's National Bullying Prevention Center, and you'll get a chance to win $100 in an instant-win game.
All About Bullies . . . Big And Small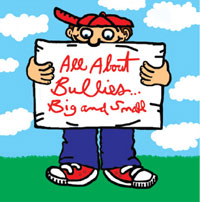 A CD for young children, and winner of a Grammy for Best Children's Album, All About Bullies … Big and Small is a collection of music, poetry and storytelling designed to put an interesting and heartfelt twist on bullying prevention, so that young learners can identify with the topic in an age appropriate manner. The artists all generously contributed their time and talents and a portion of the proceeds is donated to PACER's Kids Against Bullying initiative.