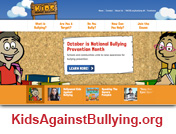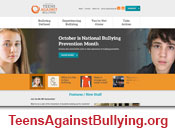 Websites for kids and teens to learn about bullying, engage in activities, and be inspired to own an important social cause.

The Unity Awards: Recognize someone who has gone above and beyond to prevent bullying

Bullying is an issue that no child should ever have to endure. Fortunately, there are people who care and take action to make our communities, schools and the web kinder, more accepting places.PACER's National Bullying Prevention Center Unity Awards will honor and celebrate students and community members who have gone above and beyond to help address bullying.

Deadline extended to Friday, May 8th - send in your nomination now!

The word "bullying" often conjures up an image of a schoolyard scene, with a big, intimidating student towering over a small, cowering child. That's just one face of bullying — and of children who bully. Another face of a bully might be … that of your child. Surprised? Many parents are. Often they have no idea that their child is harassing other children. Yet knowing the facts — and acting to change the situation — is vitally important in making the future safer for your child and all children.

PACER Partners with Verizon & Minnesota Vikings on Bullying Prevention

The Minnesota Vikings have teamed with Verizon and PACER's National Bullying Prevention Center to offer "Viktor's Quest to S.T.O.P. Bullying,' a bullying prevention program for Twin Cities elementary schools during the 2014-2015 school year that includes free school assemblies. Verizon is partnering with PACER on hosting accompanying educational workshops for parents and educators on bullying prevention. PACER received a HopeLine® from Verizon grant as part of the company's commitment to building healthy relationships in the Twin Cities area. Learn more>>>

View the "Vikings Launch Stop Bullying Campaign" video>>>

Facebook, Instagram and PACER's National Bullying Prevention Center partner to create a new guide for parents

In recognition of National Bullying Prevention Month, Facebook and Instagram partnered with PACER's National Bullying Prevention Center to create the guide, "Safety in the Online Community: A conversation with your 13-year-old about Facebook and Instagram" to help parents talk with their teens about using Facebook and Instagram. The guide covers setting up a new account, safety tips, and commonly asked questions. The guide is also accompanied by discussion points for talking with your child and how to respond to harassing content.

Want to know what to do when your child is being bullied?

Read PACER's most recent blog post on Babble.com, the highly acclaimed online magazine and blog network published by the Walt Disney Company for parents.

It began with complaints of a stomachache, followed by headaches and sore throats and other excuses about not feeling well. Although Amy wasn't sure why, before long it became obvious that her 10-year-old daughter, Sarah, did not want to go to school.

New Website Updates

Activities for Youth
This newly updated section offers free activities and resources designed for younger students. The goal is to start conversation and creatively engage students to build their understanding of how to prevent bullying.

---

Book Club
Story telling is a powerful way to share messages, encourage discussion and inspire thoughtful action.

Spanish Translations

Spanish translations are now available for the following informational handouts:

Notificando a los Administradores Escolares de Inquietudes Sobre el Hostigamiento
(Notifying School Administrators of Harassment Concerns)

Notificando a la Escuela Acerca de un Incidente de Bullying Mediante el Uso de una Carta – Formulario
(Notifying the School About a Bullying Incident - Using a Template Letter)

Plan de Acción Para el Estudiante en Contra del Bullying and ¡Tu Plan de Acción en Contra del Bullying!
Your Action Plan Against Bullying!

Resources for LGBTQ Students and Their Families

The Trevor Project provides crisis intervention and suicide prevention services to lesbian, gay, bisexual, transgender, and questioning youth.

GLSEN seeks to develop school climates where difference is valued for the positive contribution it makes in creating a more vibrant and diverse community.
Video: Make the Difference
Video: Hold On by Charissa Hogeland
Video: Broken by Anna Richey
We Will Generation™
Resources designed to encourage student to student conversation.
Designed for schools and other organizations to leverage resources, at no cost and easily accessible on-line, to encourage students to educate, inspire and support each other to address bullying and create kinder and safer schools.
Ask Carmen
Carmen is a member of the Kids Against Bullying "Club Crew", and she knows a lot about how to prevent bullying. She gives great advice about bullying to kids around the country.
Read what Carmen said to other kids, and ask her your own question!


i care becuse when people call me fat are ugly i fell like they hate me and when i come to school i try to stay away beacuse it seems nowon loves me and they whant me to die but when i see are here rumers about me i fell sad and aangry and i cant express myangry or the other kids will laugh aat me i love to sing i have alot of songs but people really dont care and make fun of me beacuse i sing i care beacuse i know how it fells 
kyra, 11, eden northcarolina
I know people who suffered bullying, i have a friend, she was bullied way back in elementary years so she and her mother decided to homeschool her but now, she's famous in showbiz industry she's now 15 a dancer, model and a fashion designer. the show Glee somewhat shows how bullying affects people's lives esp when Kurt was transferred in a private school eventhough his parents can't afford the tuition fee just because they don't want Kurt to be bullied. Let us be strong, like the Lemonade Mouth Disney movie says, BE HEARD BE STRONG BE PROUD.
Lara, 16, Philippines
I was bullied grade 4- grade 8 and in the first three semesters in college. I wasn't only bullied by the kids who I tried to fit in with but I was also bullied by teachers who called me dumb and useless. I had to face the stupidest people who used a parents' death to bully me. I care because I have nieces and I do not want them to go through what I went . I want them to show these happiness deprived people how they are stronger than them . Bullying does not only take in America it also takes place in countries like Pakistan , India . In other words , all over the world . I hope the best for everyone all around the world and hope that someday bullying does get abolished. 
anonymous, 24, Pakistan
Alot of things have happened to me that are going on to others and I'm not happy about it. HELP STAND AGAINST THE BULLIES. STAND FOR THE SMALLER KIDS AND HELP THEM REGAIN CONFIDINCE!!!! NO ONE WANTS IT TO HAPPEN.
Ashlynn, 13, Conroe, Texas
From 1th To 5th Grade I Was Bullied By Class Mates & People I Once Considerd my "Friends".
I Switched Schools And Made New Friends..
But Even With A New Life, Bullying Still Affects Me Today. I Have Depression  From It And Sever Anxeity..

Think BEFORE You Say Something..
Words Hurt More Than Actions.
Sara, 14, ND
Color Key
| | | | | | |
| --- | --- | --- | --- | --- | --- |
| | Featured Articles | | Related Event | | Website feature |

Helping Your Child if Your Child is Experiencing Bullying
Posted: Friday, May 29, 2015
The latest issue of Camp Navigator, an online magazine for campers, parents, and families, featured an article on PACER's National Bullying Prevention Center. "Helping Your Child If Your Child is Experiencing Bullying," outlines steps parents can take to create an action plan to help their child and includes a list of resources parents can use to notify the school, talk to their child, and protect their child from cyberbullying. The story begins on page 26. Read more>>>
PACER's National Bullying Prevention Center joins Andrew WK, Moby, and Pharrell to Celebrate 'Dancing Man' in Los Angeles
Posted: Wednesday, May 27, 2015
On Saturday, May 23, hundreds of bullying prevention supporters came out to Hollywood's Avalon nightclub to celebrate Sean O'Brien, an Englishman who became an overnight media sensation and unlikely hero after he was cyberbullied on 4chan for dancing in public.
Bailey Lindgren of PACER's National Bullying Prevention Center joined the likes of Monica Lewinski, Moby, and Pharell in sending messages of support and hope to the audience. The new all-positive social media app Güdly presented a $30,000 check to PACER's National Bullying Prevention Center and other nonprofit organizations. Learn more>>>
Posted: Wednesday, May 27, 2015
By Kelly Wallace, CNN
According to the U.S. Department of Education, bullying among students ages 12-18 is at a record low, down from 28 percent to 22 percent. But CNN reporter Kelly Wallace would like to see bullying banished completely.
In this article on CNN.com, Wallace interviews Susan Swearer and Shelley Hymel, co-authors of the comprehensive review of bullying research (PDF), which was published in a special issue of American Psychologist, the official journal of the American Psychological Association. Swearer and Hymel share 10 interesting facts about bullying that they've learned after 40 years of researching the topic. They also share their ideas for reducing bullying among kids. Learn more>>>
Support PACER's National Bullying Prevention Center
PACER's National Bullying Prevention Center is excited to announce our new partnership with SurveyMonkey Contribute and a new way for anyone to give their support! Sign up and you will receive surveys by e-mail from SurveyMonkey customers who need your opinion. For every survey you take, SurveyMonkey will donate $0.50 to PACER's National Bullying Prevention Center, and you'll get a chance to win $100 in an instant-win game.

All About Bullies . . . Big And Small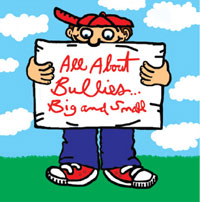 A CD for young children, and winner of a Grammy for Best Children's Album, All About Bullies … Big and Small is a collection of music, poetry and storytelling designed to put an interesting and heartfelt twist on bullying prevention, so that young learners can identify with the topic in an age appropriate manner. The artists all generously contributed their time and talents. 100% of the profit proceeds are donated to PACER's Kids Against Bullying initiatives.