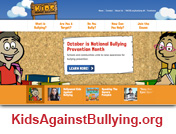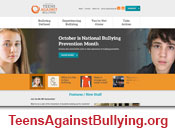 Websites for kids and teens to learn about bullying, engage in activities, and be inspired to own an important social cause.

YouTube Sensation Bethany Mota joins PACER's National Bullying Prevention Center and Viktor's Quest to S.T.O.P. Bullying at Mall of America® October 20th

October is National Bullying Prevention Month, which was started by PACER Center in 2006, and YouTube sensation Bethany Mota will help mark the occasion Tuesday, Oct. 20 at Mall of America® during PACER's Together Against Bullying Day. Learn More >>>

ORDER YOUR T-SHIRT BEFORE SUNDAY, OCT. 11
Make Plans Now To Wear Orange on Unity Day Oct. 21 and Show Support of Kindness, Inclusion and Acceptance

PACER has partnered with CustomInk to launch its fifth annual 'Be Good to Each Other' campaign in support of Unity Day and PACER's National Bullying Prevention Month in October. The campaign encourages students, groups, and others to take a stand for kindness, respect, and inclusion by designing and wearing custom bullying prevention t-shirts. Official Unity Day t-shirts will be available for purchase for $12 beginning Sept. 8 at customink.com/stopbullying. CustomInk will donate all profits (approximately $8 per shirt) back to PACER. Be sure to order by Oct. 11 for arrival in time for Unity Day. Order your 2015 Unity Day T-shirt here >>>

Hold an event in your community or start a classroom discussion!
Send the message to students who are bullied that they are not alone!

Create communities that join together against bullying.This campaign provides education and resources on ways to provide support, hope and help for those who have experienced bullying. Features classroom and event toolkits designed to start conversation and initiate action on ways to "be there" united together against bullying.

This interactive, easy to read and navigate guide offers a comprehensive overview for parents to learn what they can do to address and prevent bullying.

Early Learners,
"Stop Bullying Before it Starts"

The online toolkit "Stop Bullying Before It Starts" is the result of a PACER partnership with the team that developed "Spookley the Square Pumpkin," a book for young children. Spookley is a square pumpkin who lives in a round pumpkin patch world. The toolkit provides links to free resources that teachers can bring directly into their classrooms

A visual, age appropriate 14-page guide with easy to understand information. The guide provides the basics for talking with students about what bullying is and isn't, the roles of students, and tips on what students can do to address bullying situations.

Spanish Translations

See our spanish translations section to find out what informational handouts are available.

Resources for LGBTQ Students and Their Families

The Trevor Project provides crisis intervention and suicide prevention services to lesbian, gay, bisexual, transgender, and questioning youth.

GLSEN seeks to develop school climates where difference is valued for the positive contribution it makes in creating a more vibrant and diverse community.
Video: You are Braver, Stronger and Smarter Than You Think
Video: Turn a Life Around
Video: Make the Difference
Video: Broken by Anna Richey
We Will Generation™
Resources designed to encourage student to student conversation.
Designed for schools and other organizations to leverage resources, at no cost and easily accessible on-line, to encourage students to educate, inspire and support each other to address bullying and create kinder and safer schools.
Ask Carmen
Carmen is a member of the Kids Against Bullying "Club Crew", and she knows a lot about how to prevent bullying. She gives great advice about bullying to kids around the country.
Read what Carmen said to other kids, and ask her your own question!


i wasn't bullied to much. but i went to a new school in high school. and i saw alot of bullying to kids who are different. the victims feel alone, and i know what thats like. its depressing. i felt ugly and like no one cared about me. if you see a kid whos alone, who seems "friendless" talk to them, you'd want someone to talk to you. 
marina, 15, MI
I've been bullied for as long as i can remember, whether it was because of my weight,height, or some other ridiculous thing that i couldn't prevent,i always remembered how that felt and how badly i felt about myself because of the relentless bullying, NO ONE SHOULD EVER HAVE TO FEEL LIKE THAT!That is why i care.
breanna, 16, new york
I hate it when people bully. I admit I used to do that; not anymore. I want to help. I want this to end. I'm creating a webstie where kids like me can go and chat about it and try to stop it. Kids can help kids, teens can help teens. But really, both are the same. We are all the future generation of America. We have to help. Stop bullying. Only we can.
Winter, 11, Tennessee
Me and my friends where at the 6th grade all the time bullying someone, and it ended even to we got detention or the one who we bullied started crying and we got detention, and we got detention 3 times a week! Now when im on 7th grade i dont think its soo funny, but i cant stop it:/ And my friend is all the time bullying and i try to stop her but it dosent work... Soo now i guess im a bullyer even if i didnt want to:S
How to stop?, 14, Fi
I am doing a article about bullying prevention month for my school newspaper. The reason why I picked this assignment because my little sister was picked and bullied on in school. I remember her coming home crying because a boy called her names and I could do anything about it because I went to a different school. I told her to tell our mother but she would not tell and I promise her that I wouldn't either. Well two months passed and she was going to kill herself because of what they were writing about her on Facebook. I finally had to tell mom and we got her into to a group of students who have the same problem as her. We went to the school board because it was a serious matter. Now we convinced them to make it a rule in all the schools that if you bullied you were kicked out of school. This is the reason why I picked this story to write about because it is a personal matter to me and my family. After that day we are now closer than ever.
katie , 17, Florida
Color Key
| | | | | | |
| --- | --- | --- | --- | --- | --- |
| | Featured Articles | | Related Event | | Website feature |

October is National Bullying Prevention Month
Posted: Wednesday, October 07, 2015
StopBullying.gov featured a story about the history of PACER's National Bullying Prevention Month and Unity Day on its Stopbullying Blog. "National Bullying Prevention Month has grown more than we could have ever expected," said Paula Goldberg, PACER's executive director. "In less than 10 years, PACER has helped to create a bullying prevention movement with millions of individuals across the globe." Read more>>>
You are Braver, Stronger and Smarter Than You Think
Posted: Tuesday, October 06, 2015
Have you ever felt like the whispers, giggles, note passing, and looks were directed at you or someone you care about? Imagine if all that attention was channeled into positive action. Disney is supporting PACER's National Bullying Prevention Center in hopes of inspiring social change among young people everywhere. Watch this touching video created by Disney.
The Power of Unity: Communities Connect to Prevent Bullying
Posted: Tuesday, October 06, 2015
Treetop Commons shared information about Unity Day, Wednesday, Oct. 21, in its Noble Hour blog. The post shares several ideas for students, schools, and communities to get involved, including wearing orange, posting on social media, creating banners, holding ribbon cutting events and school-wide discussions, and signing the online petition. Read more>>>
Support PACER's National Bullying Prevention Center
PACER's National Bullying Prevention Center is excited to announce our new partnership with SurveyMonkey Contribute and a new way for anyone to give their support! Sign up and you will receive surveys by e-mail from SurveyMonkey customers who need your opinion. For every survey you take, SurveyMonkey will donate $0.50 to PACER's National Bullying Prevention Center, and you'll get a chance to win $100 in an instant-win game.

All About Bullies . . . Big And Small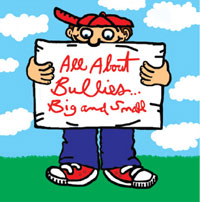 A CD for young children, and winner of a Grammy for Best Children's Album, All About Bullies … Big and Small is a collection of music, poetry and storytelling designed to put an interesting and heartfelt twist on bullying prevention, so that young learners can identify with the topic in an age appropriate manner. The artists all generously contributed their time and talents. 100% of the profit proceeds are donated to PACER's Kids Against Bullying initiatives.