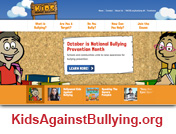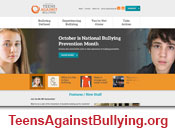 Websites for kids and teens to learn about bullying, engage in activities, and be inspired to own an important social cause.

Hold an event in your community or start a classroom discussion!
Send the message to students who are bullied that they are not alone!

Create communities that join together against bullying.This campaign provides education and resources on ways to provide support, hope and help for those who have experienced bullying. Features classroom and event toolkits designed to start conversation and initiate action on ways to "be there" united together against bullying.

Unity Day Posters –
Available Now!

Promote Unity Day by displaying this poster in your school, home, or community.

Bullying can be an isolating experience not just for the kids involved, but for their parents, too. Fortunately, there is help. PACER's National Bullying Prevention Center offers "Helping Your Child" to guide parents to address bullying situations, including those involving students with disabilities.

Early Learners,
"Stop Bullying Before it Starts"

The online toolkit "Stop Bullying Before It Starts" is the result of a PACER partnership with the team that developed "Spookley the Square Pumpkin," a book for young children. Spookley is a square pumpkin who lives in a round pumpkin patch world. The toolkit provides links to free resources that teachers can bring directly into their classrooms

The word "bullying" often conjures up an image of a schoolyard scene, with a big, intimidating student towering over a small, cowering child. That's just one face of bullying — and of children who bully. Another face of a bully might be … that of your child. Surprised? Many parents are. Often they have no idea that their child is harassing other children. Yet knowing the facts — and acting to change the situation — is vitally important in making the future safer for your child and all children.

A visual, age appropriate 14-page guide with easy to understand information. The guide provides the basics for talking with students about what bullying is and isn't, the roles of students, and tips on what students can do to address bullying situations.

New Website Updates

Activities for Youth
This newly updated section offers free activities and resources designed for younger students. The goal is to start conversation and creatively engage students to build their understanding of how to prevent bullying.

---

Book Club
Story telling is a powerful way to share messages, encourage discussion and inspire thoughtful action.

Spanish Translations

Spanish translations are now available for the following informational handouts:

Notificando a los Administradores Escolares de Inquietudes Sobre el Hostigamiento
(Notifying School Administrators of Harassment Concerns)

Notificando a la Escuela Acerca de un Incidente de Bullying Mediante el Uso de una Carta – Formulario
(Notifying the School About a Bullying Incident - Using a Template Letter)

Plan de Acción Para el Estudiante en Contra del Bullying and ¡Tu Plan de Acción en Contra del Bullying!
Your Action Plan Against Bullying!

Resources for LGBTQ Students and Their Families

The Trevor Project provides crisis intervention and suicide prevention services to lesbian, gay, bisexual, transgender, and questioning youth.

GLSEN seeks to develop school climates where difference is valued for the positive contribution it makes in creating a more vibrant and diverse community.
Video: Turn a Life Around
Video: Make the Difference
Video: Everybody Come On (It's On Us) by Keenan West + Secret Mean Stinks
Video: Hold On by Charissa Hogeland
Video: Broken by Anna Richey
We Will Generation™
Resources designed to encourage student to student conversation.
Designed for schools and other organizations to leverage resources, at no cost and easily accessible on-line, to encourage students to educate, inspire and support each other to address bullying and create kinder and safer schools.
Ask Carmen
Carmen is a member of the Kids Against Bullying "Club Crew", and she knows a lot about how to prevent bullying. She gives great advice about bullying to kids around the country.
Read what Carmen said to other kids, and ask her your own question!

I was bullied with words and I can say it hurts so bad,I think words hurts more than physical violence. Bullism is wrong,bullism is not funny,bullism is something that you will never forget in your life. Bullism hurts so bad. People pick you just because you're different,they start saying you're ugly,you're gay (for guys),you're retarded and other bad things. It's absolutely wrong and stupid.I wish it could stop forever.
Laura, 12, IT
Was once called ugly, fat, black. I did not care, I spoke to my teacher and he helped me out. Speak up people. Don't keep it to your self..... Feeling sad for those who are being bullied. 
Lysah, 15, USA
i think that the kids that is bullying someone just needs a person to talk to becouse you dont know if he or she might be haveing problems at home.
riley, 12, fl
Ijust got in middle school and i get bullyed on the bus all the time and nobody does anything . >:
Levi, 11, ?
I care because there are so many misconceptions on what bullying really is. It's not just the physical abuse. It's the psychological/mental , cyber and emotional aspect as well. There are so many mean people in the world, especially at school among teens, and so many cliques where girls single each other out of groups that's it's sickening. I had a really rough year in the 10th grade this past year because girls I thought were my friends really weren't. It was a horrible year for me, mostly because of their psychological , cyber and verbal bullying .  I'm still struggling with it now,  especially since one of the girl's mom said some hurtful words to me on facebook. i'm seeking thearpy. Hopefully it'll get better. 
Ashley, 15, IL
Color Key
| | | | | | |
| --- | --- | --- | --- | --- | --- |
| | Featured Articles | | Related Event | | Website feature |

Share My Lesson features NBPC Resources!
Posted: Monday, August 31, 2015
As teachers head back to school this fall, they'll be looking for new and exciting ways to engage their students on the topic of bullying prevention. For the first time, PACER's National Bullying Prevention Center will be featured on the website Share My Lesson, a place where educators can come together to create and share their very best teaching resources. Developed by the American Federation of Teachers and TES Connect, Share My Lesson provides high-quality teaching resources to teachers across the country. Now you can find resources from PACER's National Bullying Prevention Center there too! Find out more: http://www.sharemylesson.com/Pacer
Stick Together Against Bullying
Posted: Thursday, July 23, 2015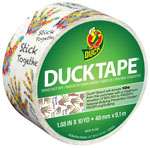 To help students learn how to prevent bullying in their communities, Duck® brand is partnering with PACER's National Bullying Prevention Center to spread the word with its "Stick Together™" program.
Through this unique awareness-building initiative, Duck® brand will share a positive message with students about taking a stand against bullying. Duck® brand will be hitting the road with its custom, bright green, 31-foot Duck® Bus for its annual "Rolls Across America" Tour, which will visit 25 schools from August through November, reaching approximately 10,000 students along the way.
Duck® brand has also launched a limited edition "Stick Together Against Bullying" print tape and will be donating 10 cents from the purchase of each roll with a maximum donation of $20,000 to PACER's National Bullying Prevention Center. Learn more>>>
PACER releases powerful 'Turn a Life Around' video
Posted: Thursday, June 18, 2015
Bullying knocks down thousands of kids every day, but when one person stands with them, they are not alone. In this powerful new video by PACER's National Bullying Prevention Center, students can learn how to make a difference in the life of someone who is being bullied through simple actions such as acknowledging them, talking to them, and accepting them. Watch the video>>>
Support PACER's National Bullying Prevention Center
PACER's National Bullying Prevention Center is excited to announce our new partnership with SurveyMonkey Contribute and a new way for anyone to give their support! Sign up and you will receive surveys by e-mail from SurveyMonkey customers who need your opinion. For every survey you take, SurveyMonkey will donate $0.50 to PACER's National Bullying Prevention Center, and you'll get a chance to win $100 in an instant-win game.

All About Bullies . . . Big And Small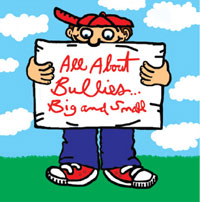 A CD for young children, and winner of a Grammy for Best Children's Album, All About Bullies … Big and Small is a collection of music, poetry and storytelling designed to put an interesting and heartfelt twist on bullying prevention, so that young learners can identify with the topic in an age appropriate manner. The artists all generously contributed their time and talents. 100% of the profit proceeds are donated to PACER's Kids Against Bullying initiatives.