Video: Invisible (Cover by Marina Morgan)
Video: Stand Up by Going Dark
Video: Hollywood Teens Unite Against Bullying
Choose Orange
Make a choice to prevent bullying through kindness, compassion and positivity
The Choose Orange campaign features bullying prevention-themed snap wrist bands - which you can use to raise awareness and to raise money for PACER's National Bullying Prevention Center and your school.

"My brother is always being bullied.  It's sad because he has ALWAYS been an easy target, beause he is such a nice kid that he wont do anything about it.  He WONT say something back or stand up for himself when he needs too.  I think that many times these are the types of kids that are getting bullied.  And the only reason the bully is doing it is to make himself/ herself feel better.  I always feel bad for them personally.  It makes you think, what is going on wrong in their life to make them act like that?   I am awlays telling him, there is a reason they act like the way they do.  I also strongly beleive that schools need to step up their game when it comes to bullying. I know for a fact ( because I have seen it with my own eyes) that teachers see bullying and look the other way.  Bullying doesn't have to be physical either!!!  Remeber the saying "Sticks and stones my break my bones but words will never hurt me?"  Come on...... words hurt worse than a bruise.....  Stop bullying. "
Abbey, 15, United States
I onced was bullied sometimes i still am i stick up for people who are bullied. i was bullied cause of how slow i learn im not the fastest learner but i try, i get made fun of cause i fail almost every test and quiz. But now i try to get better and i still am. No one should be bullied if there getting bullied then the person bullying them is jealous of him or her. I wanna change the world i wanna stop bullying 
Reagan, 13, VA
i just want to say ,anyone out there who is reading this and is being bullied ,dont listent to them keep your head high and show them you can still smile because your beautiful no matter what .No one is perfect and you are so much more closer to being perfect than the ones calling you names and putting you down, i was bullied i still am because im not skinny enough and i have braces behined my smile was a head full of thoughts ,thinking im not good enough and im stupid i had no idea what to do .TELL SOMEONE just make sure someone does know they will understand ,the girl that bullied me has no one ,she has no friends ,NOTHING !
we can get through this your not alone im here ,your beautiful dont forget that you must always tell your selfs that they are wrong believe what yo want to believe not what someone else wants you to !!!!!!!!<3<3<3
becca, 14, uk
I had a best friend who was bullied. She was embaressed by it. She'd deleat text messages without showing them to anyone, and pretend to even me that the things people would say to her walking down the hallway never bothered her. I noticed and asked it about her one night when she was over at my house. She got very emotional and started telling me all thease horrible things i never knew people were caipable of saying. She made me promise not to tell anyone and so i didnt. Things started to go down hill for her when i left last summer for a two month vacation with my family. She had no where to turn to because she was to proud to tell her family and i was her best firend. I told her to call me whenever she needed to talk but that wasnet enough. She went into a deep depression and started to physically abuse and cut herself and i had no idea it was that bad. I never new teenagers could be so mean. I didnt know my firend, the girl who could shake of anything, could be made to feal so bad. I told someone after that and my friend got help. It was hard to do. She hated me when she found out i told, but later she thanked me. No one should go thorough what she had to. Thats why i care. 
Racheal, 15, IA
Im being bullied and it's not a good feeling most people call me a dumb blonde because I'm very slow on catching on (I'm not a blonde,Im Hispanic/black/Italian).It hurts me when my friends say it even though I don't show how I'm really feeling.
Alissandra, 13, VI
Color Key
| | | | | | |
| --- | --- | --- | --- | --- | --- |
| | Featured Articles | | Related Event | | Website feature |

PACER PARTNERS WITH THE MAKERS OF EPIDUO GEL AND HIT RECORDING ARTISTS TO HELP BANISH BULLYING
Posted: Wednesday, July 09, 2014
Music is a powerful force, and this summer teens and young adults across the country have a unique opportunity to turn their personal experience into a musical rallying cry against bullying. PACER is partnering with Galderma Laboratories, L.P., the makers of Epiduo® Gel, for the "Band Together to Banish Bullying" campaign, which encourages individuals who have been affected by bullying, or who want to speak out against it, to share artwork, photos, videos, or brief stories about their bullying experiences. This inspirational content will be used for an original song that will serve as the bullying prevention anthem, to be written, produced and performed by renowned producer Clinton Sparks and hit recording artists The Mowgli's and Kylie Morgan. Learn more about how to participate.
NEW! PACER's We Will Generation: Students Leading the Bullying Prevention Movement
Posted: Monday, June 30, 2014
Nearly 60% of bullying situations end when a peer intervenes. This powerful statistic shows the important influence peers can have. Imagine the power of student-to-student engagement in which students are educated, inspired, and supported to take positive action to help their peers.
PACER's We Will Generation is designed to educate, support, and empower students to create inclusive communities within their schools. Based on a model of peer-to-peer education, the We Will Generation activates older students to educate younger students about bullying and what they can do to prevent it. With everything from short activities to a multi-lesson curriculum, this program has something to help every student, teacher, group, and community get involved to prevent bullying.
This innovative, engaging program acknowledges the social power students already possess and encourages them to use it to help their peers. The most effective bullying prevention will come from students themselves – and PACER's We Will Generation will ensure that students are educated, inspired, and supported to take action.
Cyberbullying is real — here's help
Posted: Tuesday, June 24, 2014
Columnist Joe Nathan recently published the article, "Cyberbullying is real — here's help." Julie Hertzog, director of the PACER's National Bullying Prevention Center is quoted in the article with advice for parents.
She suggested that in thinking about cyberbullying, parents think about how they prepare youngsters to go to a mall or shopping center. First of all, have a conversation. Don't just "send them off, whether it's to the mall or to the cyber world found on a phone or computer." Secondly, agree on some rules. For example, if there's a problem, let the parent know. Don't just keep problems to yourself. And third, "Have an awareness of what your child is doing in the cyber-world." PACER has many helpful resources including a booklet, "Cyberbullying: What Parents Can Do," sponsored by Century Link. The booklet is here.
Support PACER's National Bullying Prevention Center
PACER's National Bullying Prevention Center is excited to announce our new partnership with SurveyMonkey Contribute and a new way for anyone to give thier support! Sign up and you will receive surveys by e-mail from SurveyMonkey customers who need your opinion. For every survey you take, SurveyMonkey will donate $0.50 to PACER's National Bullying Prevention Center, and you'll get a chance to win $100 in an instant-win game.
All About Bullies . . . Big And Small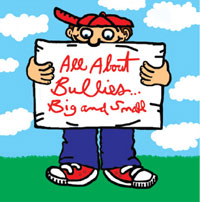 A CD for young children, and winner of a Grammy for Best Children's Album, All About Bullies … Big and Small is a collection of music, poetry and storytelling designed to put an interesting and heartfelt twist on bullying prevention, so that young learners can identify with the topic in an age appropriate manner. The artists all generously contributed their time and talents. 100% of the profit proceeds are donated to PACER's Kids Against Bullying initiatives.