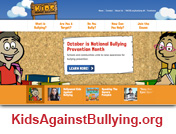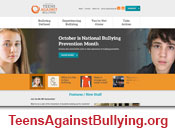 Websites for kids and teens to learn about bullying, engage in activities, and be inspired to own an important social cause.

National Bullying Prevention Month (2006-2016)

A decade together against bullying and united for kindness, acceptance and inclusion
National Bullying Prevention Month is a campaign in the United States founded in 2006 by PACER's National Bullying Prevention Center. Learn more about the history of the month>>>

#TwoInAMillion

Meet Austin and Elena, who are two in a million, both diagnosed with Goldenhar Syndrome. They appear in TLC's new series, Two In A Million, which premiered in early April. They also shared their personal story posting a video with PACER's National Bullying Prevention Center.

View their video on Facebook >>>
Learn more about Goldenhar Syndrome >>>

The Unity Awards

The Unity Awards are designed to honor and celebrate a few of those individuals and groups who have made outstanding contributions to address and prevent bullying – whether it's building awareness of bullying prevention, inspiring and empowering others to take positive actions, or advocating for those who need support. Nominations are now open for the second annual Unity Awards; anyone can submit a nomination and the online form is open through April 15, 2016.

Tristan McIntosh, Top 6 on American Idol Farewell Season!

In 2011, as an 11-year-old, Tristan McIntosh recorded the song "You Can't Take That Away From Me," for PACER's National Bullying Prevention Center "Unity Dance" song, which celebrates the importance of looking out for each other and celebrating each other's differences. In 2016, Tristan appeared on American Idol and was unanimously voted by the judges for the "golden ticket" to the next round in Hollywood, was named to the TOP 24, and is now in the final 6! Congratulations Tristan, you are amazing and thank you for making a difference!

Hold an event in your community or start a classroom discussion!
Send the message to students who are bullied that they are not alone!

Create communities that join together against bullying.This campaign provides education and resources on ways to provide support, hope and help for those who have experienced bullying. Features classroom and event toolkits designed to start conversation and initiate action on ways to "be there" united together against bullying.

Whether you are being bullied, witnessing bullying, afraid of peer pressure, concerned your actions are hurting others, or something else, just ask Jamie! With zero judgments and her best advice, she is here for you.

This interactive, easy to read and navigate guide offers a comprehensive overview for parents to learn what they can do to address and prevent bullying.

A visual, age appropriate 14-page guide with easy to understand information. The guide provides the basics for talking with students about what bullying is and isn't, the roles of students, and tips on what students can do to address bullying situations.

Notifying the School About Bullying – Using a Template Letter

Parents should contact school staff each time their child informs them that he or she has been bullied.  PACER Center has created template letters that parents may use as a guide for writing a letter to their child's school.  These letters contain standard language and "fill in the blank" spaces so the letter can be customized for your child's situation. Read More

Spanish Translations

See our spanish translations section to find out what informational handouts are available.

Resources for LGBTQ Students and Their Families

The Trevor Project provides crisis intervention and suicide prevention services to lesbian, gay, bisexual, transgender, and questioning youth.

GLSEN seeks to develop school climates where difference is valued for the positive contribution it makes in creating a more vibrant and diverse community.
Video: You are Braver, Stronger and Smarter Than You Think
Video: Turn a Life Around
Video: Make the Difference
Video: Broken by Anna Richey
Video: Bullying is Real at Leon High School-Bullying Awareness Week
Video: A Wave of Kindness: Ride the Wave!
Together AGainst Bullying™ is a campaign for PACER's National Bullying Prevention Center, inspired by Carrot Top. Donate, receive stickers to TAG your friends, and share on social media. Your support means one less student being bullied, one more person speaking out, or one more kid knowing that he or she isn't alone!
We Will Generation™
Resources designed to encourage student to student conversation.
Designed for schools and other organizations to leverage resources, at no cost and easily accessible on-line, to encourage students to educate, inspire and support each other to address bullying and create kinder and safer schools.
Ask Carmen
Carmen is a member of the Kids Against Bullying "Club Crew", and she knows a lot about how to prevent bullying. She gives great advice about bullying to kids around the country.
Read what Carmen said to other kids, and ask her your own question!

i care because bulying happens way too often now. i care because i get teased and called names everyday. i care because keeping it bottled up is not an option. i care because Demi Lovato cares and shes brought my attention to how bad bullying can be. i care because this has to stop!
Shania, 12, Scotland
i am against bullying because so many people are hurting there selfs. When people bully other people they think its cool until somebody gets hurt and they want to start blaming others for there work. Being bullied does'nt hurt just you it hurts your friends too. I care for the sake of others and there feelings. well hope they feel better. Alright Alright Alright STOP THE BULLYILNG IT'S REALY NOT COOL THINK ABOUT YOUR FEELINGS
Jessica, 13, new jersey
My Bestfriend has been bulied her whole life. No one likes her because she's different but I love her for the reason of her being different. Everyone would act like she didn't exist and just scream at her and push her punch her and all. I put a stop to it I threatened everyone by telling them i'd go to the prinicipal.They all stopped and let her be the way she is. I find her an amazing friend no matter what! 
Keilin, 13, NJ
I was bullied for many years, growing up.  Growing up, I was considered to be an ugly duckling.  Well, before blossoming, I was bullied and made fun of to the point where I ran home everyday after school, hysterically crying.  It has had such a profound effect on my life.  I now have a child who has special needs, and will live the rest of his life facing unfair challenges.  On top of the challenges that he already faces, one of my biggest fears is that he will be bullied just as I was...
Melissa, 35, AZ
i am in middle school which IS the toughest section of a girl (or boy's) life i was bullied last year by my OWN so called friends. they don't know how much it hurts. i stand up for the kids being bullied! who knows maybe you have just made them decide not to kill themselves i am  still praying not to be bullied this year. crossing fingers! 
Taylor, 13, Ca
Color Key
| | | | | | |
| --- | --- | --- | --- | --- | --- |
| | Featured Articles | | Related Event | | Website feature |

#TwoInAMillion
Posted: Tuesday, April 26, 2016
Meet Austin and Elena, who are two in a million, both diagnosed with Goldenhar Syndrome. They appear in TLC's new series, Two In A Million, which premiered in early April. They also shared their personal story posting a video with PACER's National Bullying Prevention Center.
View their video on Facebook >>>
Learn more about Goldenhar Syndrome >>>
October is National Bullying Prevention Month
Posted: Thursday, March 31, 2016
10 Year Anniversary Planned (2006-2016)
A decade together against bullying – and united for kindness, acceptance and inclusion! Much can occur in a decade, and PACER's National Bullying Prevention Center proves it. Over the past 10 years, the Center's National Bullying Prevention Month campaign grew from a small week-long event in October 2006 to a worldwide effort with multiple activities and products throughout October. Learn more >>>
Posted: Monday, March 14, 2016
Just days before Drayter's full-length studio debut album release, for NINE, the band announced their partnership with the PACER National Bullying Prevention Center. Drayter pledged 100 percent of sales proceeds from pre-orders of NINE to NBPC. The track "Not Alone," which addresses isolation and loneliness, is being used to promote PACER's NBPC You're Not Alone, We're Here For You campaign.
Liv Miner spoke to Guitar Girl Magazine about recording NINE, her passion for guitars – in particular her Music Man Armada – and why the PACER campaign is so important to Drayter. Liv shared, "bullying is a much more relevant and intense topic than it used to be, so it was really cool to come out with 'Not Alone,' and join up with this anti-bullying organization and get the awareness out. Everyone needs hope. No one wants to feel isolated, lonely, picked on, degraded, and all these things that are happening because of the Internet. It's good to be able to have a positive impact. We've gotten a lot of positive feedback for it, and for the album as a whole, and it's been wonderful." Read full article at Guitar Girl Magazine>>>
Support PACER's National Bullying Prevention Center
PACER's National Bullying Prevention Center is excited to announce our new partnership with SurveyMonkey Contribute and a new way for anyone to give their support! Sign up and you will receive surveys by e-mail from SurveyMonkey customers who need your opinion. For every survey you take, SurveyMonkey will donate $0.50 to PACER's National Bullying Prevention Center, and you'll get a chance to win $100 in an instant-win game.

All About Bullies . . . Big And Small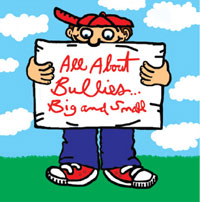 A CD for young children, and winner of a Grammy for Best Children's Album, All About Bullies … Big and Small is a collection of music, poetry and storytelling designed to put an interesting and heartfelt twist on bullying prevention, so that young learners can identify with the topic in an age appropriate manner. The artists all generously contributed their time and talents. 100% of the profit proceeds are donated to PACER's Kids Against Bullying initiatives.