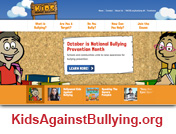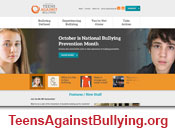 Websites for kids and teens to learn about bullying, engage in activities, and be inspired to own an important social cause.

YouTube Sensation Bethany Mota joins PACER's National Bullying Prevention Center and Viktor's Quest to S.T.O.P. Bullying at Mall of America® October 20th

October is National Bullying Prevention Month, which was started by PACER Center in 2006, and YouTube sensation Bethany Mota will help mark the occasion Tuesday, Oct. 20 at Mall of America® during PACER's Together Against Bullying Day. Learn More >>>

ORDER YOUR T-SHIRT BEFORE SUNDAY, OCT. 11
Make Plans Now To Wear Orange on Unity Day Oct. 21 and Show Support of Kindness, Inclusion and Acceptance

PACER has partnered with CustomInk to launch its fifth annual 'Be Good to Each Other' campaign in support of Unity Day and PACER's National Bullying Prevention Month in October. The campaign encourages students, groups, and others to take a stand for kindness, respect, and inclusion by designing and wearing custom bullying prevention t-shirts. Official Unity Day t-shirts will be available for purchase for $12 beginning Sept. 8 at customink.com/stopbullying. CustomInk will donate all profits (approximately $8 per shirt) back to PACER. Be sure to order by Oct. 11 for arrival in time for Unity Day. Order your 2015 Unity Day T-shirt here >>>

Hold an event in your community or start a classroom discussion!
Send the message to students who are bullied that they are not alone!

Create communities that join together against bullying.This campaign provides education and resources on ways to provide support, hope and help for those who have experienced bullying. Features classroom and event toolkits designed to start conversation and initiate action on ways to "be there" united together against bullying.

This interactive, easy to read and navigate guide offers a comprehensive overview for parents to learn what they can do to address and prevent bullying.

Early Learners,
"Stop Bullying Before it Starts"

The online toolkit "Stop Bullying Before It Starts" is the result of a PACER partnership with the team that developed "Spookley the Square Pumpkin," a book for young children. Spookley is a square pumpkin who lives in a round pumpkin patch world. The toolkit provides links to free resources that teachers can bring directly into their classrooms

A visual, age appropriate 14-page guide with easy to understand information. The guide provides the basics for talking with students about what bullying is and isn't, the roles of students, and tips on what students can do to address bullying situations.

Spanish Translations

See our spanish translations section to find out what informational handouts are available.

Resources for LGBTQ Students and Their Families

The Trevor Project provides crisis intervention and suicide prevention services to lesbian, gay, bisexual, transgender, and questioning youth.

GLSEN seeks to develop school climates where difference is valued for the positive contribution it makes in creating a more vibrant and diverse community.
Video: You are Braver, Stronger and Smarter Than You Think
Video: Turn a Life Around
Video: Make the Difference
Video: Broken by Anna Richey
We Will Generation™
Resources designed to encourage student to student conversation.
Designed for schools and other organizations to leverage resources, at no cost and easily accessible on-line, to encourage students to educate, inspire and support each other to address bullying and create kinder and safer schools.
Ask Carmen
Carmen is a member of the Kids Against Bullying "Club Crew", and she knows a lot about how to prevent bullying. She gives great advice about bullying to kids around the country.
Read what Carmen said to other kids, and ask her your own question!

bullying is hurtful, it hurts our self-esteem and our sense of belonging to a community or group. It is cruel, unproductive for all involved and maddening. It's been going on forever but it has to change as women's right to vote became a reality, as children's right did too, or as animal cruelty became a punishable crime. Living in a society where bullying is prohibited could change things from its core. Maybe one day in less than 100 years who knows, we will be able to live a life in which compassion is the most valuable human quality.
Turquesa, 50, California
Bullying has caused people to feel insecure and not beautiful the way they r 
Words stay in there mind forever !!!!! And it honestly scars u 
People get disorders and commit suicide when will people notice that bullying is a matter of life or death 
I want it to stop because no one , no one should have to go through that 
Maddy , 12,
I have always felt the need to be different and students at my school don't  like that. Everyone blends in and molds together, but the people who ruin that are bullied. I was one of the people who ruined it. I would get so upset that I would cut myself and find any excuse to harm myself. I still don't blend in perfectly, but I've learned to embrace it because that's what life is all about. It's about being different. My heart and all my love goes out to Phoebe and her family and any other person who is bullied
Caitlin, 15, VA
I have a beautiful young daughter that has been put through hell and back because of being bullied at school. We need to all work together in our schools and stop bullying. It is extremely damaging and it can last a life time.  My daughter is a straight A student, extremely caring of others, beautiful and most people enjoy being around her.  Unfortunatley it only takes a couple bullies that can turn one's life upside down.  So please listen to your children and watch for signs because it could very well happen to your child.  It happened to mine and is still because I can't find any help.  Please let's put a stop to this before it takes any more young lives.
Julie, 43, Oklahoma
I was cyber bullied, verbally bullied, and sometimes physically bullied because I went through pubery early. I was abandoned by all the people I thought were my friends and I hated it. I didn't go to an adult and I regret that. I care because I don't ever want anyone to feel all the pain and suffering I had to go through. I care because I want people to know that they aren't alone. That's it is okay to be different, because you are you and that is beautiful. 
Kimberly-Jami, 12, AL
Color Key
| | | | | | |
| --- | --- | --- | --- | --- | --- |
| | Featured Articles | | Related Event | | Website feature |

October is National Bullying Prevention Month
Posted: Wednesday, October 07, 2015
StopBullying.gov featured a story about the history of PACER's National Bullying Prevention Month and Unity Day on its Stopbullying Blog. "National Bullying Prevention Month has grown more than we could have ever expected," said Paula Goldberg, PACER's executive director. "In less than 10 years, PACER has helped to create a bullying prevention movement with millions of individuals across the globe." Read more>>>
You are Braver, Stronger and Smarter Than You Think
Posted: Tuesday, October 06, 2015
Have you ever felt like the whispers, giggles, note passing, and looks were directed at you or someone you care about? Imagine if all that attention was channeled into positive action. Disney is supporting PACER's National Bullying Prevention Center in hopes of inspiring social change among young people everywhere. Watch this touching video created by Disney.
The Power of Unity: Communities Connect to Prevent Bullying
Posted: Tuesday, October 06, 2015
Treetop Commons shared information about Unity Day, Wednesday, Oct. 21, in its Noble Hour blog. The post shares several ideas for students, schools, and communities to get involved, including wearing orange, posting on social media, creating banners, holding ribbon cutting events and school-wide discussions, and signing the online petition. Read more>>>
Support PACER's National Bullying Prevention Center
PACER's National Bullying Prevention Center is excited to announce our new partnership with SurveyMonkey Contribute and a new way for anyone to give their support! Sign up and you will receive surveys by e-mail from SurveyMonkey customers who need your opinion. For every survey you take, SurveyMonkey will donate $0.50 to PACER's National Bullying Prevention Center, and you'll get a chance to win $100 in an instant-win game.

All About Bullies . . . Big And Small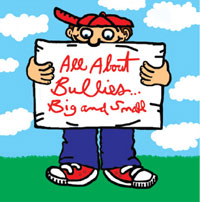 A CD for young children, and winner of a Grammy for Best Children's Album, All About Bullies … Big and Small is a collection of music, poetry and storytelling designed to put an interesting and heartfelt twist on bullying prevention, so that young learners can identify with the topic in an age appropriate manner. The artists all generously contributed their time and talents. 100% of the profit proceeds are donated to PACER's Kids Against Bullying initiatives.