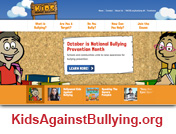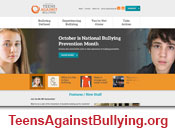 Websites for kids and teens to learn about bullying, engage in activities, and be inspired to own an important social cause.

The Unity Awards: Recognize someone who has gone above and beyond to prevent bullying

Bullying is an issue that no child should ever have to endure. Fortunately, there are people who care and take action to make our communities, schools and the web kinder, more accepting places.PACER's National Bullying Prevention Center Unity Awards will honor and celebrate students and community members who have gone above and beyond to help address bullying.
The public is invited to submit Unity Award nominations through April 30, 2015.

The word "bullying" often conjures up an image of a schoolyard scene, with a big, intimidating student towering over a small, cowering child. That's just one face of bullying — and of children who bully. Another face of a bully might be … that of your child. Surprised? Many parents are. Often they have no idea that their child is harassing other children. Yet knowing the facts — and acting to change the situation — is vitally important in making the future safer for your child and all children.

PACER Partners with Verizon & Minnesota Vikings on Bullying Prevention

The Minnesota Vikings have teamed with Verizon and PACER's National Bullying Prevention Center to offer "Viktor's Quest to S.T.O.P. Bullying,' a bullying prevention program for Twin Cities elementary schools during the 2014-2015 school year that includes free school assemblies. Verizon is partnering with PACER on hosting accompanying educational workshops for parents and educators on bullying prevention. PACER received a HopeLine® from Verizon grant as part of the company's commitment to building healthy relationships in the Twin Cities area. Learn more>>>

View the "Vikings Launch Stop Bullying Campaign" video>>>

Facebook, Instagram and PACER's National Bullying Prevention Center partner to create a new guide for parents

In recognition of National Bullying Prevention Month, Facebook and Instagram partnered with PACER's National Bullying Prevention Center to create the guide, "Safety in the Online Community: A conversation with your 13-year-old about Facebook and Instagram" to help parents talk with their teens about using Facebook and Instagram. The guide covers setting up a new account, safety tips, and commonly asked questions. The guide is also accompanied by discussion points for talking with your child and how to respond to harassing content.

Want to know what to do when your child is being bullied?

Read PACER's most recent blog post on Babble.com, the highly acclaimed online magazine and blog network published by the Walt Disney Company for parents.

It began with complaints of a stomachache, followed by headaches and sore throats and other excuses about not feeling well. Although Amy wasn't sure why, before long it became obvious that her 10-year-old daughter, Sarah, did not want to go to school.

New Website Updates

Activities for Youth
This newly updated section offers free activities and resources designed for younger students. The goal is to start conversation and creatively engage students to build their understanding of how to prevent bullying.

---

Book Club
Story telling is a powerful way to share messages, encourage discussion and inspire thoughtful action.

Spanish Translations

Spanish translations are now available for the following informational handouts:

Notificando a los Administradores Escolares de Inquietudes Sobre el Hostigamiento
(Notifying School Administrators of Harassment Concerns)

Notificando a la Escuela Acerca de un Incidente de Bullying Mediante el Uso de una Carta – Formulario
(Notifying the School About a Bullying Incident - Using a Template Letter)

Plan de Acción Para el Estudiante en Contra del Bullying and ¡Tu Plan de Acción en Contra del Bullying!
Your Action Plan Against Bullying!

Resources for LGBTQ Students and Their Families

The Trevor Project provides crisis intervention and suicide prevention services to lesbian, gay, bisexual, transgender, and questioning youth.

GLSEN seeks to develop school climates where difference is valued for the positive contribution it makes in creating a more vibrant and diverse community.
Video: Make the Difference
Video: Hold On by Charissa Hogeland
Video: Broken by Anna Richey
We Will Generation™
Student-led movement uniting students to create positive inspired change.
Today's generation of students is ready to take action and uniquely positioned to prevent and stop bullying. The WE WILL Generation is an exciting new initiative that uses a students-teaching-students model.
Ask Carmen
Carmen is a member of the Kids Against Bullying "Club Crew", and she knows a lot about how to prevent bullying. She gives great advice about bullying to kids around the country.
Read what Carmen said to other kids, and ask her your own question!

I lost one of my friends to bullying. They don't think that it hurts. Well it does and it changes a person's life forever. Like mine did. Put an end to bullying. 
Shelby, 16, Appletn
Bullying is not just getting picked on or hurt physicly or emotionaly it is also hurtfull in a different way. for  example I am now in 6th grade and i thought that it was going to be so fun and me and my friend alyssa where going to  talk to each other every chance we get. the first and second day was exactly that. but then this girl came and started talking to her and now she dosn't talk to me at all. so bullying not just getting punched in the face it is also haveing one of your friends or old friends not talking to you. so if  they end up not talking to you then they are not a true friend. and i think that everyone should just stop right then and there.                         Britny, 12, tx
Britny, 12, tx
I am a social outcast, to say the least. Everything I do is critiqued by my peers. I am dead meat, and they are preying vultures. I have build a very thin shell around myself, but on some days, it's not enough. I don't want anyone else to live life going through what I do. I know bullying can't ever TOTALLY go away, but I want to do all I can to try.
Michelle, 12, CT
No one and i mean no one should be bullied i care because iv been through it and in all honesty i don't think its fair to people to be put down called names ect. People are different if we were all the same then this world would be so boring everything and everyone doing the same thing day after day.I care because im a caring person also because i know hpow it feels to be builled it makes you feel horrible people should be there own people and not someone who someone says for you to be. Be yourself and be pround to be yourself remeber the only person you should be trying to impress is your self.
Jason, 15, VIC
Bullying was affected  by a ton of kids in the US. If we don't act now, Bullying will keep going on. Let's stop bullying!
Alex, 12, Maryland
Color Key
| | | | | | |
| --- | --- | --- | --- | --- | --- |
| | Featured Articles | | Related Event | | Website feature |

Registration Now Open for "Violence in the Lives of People with Disabilities: Emerging Issues and Solutions for 2015 and Beyond"
Posted: Monday, March 23, 2015
Attend the free webinar, April 30, 1:30 — 3:30 EST, sponsored by The Arc's National Center on Criminal Justice and Disability (NCCJD) which will include PACER's National Bullying Prevention Center presenting on the topic of "responding to bullying of students with disabilities."
This webinar will address other emerging issues in the field with a panel of experts and advocates covering topics like:
Using trauma-informed care principles when working with victims with intellectual/developmental disabilities (I/DD)
Assisting crime victims with complex communication needs
Supporting victims with specific types of disabilities such as Autism Spectrum Disorders (ASDs) and Fetal Alcohol Spectrum Disorders (FASDs)
Supporting people with disabilities in speaking out against violence
Webinar participants will be the first to obtain NCCJ's white paper on the topic of violence, abuse, and bullying which delves even deeper into the issues addressed on the webinar. Join us for this thought-provoking and empowering webinar, and find out how you can reduce violence in the lives of people with disabilities. Learn more and register >>>
Posted: Friday, March 06, 2015
Pop recording artist and philanthropist Sir Ivan has released a new single titled "Kiss All the Bullies Goodbye" in support of his anti-bullying campaign with The Peaceman Foundation. The track was produced by Paul Oakenfold, and features vocals by chart-topping singer Taylor Dayne and lyrics that condemn bullying and encourage people to be different and tolerant. Sir Ivan has also released an accompanying music video directed by Erik White (Ryan Murphy's The Glee Project).
In conjunction with the release of this track, Sir Ivan, through The Peaceman Foundation, has pledged to donate a total of $100,000 to ten key non-profit organizations that combat bullying and intolerance, including: The It Gets Better Project; the Gay, Lesbian & Straight Educational Network (GLSEN); the Born This Way Foundation; Pacer's National Bullying Prevention Center; Parents & Friends of Lesbians & Gays (PFLAG); Stomp Out Bullying; Campus Pride; Love is Louder/The Jed Foundation; The Trevor Project; and the Anti-Defamation League. The donation will include all net proceeds from video views, song streams and downloads.
BulliED: Bullying and Eating Disorders
Posted: Wednesday, March 04, 2015
65% of people say that bullying contributed to the development of their eating disorder
PACER's National Bullying Prevention Center partnered with National Eating Disorders Association (NEDA) during NEDAwareness Week on a livestreaming event. The discussion focused on the impact bullying has on eating disorders and poor body image. Panelists spoke about the relationship between bullying and negative body image, the intricacies of bullying that are often left out by the media, and how we can work to stop bullying. View the YouTube video "BulliED: Bullying and Eating Disorders."
Support PACER's National Bullying Prevention Center
PACER's National Bullying Prevention Center is excited to announce our new partnership with SurveyMonkey Contribute and a new way for anyone to give their support! Sign up and you will receive surveys by e-mail from SurveyMonkey customers who need your opinion. For every survey you take, SurveyMonkey will donate $0.50 to PACER's National Bullying Prevention Center, and you'll get a chance to win $100 in an instant-win game.

All About Bullies . . . Big And Small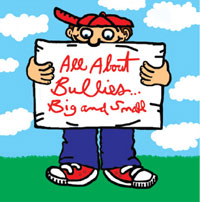 A CD for young children, and winner of a Grammy for Best Children's Album, All About Bullies … Big and Small is a collection of music, poetry and storytelling designed to put an interesting and heartfelt twist on bullying prevention, so that young learners can identify with the topic in an age appropriate manner. The artists all generously contributed their time and talents. 100% of the profit proceeds are donated to PACER's Kids Against Bullying initiatives.