Video: Raise Your Voice Against Cyberbullying

Video: You Are Braver, Stronger and Smarter Than You Think | Disney

Video: Turn a Life Around

National Bullying Prevention Month (2006-2016)

A decade together against bullying and united for kindness, acceptance and inclusion
National Bullying Prevention Month is a campaign in the United States founded in 2006 by PACER's National Bullying Prevention Center.

Check Out the Unity Day 2016 Photo Album

View Album

Together Against Bullying - United for Kindness, Acceptance and Inclusion! Thanks to everyone that went ORANGE to celebrate Unity Day this year. Please send images, with permission to share, to bullying411@pacer.org to be added to this album.

Order the Official Shirt from CustomInk's Be Good To Each Other Campaign!

CustomInk is donating profits from the sales of bullying prevention t-shirts to benefit PACER's NBPC as part of its sixth annual Be Good to Each Other campaign. BE UNITED FOR KINDNESS, ACCEPTANCE AND INCLUSION. Orders open through Oct. 31, wear this special shirt all school year!

Purchase PACER's official t-shirt!

For a chance to win an iPad from CustomInk, upload your #UnityDay2016 photo!

Teen Innovator Partners with PACERís NBPC to Create Inclusive Communities

At 16 years old Natalie Hampton designed the app Sit With Us to address bullying by helping students who have difficulty finding a place to sit locate a welcoming group in the lunchroom. Learn More

Loserville - "Together we can build a kinder world" a message from #TeamLoserville

#TeamLoserville shares the important message that bullying has happened to so many for too long. Bullying impacts all of us, but we can all be part of the solution. Cast member Darby Stanchfield shares, "It's time to send a message that we care about creating safe and supportive schools, communities and online environments."

Students with Solutions

Engaging students to address bullying
through videos, art and writing

"Sometimes I cry when I am being bullied." The final exclusive animated videos launched on Monday, Oct. 24th! Watch "United For Inclusion." Then share the discussion questions with students to share ideas on how friends and classmates can provide support and hope for those who are bullied. Then engage young people to use art, video or writing to help other kids AND to get some amazing awards for their classroom. Be a part of the solution.

NBPC teams up with the Disney Babble Blog

This is the second in a series of blogs about bullying from PACER Center, in honor of the 10th anniversary of National Bullying Prevention Month this October.

Bullying Affects All of Our Kids, Even If They Aren't the Target
Bullying affects everyone involved. Whether the child is the target, a witness, or the person who bullies, the end result is that everyone feels less safe. Children aren't responsible for resolving a bullying situation, but their opinions about how to proceed should be encouraged and respected.

Malls & Retailers Unite Against Bullying

Looking for a community event to engage your young child? Malls around the country have partnered during National Bullying Prevention Month to bring awareness and activities. Check out the event calendar for a mall location near you.

Unite with others and show your support

Spookley the Square Pumpkin

Complete Digital Teacher "Stop Bullying Before it Starts" Toolkit(pre-school to 3rd grade)
Spookley is a square pumpkin who lives in a round pumpkin patch world. This online toolkit includes resources educators can use to effectively present The Legend of Spookley the Square Pumpkin as a multi-subject learning opportunity. The core elements of the online toolkit involve a reading of the book (or viewing the free online video) supplemented by downloadable lesson plans and other activities that teach bullying prevention and character values. Access the free, online toolkit

Kids Against Bullying Classroom Activity Book

Eight-page classroom activity book designed with educational activities for young learners. The content provides activities to help students think about their feelings, explore responses to bullying situations, and take the pledge to be a Kid Against Bullying. Download the book at no cost or order color copies, $25 for 25 color copies. Download or order

Spanish Translations

See our spanish translations section to find out what informational handouts are available.

Resources for LGBTQ Students and Their Families

The Trevor Project provides crisis intervention and suicide prevention services to lesbian, gay, bisexual, transgender, and questioning youth.

GLSEN seeks to develop school climates where difference is valued for the positive contribution it makes in creating a more vibrant and diverse community.

I know what it is like to be bullied. I am being bullied right now. No one should be hurt the way they are now. There is nothing as bad as being bullied. Never give up hope.
Holly, 12, Victoria
I care because I've experienced bullying first hand, and I know how hard it is to speak up. We need to give other teens the confidence and educate them about how important speaking up is. Now, after being bullied I have the confidence to speak up, however I wish I had it years ago. 
Kat, 15, WA
I care because...... I've been bullies since i was in pre-k and I'm still being bullies it hurts so much. I wish that someone would atleast try and help me but noone does.... =..(
Jade, 11, Tioga,LA
There is never an excuse to bully a disabled student.  They have their own gifts to offer the world and have similar talents as would anyone else.  I had a disability and was often called the "r" word and I'd like to see schools stop using that word and have parents explain to their children that the word is hurtful-period.
anonymous, 30, California
It hurts. I was bullied in 5th grade. A boy I never talked to called me horrible names..beast,and,freak,were the most painful. I don't want anybody to end up with an anxiety disorder like I did. It hurt,it hurts,and,the anxiety is overwhelming me. I want nobody to go through that.
Suzy, 14, Florida
I've been bullied all my life, and I know what it feels like. It feels horrible knowing that people don't aprove who you are, and it feels even worse that people don't let you be yourself. I care because I know that I am not the only one going through this...there are thousands of other people who feel like I do. I care because bullying is like taking someones life and tear it into pieces little by little until it is totally destroyed. I care because I don't want my life, neither anyone else's to be destroyed futurely because of this.
Samantha, 16, Monterrey, Mexico
I care because no one cared about me. I care about changing the lives of others, because I wasn't able to change my own. I care because I know what it's like, to want, to need, someone to care. 
Christina , 16, Minnesota
i care because there are millions in pain and are afraid to stand up. They are abuse but no one seems to care until they are close to death.Thank you for giving me a chance to help stop bullying
sana, 13, tx
Support PACER's National Bullying Prevention Center

Cat in the Hat for President
The Cat in the Hat, in his Presidential campaign, will represent all that Dr. Seuss believed about children—that they have the intellect, imagination and power to impact our world positively, while also having fun doing so. The Cat in the Hat wants to show kids that every vote counts, and every voice matters. On the ballot are his supporters and their causes, including "kindness for all" sponsored by PACER's National Bullying Prevention Center. The organization with the most votes receives a $10,000 donation.
PACER's National Bullying Prevention Center is excited to announce our new partnership with SurveyMonkey Contribute and a new way for anyone to give their support! Sign up and you will receive surveys by e-mail from SurveyMonkey customers who need your opinion. For every survey you take, SurveyMonkey will donate $0.50 to PACER's National Bullying Prevention Center, and you'll get a chance to win $100 in an instant-win game.
Together AGainst Bullying™ is a campaign for PACER's National Bullying Prevention Center, inspired by Carrot Top. Donate, receive stickers to TAG your friends, and share on social media. Your support means one less student being bullied, one more person speaking out, or one more kid knowing that he or she isn't alone!

Creative Kids Card Now Available!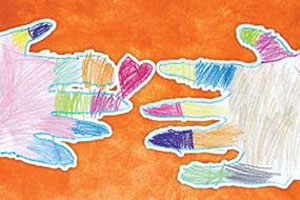 Since 2006, PACER has held CREATIVE KIDS, an event in which children with disabilities are invited to use their imaginations to express themselves through various mediums and vibrant colors. This year's artwork focused on themes of unity, inclusion, kindness and friendship. The 2016 design was created by Isabella and is now on sale for $10 per box. Learn more about Isabella, her new design and how to purchase >>>
All About Bullies . . . Big And Small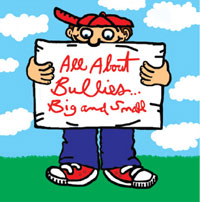 A CD for young children, and winner of a Grammy for Best Children's Album, All About Bullies … Big and Small is a collection of music, poetry and storytelling designed to put an interesting and heartfelt twist on bullying prevention, so that young learners can identify with the topic in an age appropriate manner. The artists all generously contributed their time and talents. 100% of the profit proceeds are donated to PACERís Kids Against Bullying initiatives.