"Choose Kindness" is part of Disney ABC Television Group's efforts to create a bullying prevention campaign to encourage kids and parents around the country to help put an end to bullying by choosing kindness. PACER's National Bullying Prevention Center is among the partners.

As part of this initiative, Disney Channel will air special, themed episodes of "Girl Meets World" on Saturday, October 25 at 7:30 p.m. ET and "Austin & Ally" Thursday, October 30 at 10 p.m. ET.

Unlock items in Disney Club Penguin: Players can unlock an orange T-shirt and a megaphone with code 2BEHEARD to rally in support of Unity Day. For every megaphone and orange T-shirt unlocked in-game, Club Penguin will donate $1 (up to $50,000) to support bullying prevention.

Additionally, Club Penguin has teamed with 14 year-old Alex Angelo, host of Radio Disney's "Saturday Night Party" with Alex Angelo (Saturdays, 8:00 p.m.-10:00 p.m. ET / 5:00 p.m.-7:00 p.m. PT), who is a big supporter of the -bullying prevention cause. Watch Alex's video as he shares the message to "Be Heard" and stand up against bullying.

Want to know what to do when your child is being bullied?

Read PACER's most recent blog post on Babble.com, the highly acclaimed online magazine and blog network published by the Walt Disney Company for parents.

It began with complaints of a stomachache, followed by headaches and sore throats and other excuses about not feeling well. Although Amy wasn't sure why, before long it became obvious that her 10-year-old daughter, Sarah, did not want to go to school.

PACER & TWIGTALE PARTNER ON CUSTOMIZABLE BOOK TO HELP YOUNG CHILDREN UNDERSTAND AND PREVENT BULLYING

Use Code:

PACER15%

for 15% off the book

In support of Unity Day, and in partnership with Babble.com, PACER is working with the experts at Twigtale to create a customizable book to prevent bullying. The book helps young children understand how to be a good friend and how to assert oneself when not being treated respectfully. A leading child development expert scripted the easy-to-use template, available on Twigtale.com. You simply add photos and details to create the book personalized to your child. A portion of proceeds will be donated to PACER!

Digital Classroom Toolkit For Early Learners

Spookley is a square pumpkin who lives in a round pumpkin patch world. The toolkit provides links to free resources that teachers can bring directly into their classrooms to use for important character values education and for multi-subject learning. Learn more>>>

---

New Website Updates

Activities for Youth
This newly updated section offers free activities and resources designed for younger students. The goal is to start conversation and creatively engage students to build their understanding of how to prevent bullying.

---

Book Club
Story telling is a powerful way to share messages, encourage discussion and inspire thoughtful action.

NEW! -

The WE WILL Generation


Students Leading The Bullying Prevention Movement

Today's generation of students is ready to take action and uniquely positioned to prevent and stop bullying. What they need is education, support, and inspiration – and a creative program that will give them the practical skills to be part of the solution. The WE WILL Generation is an exciting new initiative that uses a students-teaching-students model.

Spanish Translations

Spanish translations are now available for the following informational handouts:

Notificando a los Administradores Escolares de Inquietudes Sobre el Hostigamiento
(Notifying School Administrators of Harassment Concerns)

Notificando a la Escuela Acerca de un Incidente de Bullying Mediante el Uso de una Carta – Formulario
(Notifying the School About a Bullying Incident - Using a Template Letter)

Plan de Acción Para el Estudiante en Contra del Bullying and ¡Tu Plan de Acción en Contra del Bullying!
Your Action Plan Against Bullying!

Resources for LGBTQ Students and Their Families

The Trevor Project provides crisis intervention and suicide prevention services to lesbian, gay, bisexual, transgender, and questioning youth.

GLSEN seeks to develop school climates where difference is valued for the positive contribution it makes in creating a more vibrant and diverse community.
Video: Club Penguin Supports Bullying Prevention Month
Video: Stronger by Time for Three
Your Story is Powerful!
Hi! We are Michael and Marisa, teen spokespersons for PACER's National Bullying Prevention Center.
During the month of October, we are encouraging all teens to share their story. Selected stories will be posted to the website and one will be chosen at random to receive a MacBook Air!
Unity Day T-shirts:
CustomInk Launches Its Fourth Annual "Be Good To Each Other" T-shirt campaign in support of PACER
This year, PACER's UNITY DAY will take place on Wednesday, October 22, the day when everyone is encouraged to come together and wear orange to send a message of support, hope and unity. Though ordering in time for Unity day has closed, you can still support the cause! CustomInk will donate 100% of profits (at least $9.00 per shirt) to PACER's National Bullying Prevention Center.

I am doing a article about bullying prevention month for my school newspaper. The reason why I picked this assignment because my little sister was picked and bullied on in school. I remember her coming home crying because a boy called her names and I could do anything about it because I went to a different school. I told her to tell our mother but she would not tell and I promise her that I wouldn't either. Well two months passed and she was going to kill herself because of what they were writing about her on Facebook. I finally had to tell mom and we got her into to a group of students who have the same problem as her. We went to the school board because it was a serious matter. Now we convinced them to make it a rule in all the schools that if you bullied you were kicked out of school. This is the reason why I picked this story to write about because it is a personal matter to me and my family. After that day we are now closer than ever.
katie , 17, Florida
Bullying hurts people. I know this from my own experience, and from my friends' experiences wirh bullying. I was bullied because I absolutely love reading, people would call me a nerd. I really didnt like it. They even commented on the books i read. Also, boys on my brother's hockey team would make fun of my skating, but truth is, I was just as good as them. And once i showed them that, they stopped. Some of the kids still make fun of my skating, and it hurts. Just because i am a girl. Im just as good as them. Sadly hockey season is over now, but once the ice rink opens again, i will prove myself again. So dont let bullying stop you from doing what you love.
Cassie, 13, Michigan
i have been a bully, & i have been bullied. i know its not healthy for anyone. i recently experienced cyberbullying on twitter & facebook. its mainly girls mad about guys, and other girl jealous about my achievements. i dont have many friends due to rumors & hatred towards me, which makes it hard for me to handle being out in public. as a child i was threated because of a beauty pageant that i won. i had to get police escorts when i was in 1st grade. most threats were violent, such as gun threats and physical abuse threats. i understand what its like to be bullied, and being a bully is not fun either. i am a bully because i feel as though i need to protect myself before anything happens. i do feel bad about things that i have said to some people. bullying has to STOP before someone gets hurt. please help me stop bullying in my hometown. 
                                                                          xoxo
Samaria, 17, Dothan, Alabama
i get bullied a lot like everyday i dont want to go to school but my mom said i have to. i tell my parents about me being bullied i say that they make fun of my weight, clothes, and ect. my parents said it was true and made me feel even worse i feel lonely all the time because no one likes me at school and at home no one wants to be around me, im alone in this world and it makes me regret being born. I have a really great life i mean i shouldn't complain but i have no friends and alone all the time the internet and video games doesn't help anymore. i turn to music to help me thats when demi lovato is my role model i feel lonely a lot but not as much because of her :)
Cynthia, 14, IL
I have been bullied For A long time now Around 5 years. It's a long complicated storie to do with My brothers girlfriend, her kids, Other kids, My so called friends and Facebook,Msn etc.

Bullying does not feel good nither does it make you happy and It is even worse when you have to face it alone. I see on the news sometimes Kids getting bullied and harming themelves and parents know nothing about it. 

People who bully are usarly people who have been bullied themeselves! So it starts with 1 porson then another then another. Like a rollcoster. And at one point there is a time where its time to get off.

There has been SO MANY lives lost and Lives harmed by bullying and Much more. People dont realise how seriouse it is. Just a little bit of teasing and laughter they think. But the porson on the other end dosnt feel that way!

I dont want any more people In the world to have to suffer from bullying. I know This comment wont get anyone to stop bullying. Because when they start there is no stopping for a long time. But at Least I tried. And thats all we can do :) !
Tyra, 13, England/Derby
Color Key
| | | | | | |
| --- | --- | --- | --- | --- | --- |
| | Featured Articles | | Related Event | | Website feature |

Finally, signs that crusaders against bullying are getting the upper hand
Posted: Thursday, October 23, 2014
By Debra-Lynn B. Hook of McClatchy-Tribune News Service
National Bullying Prevention Center Director Julie Hertzog is quoted in a Ledger-Enquirer article about the increasing awareness around bullying prevention and resulting changes in bullying reporting at schools. "The awareness is out there in a way it wasn't before," said Hertzog. "We've reframed the way people are thinking about bullying. We no longer say, 'Oh, that's just kids being kids.' Now we understand the impact — everything from not wanting to go to school, to feeling unsafe, to anxiety and depression, to self-harm." Read more>>>
U.S. Education Department's Office for Civil Rights Issues Guidance on Bullying of Students with Disabilities
Posted: Thursday, October 23, 2014
As part of PACER's National Bullying Prevention Month, the U.S. Education Department's Office for Civil Rights (OCR) today issued guidance to schools reminding them that bullying is wrong and must not be tolerated — including against America's 6.5 million students with disabilities.
The Department issued guidance in the form of a letter to educators detailing public schools' responsibilities. If a student with a disability is being bullied, federal law requires schools to take immediate and appropriate action to investigate the issue and, as necessary, take steps to stop the bullying and prevent it from recurring. Learn more>>>
Students, community members take a stand against bullying as part of Unity Day
Posted: Thursday, October 23, 2014
By Kim McGuire, Star Tribune
If it seems like you're seeing orange everywhere you go today, there's a reason: Unity Day. Started just three years ago by PACER's National Bullying Prevention Center, Unity Day has become a national movement in which everyone is encouraged to wear orange and support local anti-bullying efforts. And it's not just students. Expect to see more orange if you're driving over the I-35W bridge tonight. The I-35W bridge will again be lit orange at sunset in observance of Unity Day. Read more>>>
Support PACER's National Bullying Prevention Center
PACER's National Bullying Prevention Center is excited to announce our new partnership with SurveyMonkey Contribute and a new way for anyone to give thier support! Sign up and you will receive surveys by e-mail from SurveyMonkey customers who need your opinion. For every survey you take, SurveyMonkey will donate $0.50 to PACER's National Bullying Prevention Center, and you'll get a chance to win $100 in an instant-win game.

All About Bullies . . . Big And Small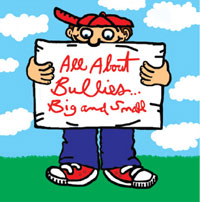 A CD for young children, and winner of a Grammy for Best Children's Album, All About Bullies … Big and Small is a collection of music, poetry and storytelling designed to put an interesting and heartfelt twist on bullying prevention, so that young learners can identify with the topic in an age appropriate manner. The artists all generously contributed their time and talents. 100% of the profit proceeds are donated to PACER's Kids Against Bullying initiatives.