New Book created by PACER's National Bullying Prevention Center

Beyond Sticks & Stones: How to Help Your Child Address Bullying

This book offers bullying prevention strategies for children at home, in school and online. It is filled with information and practical tools that can help parents and other take action against bullying. A special section of the book provides specific tips for parents of children with disabilities.

Need help planning a student-led bullying prevention event? PACER has partnered with Facebook to create a practical Student Event Toolkit that will make it easier to hold events in your school or community. This step-by-step guide will help you plan, promote, and execute a variety of events throughout the year using Facebook tools.




Download the 32-page Peer Advocacy Guide, a step-by step-booklet that looks at how to address bullying of students with disabilities by engaging, educating, and empowering their peers with advocacy skills.

Resources for LGBTQ Students and Their Families

The Trevor Project provides crisis intervention and suicide prevention services to lesbian, gay, bisexual, transgender, and questioning youth.

GLSEN seeks to develop school climates where difference is valued for the positive contribution it makes in creating a more vibrant and diverse community.

Teen pop star Rebecca Black, who rose to prominence in 2011 when the music video of her song "Friday" became the most viewed video of the year on YouTube, is speaking out about bullying prevention on behalf of PACER. "Bullying is something that affects so many and it can happen to anyone," she says. "I know what it's like to have people make fun of you, and I know how much it can hurt. I just don't want other kids to have to go through that."
Video: PACER's National Bullying Prevention Center
Video: Stand Up by Going Dark
Video: Hollywood Teens Unite Against Bullying
Video: Bravo Dance Center - Unity Dance 2012
Video: Stronger by Time for Three
Video: Tribe by Hayley Reardon

So growing up in a small town, I was one of the only people who was bigger, I was not very smart, I was not very popular, and people treated me like I was just a nobody. My whole life I have had those people call me fat, stupid, worthless, I have had them tell me to kill myself, say I would not be missed if I was gone, call me ugly. Honestly there is not a single more harmful thing in this world then bullying. People need to see how much it can hurt someone, and not only that one person but many other people around them, due to those people I grew up with, I will now forever have a part of me feel that what they said was true, and that will forever affect me, and my friends, and my family. it will one day affect my future husband and children, and those people who called me names never willl know who they have affected beyond the person they once knew. well now I am a strong person, I love my family and friends, I have alot of friends, many people find my outgoing personality wonderful and I love making people smile. I have got myself a great career, and I am making a great life for myself. So I proved those people wrong. bullying needs to stop!
Kelsi, 18, AB
i got bullied once...it hurts alot because everyone sees you in pain and they try to do somethinq but they cant because then the bullies will follow them and do somethinq to them....
my best friend emiluy helped me and supported me the whole time even though they judged her she didnt care at all....i think?? but she was ALWAYS there for me...
THATS a TRUE FRIEND riqht there
michael lover<333, 13, chicago/school
hi my name is chasity and i just read a story in Seventeen magazine about a girl named Phoebe Prince that was born the year i was a killed her self because of peoples rude comments. And so i read on and saw this web site 
and saw that demi lovato was the spokesperson for teens against bullying and im here to say that i absoulutly agree i was in nineth grade last year and i saw how rude comments can bring down someone ego just because some kids have no heart and dont care. i also saw people pick fight because they just wanted to even tho that person didnt do anything to them. im takeing her story i my opion to my school administrator and see if this virbule and pyscial abuse can be stoped. i never knew i could intill i heard that. my love and care goes out to phoebe princes family!! 
chasity, 16, al
Not one person deserves to be bullied EVER.  I get bullied ALL the time.   I don't know why but i have this one friend thats less popular and you know we get along fine.  And she's bullied all the time because she has a little more meat on her bones then i do.  I get bullied because i'm ugly and i tend to say um all the time.  one of my best friends is accutully one of the most popular girls in school.  Everytime i go around her when her friends are around they tell me to get lost or something.  so now we hardly talk in school and the only time we talk is on email or we text eachother.  so thats what bullying can do to you! oh and one time i told one of my favorite teachers about these kids that were making fun of me .So i asked her to move my seat and she goes "no they sit like 5 seats away from u there not bullying u".    WHY CANT THIS END!!  IF YOU ARE A BULLY I SUGGEST U STOP BEFORE THE NEW ANTI BULLYING LAW COMES OUT IN 2012 OR YOU'LL GET SUSPENDED OR IF ITS THAT SERIOUS GO TO JAIL!  STOP IT RITE NOW!  KIDS HAVE TAKEN THERE LIVES BECAUSE OF IT.  SO STOP!!!!!!!!!!!!!!!!!!!!!!!!!!!!!!!!!!!1
Holly, 14, Fl
My son has been bullied for years at his school.  It hurts me so much to see my son go through this.  We are currently seeking a attorney to help us stop it !!
Brenda, 39, CT
Color Key
| | | | | | |
| --- | --- | --- | --- | --- | --- |
| | Featured Articles | | Related Event | | Website feature |

Posted: Wednesday, April 24, 2013
FamilySignal – the online service that helps parents monitor their children's social media accounts – is partnering with PACER's National Bullying Prevention Center to help protect children from cyberbullying. FamilySignal's technology enables parents to be notified within minutes via text message when potential danger is detected so they can take immediate action. Learn more.
New Site Feature - Everyone's Contribution Matters
Posted: Tuesday, March 19, 2013
Bullying touches so many lives and it often inspires the generous spirit in people who want to make a difference, support the cause, and change something that has happened to too many for too long. Every day students, parents, schools, and community members ask us, "What can I do to help?" In addition to individuals around the world sharing information about PACER resources, we receive heartfelt contributions of as little as five dollars from California to Maine, from Argentina to Norway and all around the globe, from donors ages 5 to 90. Read more about the new website section "Everyone's Contribution Matters".
Redbook article recommends PACER to readers
Posted: Friday, March 08, 2013
An article in Redbook's March 2013 issue titled "Let's Create a Bully-Free World" encourages people to take action against bullying by donating to PACER's National Bullying Prevention Center. Read the article.
Support PACER's National Bullying Prevention Center
PACER's National Bullying Prevention Center is excited to announce our new partnership with SurveyMonkey Contribute and a new way for anyone to give thier support! Sign up and you will receive surveys by e-mail from SurveyMonkey customers who need your opinion. For every survey you take, SurveyMonkey will donate $0.50 to PACER's National Bullying Prevention Center, and you'll get a chance to win $100 in an instant-win game.
All About Bullies . . . Big And Small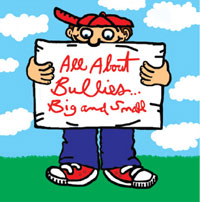 A CD for young children, and winner of a Grammy for Best Children's Album, All About Bullies … Big and Small is a collection of music, poetry and storytelling designed to put an interesting and heartfelt twist on bullying prevention, so that young learners can identify with the topic in an age appropriate manner. The artists all generously contributed their time and talents and a portion of the proceeds is donated to PACER's Kids Against Bullying initiative.