Highlights

National Bullying Prevention Month (NBPM) and Unity Day
NBPM held during October; Unity Day is Wednesday, October 19
A month long event to prevent childhood bullying and promote kindness, acceptance, and inclusion. On October 19th, plan to wear and share the color orange — as a tangible representation of the supportive, universal message that our society wants to prevent bullying, and is united for kindness, acceptance, and inclusion.
---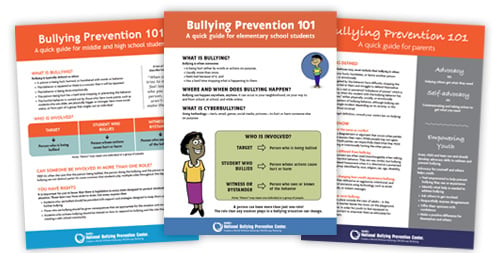 Quick Guides
The three-part handout series provides an overview of how bullying is defined, the roles involved, and helpful tips to address bullying behavior. Bullying Prevention 101, A Quick Guide for:

Congratulations to the 2022 Unity Award Recipients
We celebrate and honor the ten individuals and groups who were selected from hundreds who were nominated by peers to be recognized for their contributions and accomplishments to help prevent bullying and promote kindness, acceptance, and inclusion for all.
---

Announcing Top Entries
Congratulations to everyone whose videos were selected for the Spring 2022 contest to produce short videos of Kids and Teens talking about bullying! A creative way to engage youth in bullying prevention conversations while involving them in developing resources that can help educate their peers.
Features
Event Kit

Resource Kit
Order the "Create a World Without Bullying" resource kit which contains print materials for at least 50 participants.
Kids Against Bullying website

Kids Against Bullying

website
Innovative, educational website for elementary school students to learn, engage in activities, and be inspired to advocate for self and others.
Teens Against Bullying website

Teens Against Bullying

website
A website created by and for middle and high school students, with ideas to address bullying, be heard, and lead change in an important social cause.
Questions Answered

Questions Answered
You asked, we answered! Response options include images, 60-second snapshot, longer articles, video and poll.
Students With Disabilities

Students With Disabilities
A comprehensive overview of addressing and preventing bullying and harassment of students with disabilities.
All-In

ALL IN
Free online, year round toolkit with a new classroom lesson each week! Create environments in which each student is INcluded, INvested and INvolved.
I Care Because
Hello, my name is Thain'm from Brazil, here in my school we are doing work on bullying, and the teacher gave me this site.
Not only the USA that children and adolescents sofem with bullying, it is common in Brazil as well, so we're doing the work against bullying.
Thaina Miranda , 13, SP
at my school if you live in a trailer or if you are over a 1oo pounds then you are bullied. And i am both . i am lucky because i have friends and i get good grades but it would be nice to not have to stand on the side of the hall so i wont get knocked down and it would be nice if people wouldnt call me fat or ugly.. I want bullying to stop because the people who get bullied, are the ones who are always scared and are the ones who get brake downs  i wish they realized how cruel and or idiotic they seem to us.
danielle, 12, tx
i know what it feels like to get bullied iv'e  been bullied my whole life and no one seems to care because they think it is funny but  it's not i want every one to know that they are beautiful and when some one calls you fat it doesn't make them skinnier and when you get called ugly that doesn't make any one prettier so just keep on being you and don't change for any body if they don't like you for you they don't deserve a friend like you 
natacia, 13, michigan
I moved countrys and I was the most popular girl in my new school.After a while the girls I called frieends started telling everyone im a whore, slut and many things.After thta I started cutting and my mom found out.I had never seen my mom cry so it amde me stop.I amde new friends,but after a while one of them publishes a nude video she tapped of my while I was takign a bath.She then told the whole school that I posted on of her on youtube with was a lie.Everyone hated me and now im changing school.Bullying hurts, a lot and if you havent gone through it, you will at some point.Because the slightest remark can cause a lifetime impact.Be careful and treat people well because who knows maybe someday youll be on thir place, and dont you wish you ahd someone who helped you?
Fernand, 12, ca
Videos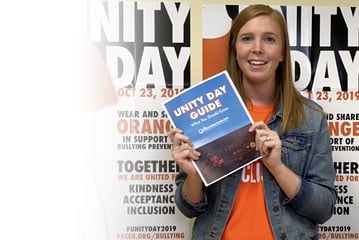 PACERTalks about Bullying - Season 3
We are thrilled to return for another season with more videos featuring interviews, stories, and informational content. New this season will be the feature "Ask Us" in which we will respond to questions from students around the world.
Documents
Notifying the School About Bullying — Using a Template Letter

PACER Center has created template letters that parents may use as a guide for writing a letter to their child's school. These letters contain standard language and "fill in the blank" spaces so the letter can be customized for your child's situation.

(Word Doc)

Version for a Student with a 504 Plan (Word Doc)
Version for a Student with an IEP Plan (Word Doc)

"What You Can Do"

This 4-part handout series provides comprehensive information for students and adults about how to help someone who is experiencing bullying, as well as how to address bullying in the community.
Downloads
Bullying Prevention 101, A Quick Guide:
Support Kindness, Acceptance and Inclusion for All Students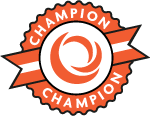 Become a Champion Against Bullying
Join the hundreds of nonprofits, schools, and community groups that collaborate directly with PACER's National Bullying Prevention Center by using and sharing our bullying prevention resources in their communities.
Survey Monkey Contributes to NBPC
Sign up and you will receive surveys by e-mail from SurveyMonkey customers who need your opinion. For every survey you take, SurveyMonkey will donate 50 cents to PACER's National Bullying Prevention Center, plus you'll get a chance to win $100 in an instant win game.