Highlights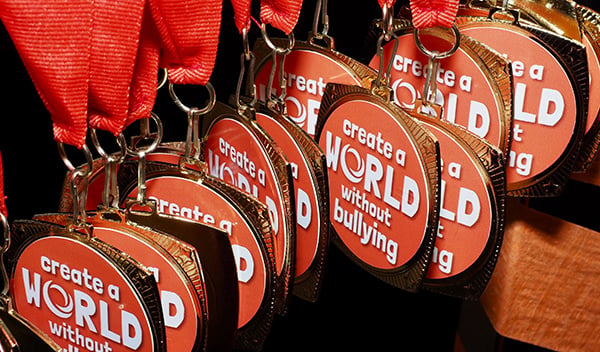 "To-Do" list
Are you looking to take action or get more informed about bullying? Below are a few ideas:
---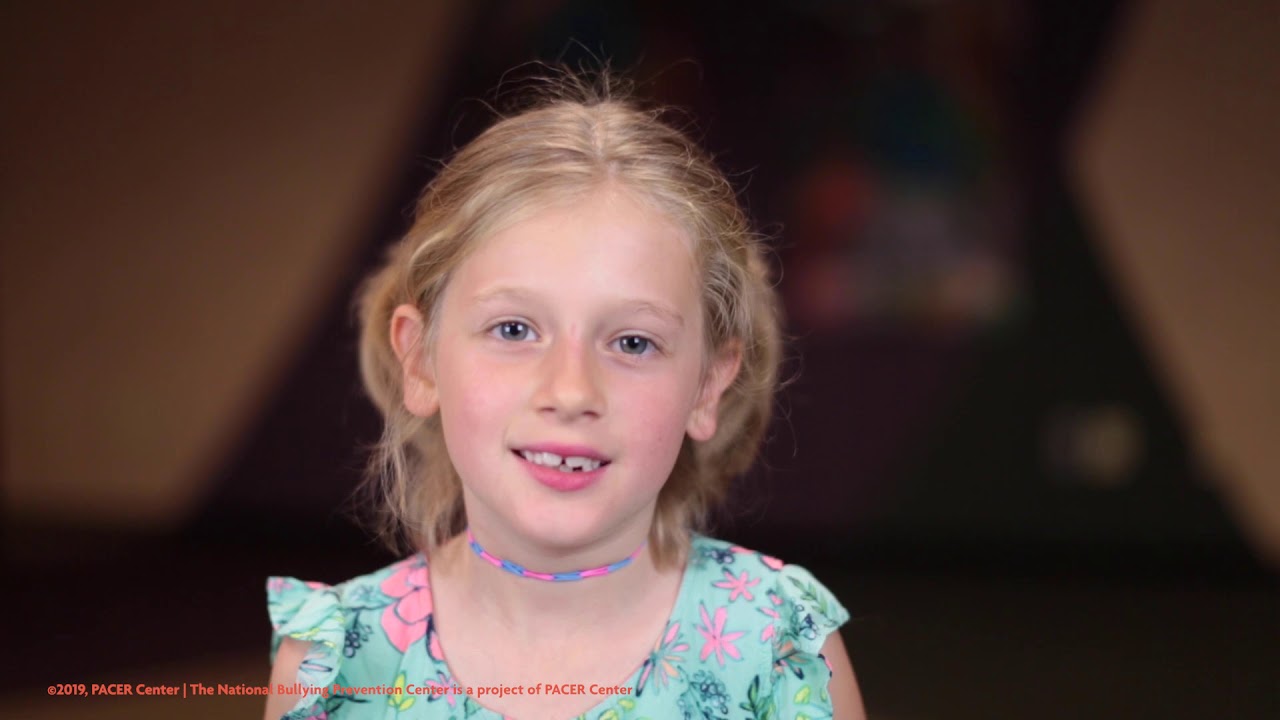 Win Prizes for the Classroom
Students with Solutions, sponsored by Planet Fitness' Judgement Free Generation®, is an initiative which invites students to share their creative interpretation of what it means to be intentional with acts of kindness, acceptance and inclusion. All entries are eligible for a chance to win fun prizes for the classroom. The contest is open to all classrooms grades K-12 and will run through December 31, 2019.
Bullying Prevention 101
Planet Fitness' Judgement Free Generation® initiative also sponsors "Bullying Prevention 101," a free educational resource designed to equip teachers, counselors and other educators with tools to empower students to prevent bullying and stand up for kindness. The material is available for elementary, middle, and high school students.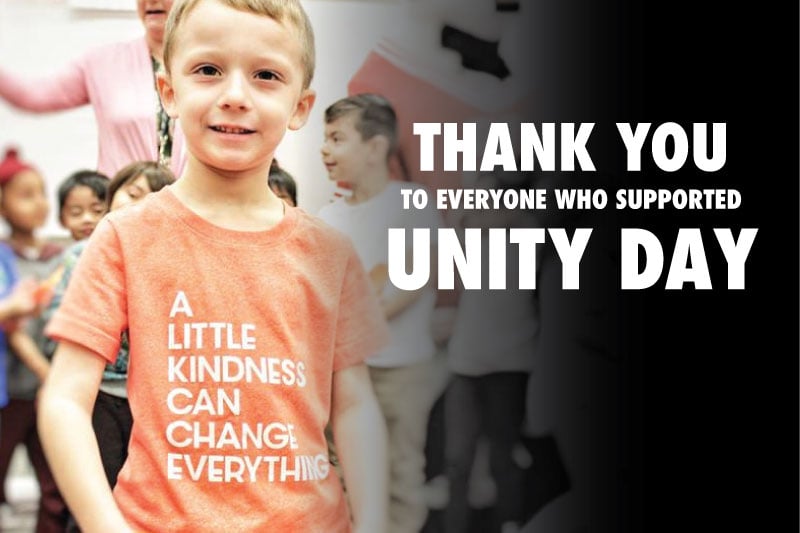 We are grateful to everyone who celebrated Unity Day! Your actions make a difference and together, we can help create a world without bullying! Check out some of the amazing photos from celebrations around the world.
Unity Day Photos
---

Include Someone, Make a Difference
A new campaign, created in partnership with Cartoon Network's Stop Bullying: Speak Up initiative, to inspire kids across the country to include someone at lunch, recess, or wherever it's needed most to stop bullying before it starts. Features resources with ideas to include along with an "Include Someone" kit for educators
Make Inclusion Happen Everywhere
---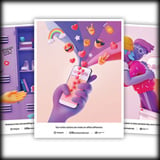 Teen Inspired Posters
Through a partnership with Instagram, a free 3-poster series designed from ideas inspired by teens, is now available.
Features
Event Kit

Resource Kit
Order the "Create a World Without Bullying" resource kit which contains print materials for at least 50 participants.
Kids Against Bullying website

Kids Against Bullying

website
Innovative, educational website for elementary school students to learn, engage in activities, and be inspired to advocate for self and others.
Teens Against Bullying website

Teens Against Bullying

website
A website created by and for middle and high school students, with ideas to address bullying, be heard, and lead change in an important social cause.
Questions Answered

Questions Answered
You asked, we answered! Response options include images, 60-second snapshot, longer articles, video and poll.
Students With Disabilities

Students With Disabilities
A comprehensive overview of addressing and preventing bullying and harassment of students with disabilities.
All-In

ALL IN
Free online, year round toolkit with a new classroom lesson each week! Create environments in which each student is INcluded, INvested and INvolved.
I Care Because
I'm just starting middle school and already, there's this girl who wants to beat me up... I'm afraid of going now. She was nicer last year, but she's changed now. I hope this sight can help anyone from being bullied.
Brianna, 13, mi
my sister was bullied in school and it has affected her throughout her life. Now I see kids at my son's school bullied and it seems like nothing is done about it.
Sarah, 43, Minneapolis, MN
"I was bullied from the first to the sixth grade, then I moved schools. It really hurts when the bullys tell you mean stuff. It made me want to kill myself. I cut myself all the time because i can still hear what theyre saying. Sometimes I'll have flashbaks of them slapping me to the point where I got frustrated and cried. I know how it feels to be bullied. I still cut myself but I'm trying to get help,i just dont know how to ask. I have suicidal thoughts too. I hide my body by wearing long clothes,even in the heat. Please stop bullying,in a way it saves lifes if you dont bully."
Marie, 14, ca
Stay strong no matter what happend ! You're not alone. I've been bullied for 3 years. It had really important consequences ! Bullying shouldn't even exist <3
Ness, 14, france
I been bullied  by kids. We need to stop it now
Eric, 10, MMINNESOTA
I've been going through alot i just wish someone could help me i've been teased picked on and made fun of i've been keeping this a secret for a long time and i still am i tried to commit susicide 2 times but cutting my self but it didn't work i've been really depressed about my self whenever PE starts you got to dress in the locker room whenever i had to dress out they would tease me of how my body look's i just wanted to share my story so here it is i lost hope and courage and have very low self esteem due to the harrasment.
Atil, 14, Florida
I care because people bully me they call me fat and it changes your mind to think this:

Fat                               You will never be good enough

                 You need to be skinny

                                                                         Everyone hates you
 

You will never be pretty or loved or cared for by another human being


         You are disgusting 

                                                               Stop eating fatty 



   No one deserves to feel this way even though I do.  You will probably look at this and say she is 12 what does she know. Guess what? NEWS FLASH age doesn't matter and I care a hole lot 
Jayde, 12, United States
Videos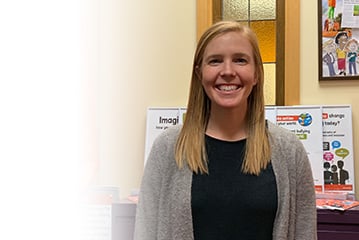 PACERTalks about Bullying - Season 2
We are thrilled to return for another season with more videos featuring interviews, stories, and informational content. New this season will be the feature "Ask Us" in which we will respond to questions from students around the world.
Documents
Notifying the School About Bullying — Using a Template Letter

PACER Center has created template letters that parents may use as a guide for writing a letter to their child's school. These letters contain standard language and "fill in the blank" spaces so the letter can be customized for your child's situation.

Version for a Student with a 504 Plan (Word Doc | Pdf)
Version for a Student with an IEP Plan (Word Doc | Pdf )

"What You Can Do"

This 4-part handout series provides comprehensive information for students and adults about how to help someone who is experiencing bullying, as well as how to address bullying in the community.
Support Kindness, Acceptance and Inclusion for All Students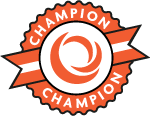 Become a Champion Against Bullying
Join the hundreds of nonprofits, schools, and community groups that collaborate directly with PACER's National Bullying Prevention Center by using and sharing our bullying prevention resources in their communities.
Survey Monkey Contributes to NBPC
Sign up and you will receive surveys by e-mail from SurveyMonkey customers who need your opinion. For every survey you take, SurveyMonkey will donate 50 cents to PACER's National Bullying Prevention Center, plus you'll get a chance to win $100 in an instant win game.