Highlights

Produce Short Videos
Submissions open now through April 10;
top entries announced early May
Inviting all K-12 students, with support from adults, to produce short (one-to-three minute) videos using template scripts for the opportunity to be featured on NBPC websites and viewed by classrooms around the country — plus, win some amazing prizes!
---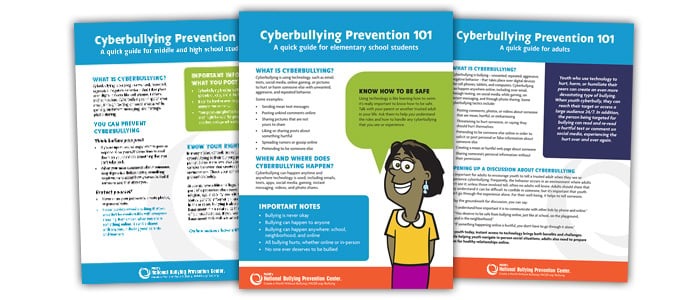 Cyberbullying Prevention 101 Quick Guides
The three-version series with audience relevant content for elementary school students, middle and high school students and adults outlines how cyberbullying is defined, along with information on how to prevent and address the behavior.

Recognize Extraordinary Individuals and Groups
Nominations now open; honorees to be announced in May
The Unity Awards is a celebration to recognize individuals and groups who are instrumental in making change.
---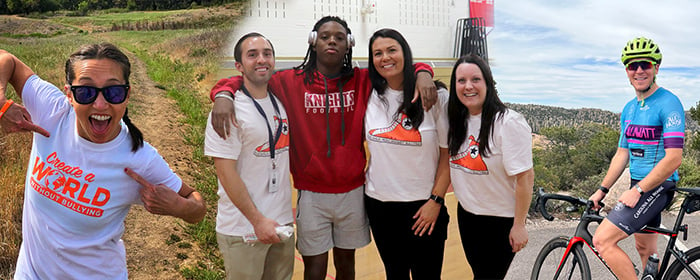 Friends of PACER's Run Walk Roll
You are invited to help with the goal of circling the world (24,901 miles) to symbolize "moving toward a world without bullying."
Features
Take the Pledge
Take the Pledge
Pledge to treat others with kindness and be more accepting and inclusive.
Kids Against Bullying website

Kids Against Bullying

website
Innovative, educational website for elementary school students to learn, engage in activities, and be inspired to advocate for self and others.
Teens Against Bullying website

Teens Against Bullying

website
A website created by and for middle and high school students, with ideas to address bullying, be heard, and lead change in an important social cause.
Questions Answered

Questions Answered
You asked, we answered! Response options include images, 60-second snapshot, longer articles, video and poll.
Students With Disabilities

Students With Disabilities
A comprehensive overview of addressing and preventing bullying and harassment of students with disabilities.
All-In

ALL IN
Free online, year round toolkit with a new classroom lesson each week! Create environments in which each student is INcluded, INvested and INvolved.
I Care Because
bullying hurts not just the victim but the community. stay strong honey. 
p.s. there is a kangaroo in my backyard right now, wishing you luck
Sydney, 14, Sydney, Australia
I care because,every single person is effected by thing problem, we all have been bullied and are the bully even if we don't know it. Saying "I'm not a bully so I'm preventing bulling" is a lie and a easy excuse to avoid the problem. We can stand together to change but we need to be willing to work together because together we are stronger,  
Shannon, 14, Illinois
While I'm sitting at home crying wondering how I got put into this situation, your hear talking to me on the phone telling me everything is going to be alright. I care because I may not be here right now, but because of those of my friends who have been here for me, have helped me get through my struggles. Bullies only make me stronger now that I know I can be brave. I can stand up for what I know is right.
Thank you bullies for making me a better person.
Thank you too all those who have helped me over come my struggles
And to all those who are still struggling today, everything is going to be okay and each and every one of you are unique and different, and in any humanly way possible beautiful. <3

Sierra, 16, Wisconsin
Last year i try try to kill myself because i being pick and some other problems. Picking on kids and calling it hurts all. I know. Cause I was alway pick cause i was different and because i was in learning center. They very hurtful names. IT can kill someone. even you dont mean it to happen it does. they safe way to not hurt. Just dont say a bad thing about them.
Catherine, 18, Us
"I bully people all the time and i realized that it only make me look bad and people look down on me for that..(:"
Katherine, 13, Florida
i feel your pain
Teshia, 14, GA
Ive been bullied my entire life since 5th grade.  I just wanted it all to stop, all on its own, but i realized that for it to stop, you have to make a move.  A lot of my friends are bullied for the people they are.  They are called names that are horrible, even though most are smart, have great personalities, and have some popular friends.  So i work out a lot so that i can protect myself and others.  Speak out if your getting bullied, dont just sit there and wait for the rainbow after the rain.  Thats what i always say.
Ian, 13, Charlestown, NH
Videos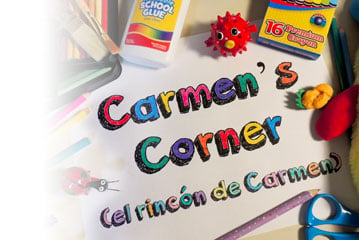 Carmen's Corner
A series of six educational videos designed for young audiences. It features characters from PACER's Kids Against Bullying puppet program, highlights key concepts of bullying prevention, and promotes social-emotional learning. Educator guide and student worksheets accompany each video.
Documents
"What You Can Do"

This 4-part handout series provides comprehensive information for students and adults about how to help someone who is experiencing bullying, as well as how to address bullying in the community.

Spanish Translations
Downloads
Bullying Prevention 101, A Quick Guide:
Bullying Prevention Slide Show and Quiz
Support Kindness, Acceptance and Inclusion for All Students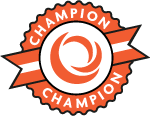 Become a Champion Against Bullying
Join the hundreds of nonprofits, schools, and community groups that collaborate directly with PACER's National Bullying Prevention Center by using and sharing our bullying prevention resources in their communities.
Survey Monkey Contributes to NBPC
Sign up and you will receive surveys by e-mail from SurveyMonkey customers who need your opinion. For every survey you take, SurveyMonkey will donate 50 cents to PACER's National Bullying Prevention Center, plus you'll get a chance to win $100 in an instant win game.